Kodiak Canvas 12×9 Canvas Cabin Tent is a luxurious option for camping in all weather conditions and in all seasons, a breathable tent with 2 doors and 4 windows.
---
Key features & benefits
Canvas tent.
Top-quality craftsmanship.
Totally reliable.
4-Season tent.
Non-freestanding.
Steel frame.
Awning configuration.
Very tall tent.
E-cable port.
2 Doors.
4 Windows.

---
What this is about
Here you have a cabin-style non-freestanding Kodiak Canvas tent for all seasons. Note that this is a particularly tall tent, you have 90 inches (229 cm) at the peak height and this is why I have included it in my list of very tall tents. So this is a tent with a stand-up walk-around comfort.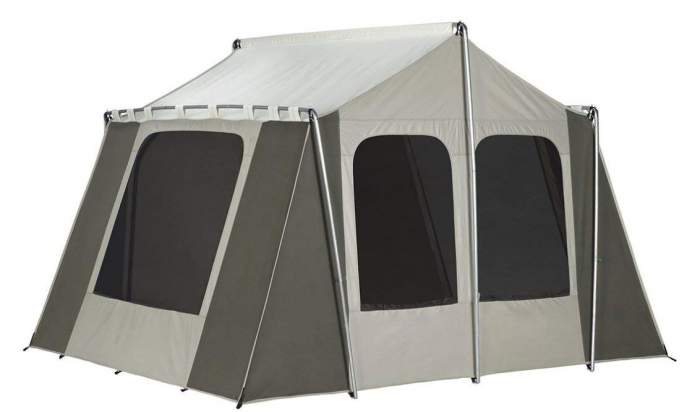 The tent is a single-room structure, and it is a single-layer type as usual with all canvas tents. Only the openings are double-layer and you have them many. The tent comes with an awning and this extends your living room outside where you have a nice shed, the poles for this purpose are included.
Note that this structure is very different from the flex-bow type tents from this brand, you can see those in my separate text.
---
Who is it for
Capacity-wise, the tent offers 108 ft² (10 m²) and the declared capacity is 6 people. This implies 18 ft² (1.67 m²) per person. Such an area would be fine for backpacking, but this tent has a different purpose. So downgrade it to 2 – 4 people if you use it for hunting or camping. You can save the area if you use bunk cots, they will fit perfectly with such a cabin type tent with tall and straightened walls. See the most important dimensions and the floor plan: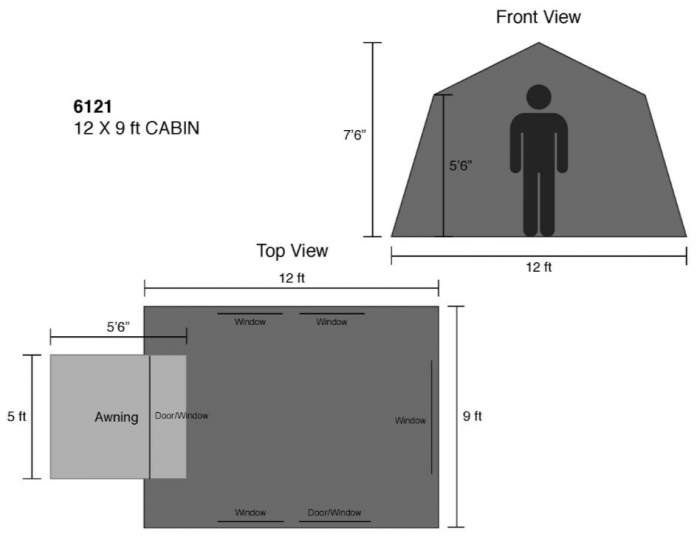 Seasons-wise and climate-wise, as the name suggests, this is a canvas tent which you can use all the year round in any weather conditions and in any climate. I have included it in my list of cold weather tents for camping because of its great features that make it suitable for such a use, but this does not mean it is less suitable for a summer camping.
In fact, its best feature is that you can use it throughout the year. You will see this tent mentioned in my separate text about best family tents for hot weather camping, but it is far more than that.
Weight-wise, this is certainly not a lightweight item, so be ready for its weight which is 92 lb (41.7 kg). It is also very bulky when packed, you will see the numbers in the specifications below. Therefore you need a car, and in spite of such a weight, one person can pitch it relatively easily. The biggest part of its weight is in the lower body so you do not have to lift heavyweight here.

---
Construction & materials
The poles & stakes
You have 3 separate loops here, the central one is much higher than the two side loops, see the picture below. Each of them is built from 3 parts which include two telescopic legs plus one roof pole. So you have 6 legs in total and they are all extendible, plus 3 roof bars. This all is a 1-inch in diameter galvanized steel. In addition, you also have two poles that are used for the awning.
You also have 12-inch heavy-duty steel rod stakes. Now you realize at least partly where its weight comes from.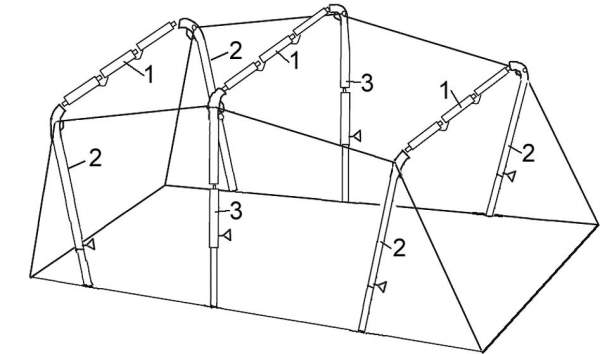 The fabric
The tent fabric is a Hydra-Shield 100% cotton duck canvas, very durable, watertight, and breathable. The ceiling is 10 oz and the walls are 8.5 oz material. I do not think you will find some exact waterproof rating for this tent, but you can take as granted that it will keep you dry.
The floor is a thick 16 oz seamless vinyl with reinforced welded corner braces. This is a fully waterproof stuff. All the windows and the doors also have a no-see-um mesh. It comes in a zippered storage bag. Zippers are #10 coil on the doors and #8 coil on windows.
Windows and doors
There are 4 separate windows plus 2 doors which also have windows on them. So you have openings on all sides and all of them are the double-layer type with mesh and with zippered canvas panels. The main door rolls to the side and you can fix it in place with straps. The flap on the larger door is designed to be used also as an awning, and you have two poles included in the package for this purpose. This all makes it a very pleasant and livable structure.
Other features
There are a couple of small pockets on the wall, and you also have several loops and rings to attach gear, paracords, and organizers on the walls.
You also have a small vertical zippered entrance for a power cable.
Setup
I think it is best to see this nice video, the gentleman here has lots of experience with these tents, he shows how one person can do this. It may look complicated if you compare it with some other tents of this brand which have the flex-bow design, but it is definitely doable. For two people it is far easier:
---
Specifications
Type: cabin tent.
Capacity: 6 people.
Weight: 92 lb (41.7 kg).
Dimensions: 12 x 9 ft (366 x 274 cm).
Area: 108 ft² (10 m²).
Area per person: 18 ft² (1.67 m²).
Peak height: 90 in (229 cm).
Packed size:
– Tent (L x D): 32 x 15 in (81 x 38 cm).
– Poles (L x D): 46 x 7 in (117 x 18 cm).
Warranty: lifetime limited warranty.
---
Kodiak Canvas 12 x 9 Canvas Cabin Tent vs Competitors
Here I give this Kodiak tent with two tents from other brands, all are canvas but the design is different. The other two tents have only two legs and a very specific roof frame. As you realize, the Kodiak is much taller than the other two. Please follow the links to read more.
46 x 22 x 22
(117 x 56 x 56)

43 x 13.5 x 13.5
(109 x 34 x 34)

46 x 17 x 15
(117 x 43 x 38)

---
Final thoughts, rating, pros & cons
So in the summary of this Kodiak Canvas 12×9 Canvas Cabin Tent review, I hope you realize how extraordinary this structure is. The most critical part in setting this tent up is to stake it down properly, after that it becomes fully self-supporting when you add the expandable telescopic legs. This might limit a bit its use because you cannot pitch it just anywhere.
This is a very strong and reliable tent which is built to last for many years and it will most definitely protect you in any weather conditions. So the price should not be a surprise, it is worth the money.
I would point out the absence of vents just to know, but I do not think this is critical here. You have plenty of openings with mesh and this is canvas after all. The price is high but this is normal for canvas tents. Please see my rating, I use the same criteria for all the tents and I have them many, so focus on what is essential for you:
Kodiak Canvas 12x9 Canvas Cabin Tent
$574.99
You might want also to check their Kodiak Canvas Flex-Bow VX tent and the Kodiak Canvas Flex Bow Basic 6 tent, both are smaller. If you need more tents of this type, please check my list with best canvas tents for camping. Check this Trek Tents 246C Cotton Canvas Cabin Tent which has a similar poles structure.
Thank you for reading. Let me know if you have any question or comment, there is a comment box below. I wish you a nice day.