---
This UNP Tents 6 Person is a freestanding cabin-style single room tall construction with 5 large windows, steel and fiberglass poles, and an incredible price tag.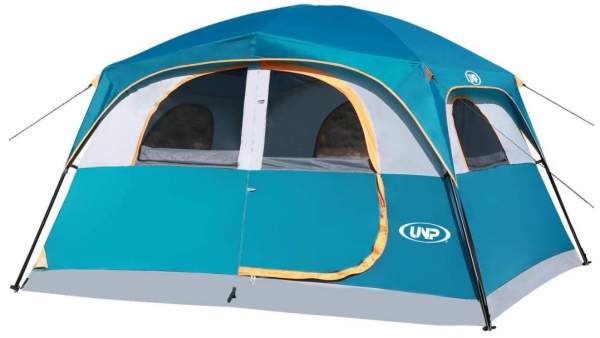 ---
Key features & benefits
Cabin-type tent.
4 + 1 Windows.
1 Door.
Steel & fiberglass poles.
E-cable port.
Great price.
---
Overview
This UNP Tents 6 Person is a very typical cabin-style tent with steep and high walls. The structure is very tall and with a stand-up height so you have a peak height of 78 inches (198 cm). It can be described as a freestanding tent, but this does not mean you should ever use it without staking it properly to the ground.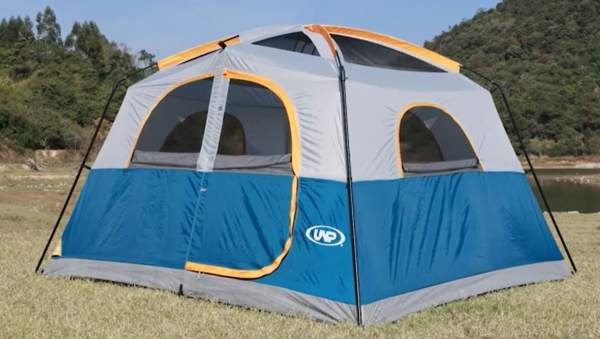 This is a very pleasant single-room construction with openings on all the sides, so you have 5 separate windows, all double-layer type with mesh and zippered panels. The picture above shows it without the fly. It reminds me a bit of the Columbia Mammoth Creek 6 Person Cabin Tent.
There is one large door with a window on it. The fly is minimal, designed to cover only its mesh-ceiling shown below. This is why you have such nice views around.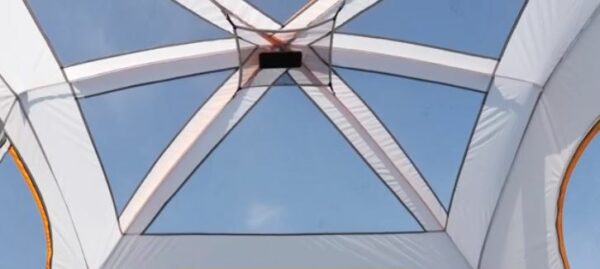 Materials
The leg poles are steel and the three roof poles are fiberglass. This is normal to expect in such a budget-friendly tent. You will find fiberglass poles even in tents that cost 3 times more. Fiberglass needs a bit of care with handling.
The fabric is a 185T polyester, the same for the fly and the side walls. They claim the material is fire-retardant. The seams are taped, and the official waterproof rating is 1000 mm. This may not look a lot but you will never need more if the seams are properly done. The floor appears to be a polyethylene with welded seams, and it is a bathtub style. 
Ventilation
With so much mesh on the ceiling and on the windows, the tent looks well-ventilated. Indeed, as long as the sky is clear you should not have any issues in such a structure.
But there are no floor vents here although they write about an innovative low vents design. They are needed when it is raining and you are forced to keep everything closed. The picture below shows how it looks inside so you realize that the windows are high. Note also that there are no roof vents in spite of what they write in their confusing description. But you do not need roof vents with such a design.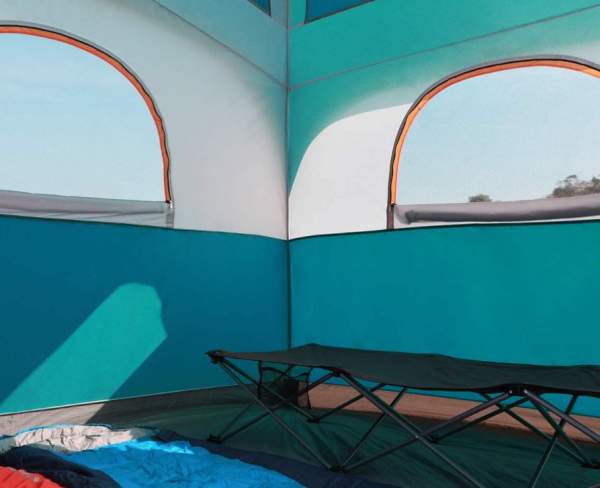 Other features
E-cabe port.
Lantern hanging ring.
Two small wall pockets.
A gear loft.
4 Guylines.
A carry bag is included.
---
Who is it for
Capacity-wise, the tent is officially for 6 people. For this, you have an area of 90 ft² (8.3 m²) and this means 15 ft² (1.39 m²) per person. In their description, they call it a 'large space', but the picture below shows what they suggest for using the floor area.
It is indeed possible to place 6 pads on the floor but you would not have any space left. For any realistic camping, it would be difficult to have 6 people inside, so I see the tent suitable for up to 4 people maximum. Note that this space is still larger than in the EVER ADVANCED Instant Cabin Tent 6 Person.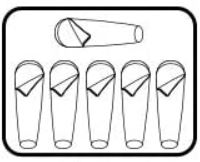 Regarding climates and seasons, they describe it as a 4-season tent but this statement is hard to understand. This is a summer camping tent for places without much rain and without winds.
They also write that "Rectangular Roof: make the tent more firmly, stable and windproof." So disregard this statement and avoid winds with such a tent, it would not last long in such situations. With such a roof, it cannot withstand pressure from above so it would collapse under the snow. I have no idea what they were thinking with such a description and specifications.
Weight-wise, the tent is heavy with its 20 lb (9.1 kg). The packed size 24.6 x 8.26 x 8.26 inches (62 x 21 x 21 cm) is not so bad. But in any case, this is a car camping tent and you would not want to carry it long distances.
Price-wise, the tent is incredibly affordable so it is not surprising that it is becoming so popular.

---
Specifications
Official capacity: 6 people.
Weight: 20 lb (9.1 kg).
Dimensions: 10 x 9 ft (305 x 274 cm).
Area: 90 ft² (8.3 m²).
Area per person: 15 ft² (1.39 m²).
Peak height: 78 in (198 cm).
Packed size: 24.6 x 8.26 x 8.26 in (62 x 21 x 21 cm).
Poles: steel & fiberglass.
Warranty: They promise a one-year quality guarantee for a risk-free purchase.
---
Final thoughts, rating, pros & cons
To summarize this UNP Tents 6 Person review, what you have here is a pleasant and tall tent with great views and an incredible price tag. But lots of statements in the manufacturer's description are inaccurate, so take all this with a grain of salt. This is a summer camping tent for up to 4 people.
Please see how I rate this tent against my standard set of criteria, it scores quite well:
For more options in this capacity range, please check under the group Tents for 5/6 people. For more tents of this shape, see under the category Cabin Tents. Check this Texsport 5 Person Headquarters Camo Square Dome which is only slightly smaller. If you want something with a full-coverage fly, check this Geertop Large Family Camping Tent 6 Person.
Thank you for reading. Let me know if you have questions or comments, there is a comment box below. Have a nice day.