---
This Vango Orava 600XL tent review is about a gigantic tent with 5 rooms and 333 ft² (31 m²) of the protected area, and with a huge waterproof rating for a full protection from elements.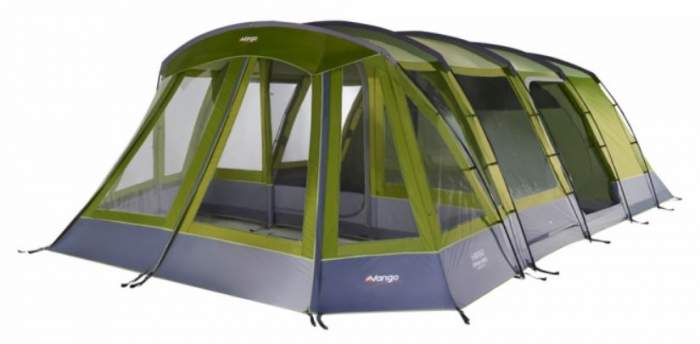 ---
Key features & benefits
5 rooms (4 floored plus 1 without the floor).
8 PVC external windows, plus 5 windows on the doors.
Several inner PVC windows under the porch.
3 entry doors.
4 inner doors.
Huge area.
Huge waterproof rating.
Cable entry port.
Very tall tent.
Dark rest features.
Awning configuration with the front door flap.
---
What type of tent is this
I guess it is most appropriate to say – this is a giant type. There are no many bigger tents on the market. So here you have a tunnel-shaped structure with 4 inner rooms plus one front porch which is just like another room. The only difference between the inner area and the front room is the floor; the inner area is with the fully sewn-in and sealed floor, while the front room is without the floor.
So the protection from rain is the same in both the main areas. This is why I have included it in my list of 5-room tents but it is up to you how you would classify it. It can but included in the 4-room tents as well, but wait till you see its front (porch) room in detail, you will realize that this is a real room.
This is an enormous structure and it is not freestanding. So to set it up, you have to stake the back corners first and then start adding the poles. You then do it from back to the front, raise the poles and stake the tent. This is best done by two people and in this case, you will not need more than 20 minutes. This sounds incredible in view of its size.
The bigger part of the tent is a single layer, only the sleeping area is a double layer structure because here you have two separate inner tents within the shell.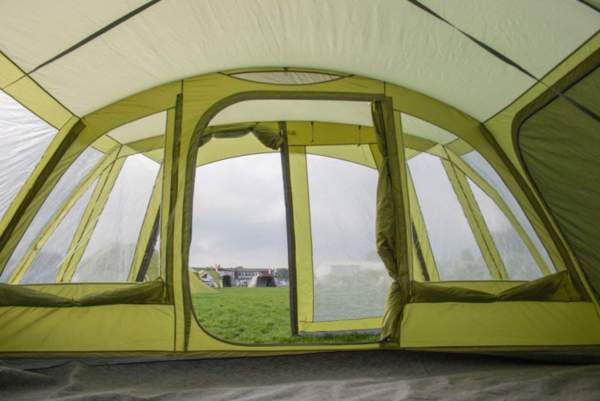 Note that this tent has been on the EU market for almost 4 years already, and it has been modified in the past, not for the better I must say, more below. But it is completely new on the US market.
---
Who is it for
Space-wise, it is declared as a 6-person tent. The total area in the inner part is 240 ft² (22.3 m²). This gives 39.8 ft² (3.7 m²) per person. But when you see all this space you realize that it can accommodate far more than that. From the picture below, you realize that you have 3 sleeping rooms, each for 2 people, but you also have the "living room" which alone offers 13.5 square meters.
So I have no doubt that it can accommodate 12 people in total. Note that you still have the front room extra for all your gear, and it gives 92.6 ft² (8.6 m²). The total area is 332.6 ft² (30.9 m²) and this is rarely seen. This is why I have included it in my list of extra large tents.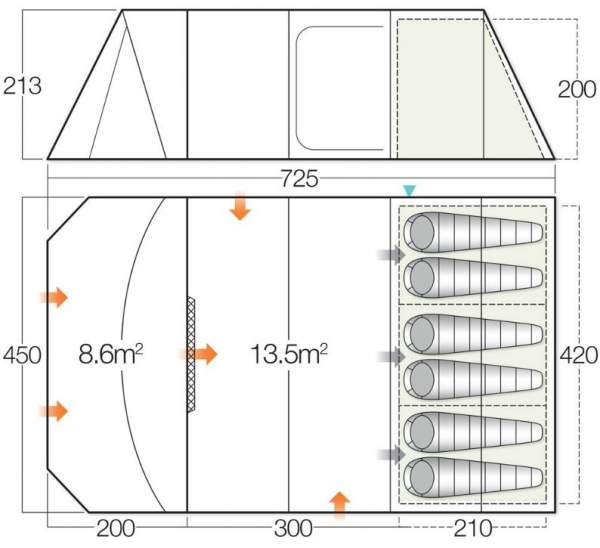 Season-wise, the tent is with a huge waterproof rating, more below, it has numerous guylines, and it will give you a full protection in a 3-season use. But this is not a winter tent, and my main reason for saying this is its fiberglass poles, more below.
Climate-wise, the tent is a fully enclosed design, with solid windows and with a sewn-in floor, so it is very much suitable for a cooler and wet environment. So you guess, I have added it in the list of tents for cold weather camping. But it is also with a good ventilation and it might work well even in a warmer climate.
Weight-wise, this is a heavy item, but this is not surprising in view of its size, though the poles add a lot because of their material. So it weighs 66.14 lb (31 kg), but its packed size is not bad at all, it is 30 x 15.4 x 15.4 inches (76 x 39 x 39 cm). In any case, you need a car for such a tent.
All in all, this is a very pleasant and tall structure with numerous windows and doors, perfect for larger families, and for groups of up to 12 friends. Ignore the official capacity, this tent is colossal.
---
Construction & materials
So far you have learned about the rooms and the internal structure. I would just add that the two inner tents are separate. On the left, you have one inner tent for two people, and the tent on the right is for 4 people but you have a zippered divider, so it offers two rooms each for two people, see the picture below.
This allows for various options, you can remove one or another tent, dependent on the number of people, and then you can have even more space for storage. But you can also remove both inner tents and use the shell tent alone for some family events in the garden for example.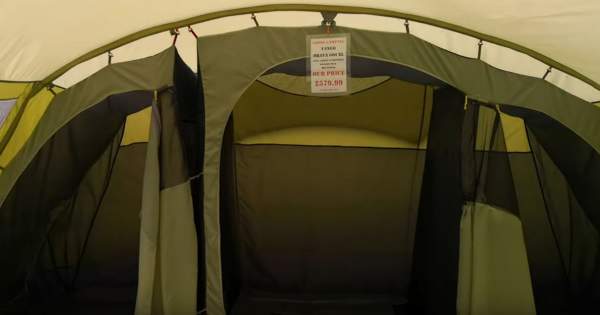 The doors & the windows
There are three entry doors. The front door is particularly interesting. In fact, this is a double door, so you can open only one part if you wish so and keep the other part closed. Note that this is the door with two huge PVC sections plus shutters from inside.
But this door you can also use to create a front awning and in this case, you would extend the front area for around 1.5 meters or so. There are integrated eyelets that allow for optional king poles to prop open doors to create an awning (those poles you would have to order separately). As I said above, this door's flap is with PVC windows on it, plus shutters, so if you use it as an awning, you will be in the shade for sure.
The side doors are also very large and they open to the side, but there is no mesh here and frankly speaking, this makes them useless as you have no protection from bugs if you keep them open. Pity for a tent which costs so much.
The inner door between the porch and the living room is a double layer, so you have a mesh here. It is fully protected and you can keep it with mesh only all the time.
There are 3 inner doors on the sleeping rooms, and here you have double layers in the upper portions of each of the doors. The mesh is for ventilation of course.
The windows are numerous, you have 6 external windows on the front porch only, plus the two windows on the huge front door. So you realize that the "porch" is more a room than a porch. This is a wet room where you can dry your wet clothing, you definitely need such a space in the camp, so not every space should be floored. But you also have the inner PVC windows between the front porch room and the living room.
There are two more external PVC windows on the living room, plus two windows on the side doors, all with shutters for privacy and for reduced glare. The shutters are with toggles, and I find this surprising in view of the price. One would expect to see zippers in such a tent.
The poles
Vango uses fiberglass poles in all of their family tents, so the same is here. There are 5 of them, this is a heavy and thick material, but not particularly durable. But this tent has been on the market for a number of years already and I did not see any serious issue with this. Note that the poles are pre-angled for a greater internal space and this also provides an effective bracing against side winds.
The fabric
The shell is Vango's Protex 70D polyester with a 4000 mm hydrostatic head, so in practical terms, this is the same as fully waterproof. The floor is a polyethylene, robust and hardwearing fabric. They do not give an official rating, but I know from some other of their tents that this is in the range of 10000 mm.
The flysheet and groundsheet seams are factory taped. Note also that the inner tents have their own extra PE bathtub groundsheet, so you have two floor layers in this area, see the picture below. The inner tent is from a breathable polyester and here you have lights out design, or the dark rest design – a darker fabric is used to reduce the amount of early morning light.
The tent materials are weather tested and fire tested to meet the European standard EN5912; they claim this is certified by an independent test center.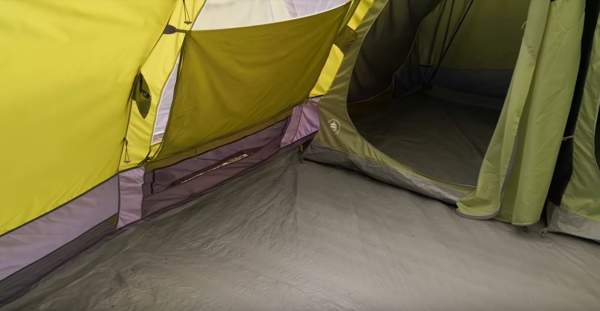 Ventilation
This tent is a closed structure so vents are critical. You have them 3 in the living room; two are large floor vents with mesh and Velcro tabs (one is visible above) on the sides of the tent, and above the inner "entry" door you have a large mesh section for ventilation. As I mentioned above, this entry door between the porch and the living room is with mesh, so this is a huge area for ventilation.
On the rear side behind the inner tents, you have a large vent (shown below) with guylines which keep it open. It is paired with a large mesh section on the back of the two inner tents.
I already mentioned the mesh on the inner tents' doors, and you also have a wide gap between the inner tents and the shell (visible in the pictures above). Those inner tents are attached and they hang under the shell. So you have air circulation everywhere to fight condensation. In general, they have done this part properly and you should have a good air circulation regardless of the weather conditions.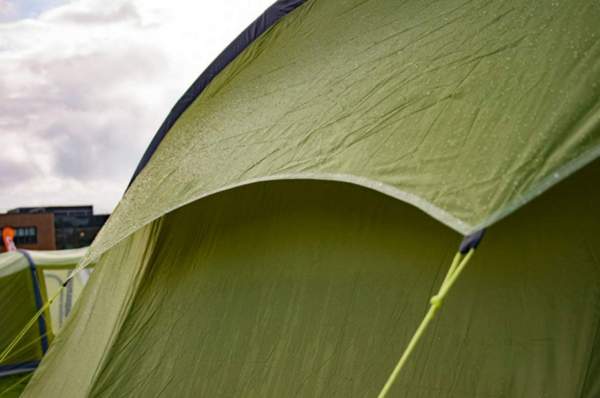 Other features
There are several bedroom pockets. Not enough for such a huge structure.
You have a cable entry point with tidies.
The front door is with a small brim which gives a sheltered entrance to the tent, and this prevents the rain from dripping in.
High visibility guylines are everywhere around.
Typical for all Vango's tents, you also have the patented TBSII (Tension Band System) which ensures tent performs in adverse conditions like in strong and changeable winds. Those are straps that you fix at 3 points and this prevents sideways movement. There are special pockets on the walls to store them away when not used.
Lantern hanging points are conveniently positioned to attach your lights.
The carry bag is expandable and with an oversized wide opening. You also have robust compression straps to reduce the overall pack size.
Several versions on the market
There are several versions of this tent, this is because it has been around for years already and it seems they were changing it quite a bit. But not all the changes are for the better as far as I can see.
So I have noticed versions without shutters on the front door, but also with zippers on the shutters in general which is a much better design. Also, the mesh was on all the doors, as compared with only one mesh door now in the 2018 version.
Yet another detail in one version I saw – it had the zipped divider in the bigger inner tent, and it was with a big hanging organizer between the two inner doors. There is more; the 2015 version was with a 5000 mm waterproof rating, so they have reduced it now. But the new version is much larger and taller.
---
Specifications
Type: tunnel tent, non-freestanding.
Capacity: 6 people.
Weight: 66.14 lb (31 kg).
Diemensions: 285.4 x 177.2 in (725 x 450 cm).
Inner area: 240 ft² (22.3 m²).
Inner area per person: 39.8 ft² (3.7 m²).
Porch (wet room) area: 92.6 ft² (8.6 m²).
Total area: 332.6 ft² (30.9 m²).
Total area per person: 55.4 ft² (5.15 m²).
Packed size: 30 x 15.4 x 15.4 in (76 x 39 x 39 cm).
Peak height: 83.8 in (213 cm).
Pitching time: 20 minutes.
---
Vango Orava 600XL tent vs Competitors
Such a giant tent should be compared with giants, so here I give two of them. As you realize, they are not a match for the Orava tent. Note that it has plus 92.6 ft² (8.6 m²) of the protected area in the porch (or wet room). But it is far more expensive than the other two, please follow the links to see more.
---
Final thoughts
So from many points of view, this Vango Orava 600XL tent is impressive. This is an incredible structure which offers far more space per person than most of the tents on the market. It can easily accommodate twice as many people as its official capacity tells you. But its price is also incredibly high and I really wonder why because some of its features are like in those low-cost tents. In particular, the toggles on the windows instead of zippers, the lack of many storage elements, not to speak about the poles.
The tent is with many rooms, 4 or 5 dependent on what you consider as a room, and it also allows for lots of versatility regarding the inner space organization; as I mentioned, there are two inner tents and each of them can be removed separately. Note, if you need a similar tent with steel poles, see this Outwell Flagstaff 5 person tent with 3 rooms.
If you need to see more options, just look around. Check in the category of 6-person tents and also in the group of tunnel tents. Do you have any experience with this tent? If this is so, please share it here, there is a comment box below. Thank you for reading and have a nice day.