This Eurohike Hampton 6 Tent Review is about a remarkable fully waterproof 3-room 6 person family camping tent which offers 192 ft² (17.8 m²) of the inner floor area.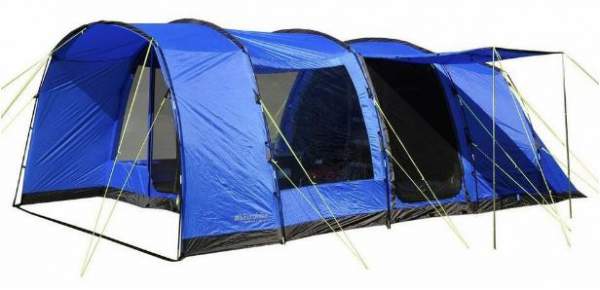 ---
Key features & benefits
Huge area.
Impressive waterproof rating.
3 rooms.
2 external doors & 2 internal doors.
5 windows.
5 vents.
Awning configuration.
Porch.
Dark rest tent design.
Electric cable port.
Many storage pockets.
Possibility for an extension.
Reasonable price.
---
What type tent is this
Here you have a typical example of a tunnel tent, with a huge area for 6 people, with 3 separate rooms. These include a large living area plus two sleeping units.
The bigger part of the tent is a single layer, but the sleeping zone is a tent within the tent so you have a double-layer structure where you need it.
The Hampton 6 tent offers lots of headroom due to its height which is 82.7 inches (210 cm), and due to elbow sections on either side of the top which gives extra width.
The tent is not freestanding, so you have to stake it to the ground properly. The inner tent material is what they call a darkened bedroom, so this puts it in the group of dark rest tents.
---
Who is it for
The declared capacity is 6 people, so imagine how luxurious this is when you have no less than 192 ft² (17.8 m²) of the inner area plus 41 ft² (3.8 m²) under the porch. This gives around 32 ft² (3 m²) of the inner area per person. So the declared capacity here is very generous, and this is not always so as you can read in my separate text where I discuss the issue of the tent capacity. See the dimensions and the floor plan: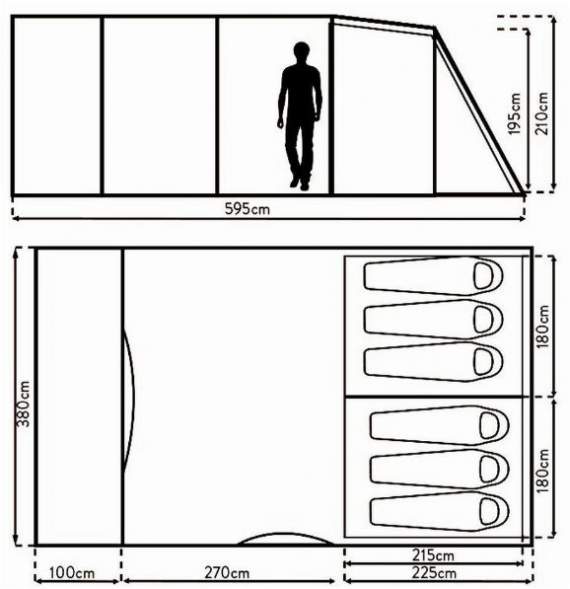 Seasons-wise, this tent comes with an impressive waterproof rating which makes it suitable for any conditions in a 3-season use.
The packed size for such a huge tent is really great, 28.3 x 13.8 x 13.8 inches (72 x 35 x 35 cm). The weight is less impressive, you have 50.7 lb (23 kg). So this is a family camping tent and tent for groups to be used at places with a car access.
This tent is designed for areas with lots of rain, there is no mesh in its structure, the windows are a solid translucent material, so I would not use it in warm areas. This is for a cooler environment.
---
The structure and materials
The poles
The poles are color coded fiberglass arc-flex (12.7 mm and 16 mm). You have four black poles 6.57 m long, and one yellow 6.29 m long. This is a flexible and lightweight material which bends with the wind, it is not particularly durable and this is my only objection to this great tent. Pole section length is 65/66 cm (for the black), 61/66 cm (for the yellow).
You also have 2 steel poles 1.8 m each and these are used for the side awning; the pole sections are 60 cm.
The fabric
The tent body is the fly, the same material is everywhere, so it is fully waterproof with taped seams. You have a 3000 mm hydrostatic head. This is a great value and comparable to some winter tents. See more about the waterproof rating in my separate text.
The floor is fully waterproof, taped, and sewn-in so you have a complete protection from all sides.
The inner sleeping area is what they call the darkened bedroom, so glare is reduced and you can sleep longer in the morning.
The materials are fire retardant and tested to meet the BS EN 5912 standard.
The doors & windows
The main door under the porch is fully protected so you can keep it with mesh all the time. But you still have a panel that rolls up and you fix it above the door.
The side door is also a double-layer type, so you have both mesh and panel. Here you have one great detail – the panel is designed to use it as the awning. You have two extra steel poles in the package for this purpose only.
The windows are all solid PVC material, fully translucent, but you have panels for privacy here as well, see the picture below. There are two windows under the porch plus three on the side. Note that the side door is also with a window and this is why you see 6 windows mentioned in the specifications on Amazon.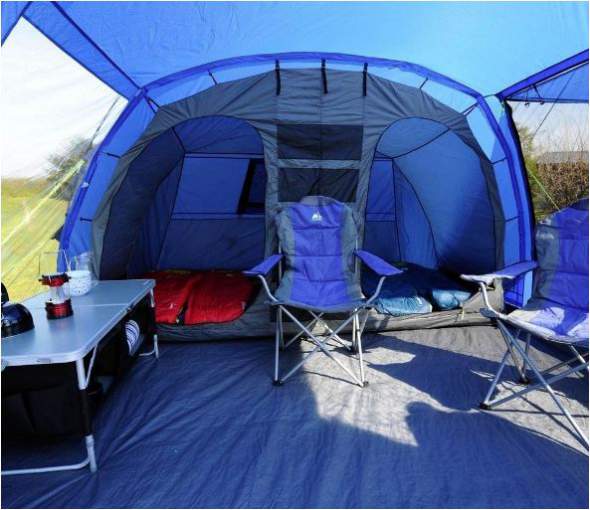 The rooms
All rooms are full height standing rooms. The living area is huge, more than 10 square meters, and with all those windows on its three sides.
The sleeping rooms are from a special darkened material and with a removable divider with a zipper, each with its own porthole style door so you have ventilation here as well, see the pictures. This inner area is attached to the shell structure so you have lots of space in between for a free airflow. There is a large vent on the back side, and you also have storage pockets in each of the sections. In each of the sleeping rooms, you also have a lantern hanging loop.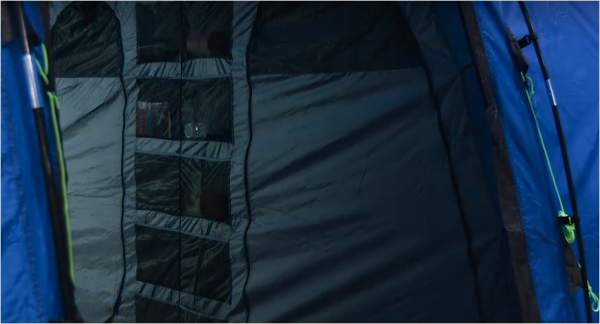 Other features
There is a zippered port for an electric cable and you also have a series of Velcro loops that run from the port to the ceiling so that you can pass a cable for electric lighting or ventilator.
Between the two inner doors, you have a huge organizer unit in 5 levels and each containing a couple of large mesh pockets, it is shown in the picture above. This is really a great feature which will help you stay organized in the camp.
The tent comes with steel round-wire pegs. Please see more in this video:
---
Specifications
Type: tunnel tent.
Capacity: 6 people.
Weight: 50.7 lb (23 kg).
Dimensions: 19.5 x 11.8 ft (234 x 142 in; 595 x 360 cm).
Total area with porch included: 230 ft² (21.4 m²).
Total inner area: 192 ft² (17.8 m²).
Inner area per person: 32 ft² (3 m²).
Peak height: 82.7 in (210 cm).
Packed size: 28.3 x 13.8 x 13.8 in (72 x 35 x 35 cm).
---
Eurohike Hampton 6 man family tent vs Competitors
This Hampton 6 tent is a great design and when you compare it with competitors it is necessary to choose only the best. So here are two top-notch tents with some exceptional features. You will realize what I mean by that if you follow the links in the table, though a few of their remarkable features are already in the table. Note that the current prices (as of the moment of writing this text) are, respectively, $307, 2200, and 434. So, see how they compare:
---
Eurohike Side Porch XL
This is an accessory option that adds lots of useful space to this already large Hampton 6 tent. Note that this Side Porch XL is suitable for several tents of this brand, not only for the Hampton 6. You attach it in front of the side door as the picture below shows. It can be ordered here.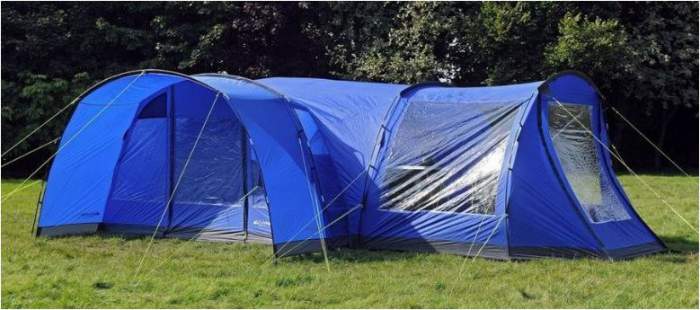 The porch is fully waterproof and with the same rating as the main tent, i.e., 3000 mm Hydrostatic Head. You have large panoramic windows on all sides, and it comes with blinds for optional privacy.
The materials are fire retardant and passed the European EN 5912 safety standard tests. The size is (L x W x H): 265 x 280 x 210 cm (104 x 110 x 82.7 in), so you have extra 7.4 square meters (80 ft²) of the protected area. It packs to 64 x 22 x 19 cm (25 x 8.7 x 7.5 in), and the weight is 8.1 kg (17.9 lb).
Please see more in this video:
---
Final thoughts, rating, pros & cons
In the conclusion of this Eurohike Hampton 6 Tent Review, I must say I am impressed with the features and the size of this tent. This is a very luxurious option for family camping. Most suited for a cooler environment, this tent will provide all the protection from elements in any 3-season weather conditions. It is loaded with features, just see its 3-room organization, 2 doors with mesh and panels, the numerous PVC windows, vents, and storage elements.
This tent is completely on the level of the tents shown in the comparison table above, but it comes with a far more affordable price. It is included in my list of best tunnel tents.
Please see how I rate this tent using my standard set of rating criteria:
For UK & EU visitors, to check the price or to order this tent, please check here.
If you need something different, please check around, this site is all about large camping tents and you will surely find something for you. See this 8 person Buckingham 8 Classic Family Tent from the same brand, and also its same size cousins the Eurohike Buckingham 6 tent and the Eurohike Buckingham Elite 6 tent.
Thank you for reading and please use the comment box below in the case of questions or comments. Have a nice day.