The Venture Forward North Shore 8-Person Cabin Tent is a pleasant and tall family camping tent for summer calm weather, with two inner rooms and a screen porch, easy to use and very affordable.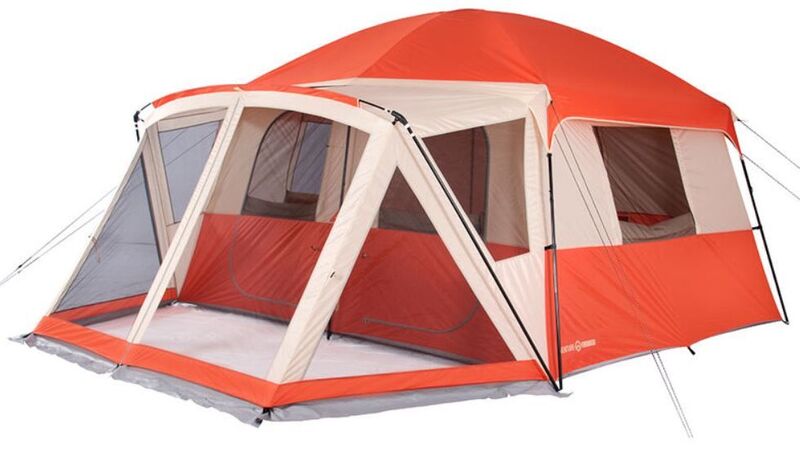 ---
Key features & benefits
Cabin style tent.
Screen porch.
2 Floored rooms.
4+2 Windows.
Very tall.
E-cable port.
Great price.
---
Overview
This North Shore 8-Person Cabin Tent is a very typical cabin-type tent with an inner floored area that is with a removable divider. So it has two inner rooms, and a front screen porch.
The picture below shows the tent without the fly so you can better understand its structure. The fly is a minimal coverage type and it protects only the roof, including the screen room or screen porch as well. So this is a very typical shape, you will see several tents of this type here in the site in the category Screened Porch Tents.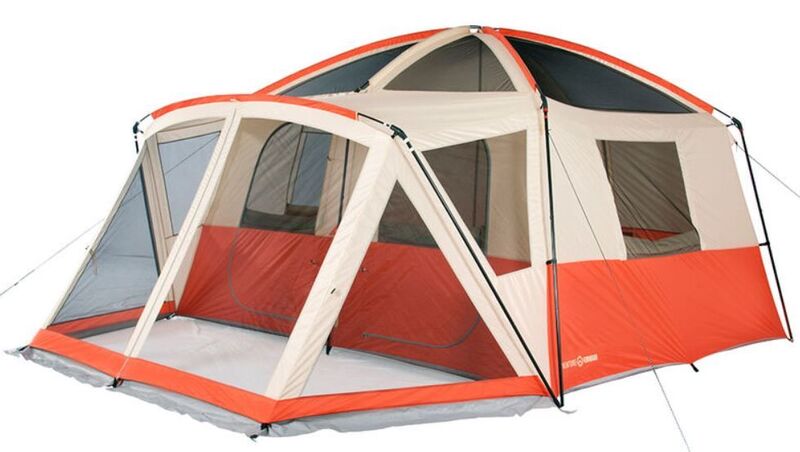 Note that the screen porch protects you only from flying insects, the walls are only mesh. So this is not an area to store your gear to keep it protected from rain. There is a removable floor there.
But here you have sit and enjoy views, you can use it also for dining and for reading in the evening and you will be safe from mosquitoes. This is a trapezoidal area with around 50 ft² (4.6 m²), and its longer side is the width of the tent, and this means 12 ft (366 cm). The front width is 8 ft and the length is 5 ft.
Each of the two inner rooms is with its own door that exit to the front screen room where you have an inverted-T shaped zippered main mesh door.
The tent is very tall, the peak height is impressive 88.2 inches (224 cm), and this is why it is in my list of very tall tents for camping. You have a standing height in most of it. Because of the extra pole that supports the screen room, it must be staked to be fully functional, this is why it cannot be described as fully freestanding.
Other features include:
An E-port for electrical access.
Reflective stake lines for visibility.
3 Storage pockets.
210D Duffel carrying case.
Materials
The poles: You have a combination of steel used for leg poles, and fiberglass used for the roof. So these are typical materials for budget tents.
The poles attachment to the tent's base is the usual pin-and-ring system. The leg poles are completely straight. A full set of steel takes is also included.
The fabric: They do not provide much information, so there is nothing about its waterproof rating. But this is a 185T coated polyester, and the floor is a welded polyethylene which is a sort of waterproof plastic. All seams are fully taped.
Ventilation
With no less than 6 mesh windows plus the ceiling which is all mesh, this tent looks nicely ventilated. The inner doors are with mesh on the upper parts. But if you close all the windows when it rains, you would want to have floor vents that are missing here.
You can compensate this by keeping the inner doors open, you have seen that the screen room external walls are all mesh.
Please see more in this video:
---
Who is it for
Regarding the area, the floored space is 120 ft² (11.16 m²), and it is officially for 8 people. This would mean 15 ft² (1.4 m²) per person. The screen porch offers extra 50 square feet, but this is not a space that you can use for your camp gear.
So although you can indeed place 8 sleeping pads on the floor, in my view, for practical camping this is a tent for 4-5 people maximum.
Regarding seasons & climate, the tent is best suited for summer camping and for calm weather. You would not want to use it in windy places.
Regarding the weight, the tent is heavy but this is a large and very tall structure so this is normal.
Regarding the price, it is more than fair for such a tent, there is a link below so you can check from your sides for updates.
---
Specifications
Weight: 35.85 lb (16.3 kg).
Official capacity: 8 people.
Total dimensions: 15 x 12 ft (457 x 366 cm).
Floor dimensions: 12 x 10 ft (366 x 305 cm).
Area: 120 ft² (11.16 m²).
Inner area per person: 15 ft² (1.4 m²).
Screen room area: 50 ft² (4.6 m²).
Peak height: 88.2 in (224 cm).
Packed size: 27 x 10.1 x 10 in (69 x 26 x 25 cm).
---
Final thoughts, rating, pros & cons
In summary, this North Shore 8-Person Cabin Tent is a very typical screen porch tent, pleasant with its many windows and its high ceiling. It is best suited for quiet weather family camping. The price is more than fair for such a tent. It is included in my list of tents with a screen porch.
Below you can see how this tent stands against my standard rating criteria that I apply consistently to all of them here in the site so that you can easily compare:
BEST PLACEs TO BUY:
For more tents of this shape please check in the category Cabin Tents and also among Screened Tents.
Let me know if you have questions, there is a comment box below. Bookmark this site and come again, this will keep you informed, as you realize I add texts here on a regular basis. Thank you for reading.