---
This Columbia Modified 8 Person Dome Tent is an extended dome style structure with one door and a large fly, with magnetic door closure, and a great price. Keep reading.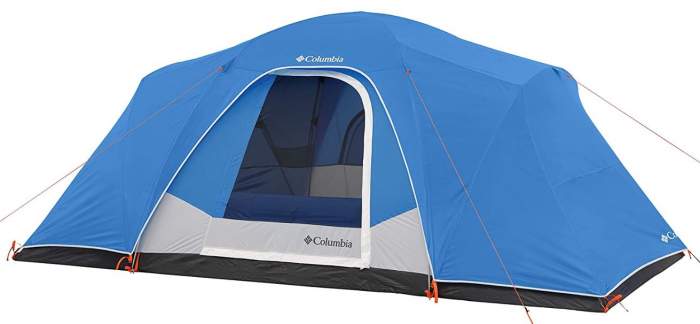 ---
Key features & benefits
Extended dome tent.
Almost full coverage fly.
Many storage pouches.
Fiberglass poles.
Magnetic door closure.
E-cable port.
Reasonable price.
---
What this is about
This is the largest tent from a new series that also include Modified tents for 3, 4, and 6 people. It can be described as an extended dome tent, so you have the central dome section supported by two crossed poles, and extensions on both sides have one extra pole for support. The tent's structure is best understood when you see it without the fly as in the picture below.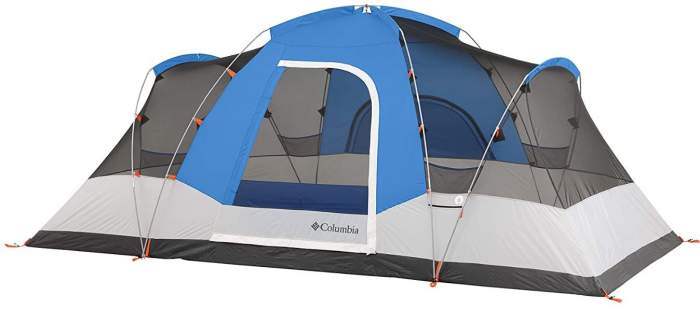 Because of the extensions the tent is not freestanding so you have to stake it properly. The fly is massive and it covers all the tent except for its single door. The door itself is a double-layer type with a large mesh section and panel. One door for a tent that is supposed to accommodate 8 people is not so impressive, but the door is large so this is not so bad.
One distinctive feature mentioned above is that you have magnets under the rain flap. A zipper is there as well but you do not have to use it all the time. So this is convenient to have, such a concept is introduced first in some of the screen houses for camping, you can see it in this Tailgaterz Magnetic Screen House. Because of this feature, it is included in my list of best magnetic tents.
The tent is moderately tall with its peak height of 72 inches (183 cm) under the central dome. Note that you have no less than 4 mesh storage pouches on the walls so this is really useful. One more bonus here is its E-cable port on the side of the door shown below.
Ventilation
When you see the canopy with so much mesh, the first thought is that ventilation is not an issue here, and this is more or less so. There is always enough air coming from the ground under the fly. The front window and the smaller back window help to improve air circulation.
There are no floor vents here but they are not particularly needed. However, there are no fly vents either. As you realize the fly is open above the door so this can work without fly vents, but having one on the back would reduce condensation. Pity they did not add it.
---
Materials
The poles are fiberglass and you have them 4. This is not very durable material but it is commonly used in such budget tents. They attach to the tent through numerous clips and sleeves on the roof. Note that the pole connectors are angled so this adds some volume and headspace inside.
The fabric is what they call the Omni-Shield, their own patented technology, most likely a polyester, they do not provide details about it. The waterproof rating is quite modest, 800 mm only, but you normally do not need more. The seams are all fully taped. The floor is a thick material with coating and bathtub design, most likely polyester.
---
Who is it for
Regarding the area, the tent is officially for 8 people, so perhaps it is possible to place 8 pads on the floor, but for real camping this is unrealistic. It is best to downgrade the number of users to 4-5.
Regarding the weight, the tent is moderate with its 20.8 lb (9.43 kg), but this is a car-camping tent so the weight is not particularly important.
Regarding seasons & climate, with such a fly and structure the tent may be warm for summer camping, but with so much mesh it is not for a very cold environment either. So this is for mild weather conditions. In the case of winds it best to orient it so that the door is protected.
It is a pity they did not add an extra brim pole to allow for a dry entry. To see what I mean, check this NTK Laredo GT 8 to 9 Person Tent that is built in a similar style.
Regarding the price, this is an affordable tent and the price is fair for what you have.

---
Specifications
Official capacity: 8 people.
Weight: 20.8 lb (9.43 kg).
Dimensions: 14 x 8 ft (427 x 244 cm).
Area: 112 ft² (10.4 m²).
Area per person: 14 ft²(1.3 m²).
Peak height: 72 in (183 cm).
---
Final thoughts, rating, pros & cons
In summary, it is a bit difficult to say what kind of climate this Columbia Modified 8 Person Dome Tent is best suited for. The mesh canopy is there but with an almost full fly and limited windows and without vents. So I would say this is a tent for spring and autumn more than for summer camping. The price is fair and you have a renown brand behind this tent.
Please see how I rate this tent against my standard set of criteria:
If you need more options built in the same style, please check under the category Dome tents. For more tents in this capacity range check among Tents for 7/8 people. In particular, check this Pacific Pass Camping Tent 8 Person Family Dome Tent built in a similar style but with much more floor space. See this World Famous Sports 8-Person 2-Room Cabin Camping Tent if you would rather have something in the cabin-style.
Thank you for reading. Please use the comment box below in the case of questions and comments. Have a nice day.