---
This Wenzel Pinyon 10 Person Modified Dome Tent is a 2-room and 2-door structure with interesting fly configurations for stargazing and ventilation, and very affordable.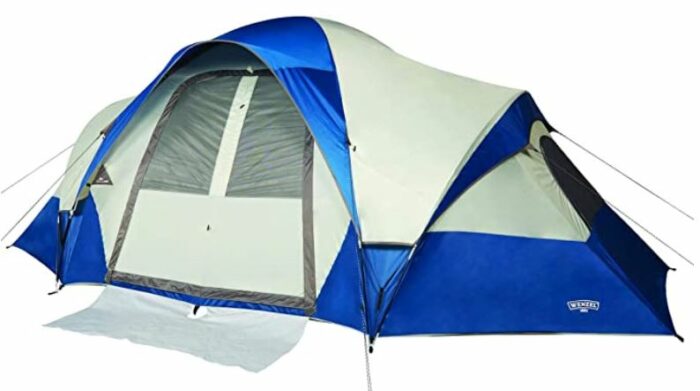 ---
Key features & benefits
Extended dome tent.
2 Rooms.
2 Doors.
4 Windows.
E-cable port.
Stargazing fly configuration.
Zipper on the fly for extra ventilation.
Very good price.
---
What this Pinyon 10 person tent is about
So here you have a new tent from Wenzel, and this is an extended dome type structure as you realize from the picture below that shows the tent without the fly. The central dome area is quite tall for a dome tent, you have a stand-up height of 76 inches (193 cm).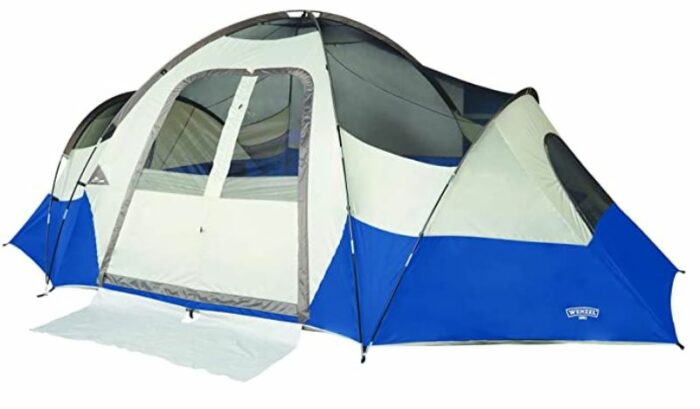 Because of the extensions on the sides, the tent is not freestanding. So you have to stake it down properly to have its extensions functional. Each of the extensions is supported by its own loop pole.
The tent is with a removable divider so this is formally a 2-room structure. With the divider in place, each room has its own door as you realize from the picture below. This makes it similar to this UNP Camping Tent 10-Person that is built in the same style.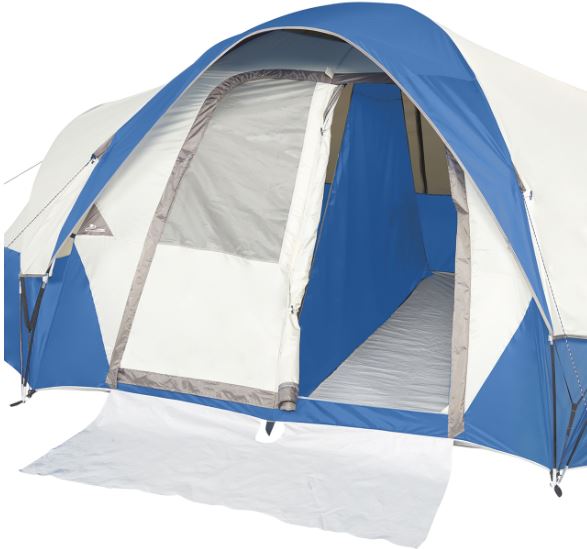 Note that the doors are with mesh and panels in the upper part, so you have windows that are partially protected under its small front brim. There are two additional windows also on its narrow sides, so this makes it 4 in total. The fly is minimal and it covers only the ceiling, but here you have some nice features:
• You can roll it up on the sides and fix with toggles, and enjoy sleeping under the stars. The picture below shows how this configuration looks: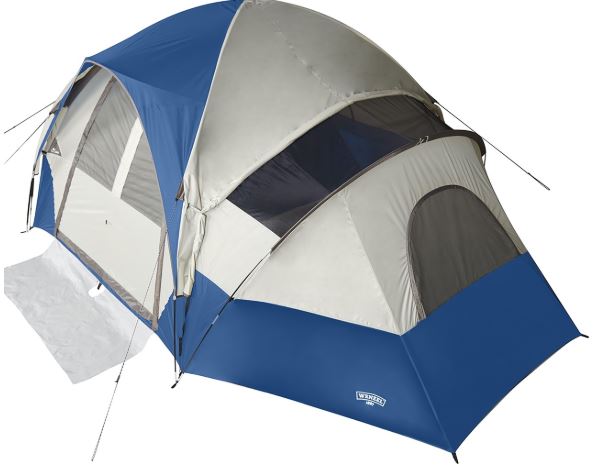 • But there is yet another detail on the back, the zipper that allows for opening the fly so you get extra airflow and stargazing. This creates a huge back window and you can keep the fly that way as long as the sky is clear:
As you realize, this together with the windows on the narrow sides of the tent gives views on all the sides of the tent. This fly design sets the tent apart from many structures of this type and it makes the tent quite unique.
Ventilation
The ceiling is all mesh and you have already seen the windows, so all looks great regarding ventilation. But there will be occasions when the windows must be closed due to the rain and this is why I miss seeing some floor vents here.

Other features
This tent has many storage elements, in total 12 wall pouches and pockets, some are shown in the pictures below.
It comes with a gear loft & lantern loop shown below.
There is also an e-cable port, see the picture.
A doormat is included.
---
Who is it for
Capacity-wise, the tent is officially for 10 people, and for this you have 155 ft² (14.4 m²). This means 15.5 ft² (1.4 m²) per person. So this is a modest space for so many users and they determine capacity by the number of sleeping pads that can fit on the floor. You might compare it with this EchoSmile Camping Tent 10 Person built in a similar style as an extended dome but it offers 3.5 square meters more.
So for realistic camping, I see it as best suited for parents with up to 3 kids. In view of the two doors and two rooms, it is also great for two couples, or you can have the rooms used separately for boys and girls if this is about a group of friends as in the picture below.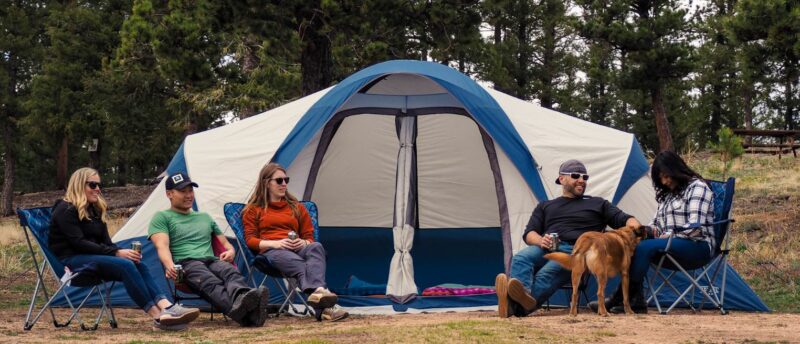 Seasons-wise & climate-wise, in view of its structure I see it best suited for summer camping or for 2 seasons maximum. The windows have panels so you can close them, but all in all, this is not a tent for a cooler climate.
With such a fly and its front brim, it is best to use this tent in quiet weather conditions and avoid strong winds.
Weight-wise, with its 23.1 lb (10.5 kg) the tent is surprisingly light for its size and it packs nicely so you can transport it in various ways.
---
Materials
The poles
The poles are fiberglass, and this material is commonly used in budget tents. You have them 4 built in pairs so there is not much to guess when you set the tent up. One extra pole is used for the brim. This is all shock-corded and the poles connect to the tent's base with the usual pin and ring system (see the picture), and the canopy attaches through the sleeves and clips.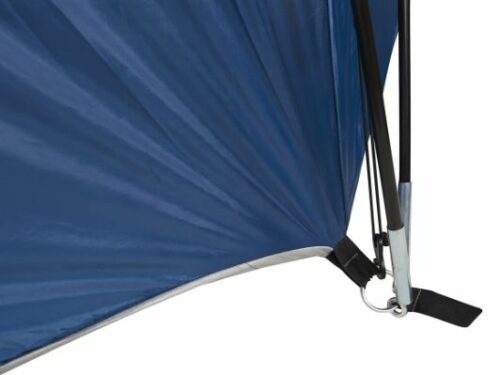 The fabric
Both the body and the fly are built from the same 68D polyester taffeta with a 600 mm waterproof rating. So this is a minimal rating you have here but it is quite enough if seams are reliable and properly sealed, and this is indeed so in this case. The picture above shows the hook from the fly attached to the tent's base.
The floor is a plastic, polyethylene, this material is commonly used in family camping tents, it is highly waterproof and with welded corners so you are safe from the ground.
---
Specifications
Declared capacity: 10 people.
Weight: 23.1 lb (10.5 kg).
Dimensions: 18 x 10 ft (549 x 305 cm).
Area: 155 ft² (14.4 m²).
Area per person: 15.5 ft² (1.4 m²).
Peak height: 76 in (193 cm).
---
Final thoughts, rating, pros & cons
In summary, as you realize from this Wenzel Pinyon 10 Person Modified Dome Tent review, this tent comes with some interesting features and the fly includes some of them that are quite unique. This is a very affordable summer camping tent, so if you do not want to spend much and to have a tent from a reliable brand, this is it.
If you are new in this activity, you might want to know that the Wenzel brand was established in 1877 in St. Louis, Missouri by an immigrant from Germany, Hermann Wenzel. There are no many outdoor brands around with such a long history.
Please see how I rate this tent against my standard set of criteria so you can easily compare with the other tents presented here in the site:
Wenzel Pinyon 10 Person Modified Dome
If you want to see some more options, just look around, this site is all about family camping tents and you will find them in hundreds. For this capacity range check under the category Tents for 9/10 people, and for this shape check under Dome tents. Check their Wenzel Bristlecone 8 Person Modified Dome Tent released together with this tent. But if you would rather have something in a different style, check this Outbound Instant Pop up Tent for Camping 10 Person Cabin.
We add texts regularly, so bookmark this site and come back again. Thank you for reading and have a nice day.