Many tents on the market are described as bathtub floor tents, and this is always pointed out in the descriptions as an important feature. So what is tent bathtub floor and why does it matter? Find the answer here.
---
Why bathtub floor
The idea behind a tent's bathtub floor is simple – to keep seams above the ground. So if the floor is some plastic material this same material extends up the side walls for a few inches. The remaining tent's body is then sewn to this bathtub section, and the seam is supposed to be sealed.
With such a design, the rainwater, which might pool under the floor, should not leak inside. But the floor area can be huge and it can be built from several pieces of such a floor material. So naturally, they must be sealed. This is where the floor material becomes important.
Yet another design used for tent floors is the so-called catenary cut which I described briefly in my another text.
Plastic tent floors
With materials like polyethylene, the sealing is much easier than you might think because this is a plastic material and they use plastic welding technology here. The seams created that way can be stronger than the surrounding material, and if properly done, such floors are fully waterproof.
To make it as puncture-resistant as possible, they make the floors thick, and this is what makes some of the family camping tents so heavy. But this weight is not necessarily a bad thing. You are not supposed to carry such a tent long distances in any case. A thick tent floor means you do not have to add a footprint underneath it.
In general, most thermoplastics like PET (polyethylene terephthalate), PETG, PVC, PP, TPUR, LDPE/EVA, etc., are weldable. The material itself serves as the fastener to hold the seam together. You do not have sewing here. Obviously, in the area where the floor material meets the tent main body, the seams will be made differently, and some sealing much be used because you have either a nylon or polyester in the upper tent zone.
You can see the process of welding in this video:
Nice examples of such a bathtub floor design you have in the Eureka Copper Canyon 12, Coleman Prairie Breeze 9, and in many other tents here in the site.
Other floor materials
Note that the floor can be from some other material as well, and it can still have the same bathtub design. You can see this in some quality tents presented here in the site, like this Marmot Limestone 6 where you have polyester.
How to recognize it is a bathtub floor
I guess it should be self-evident; the perimeter of the floor is not a sharp edge, it is profiled like a bathtub, see the picture above. This is because the seam is not along the floor's perimeter but above the ground.
On the other hand, at least in some tents, you will see the different materials below and in the upper tent body. See this picture as an example: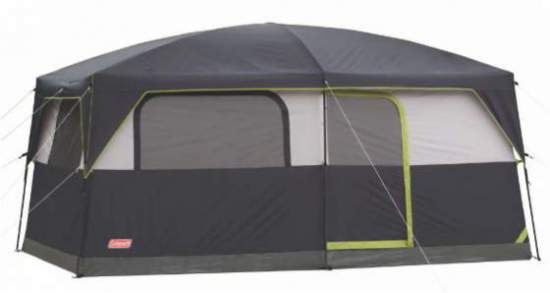 ---
Final thoughts
So I hope you now have some idea of what a tent bathtub floor is and about its purpose. But you will notice that not all tents in the site are bathtub floor tents, and this feature is not compulsory.
If you pitch a tent in a wrong place, such a bathtub floor will not help. I have seen this in our honeymoon trip several decades ago, mentioned on the About page. The tent in the picture there is the one we used.
So the story is as follows. We set it up in a safe but not so pleasant place, it wasn't flat at all, and it was above some nice flat areas with many pleasant depressions and a soft grass. And I even made some trench above it, to drain the water if the rain comes. Yeah, it looked pointless in the eyes of my wife (and other people as well), the weather was just perfect, a nice summer day.
So my wife was complaining that we could put the tent on the pleasant grass below, where many other tents were pitched, but I insisted it was on the right place. Well, can tell you, it was. There was a strong storm just a couple of hours later, and those tents below were totally flooded and swamped. We could see people panicking. This is how I became a hero for my wife. But she had plenty opportunities later to get disappointed with my outdoor skills, perhaps some other time you might hear more.
Thank you for reading. Please let me know if you have something to add here, any similar experience? There is a comment box below. Have a nice day.