---
This Marmot Limestone 6 Review is about the latest version of the popular and very reliable 3-season freestanding family camping tent.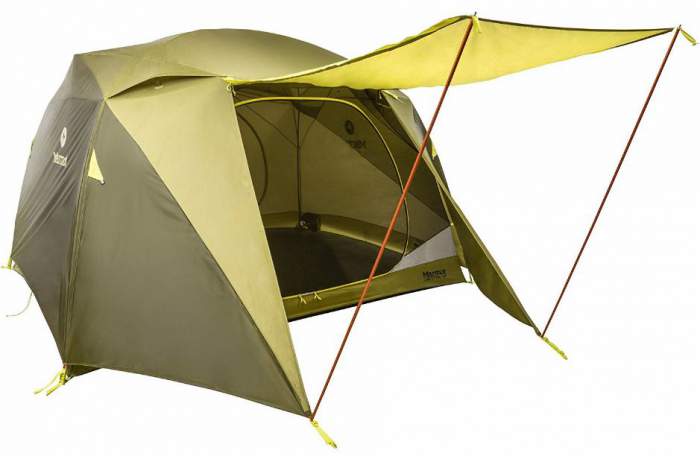 Contents
Key features & benefits
Lightweight.
Freestanding.
Full protection from elements.
Easy setup.
2 doors and 2 vestibules.
Good packed size.
Quality materials.
---
What type is this
The Marmot Limestone 6 has been on the market for at least 6 years now. This is a freestanding and 3-season tent. The former term implies that you can pitch it on any terrain and it does not have to be staked to the ground. But to have fully functional vestibules, you will have to stretch them and to stake them down.
The term 3-season means that this is not a winter tent. This is mainly due to its double-layer structure where the inner tent is almost all mesh, you can see this in the pictures. In principle, such a structure does not preserve the warmth, and this is what defines it as a 3-season tent. Otherwise, regarding the weather resistance (more below) and the stability, this tent would manage even in very harsh conditions.
This is also a dome-style tent. This implies an X-shaped poles structure, very stable and aerodynamic, so in spite of its impressive height, which is 76 in (193 cm), the tent will perform well if subject to winds. You can see more about these basic types in my separate text.

---
What is new in this version
If you own the previous version, you might want to know what they did with this new version, so here are the most important details:
The first thing you will notice is the general shape. The previous version looks like an ordinary dome-shaped tent, while the new model is flatter on the top and with more vertical walls.
This is due to modified poles. The new poles add much more volume in the tent and make it far more livable.
The main entrance is now totally different. So the bigger of the two vestibules is with two zippers, and it can be used to create a pleasant awning. This is again about livability, and the tent is indeed improved.
The colors are modified. You have Green Shadow/Moss and Orange Spice/Arone.
---
Who is it for
The tent is reasonably lightweight, so if its pieces are carried by the users, you could transport it in backpacks and use as a hiking tent for groups of adults. But I would say this is mainly a camping tent, to use in the base camp, or for family camping at places with a car access, and for cross-country road trips.
From the comparison table below, you will see that it provides a bit less floor area than some of its competitors. But you have 83.3 square feet (7.75 m²), and equally important you have two vestibules to store all your gear. So indeed, this tent can accommodate the declared number of 6 people, the floor plan below shows how it can be used. Nevertheless, for families, it should be good enough for parents with one or maximum of two small kids.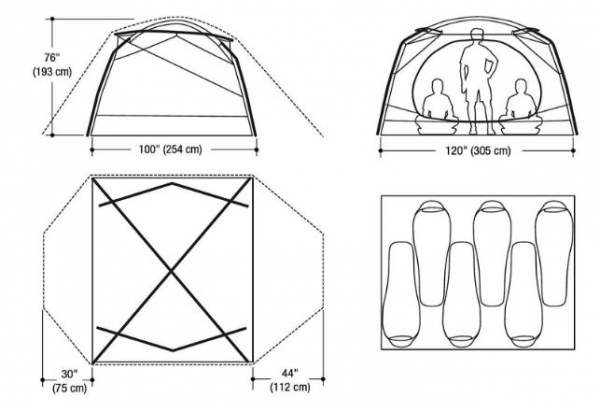 The packed size is great, 28 x 10 inches (71 x 25 cm), and its carry bag is nicely designed with a carry handle. With such a packed size, this tent can be transported even on motorbikes, so this is a great option for such groups.
---
Setup
The setup instructions are attached to the carry bag from inside, so you will always have them at hand. All is self-evident, one person can do this in just a couple of minutes.
You use the two main poles and pass them through the sleeves. After putting them to the grommets, the tent is up and standing. After that, you add the two horizontal shorter poles and attach all the clips to them.
Color-coded poles and the fly make the remaining procedure of adding the fly very easy.
---
Materials and structure
You have really top quality materials here, so I describe them below.

The poles
There are 4 of them, 2 main poles plus 2 shorter brow poles, and those are DAC aluminum, 14.5 mm & 12 mm, respectively. So not only that they are durable, the DAC company is the leading manufacturer of quality tent poles.
The shorter poles go around the tent, see the picture, and their purpose is to make the doors vertical on two sides because the inner tent is attached to them. But they create extra volume also because of the attachment on the other two sides. The pre-bend construction of the main poles serves the same purpose, so you have lots of elbow space in this tent and its walls look almost like the walls of a cabin type tent.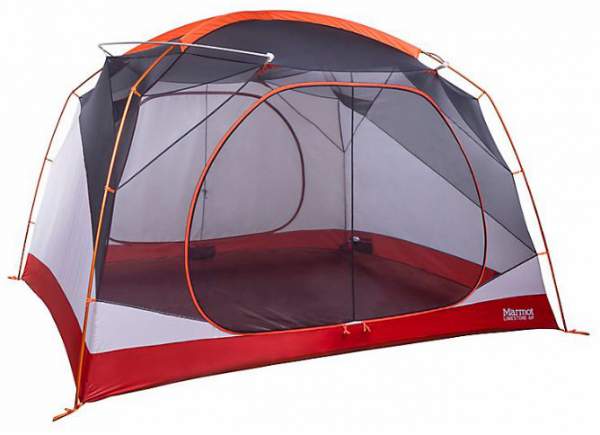 From the picture, you realize that there is no hub here. So this is similar to what you have in some other dome-style tents presented within the site, like the Kelty Trail Ridge 6, Big Agnes Rabbit Ears 6. In other words, the main poles go through the sleeves and when the tent is completely attached, and the poles' ends placed in the corner grommets, the structure becomes freestanding.
At this stage, you can move the tent around and rotate it to find the best position for it in the camp.
The fabric
The canopy and the fly are both 68D polyester, and the mesh is 40D. So these are very good numbers. Polyester is known as the material which does not absorb water, so this is the best choice for tents, they will not become heavier when wet.
Note that on the fly you have vents with Velcro kickstands, one on each side; one of them is visible in the picture below.
The floor is particularly strong, and you have 150D polyester Oxford; so this is truly impressive and you may do well even without a footprint.

The vestibules
You have them two, asymmetric and with different zippers. The main vestibule is with two parallel zippers so you can use it to create an awning shown in the first picture above; yet another variant is shown in the picture below.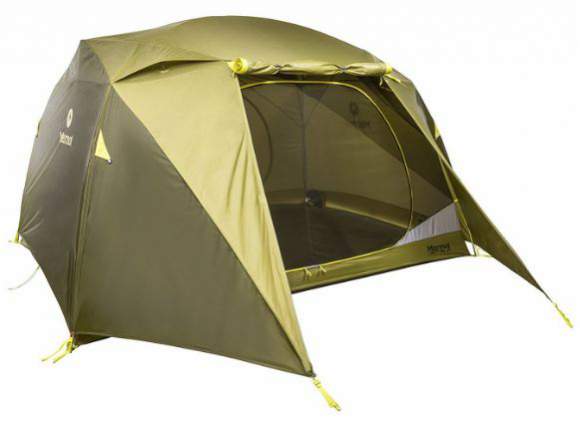 The inner tent
You have two huge doors, the same on both sides, each is equipped with a small pocket on the bottom of the doors where the door can be stored when you unzip it.
Inside, you have 4 mesh pockets above the floor for the organization. Much higher, under the ceiling, you have two more mesh pockets on the two sides, and also two lampshade pockets in the opposite corners of the ceiling, so 8 in total.
On the highest point, you have a clip for a lantern.
Waterproofness rating & weather resistance
As a very reliable company, Marmot provides the rating here. So you have 3000 mm for the floor, and 1500 mm for the fly; impressive numbers again.
The fly is full coverage, which means there are no exposed parts of the tent, so with such a floor and the fly above, you will be completely protected.
Note that the vents on the fly can be kept open when it is raining. They are nicely designed, so you will stay dry even with rain and wind combined. But they are quite small so the ventilation is not perfect if you have a long spell of bad weather. This is typical for many tents of this type, the total protection usually has its downside.
---
Specifications
Type: 3-season, freestanding, dome-type tent.
Capacity: 6 people.
Best use: camping.
Max weight: 17 lb 9 oz (7.8 kg).
Min weight: 16 lb 5 oz (7.4 kg).
Floor dimension: 120 x 100 in (305 x 254 cm).
Floor area: 83.3 ft² (7.75 m²).
Vestibule area: 27 ft² + 12 ft² (2.5 m² + 1.1 m²).
Area per person: 20 ft² (1.9 m²).
Peak height: 76 in (193 cm).
Packed size: 28 x 10 in (71 x 25 cm).
Warranty: limited lifetime.
Doors: 2.
Vestibules: 2.
Poles: DAC aluminum.
Pole diameter: 14.5 mm & 12 mm.
Number of poles: 4.
Fabric:
– Canopy: 68D polyester taffeta & 40D polyester No-See-Um mesh.
– Floor: 150D polyester Oxford, 3000 mm.
– Fly: 68D polyester taffeta, 1500 mm.
Taped seams.
2 colors: green, orange.
---
Marmot Limestone 6 tent vs competitors
Here you can see the Limestone 6 tent side by side with two tents from other brands, all built in the same style. As you realize, it is a bit heavier but it offers more. You have two vestibules to store your gear, and you have one extra door.
---
Marmot Company
The Marmot is a world-renown company founded in 1974 in Boulder Junction Colorado, and presently based in California. They have an excellent track record of quality outdoor products that are reliable and built to last.
---
Final thoughts, rating, pros & cons
In the summary of this Marmot Limestone 6 Review, I wish to stress again its workmanship; this is a great value tent built meticulously and with attention to details, sturdy and reliable, and designed to last for years. What you have here is an improved version of the tent which has been on the market for many years already, so nothing can go wrong with such a tool. I have added it to my list of the best dome camping tents.
This tent will perform well in torrents and winds, but in a hot environment, you would have to keep vestibules open to have a good ventilation. But you have the awning configuration, and you can use it even when it is raining. All in all, this is a great tent and I can fully recommend it.
See how I rate it:
You might want to see also its bigger brother the Marmot Limestone 8 tent. Check also this new 2018 redesigned Marmot Halo 6 tent from the same brand, it is built in the same dome shape.
If this tent is not exactly what you want, please look around, this site is all about family camping tents and large tents in general. If you want something far more affordable, please check this Timber Ridge 6 tent and the Coleman Sundome 6 tent. You might want to check this Eureka Midori 6 which is a very affordable option.
Please let me know if you have any question or comment, there is a comment box below. I wish you a nice day.