---
Big Agnes Guard Station 8 Tent is an impressive freestanding expedition and mountaineering single-layer tent with 2 doors and 6 windows, built for extreme weather conditions. Keep reading.
---
Key features
Single-layer-design.
Freestanding.
Removable floor.
DAC poles.
2 Doors.
6 Windows.
---
What type of tent is this
This is a dome-style tent dodecagon by structure, which means it has 12 angles. If you disregard this, you could take its perimeter roughly like a circle. The picture below shows its floor plan and the most important dimensions. As you see, this is a very tall tent with a peak height of 84 inches (214 cm):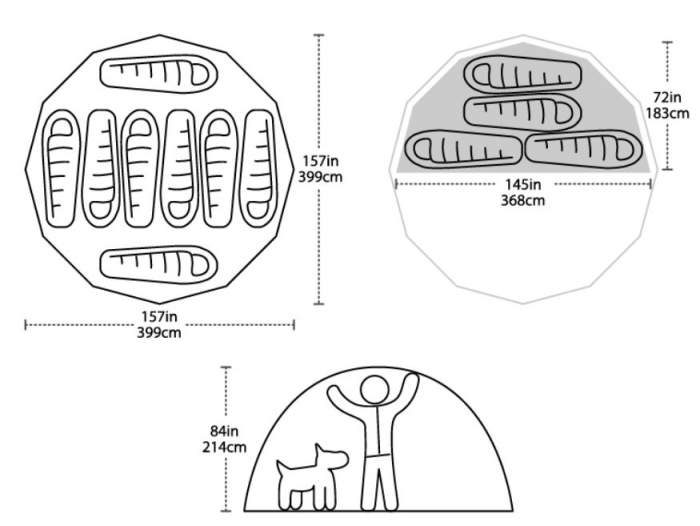 The tent is fully freestanding and supported by poles that are from outside. It is also a single-layer construction, with a removable linked-in floor that attaches to the tent's base with buckles. The picture above shows one option where you can roll the floor to have it only on the half of the tent. The other half you can use as a mud space for cooking and for sitting in chairs without being worried about damaging the floor. But this is also the situation when you use their Accessory Body sold separately as an inner tent, see more below.
Below is the tent shown without the floor in what you could describe as a fast-fly variant. The weight in this case is what they describe as the fast fly weight 21 lb 5 oz (9.7 kg).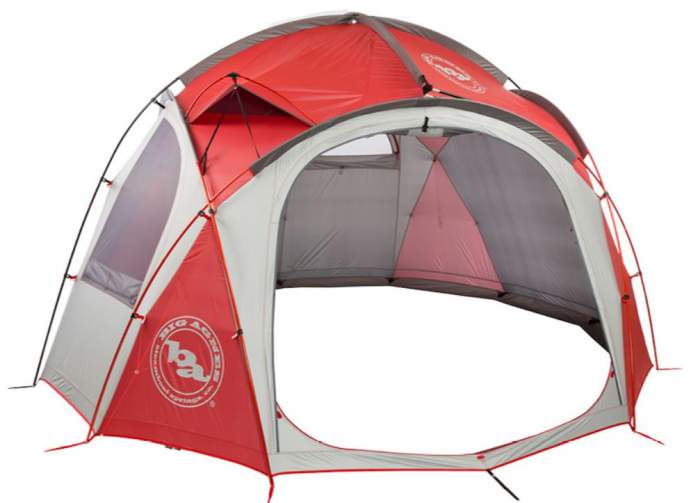 The tent is with large doors on the opposite sides and it has 6 windows in total, some on the doors and some separate. All the windows are with mesh and with panels. The tent is a single room structure. The picture below shows how the door opens wide so you can easily bring in and out all your camping furniture.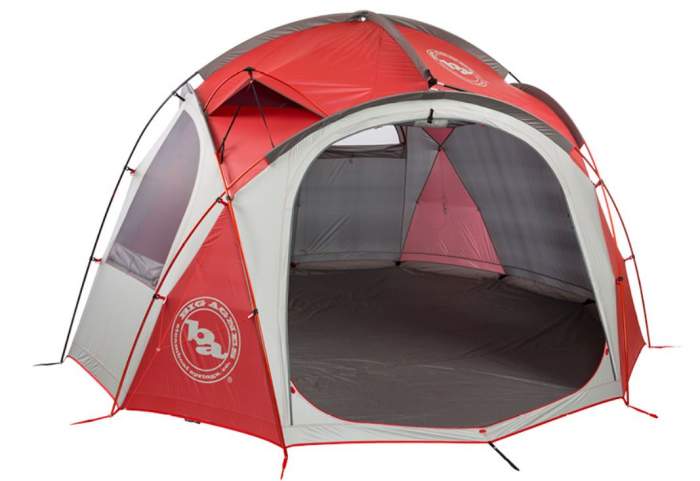 ---
Materials
The poles & stakes
There are 6 aluminum poles that create the dome, and this is DAC Pressfit system. Also included are 20 DAC oversized 12 inches aluminum J stakes. Note that there are also 2 short vents poles.
The fabric
The tent body (which is the shell or fly if you wish) is Dominico undyed polyester ripstop made with high-tenacity yarns. They claim that this increase tear strength by 20-25% over standard nylon or polyester ripstop. The material is silicone-treated with a 1200 mm waterproof polyurethane coating.
They write about a unique pigment dye coloring process that resists fading and increases its UV resistance and stability during temperature and moisture fluctuations, whatever this might mean.
The floor is polyester Oxford with a 5000 mm waterproof polyurethane coating. The carry bag is with backpack straps. All seams are taped with waterproof, solvent-free polyurethane tape (No PVC or VOC's).

Other features
Accessory Body (sold separately) creates a separate living and sleeping space. This is an inner tent which occupies only half of the area under the dome:

The inner tent is sold separately.

Two vents are on the roof. Note that they are with zippered panels from inside so you can close them when it is cold. They also have a unique feature – they are supported by their own poles so they will not collapse and close under the snow, see the picture below. They also have straps to tension them and keep open.

The vents are supported with their own poles.

Multiple interior loops are available for attaching accessories and mtnGLO Tent & Camp Lights.
Pre-cut guy lines and tensioners.
Heavy-duty reflective guylines and reflective webbing.
Please see a bit more in this video:
---
Who is it for
Capacity: The declared capacity is 8 people, and the floor plan picture above shows its dimensions. So the total area is 128 ft² (11.9 m²) and in the case of 8 people this would give 16 ft² (1.49 m²) per person. In view of its shape, it is very difficult to pack so many sleeping pads on the floor, but this is doable.
Seasons & climate: They describe it as a 4-season expedition tent, car camping tent, and mountaineering tent. It is more or less so, but here are a few comments. The tent is less suitable for a warm climate than for a cooler climate. This holds in particular if you have to keep all the windows closed in long intervals of rain.
But its structure is very similar to some of the winter tents here in the site. So all the openings can be closed if it is too cold and you want to prevent cold drafts. There is an inner skirt along the perimeter, which overlaps with the linked-in floor, so when you put snow around you will prevent cold drafts.
Now, they write that "dome shape minimizes snow and wind load" which should be true in general. But look at those externally positioned poles with sleeves. With such a structure on the roof, the snow cannot possibly slide down and it will keep accumulating unless you clean it occasionally. So this is not a great design. Some of its competitors (shown in the comparison table below) have an extra fly which creates a smooth surface and this prevents snow from accumulating on the roof.
The structure is very strong and with 9 intersections of its poles, there are 12 anchor points on the base to fix it to the ground properly. The tent is tall but it is aerodynamic (if we disregard the poles with sleeves). Note that this is almost exactly half a sphere; the base radius is 2 meters and the center peak height is 214 cm. Such a configuration is great if you are forced to use it in windy places.
So all in all, I have included it in my list of winter tents and also in cold weather tents for camping.
Weight & packed size: The tent is lightweight for such a type and you will realize this from the comparison table below. But it is fair to say that this is because it is a single-layer tent.
The packed size 24 x 15 x 10 inches (61 x 38 x 25 cm) is also not bad, but this is again partly because of its single-layer structure and absence of vestibules.
---
Specifications
Type: dome tent.
Best use: car camping, base camping, mountaineering.
Declared capacity: 8 people.
Packed weight: 25 lb 1 oz (11.37 kg).
Trail weight: 18 lb 7 oz (8.36 kg).
Fast fly weight: 21 lb 5 oz (9.7 kg).
Diameter: 157 in (399 cm).
Floor area: 128 ft² (11.9 m²).
Floor area per person: 16 ft² (1.49 m²).
Peak height: 84 in (214 cm).
Packed size: 24 x 15 x 10 in (61 x 38 x 25 cm).
---
Big Agnes Guard Station 8 Tent vs Competitors
I believe in the importance of comparison; when you line up the features of such tents side by side, you can better understand where each of them fits and then make an informed decision. So in the table below I show The North Face 2-Meter Dome 8 person tent and also Marmot Lair 8 Person Tent.
So all three of them are half-spherical constructions and expedition tents, with the same declared capacity. But note that the Big Agnes tent is only one single-layer here, this is why it is lighter and it packs better. It is also the most affordable of the three tents, but please follow the links to read more.
Vestibules area,
sq ft (sq m)
Big Agnes
Guard Station 8
24 x 15 x 10
(61 x 38 x 25)

30 x 24 x 24
(76 x 61 x 61)

The North Face
2 Meter Dome 8
32 x 23 x 23
(81 x 58 x 58)

---
Summary, rating, pros & cons
So you have seen all the features of this Big Agnes Guard Station 8 Tent and you realize that this is an exceptional construction with some unique elements like the vents with poles. It is very close to a real 4-season tent and this holds in particular if you order its accessory inner tent which they sell separately. This is a high-quality product from a reliable brand, fully recommended, if you can afford it.
The price for this tent is high, so this is a very expensive thing but when you compare it with some other similar tents you realize that it is more affordable than most of them. Please see how I rate it using a set of criteria applied consistently to all the other tents in this class, so you can compare easily.
For more tents in this class, please check in my list with winter tents and in cold weather tents for camping.
Note that I am not paid by the brand and this is not a sponsored text. So what do you think about this structure here? Please share your thoughts, there is a comment box below.
---