---
Marmot Lair 8 Person Tent is a huge expedition tent designed for winter use, so it is fully enclosed and without mesh areas, with 10 DAC poles, incredibly tall and stable.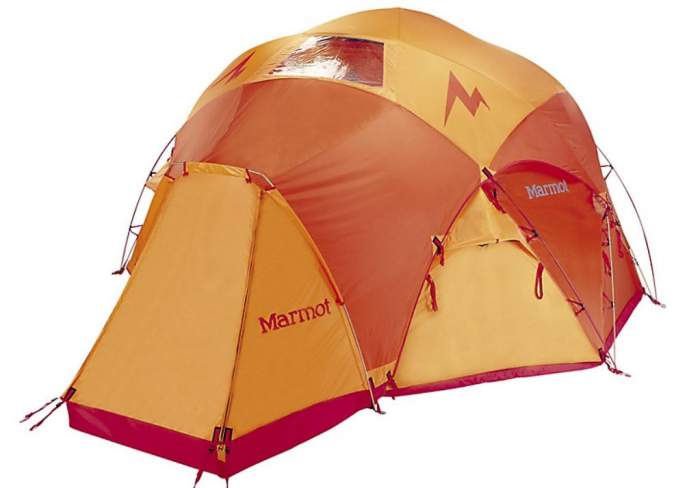 ---
Key features
Designed for winter use.
Excellent DAC aluminum poles.
Good waterproof rating.
Large area.
Very tall tent.
Semi-freestanding.
Lightweight.
Roof window.
2 doors.
---
What is Marmot Lair 8P
The Marmot Lair 8 has been on the market for at least 15 years or so. This is a dome-style semi-freestanding and semi-double-layer tent. The inner tent is obviously fully self-supporting and freestanding as you can realize from the picture below. But the tent has a vestibule with an extra pole so this extension created by the fly needs to be staked down properly to be functional.
As you see from the picture above, the fly covers a bigger part of the tent and it creates the vestibule. So strictly speaking, it is not in the group of full fly tents.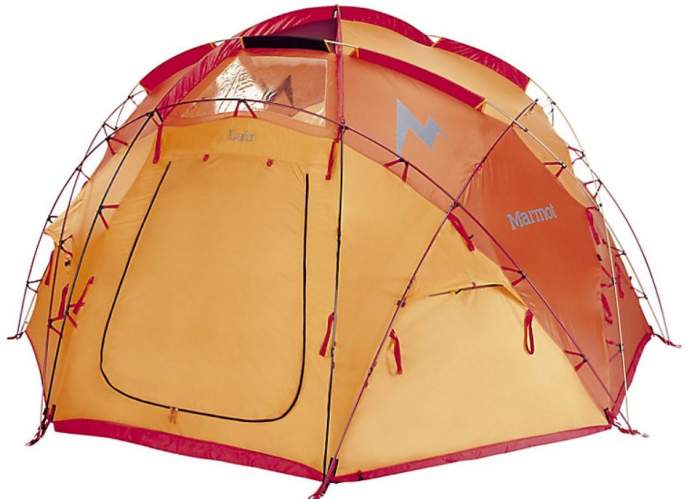 This is also an incredibly tall tent with a peak height of 94 inches (244 cm), so I have added it to my list of extra tall tents. If you check the list you will realize that it is among the tallest of all.
---
Who is it for
Capacity-wise, the Marmot Lair tent is declared for 8 people and the floor area is 165 ft² (15.3 m²). This makes 20.6 ft² (1.9 m²) and this should be quite enough for such a number of users. Note that you still have 40 ft² (3.7 m²) under the vestibule where you can store your gear and boots. So this is plenty of space and you will see below how it compares with one of its closest competitors. However, see below in the Specifications the note about the area.
Seasons-wise and climate-wise, the Lair 8 comes with excellent poles and a very good waterproof rating. In fact, you have two waterproof layers. The poles cross each other at many places and the structure is incredibly strong. So this is a great example of winter tents and I have added it to my list of best tents for winter camping.
I have seen it described as a 4-season tent and this is totally wrong. This is a tent for two seasons maximum, i.e., for winter, late autumn and very early spring. There are no mesh sections here, the tent is designed to preserve the warmth so you would not want to use it in a warm climate. I have included it in my list of cold weather tents.
Weight-wise, the tent is surprisingly light for such a number of poles and the area which it provides. The weight is 26 lb (11.8 kg). Note that you can make it lighter if you leave the removable floor at home.

---
Materials & features
The poles
There are 10 poles here. Those are DAC DA17 10.2 mm and 9.5 mm so you have an excellent material. This type was introduced in 1991 as the first tent pole engineered for large tents, offering flexibility and strength. The people at DAC claim that the development of DA17 was revolutionary and that it affected the industry of large tents.
The fabric
The inner tent canopy fabric is 40D 100% nylon ripstop with a combined silicon/PU coating and 1800 mm waterproof rating. The same material is used in the fly so as I mentioned above, you have two waterproof layers of protection.
The floor fabric is 70D 100% nylon with a 5000 mm waterproof rating. I am not particularly impressed with the denier value of the floor. These are fire-retardant materials. The floor is removable. Note also that you have a roof vinyl window.
Ventilation
The Lair 8p tent is designed with vents, so you do not have mesh on the canopy. Ventilation can be improved by keeping the inner door open.
Other features
Two doors and one vestibule.
Seams are taped.
Field repair kit included.
Many interior pockets for small gear.
Light-reflective points.
Jingle-free nylon zipper pulls.
---
About Marmot
Marmot was established in Grand Junction, Colorado USA in the spring of 1974. Nowadays, their products are distributed in more than 30 countries worldwide. They craft professional quality outdoor gear based on the experience of working mountain guides and instructors.
---
Specifications
Type: dome tent.
Capacity: 8 people.
Weight: 26 lb (11.8 kg).
Minimal weight: 24 lb (10.9 kg).
Dimensions: 156 x 156 in (396 x 396 cm).
Floor area*: 165 ft² (15.3 m²).
Area per person*: 20.6 ft² (1.9 m²).
Vestibule area: 40 ft² (3.7 m²).
Peak height: 96 in (244 cm).
Packed size: 30 x 24 in (76 x 61 cm).
Doors: 2.
*Note on the area: These are official numbers from Marmot but something must be wrong in their data. With the given dimensions the area must be well below 12 square meters. It cannot possibly be 15.3 m². After asking several times they promised to send me the correct data which have never arrived. My estimate is that the true area is 11 m².
---
Marmot Lair 8P tent vs The North Face 2-Meter Dome tent 8
I have decided to show you some parameters of this Lair 8 tent side by side with The North Face 2-Meter Dome tent 8. So the declared capacity is the same, but the Lair 8 offers far more space (assuming that the numbers are correct), it is much lighter, it packs better, it is much taller, and it is more than two times less expensive. But see also the fabric, it is far thinner in the Marmot tent.
Vestibules area,
sq ft (sq m)
The North Face
2 Meter Dome 8
---
Summary, rating, pros & cons
So if you think about a winter camping tent, this Marmot Lair 8 Person Tent should be the one to bear in mind. This is a true winter tent designed for the harshest conditions. It may look expensive, but you have seen one example above, and a few more are shown below. So you realize that compared with those other tents, this Lair 8 is a really great option.
Please see how I rate it:
If you want some more options for cold weather camping, I warmly suggest checking my page with cold-weather camping tents. Check also these MSR H.U.B. 8 Tent and Big Agnes Guard Station 8 which are built for extreme conditions, as well as this Mountain Hardwear Stronghold 10 Person Tent.
Note that this is not a sponsored post and I am not paid by the brand or related to them in any sense. Thank you for reading. Do you have any experience with this tent? If so, please share it here, there is a comment box below. I wish you a nice day.