---
Here you have a list of the best cold weather tents for family camping, all different in style and designed for a variety of cool or cold weather situations.
---
Cold weather tents – what does this imply
The term cold weather tents can have a few different meanings:
Cold weather tents for 3-season camping, perhaps better to call them cool weather tents. So here you would have a design which preserves warmth, without mesh on the ceiling, etc., but not necessarily suitable for snow conditions or for very strong winds.
Cold weather tents for hunting. This may be similar to the group above but it may include some of the groups below, like winter tents, 4-season, etc.
Extreme cold weather tents. This type comes with features which allow for using a wood stove inside, plus the design suitable for such extreme environments, like a full coverage fly or double-layer structure.
Insulated tents. This is a special type which can be used in all seasons and for any activity, including family camping. Such tents insulate you from the environment, regardless if it is cold or warm, so they are more than cold weather tents. You will see a perfect example below.
4-season tents. This is a rather general term which includes several tents in the list.
Winter tents. These tents are what the name says, warm enough and strong enough for the snow and everything else that comes with winter, but you would not use them in a warm environment. Obviously, the extreme cold weather tents are also in this group.
So cold weather tents for family camping can include any of those mentioned above. Below, you have the tents that can be included in at least one of these types, but some you can put in several. The common features of almost all these tents are at least the following:
They all are designed to preserve the warmth or to preserve the inner micro-atmosphere from the external elements in general (remember what I said about insulated tents).
All are with a high waterproof rating.
These are tents for groups or for families, so all are with 6 or more people capacity.
Most of them are very expensive, but not all.
---
My list of the best cold weather tents, suitable for family camping and for groups
The list includes the tents ordered by the inner floor area, from the smallest to the largest:
After reading the text, you will realize that here you have:
Tents with stoves included (or designed to be used with stoves).
Some are canvas tents and some are poly-canvas.
Some are air beam tents; who would say that these can be found here.
---
1. Russian Bear Winter Tent With Stove Included
This unusual design is for extreme weather conditions, and the tent comes with a wood stove included in the package. You have a pipe jack on the roof with a heat-resistant layer around, to pass the pipe.
The tent is an instant setup type of a particular type. It works like this: you unfold the tent and then enter it and spread it from inside just like an umbrella. In fact, you have a pole in the center which has the same purpose as the pole in an umbrella, so that you slide the structure with roof poles along it.
When the tent is open and is standing on its legs, you simply unscrew that central pole and put it aside until you take the tent down, and this is then done in seconds. See how it is done in this video – it is in Russian, it doesn't matter just watch and enjoy, one girl is setting the tent up on her own:
There are windows on the tent and they all are with 4 layers; so you have a mesh and a panel in the inner tent, and again a translucent solid layer and a panel on the external waterproof shell. The door is yet another invention, it is a hinged door of a particular type, but you do not have to use it, you can use the normal zippered panel instead.
The tent is round shape and you have 11.4 ft (3.5 m) diameter, which gives around 102 ft² (9.6 m²) of the floor area.

---
2. Russian Bear Rectangular Winter Tent With Stove Included
This tent is a fully double-layer structure so the shell is a waterproof fabric Oxford 240T and the inner tent is Oxford Ripstop. The frame is made of an aircraft aluminum alloy D16T, so you have 16 mm tubes. If you are not familiar, this D16T is one of the most popular brands of aluminum tubes and in the western classification it is analog to 2024T3.
The dimensions of the tent are 113.4 x 155.5 inches (288 x 395 cm), which gives the floor area of 123 ft² (11.4 m²). The declared capacity is 6 people and the total weight of the package is 28 kg.
As you see from the picture, the fly has large ground flaps which you can press with snow and have extra protection from the wind.
The tent is designed to be used in all seasons and in all weather conditions. You can set it up in 20 minutes or so, see the video:
The package contains the two-layer tent with floor, frame poles, stove, carrying bag. The stove works on wood and it is equipped with protective shields against burns.
The door is the hinged type and with a sealing valve around its perimeter for insulation. Note that both inner and the outer tent has the door, the outer door opens outward and the inner door opens inward.
The tent is designed to install a central support pole 22 mm in diameter, as an extra support against the snow. You have 2 removable windows (again one for the inner and one for outer layer), 1 mosquito net, and 2 fabric blankets.

---
3. Kodiak Canvas Flex-Bow Deluxe 8-Person Tent
The Kodiak Canvas 8 is what its name says, a 100% canvas tent, and such a material insulates far better in a warm environment than any synthetic. So the tent is very much suitable for desert-like conditions, the thick fabric and flaps will keep the dust out. But in general, this tent is an all-season year-round use tool, but not for extreme winter mountaineering or heavy snow accumulations.
This is a heavy non-freestanding tent which must be staked out properly. Once this is done, it will stand strong against anything, regardless if this is rain, wind, or snow. This is a watertight and breathable structure.
Everything in this tent is built to last, only strong and quality materials are used. The fabric is pleasant an soft, though it is heavy and you need time to set it up properly. So this is not a tent for people who change the camping place frequently.
They have several tents that look similar to each other so it is easy to get confused. This is the model 6014 and you will see it in the link below.
The frame is as the name says, flex-bow type, 3/8-inch solid spring steel, very sturdy and it keeps the tent taut. You have 6'6″ (198 cm) ceiling height with a walk-around comfort. There are 2 large D-shaped doors, one on the front and one on the back, and 4 large windows with no-see-um mesh.
The tent is designed with a large 84 x 78-inch (213 x 198 cm) awning. Inside the tent, you have a customizable gear loft, and organizer pockets. The zippers are quality #10 YKK zippers. There are two funnel-flow vents and the tent comes with heavy-duty 12-inch steel rod stakes.
The ceiling is 10 oz Hydra-shield canvas, the wall is 8.5 oz Hydra-Shield canvas, and the floor is 16 oz vinyl, polyester-reinforced and seamless.
The dimensions are 14 x 10 ft (4.3 x 3 m), so you have 140 ft² (13 m²) of the floor area for the declared capacity of 8 people. Note that this tent has 4.8/5 average rating by Amazon customers, and this is something rarely seen.

---
4. Arctic Oven Tent with vestibule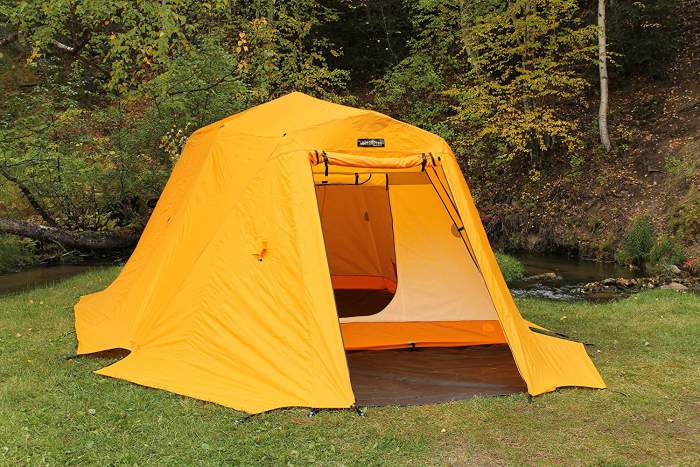 In this case, you have a tent that is suitable for all seasons, and this is due to its breathable inner tent fabric called Vapex, and due to some other features. So ventilation is exceptional and condensation should never be an issue with this tent.
But this is the tool that shines in the extreme conditions, a true 4-season tent. So this is the type which comes with all features for using a wood stove. You have a pipe jack on the roof and several ventilation openings and windows.
The tent is a cabin type, so rather tall and with steep walls. Yet it comes with numerous guy-out lines and with wide flaps on the fly which you will use for extra protection against the winds.
The declared capacity of this tent is 6 people, and its inner area is 152 ft² (14.1 m²). You also have a very large vestibule with 46 ft² (4.3 m²) of an additional protected area. This is a very expensive tent, please check the link to see more.

---
5. Vango Capri 500 XL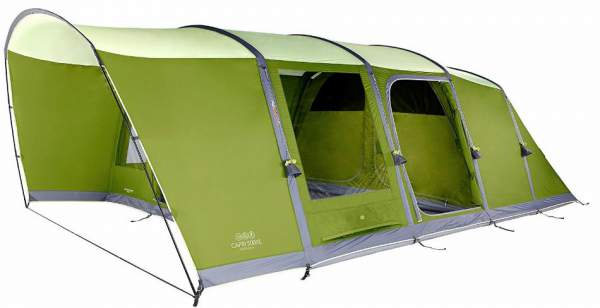 This impressive tent is with an official capacity of 5 people only. But it provides 172.2 ft² (16 m²) of the inner floor area, plus 34.4 ft² (3.2 m²) under the porch. So you have incredible 34.4 ft² (3.2 m²) of the inner area per person.
The tent is a 3-room design, with a large living area plus two smaller sleeping units. This is the dark rest design, so the glare is reduced in the sleeping zone. Most importantly, here you have an air-beam technology. Only the front pole is fiberglass and the other 4 are inflatable air beams.
The tent is fully closed and with PVC windows, nicely ventilated with several vents on all sides. So it is very much suitable for a cooler environment with lots of rain; its waterproof rating is 4000 mm. Please read more in my full review.

---
6. Vango 6 Person Tunnel Farnham 600 Tent
The Farnham 600 is a tunnel-type 3-room tent, with a huge sitting area and a sleeping section that has two parts separated by a simple divider. This sleeping area is a double-layer type, and it is also a dark-rest type section. This means that you can sleep longer in the morning or even during the day. The inner tent in the sleeping section is a breathable polyester which allows condensation to pass through.
This tent is for a cooler environment and not for extremes like the Crua Loj 6 and the Arctic Oven tents. So the tent is with solid and large clear PVC windows for maximum light and great visibility, and you do not have mesh around. The fly is with an impressive waterproof rating 4000 mm. So a wet and cool environment is where this tent shines.
The tent offers 17.6 square meters of the total inner area, plus a front porch area. The roof is 210 cm high in the biggest part of the tent. Note that the poles are fiberglass, so although the structure looks stable and strong, this tent is not for snow conditions. But this is a very affordable tent, please check the link below.

---
7. Vango Capri 6 Air Beam Tent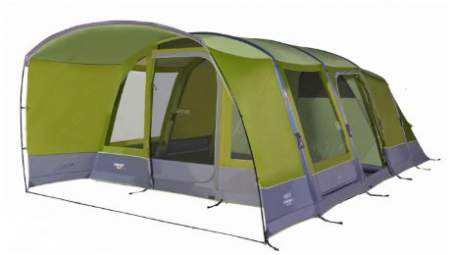 As you realize from the title, this is a really unusual design with air beams instead of the classic poles. Only the front vestibule pole is metal. So why is this tent here?
Well, this tent is definitely not suitable for snow conditions, but it behaves nicely in windy situations. It is very flexible and bounces back in the wind, so it is never a firm and solid obstacle to the wind, it adapts to the wind all the time. But most importantly, this tent is designed for a cooler environment.
The main part is indeed a single layer structure, but the sleeping area has an extra fabric cocoon which helps against condensation. The tent is with huge windows, but those are solid materials, so you do not have a mesh here. The complete design is such that it preserves the warmth.
The tent is designed as a luxurious option for 6 people. So you have the inner area with 194 ft² (18 m²), plus the porch area which adds 41 ft² (3.8 m²). This is a lot of space to organize your life in the camp. Please see more in my full review.

---
8. Vango Odyssey Air 800 Tent
So this is yet another tent with the air beam technology and here you have nothing but beams, which makes it different from the Capri tent above from the same brand.
This is an interesting design in many ways. You have a central room which can be used as a sitting area, and on the two sides, you have two sleeping sections. Now, in each of these sections, you have one inner cocoon, simply a smaller tent within the outer shell. But each of these cocoons is with divider, so you technically have 5 separate rooms here, 4 are for sleeping and 1 is a sitting room. Note that these sleeping sections are 'lights out' type or dark rest type.
The tent is with two doors, one on each side of the sitting room. You have a special TBS II system (tension band system) for extra stability against the wind. The tent is with large diamond-clear PVC windows for views and for protection against the wind. So there is no mesh around, the space is closed and suitable for a cooler environment.
The dimensions of this tent are impressive just like everything else, 7.1 x 2.9 m, which gives the floor area of 222 ft² (20.6 m²). So this is close to the next giant below in the list. Though you do not have an extra porch here, the structure is quite different. The current price of this tent on Amazon is only $337, which is a true bargain.

---
9. Crua Loj 6 Insulated Tent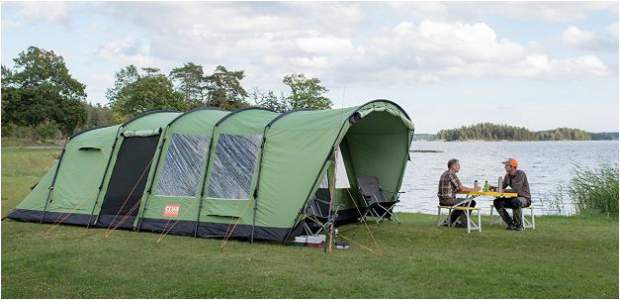 This is an insulated tent, so you do not have options for a wood stove, but you have an internal insulated cocoon instead. The tent is designed for all seasons and it is exceptionally well suited for cold weather situations. They have tested it and the results show 18 degrees F difference between the outside cold weather temperature and the temperature in the tent. So this is pretty much convincing and a good reason to have this tent in the list here.
The insulation has R-value 4, just to have some idea. The external shell fabric is fully waterproof and this is a breathable poly-canvas material.
The tent is designed for 6 people, but it is huge. The total inner area is 235 ft² (22 m²), and in addition to this, you have a porch with additional 65 ft² (6 m²). The inner space is divided into three rooms, two small insulated rooms for sleeping, and one huge uninsulated sitting area. All windows are solid vinyl so the design is such to preserve the warmth and to protect from winds. This tent is very expensive, please check in my review.

---
10. Playdo 4-Season Waterproof Cotton Canvas Large Family Camp Bell Tent
This impressive tent is built in several sizes, so you have 3, 4, 5, and 6 meters diameter. This site is about larger family camping tents so my focus is on the largest of them.
You realize, such a diameter implies 28 m² (301 ft²). It is so large that you can easily put 5 double-size beds inside with plenty of space to spare. So the tent can easily accommodate 8 – 10 people. Even the smaller version with 5 m diameter is big enough for 3 queen-size beds, and it can accommodate 6 people.
The picture above shows why this tent is in the list – it comes with an integrated stove pipe jack which you can see in the picture (a stove is not in the package).
But this tent has some other great features a swell. For example, this is a cotton fabric with a special waterproof treatment, very high quality and durable. They claim it is strong enough to withstand winds, heavy rain, and snow. I think I would be cautious about the snow, this is a large roof span and without enough support for the extra weight caused by snow.
The cotton alone is good enough to create a cool atmosphere if you use this tent in a warmer environment. It also insulates far better than any synthetic material (more about this in my separate text), so it alone is good enough for a cold environment. With the added stove, you will have a castle.
This is a fully waterproof tent due to special waterproof treatment and the seams are taped. The floor is PVC waterproof material, so all is secured as it should be. The price is $770, and this is far lower than in the most expensive models above.

---
Final thoughts
So all these are cold weather tents for family camping, and they are very different in design, now how to choose. First, about the price. The most expensive tents here are around $2700, and the most affordable is just over $300. You have plenty of reasons to think twice about what you really need.
Not all of the tents here are for extremes, and perhaps you need just a tent for a normal 3-season use which can preserve the warmth, and suitable for a cooler environment. Those are the tents from the Vango brand, there are several of them, they are designed in Scotland so you can imagine what kind of environment they fit best – chili and wet, with lots of rain.
But some of the tents are with an integrated wood stove, or they are designed for a wood stove, so clearly, these are the tools for the most extreme situations. If you check the prices you will see that they are expensive.
The insulated Crua Loj 6 is a story for itself, its insulation works against anything from outside, warm or cold, it does not matter. This is a true 4-season tent, exceptional in many ways, and with the price to match.
Note, in some cases the tents presented here are a part of a series which may include several sizes. A typical example is the Kodiak 8 tent – in fact, the series includes several tents which you can see here. The same is with the Playdo tent as I mentioned above.
Thank you for reading. Did I miss some great tent which you think should be here? If so, please let me know, there is a comment box below. I wish you a nice day.
---