There are no many 8 person dome tents on the market, and here is my selection of the best options that you can find, all simple dome structures with some interesting features.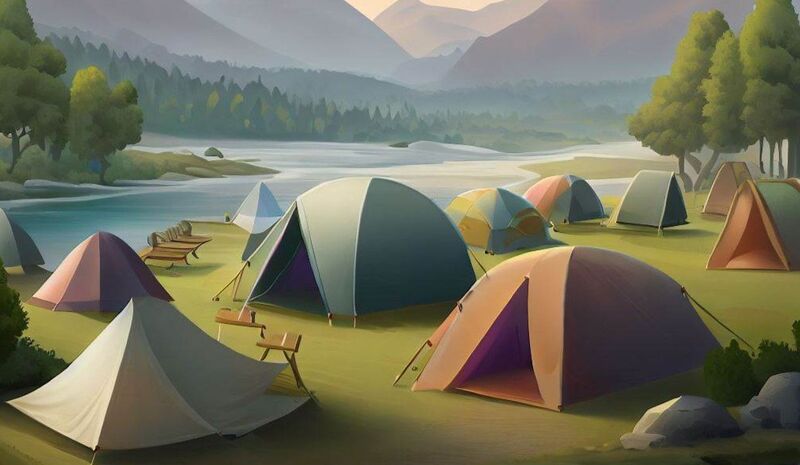 ---
My list of best 8 person dome tents for camping
The tents in the list are ordered by the weight, from heavier to lighter. I think this parameter may be more important than the floor area because differences in weight are substantial, and this is not so regarding the area.
The list includes a variety of styles, and this means tents with and without vestibules, single and double layer tents, dark rest type, etc. But note that all the tents are simple dome type, so there are no extended-dome tents here.
---
1. The North Face 2-Meter Dome tent 8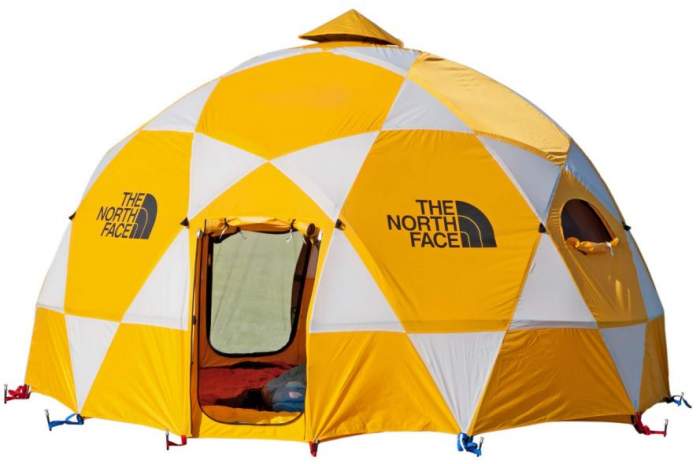 Here you have a tent built for the harshest winter conditions and expeditions. You realize this from its 12 top quality aluminum poles that create many intersections which make the structure very strong. In addition to this, you have a true two-layer structure.
The floor is with a 10000 mm waterproof rating. The canopy fabric is a strong combination of a 210D and 420D nylon oxford.
This text is about dome tents, so from the picture you see that this is a perfect hemisphere construction. With this shape and the mentioned frame, it is able to withstand the strongest winds in Antarctica and in the Himalayas.
The area is 125 ft² (11.6 m²) so the space is a bit limited if 8 people would use this tent. There are a few openings and doors, and they all are with mesh and panels, plus a chimney vent on the top. So all of them can be closed to preserve the warmth when needed.
This is a high quality product and this is reflected in its price. It is also very heavy, it weighs 51 lb (23.1 kg).

---
2. Big Agnes Guard Station 8 Tent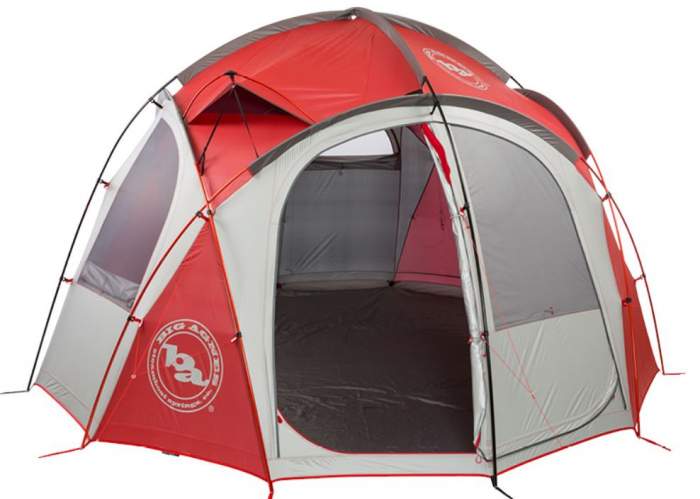 Here you have an impressive tent for expeditions and mountaineering, built as a single-layer structure with 2 doors and 6 windows. It is a fully freestanding dome supported by a high quality DAC Pressfit pole system.
Regarding materials, it comes with 20 DAC oversized 12 inches aluminum J stakes, and something unique here is its 2 short vents poles. The floor is removable, and this is a polyester Oxford with a 5000 mm waterproof polyurethane coating.
The body is Dominico undyed polyester ripstop made with high-tenacity yarns. They claim that this increases tear strength by 20-25% over standard nylon or polyester ripstop. The fabric is silicone-treated and with a 1200 mm waterproof polyurethane coating.
The inner area is 128 ft² (11.9 m²), and the peak height is 84 inches (214 cm). The tent weighs 25 lb 1 oz (11.37 kg).

---
3. Coleman 8-Person Dark Room Skydome Camping Tent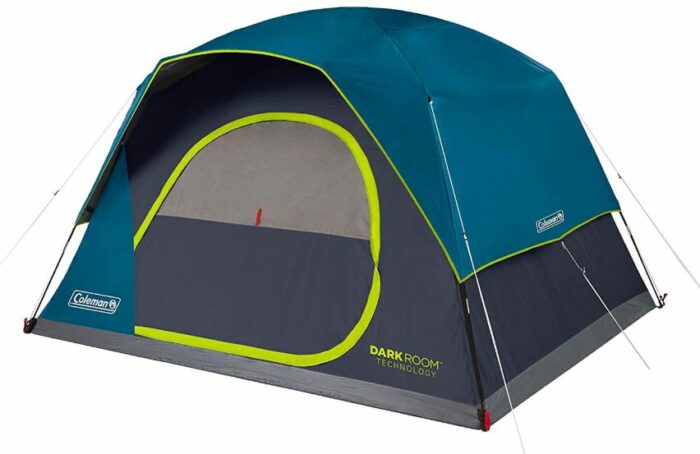 This Coleman 8-Person Dark Room Skydome Camping Tent is officially for 8 people, but its area is 108 ft² (10 m²). So this is not a lot of space.
The tent is a fully freestanding construction. This is because it is a simple dome and it has a partial coverage fly, so there are no vestibules to stake down.
It is very tall and pleasant with its peak height of 6 ft 4 in (193 cm) and with pre-bent poles that create rather steep walls.
The word Dark Room in the name describes the fact that the fabric blocks up to 90% of sunlight. So this is a dark rest tent and I have included it also in my list of best dark rest tents.
The tent is very easy to use, and also very affordable. It weighs 22.1 lb (10 kg) and the poles are fiberglass.

---
4. NTK Philly GT 8 to 9 Person Tent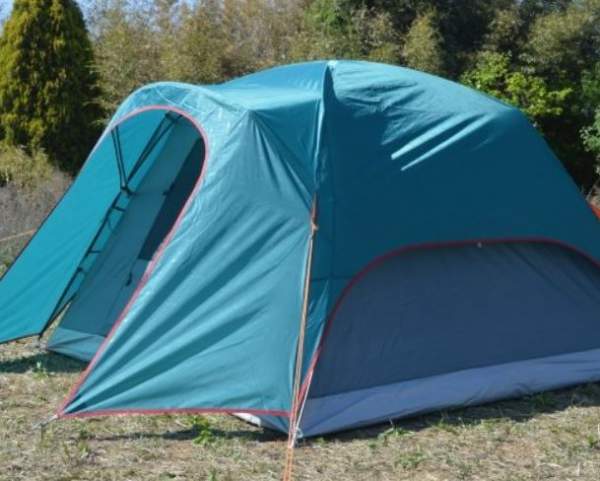 The name of this tent suggests that it is for 8-9 people, but the area is not particularly large, you have 120 ft² (11.2 m²). But note that the peak height is great, you have 78.7 inches (2 m).
The structure is a very simple single-room dome with a single door. The two main poles support the tent, but there is one more that creates a small but useful awning above the door. The poles are fiberglass.
As you see from the picture, the fly is not really a full coverage type, but the material of the tent is the same and with the same 2500 mm waterproof rating. The floor is a thick polyethylene so you have full protection from elements. The tent weighs 20.74 lb (9.4 kg).

---
5. NTK Colorado GT 8 to 9 Person Tent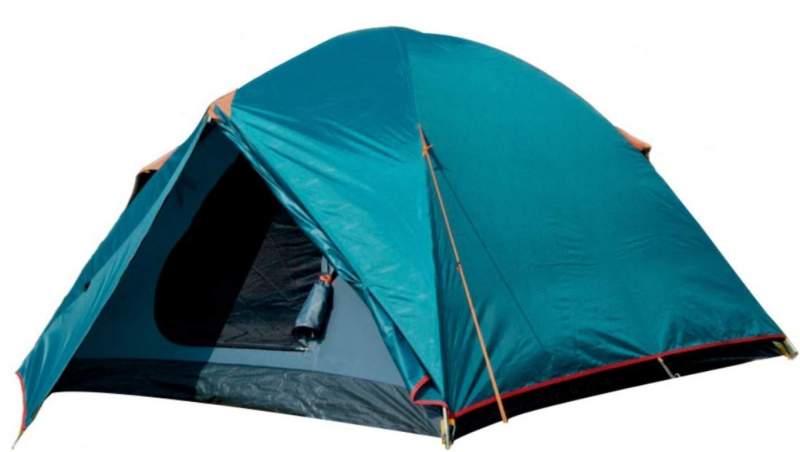 This NTK Colorado GT 8 to 9 Person Tent is with an official capacity of 8-9 people. You have 120 ft² (11.2 m²) of the inner area, but there is also around 39 ft² (3.6 m²) under vestibules. So you have plenty of covered space to store your gear.
So this is a full-coverage fly dome-style 3-season tent with two vestibules and two doors. In view of all this, its weight of 20.7 lb (9.4 kg) is quite good.
The fabric is standard for this brand, with a 2500 mm waterproof rating, and the tent comes with an incredible price tag. Because of the mentioned vestibules, it is semi-freestanding, but the setup is very easy. You have a bathtub floor and they use polyethylene, so you are definitely safe from groundwater.
The poles are fiberglass. There is also an e-cable port, a couple of wall pockets, and a lantern loop.

---
6. Timber Ridge 8 Person Family Camping Tent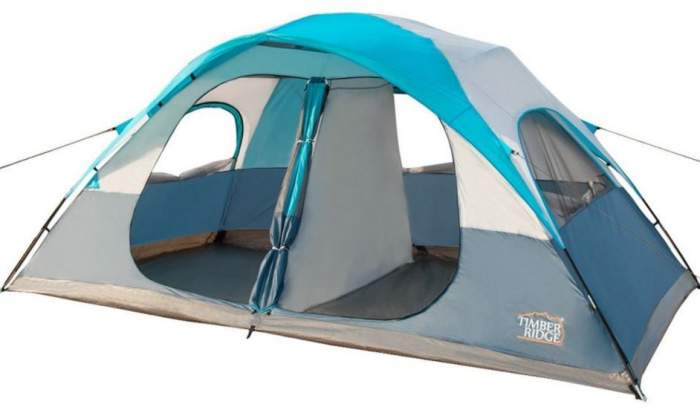 This Timber Ridge 8 tent has been on the market for a number of years and it remains popular. It is supported with two main poles, but there are several shorter poles added only to raise the fly above the inner tent. But this is still a simple dome tent.
As you see from the picture, this is also one of the tents with a partial fly that covers only the ceiling. Because of this you have 3 large windows plus two large doors that also have windows in the upper sections. So this is rather unusual for a dome tent. But this is also a tent with 2 rooms.
You have an area of 112 ft² (10.4 m²), so this is similar to the rest here in the list. This is also a very affordable tent, and it is most suitable for summer camping. Note that it is quite light, the weight is 19 lb (8.62 kg).

---
7. Beesky Tent 8 Person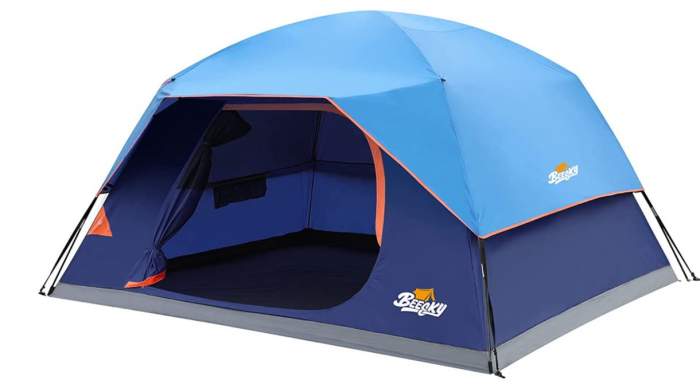 This tent can be described as a freestanding structure and this is because of its 3/4 coverage fly that attaches to the corner poles. The peak height is very good 6.3 ft (192 cm).
In my view, it is best suited for a 2-season warm weather camping. It is easy to use, supported by two main fiberglass poles, and with a moderate waterproof rating.
The tent is incredibly affordable and this is one of the reasons behind its popularity. Observe that it is very light, the weight is 17.85 lb (8.1 kg), and the inner area is 108 ft² (10 m²).

Final thoughts
So this was my selection of the best 8 person dome tents currently on the market. The list will be updated from time to time, and this is why you might want to bookmark this text and keep as a reference.
How to choose the best option for you? When you see the tents in the list, you realize that there are several important factors to consider, and those are budget, purpose of the tent, weight, storage options, etc.
The differences in price are enormous. This is easy to understand, some of them are highly advanced shelters built for professionals. So if you need something for occasional use with your family, this is certainly not for you.
This is related also to the purpose, some are built for the harshest possible environment which may not be necessary for you if this is about family camping. Some are only for mild summer time weather, so these may be more appropriate for you.
None of these tents is built to be carried long distances, so the mentioned issue of weight is just in terms of handling it when you are close to your car. But the difference in weight is substantial, elderly users might bear this in mind.
Storage is typically under vestibules, and as you realize, not all of them here have such a feature.
Please let me know if you have questions, there is a comment box below. Thank you for reading and have a nice day.