---
The North Face 2-Meter Dome 8 person tent is an impressive hemisphere construction designed for the harshest winter conditions, a freestanding full cover expedition tent with 12 aluminum poles.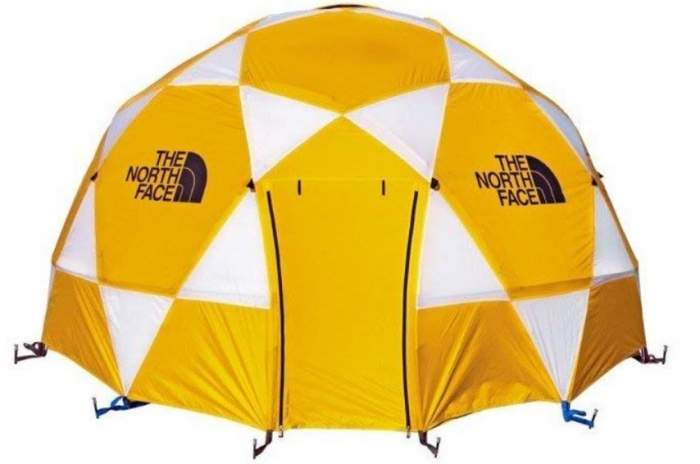 ---
Key features
Winter tent.
Incredibly strong & stable.
Freestanding.
Aluminum poles.
Dome tent.
Full cover fly.
Fully enclosed.
Very tall.
---
So what type of a tent is this
The North Face 2-Meter Dome – 8 Person Tent is from their Summit Series which represents the pinnacle of their outdoor product technology. So this is a perfect dome-shaped and fully freestanding tent with a full cover fly. The term freestanding here means that after you pass the poles through the sleeves and attach them to the floor grommets, the tent is completely self-supporting. It remains so even after adding the fly which you buckle to the base. So you can move it around as you wish and rotate.
As I said, the fly goes all the way to the ground so you have a full protection and this is a true double-layer tent. I have included it in my list of tents with full fly.
The reason for saying that this is a perfect dome is because the height is 83 inches (211 cm) and the diameter is 155 in (394 cm). So this is almost a hemisphere and the words '2-meter' in the name refer to its radius. The picture below shows it two most important dimensions, note that the interior height is 81 inches: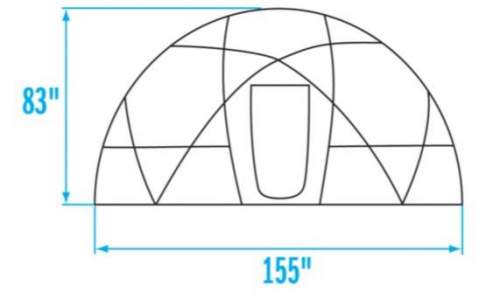 But this is not all, from the floor plan shown in one of the pictures below you see that it has 12 corners, if you wish to know in geometry this is called dodecagon or twelve-sided polygon. So this is an incredibly stable construction because all 12 corners mean at least one pole on the ground, in fact in most places the two poles connect to the same grommet area. In addition, there are poles that go around making the structure bombproof. I must say, this is an incredibly impressive construction, but see it yourself, here is the picture without the fly: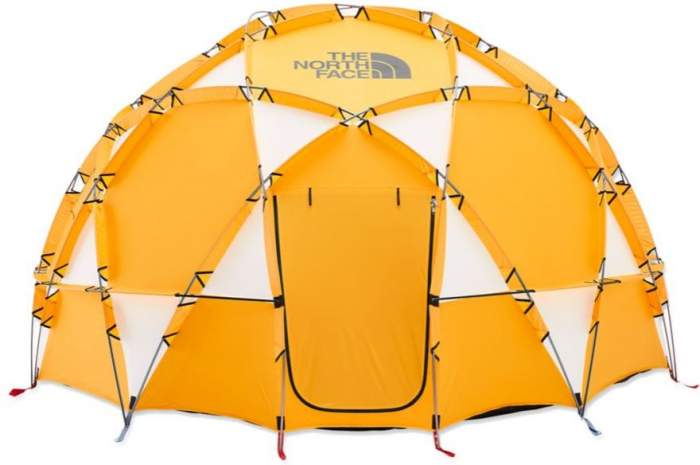 ---
Who is it for
Capacity: The declared capacity is 8 people and the floor area is 125 ft² (11.6 m²). So if used by such a number of people, this would give 15.6 ft² (1.45 m²) per person. This is doable, but assuming this would be your basecamp tent you would have lots of gear. See what the manufacturer suggests for using the floor in the case of 8 people, it looks unrealistic: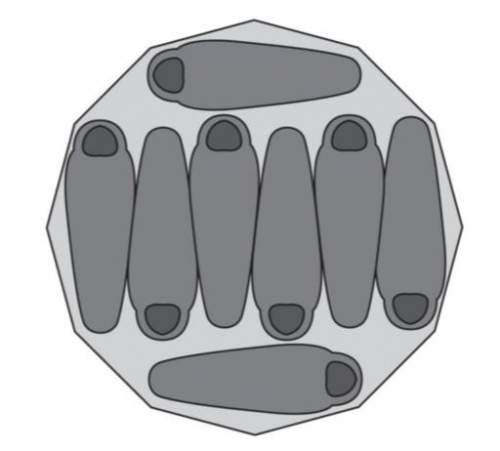 But see how it looks in practice for 8 people. Observe also one of the two windows and one of the doors, they are with panels and mesh, several wall pockets are also visible: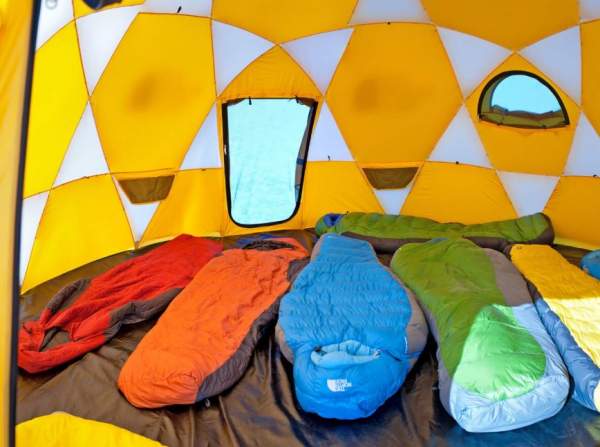 Climate & Seasons: The North Face 2-Meter Dome is a true winter tent and I have included it in that category here in the site. So naturally, it is also in my list of tents for cold weather camping.
The tent has a couple of windows with panels so you can see the outside conditions from the tent, and you also have a chimney vent. This combined with the mesh on the doors keeps the temperature regulated and should work well to cut down on condensation, see these features in the picture: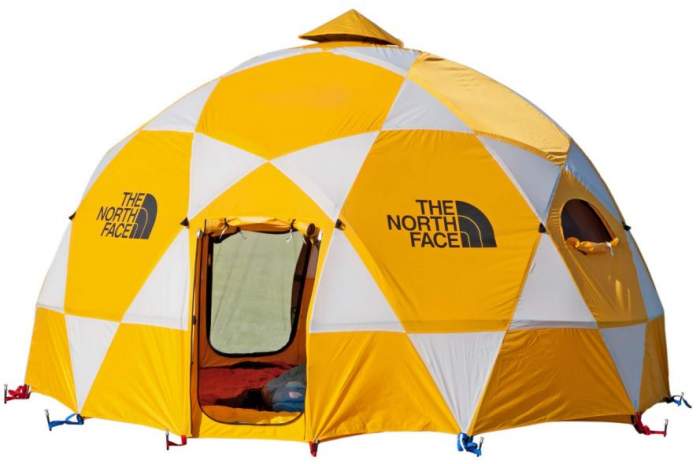 This top vent is better seen in this picture from inside. When the fly is on you need to insert an aluminum pole to prop up the chimney, see the picture: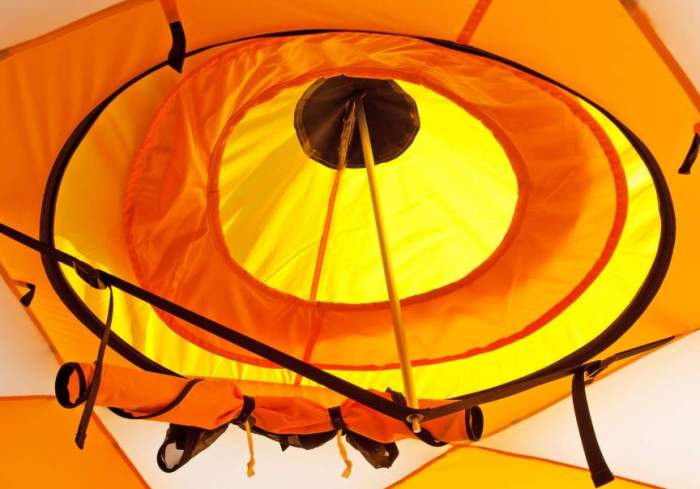 So from this all, you realize that you can close the tent in the case of extreme conditions, panels with zippers are on all the openings. You have all the features expected in a true winter tent.
Weight & packed size: This is a heavy tent but this is not surprising in view of all the thick and strong fabric which you have here, plus so many poles. It weighs 51 lb (23.1 kg). The packed size is 32 x 23 inches (81 x 58 cm), you will see below how these numbers compare with yet another winter tent built in the same style.
---
Materials
The poles
The poles are top-notch Easton 7075-E9, with 11 mm diameter and you have them 12 in total. So imagine the number of intersections they create (if I am not wrong, over 40) and how strong this structure is. This Easton's Expedition Aluminum is optimized for quality and lightweight strength, with a scratch-resistant hard-anodized surface.
The fabric
The fly is a heavy-duty 210D nylon oxford with 1500 mm PU coating. The canopy is the same fabric and the same waterproof rating. So observe that you have two waterproof layers above you. The floor is a heavy-duty 420D nylon taffeta with a 10000 mm PU coating.
All the elements in the package are shown in this picture: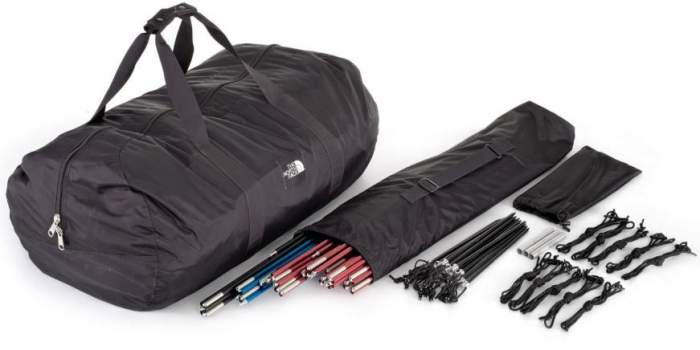 Other features
Interior canopy loops.
Several pockets on the wall.
In this video you can see how they set the tent up, you will see also how they carry it afterward:
---
Specifications
Declared capacity: 8 people.
Weight: 51 lb (23.1 kg).
Trail weight: 47 lb (21.3 kg).
Diameter: 155 in (394 cm).
Floor area: 125 ft² (11.6 m²).
Area per person: 15.6 ft² (1.45 m²).
Peak height: 83 in (211 cm).
Packed size (L x D): 32 x 23 in (81 x 58 cm).
---
The North Face 2-Meter Dome 8 Person Tent vs Marmot Lair 8 Tent
In the table below you have this tent side by side with the Marmot Lair 8 person tent. As you realize it is twice heavier, but see the fabric which is here far more durable.
Vestibules area,
sq ft (sq m)
The North Face
2 Meter Dome 8
---
Summary, rating, pros & cons
I pointed out above that this The North Face 2-Meter Dome 8 Person Tent is incredibly impressive. So this may contradict my low average rating, more below. This is one of the best winter tents currently on the market.
They write that they designed it to keep users warm, dry and safe in extreme conditions, and they have surely managed to do so. This is a very durable construction for the harshest conditions that you can use in the Himalayas and Antarctica. They also write that it sets the standard for unrivaled performance in major expeditions, and this is not an exaggeration. It is added in my list of best tents for winter camping.
My rating is shown below, although this is a truly impressive tent my average rating is rather low. The reason is simple, I use the same criteria and formulas for all the tents in the site. This seems to be the only way to remain consistent and to allow you to make an easy comparison between various models and for various parameters and criteria. So it is best to check the particular criteria and see what matters most for you, rather than focusing on the average rate.
The North Face 2-Meter Dome 8 Person Tent
If you need something more affordable for cold weather conditions, please check my long list of tents for cold weather, I am sure you will find something for you. Check this MSR H.U.B. 8 Tent and also Mountain Hardwear Stronghold 10 Person Tent that are built for extreme conditions.
Note that this is not a sponsored text and I am not related to the brand in any sense. Do you have any experience with this tent? If so please share it here, there is a comment box below.