---
This Coleman 15 x 13 Instant Screen House is incredibly easy to use with its telescopic steel poles and pre-attached frame. It offers lots of space protected from insects for up to 6 people.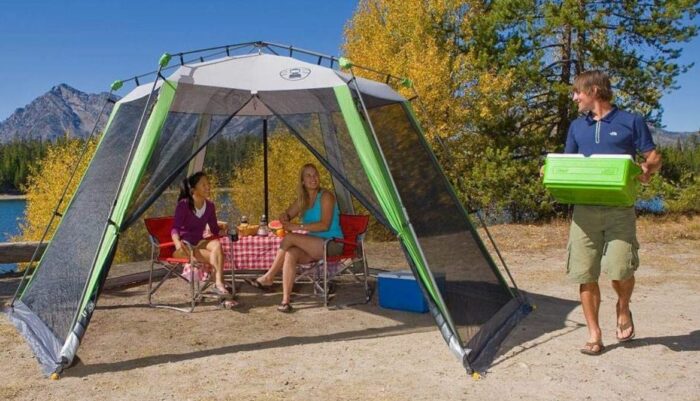 ---
Key features & benefits
Two doors.
Instant 60 seconds setup.
Freestanding.
Very light.
Reasonable price.
---
What this Coleman Instant Screen House 15 x 13 is about
So the numbers 15 and 13 describe base dimensions of this screen house in feet. This is a structure with a hexagon shape and these numbers are for its long and short diagonals, respectively. This should not be mixed with its smaller cousin the Coleman 10 x 10 instant screen house which is a smaller and simpler rectangular shape structure. Both are instant by the design.
Instant setup
This term is used here in the same sense as for the instant tents. So the frame is pre-attached to the canopy and you have a hubbed design with 6 legs that converge on the top of the roof. The official setup time is 60 seconds. You get the idea about the setup from the pictures below.
Note also that this is a fully freestanding structure with its 6 legs and they are in fact footed. You can realize from the picture above that it is very stable even before you stake it. But do not miss staking it down properly. You have steel stakes included in the package, and you stake the structure at each of its legs. Then stake out its guylines and this will be a very stable structure.
Now, what I dislike is the fact that the roof is so small and you can realize this from the picture below which shows the initial stage of setting this structure up. You realize how much smaller the roof is than the actual screen house base.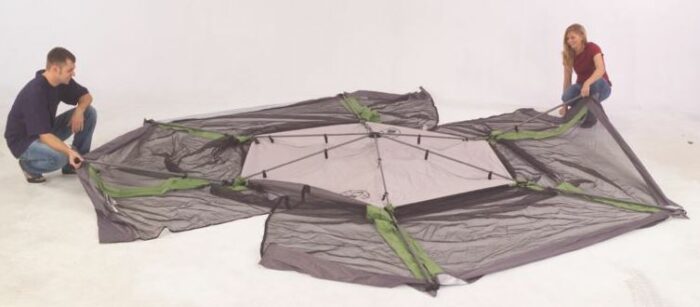 So the protection from flying insects is great and this is a large area, but it does not provide much of a shade. The following picture shows the following stages in the setup. You simply extend its telescopic legs, one by one, until you hear a click and you will see a popup button on each of the legs, it locks it on the required length.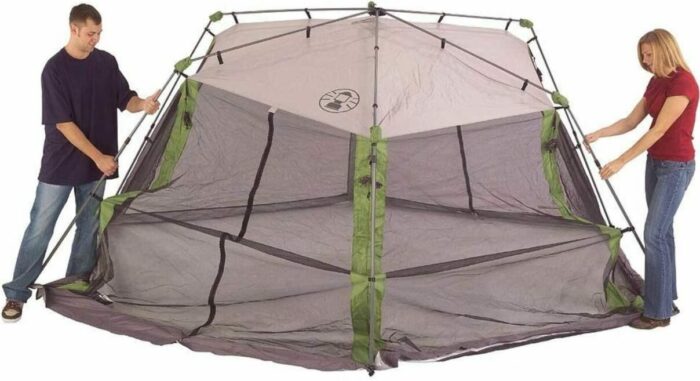 Regarding the setup steps, you can read more in this pdf file. Note also that this Instant Screen House is quite tall and you can realize this from the top picture shown above. The peak height is 7 ft (213 cm). The two doors are also very tall, their height is 6 ft 2 in (188 cm).

---
Who is it for
Regarding the area, you have a hexagon at the base and the area is 146.14 ft² (18 m²). So this is a huge space that can comfortably accommodate 6 people with tables and chairs.
Regarding the purpose & functionality, they describe it as suitable for picnics, BBQ parties, and for camping. Our focus is on camping of course, and you can use it as a dining and cooking area for a family of up to 6 people.
Other than that, you can use it as a living area next to your tent, and place some inflatable furniture inside. You can also use any of the freestanding folding hammocks that are available on the market, and enjoy while being safe from mosquitoes. I have seen many people asking about the floor, so just to know this is a floorless structure as you would expect from such a product.
Related to its instant design, anybody can set this structure up easily. This is suitable even for elderly users, no need to raise your arms high up, telescopic legs allow you to do everything easily. I already gave the link above with the setup instructions so have a look.
Regarding the weight & packed size, this structure weighs 18.24 lb (8.3 kg) which is justified for so many strong legs, but you would not want to carry it anywhere. It is also very long when packed, the dimensions are around 52 x 10 x 10 inches (132 x 25 x 25 cm), but this is usually so with instant tents and screen houses. So this is for places with a car access only.
---
Materials
Poles & stakes
This is all steel and built to last, the poles are 28 mm in diameter. I already mentioned how to stake it properly, do not miss any of its corners.
The fabric
So they claim that the roof is their UVGuard material that offers 50+ UPF protection from the sun. So on the protection scale, this is Excellent, but clearly the roof is so small. The mesh is what they call Polyguard 2X double-thick.
Please see how to use this screen house:
---
Specifications
Weight: 18.24 lb (8.3 kg).
Dimensions: 15 x 13 ft (457 x 396 cm).
Area: 146.14 ft² (18 m²).
Peak height: 7 ft (213 cm).
Doors height: 6 ft 2 in (188 cm).
Packed size: 52 x 10 x 10 in (132 x 25 x 25 cm).
Carry bag included.
1-Year limited warranty.
---
Final thoughts, rating, pros & cons
In summary of this Coleman 15 x 13 Instant Screen House review, if you want something that is truly easy to use, then look no further. This is a screen house from a reliable brand and you know what you are buying.
If you consider its size and the weight ratio, you will see this is an ultralight item, hence my high rating for this feature. But bear in mind its packed size as well and see if this can fit easily into your car. The price is also more than fair for what you have here. Fully recommended. I have added it to my list of best screen houses for camping.
Please see how I rate this screen house and my pros and cons:
Check under the category Camping Screen Houses if you need more options, you will see some great models from the best-known brands. If you want something of this type but with more protection, check this Eureka Northern Breeze Aluminum Frame Screen House. On the other hand, this Browning Camping Basecamp Screen House is a bit smaller but the roof offers more shade.
Thank you for reading. We add texts here regularly, so you might want to bookmark this site and visit occasionally. Have a nice day.