---
Browning Camping Basecamp Screen House is a tall freestanding structure with two doors and a waterproof roof, and with enough place for a table and four chairs. Keep reading.
---
Key features & benefits
Freestanding.
Great packed size.
Steel & fiberglass poles.
2 Doors.
Waterproof roof.
Tall structure.
---
What this Basecamp Screen House is about
Here you have a new item from this renown brand, that they launched for the season 2020. The structure is fully freestanding because of its unique poles with Y-shaped hub elements which you have in each of the corners. But guylines are included and you should definitely use them.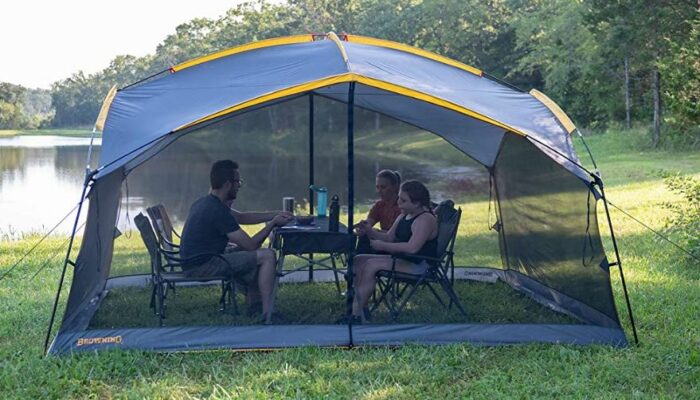 This is a structure with two doors on the opposite sides, one of the central zippers is visible in the picture above, and with the screen on all sides. It is also quite tall with a peak height of 224 cm, and the doors are are also very tall, with a stand-up height. As you realize from the picture above, the walls are steep and tall, so this is a very pleasant and roomy structure, and with easy access.

---
Who is it for
Regarding the area, the picture above shows it with a family of four inside, so you get some idea of how it can look with a table and four chairs. Below you can see a bit more. Note that the table shown in the picture is the Browning Camping Outfitter Table from the same brand, it is a bit narrow and with the tabletop dimensions 61 x 22 inches (155 x 56 cm).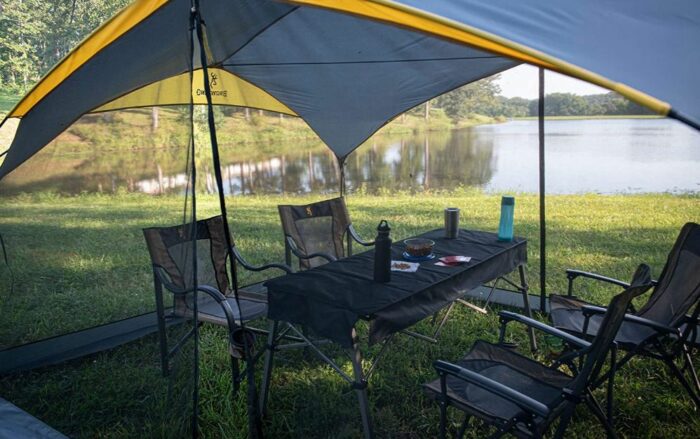 So the total area is 120 ft² (11.16 m²) and you would have plenty of space even with a wider table, note that the dimensions of the base are 12 x 10 ft (366 x 305 cm). It is interesting that this area is exactly the same as in this EVER ADVANCED Screen House Room which is differently shaped.
Regarding the purpose & functionality, obviously the first thing that comes to mind is to use this structure as a dining and cooking shelter. There is no floor here, and frankly, you do not need it, so you can use any type of chairs without worrying about the floor. The roof offers a shed for sun protection, and the mesh around protects you from flying insects.
On the other hand, the length is such that you can use any of the freestanding folding hammocks and enjoy in such an airy space without annoying mosquitoes around you.
The roof is waterproof and it is large, so the area is partly protected from the rain as well, at least in the central zone which is far from the walls.
Regarding the packed size & weight, both are very good. It packs to 27 x 8 x 8 inches (69 x 20 x 20 cm) and it weighs 17 lb 14 oz (8.1 kg). So you would not carry it anywhere, but you can transport it even on a bicycle or on a motorbike.
Regarding the climate & seasons, obviously, this is a shelter to protect you from flying insects, and this is for warm-weather camping. But this is a space with shade and you can use it as a shelter from the sun in any season. Such structures are usually not the best option for winds, so this is for a calm climate.
---
Materials
The poles are a combination of 16 mm steel on the sides and 9.5 mm fiberglass on the roof. Everything is color-coded and hubbed for easy setup. The picture below shows one of its interesting Y-shaped hubbed elements, and you can also see how the side walls attache to the poles through clips. But on the roof you have sleeves.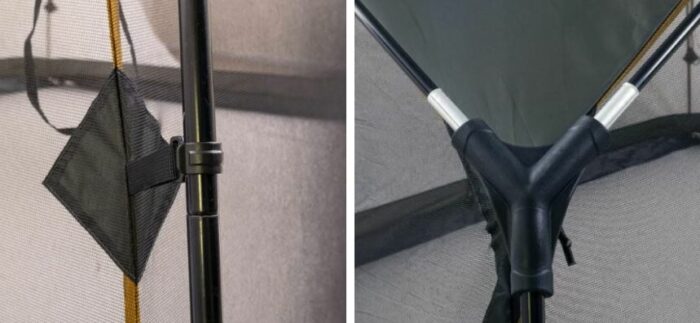 They use a 68D 190T polyester for the roof and they claim it resists UV damage and stays taut. There is no info about the roof waterproof rating, but the seams are sealed. You have a carry bag, guy ropes, and steel stakes included.
---
Specifications
Weight: 17 lb 14 oz (8.1 kg).
Dimensions: 12 x 10 ft (366 x 305 cm).
Center height: 7'4″ (224 cm).
Floor area: 120 ft² (11.16 m²).
Packed size: 27 x 8 x 8 in (69 x 20 x 20 cm).
Pole diameter: 9.5 mm fiberglass & 16 mm steel.
---
Final thoughts, rating, pros & cons
In the summary of this Browning Camping Basecamp Screen House review, I wish to stress that this is an item from a brand known for the quality of its products. The materials are strong and this is a bit reflected in its weight. But it packs nicely so you can transport it as you wish. This is a nice addition to your camp space and it will add a lot to the comfort if you are in an area with mosquitoes and other flying insects.
Obviously, it is presented here in the context of camping, but this is a nice screen house suitable for garden use as well. Fully recommended. I have added it to my list of best screen houses for camping. You might want also to check their celebrated tents the Browning Camping Big Horn 8 and Big Horn 5.
Please see how I rate this screen house, the same criteria are consistently used for all of them here in the site:
For more options of this type check under the category Camping Screen Houses, and check this Eureka Northern Breeze Screen House that offers protection almost like a tent. If you want something with instant setup, definitely check this Coleman 15 x 13 Instant Screen House.
Thank you for reading. We add texts here regularly, so you might want to bookmark this site and visit occasionally. Have a nice day.