---
This Coleman Back Home Instant Screen House 12 x 10 is a fully freestanding structure with a 3-minute setup, a waterproof roof, 2 doors, and with a great price tag. Keep reading.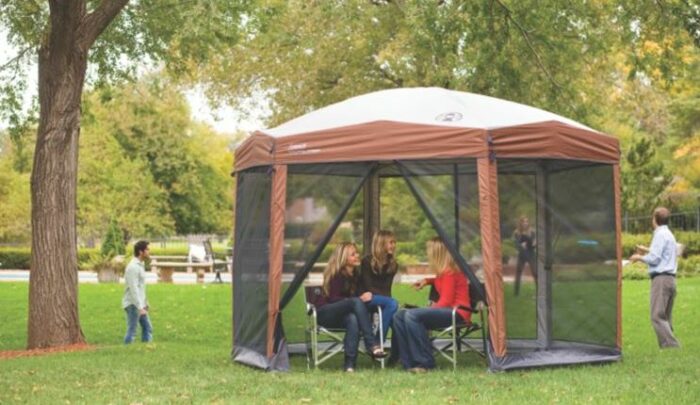 ---
Key features & benefits
Portable screen shelter.
Completely vertical walls.
3-Minutes setup.
2 Doors.
Great price.
---
What is in the name
This screen house is available on the market with several different names used by different sellers. So at Walmart, you will see it under the name Coleman Screened Canopy Sun Shade 12×10 Tent with Instant Setup, on Amazon it is under the name Coleman Screened Canopy Tent with Instant Setup, while at Coleman they use the name Coleman Back Home 12 x 10 Instant Screenhouse.
No matter the name, what you have here is a portable screen house. So although you have the words 'back home' in the name, this is an item suitable for camping as well as for the garden.
This is a very roomy and incredibly tall and pleasant structure with its 8 ft 4 in (254 cm) peak height. So it is taller than most of its competitors on the market.
It is also fully freestanding, and you will realize this from the video below. The structure is a hexagon at the base, and it has 6 strong legs with support bars for the roof. But you have guylines and stakes to secure it against winds, so do not miss doing this. This shape you can see also in this unique Gazelle Tents 21500 G6 Pop-Up Portable 6-Sided Hub Gazebo/Screen Tent.
Is it really instant setup?
I think it is best that you see this video on how to take this Coleman Screened Canopy Sun Shade down. You will realize it is not so instant, but the frame is indeed an ingenious construction, it all collapses to the center after you remove the fabric:
But this is a large structure and in view of this, taking it down or setting it up is rather easy, and the word 'instant' in the name is quite justified. They claim you need about three minutes and three steps to set it up. The picture below shows one of the stages in the setup before extending its legs.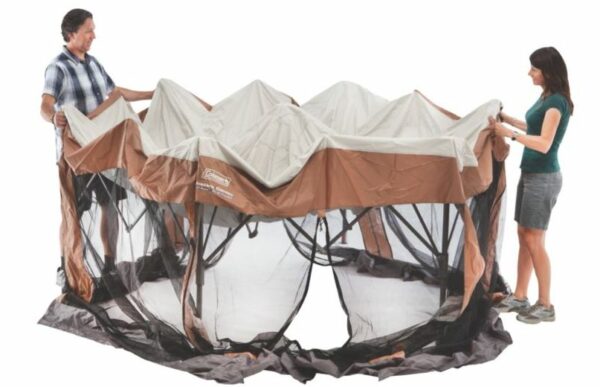 ---
How is it built
There are three main elements here, the frame, the roof, and the screen around. So the fabric elements are separately removable and you can use this structure as a gazebo with the frame and roof only. With the net in place, you have two access points with vertical zippers, the doors are on the opposite sides.
You have telescoping poles and they are easy to extend and to lock into place thanks to what they call pinch-free Comfort Grip technology. Note that the poles are with large feet so that the structure can stand on while you set it up.
The roof is with their UVGuard material and they claim it offers 50+ UPF protection. This is a waterproof Polyguard 2X double-thick fabric material so you have some rain protection here.

---
Who is it for
Regarding the size, this is a hexagon with the two main diagonals 12 and 10 ft (366 and 305 cm). The declared area is 90 ft² (8.4 m²), and in view of its floor shape, it is best suited for a round table or even square, and you can easily put 4-5 large chairs inside.
Note that the mentioned area more or less corresponds to the shade that this screen house offers, the walls are completely vertical, see the picture below.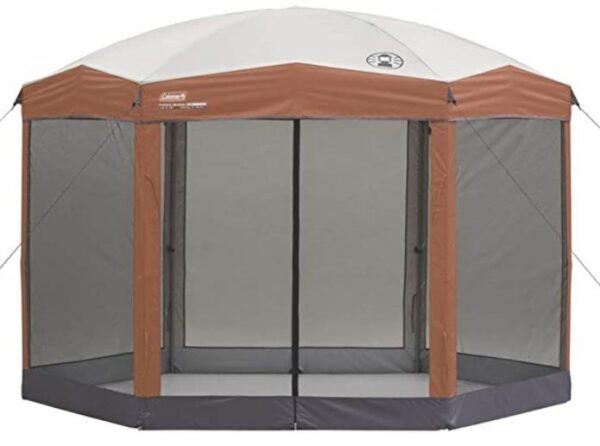 Regarding the weight, this Coleman Screened Canopy Tent with Instant Setup weighs 45.2 lb (20.5 kg), so it is heavy but obviously portable. Note that the packed size is 48 x 13.8 x 10.2 inches (122 x 35 x 26 cm) so it is quite long when packed. It comes with a wheeled carry bag for relatively easy transport.
In any case, you need a car for such an item, but it is worth the effort. You will set it up easily wherever you want, and you will have a base where you and your family members or friends will have a shade and without being annoyed by flying insects.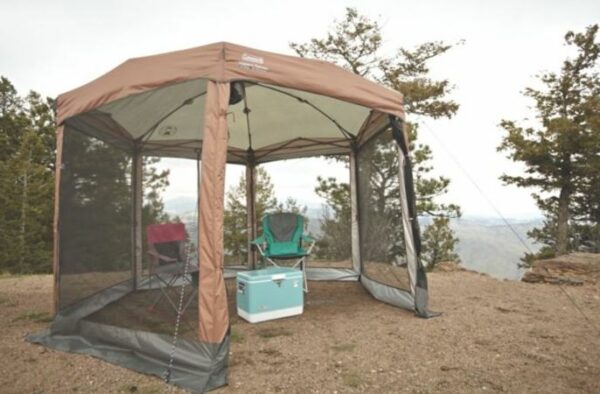 Regarding weather conditions and climate, obviously this is a structure for nice weather, but it is strong and stable, and as mentioned above, it offers rain protection too, but there are no walls. If you would have something with walls, it is best to check this Eureka Northern Breeze Aluminum Frame Screen House.
You have stakes and guylines included and this structure can easily withstand a lot of winds in spite of its boxy shape and its incredible height. So this is a nice item to have for picnics, BBQ, or for a campout.
Please see more in this video:
---
Specifications
Weight: 45.2 lb (20.5 kg).
Dimensions: 12 x 10 ft (366 x 305 cm).
Area: 90 ft² (8.4 m²).
Peak height: 8 ft 4 in (254 cm).
Packed size: 48 x 13.8 x 10.2 in (122 x 35 x 26 cm).
---
Final thoughts, rating, pros & cons
So this Coleman Back Home Instant Screen House is really nicely built and it looks cool. It is incredibly tall and even the doors are with a stand-up height. It is heavy but the wheeled carry bag helps when you transport it around.
The price is more than fair for such a structure. Fully recommended. I have included it in my list of best screen houses for camping.
This screen house is incredibly popular and you will see thousands of reports about it on Amazon alone, and the average rating is very high. My own rating is a bit low because it is affected by the weight and the packed size. But I use the same criteria for all the items of this type, so you can easily compare.
For more items of this type, please check under the category Screen Houses. Note that Eureka also has an item of this type, the Eureka! NoBugZone Screened Canopy Shelter. You might want also to see this Core Instant Screen House Canopy Tent 12 x 10 that is a bit differently shaped.
Note that we add texts here regularly, so you might want to bookmark this site and visit from time to time. Thank you for reading and have a nice day.