---
This Gazelle Tents 21500 G6 Pop-Up Portable 6-Sided Hub Gazebo/Screen Tent 8 Person is an instant-setup freestanding construction, easy to use, and unique. Keep reading.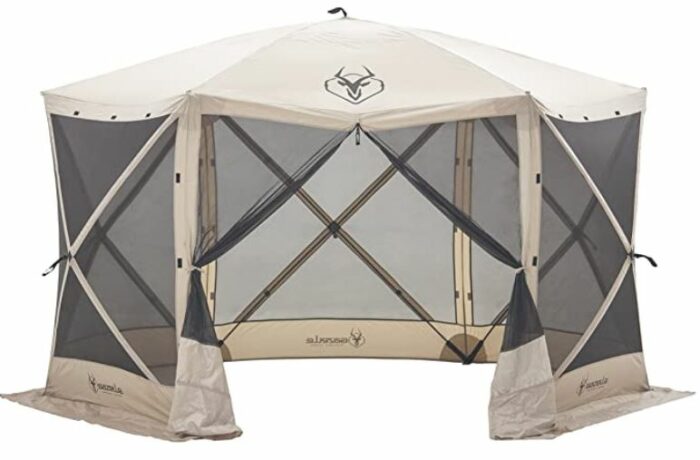 ---
Key features
Instant setup.
One door.
Freestanding.
Accessory walls.
---
What this is about
The complicated name given in the title above describes a freestanding screen house. This means that it is self-supporting and you can pitch it anywhere, you can rotate it and move, but never miss to stake it down properly.
This is also a specific type of instant setup construction. They use it in their standard tents as well, and you can see it in this Gazelle 26800 T4-Plus Pop-Up Portable Camping Hub Tent and also in their Gazelle T8 Pop-Up Hub Tent. So the frame is preattached to the screen house and you have those X-shaped bars on all sides, they are within the sleeves, visible in the picture below.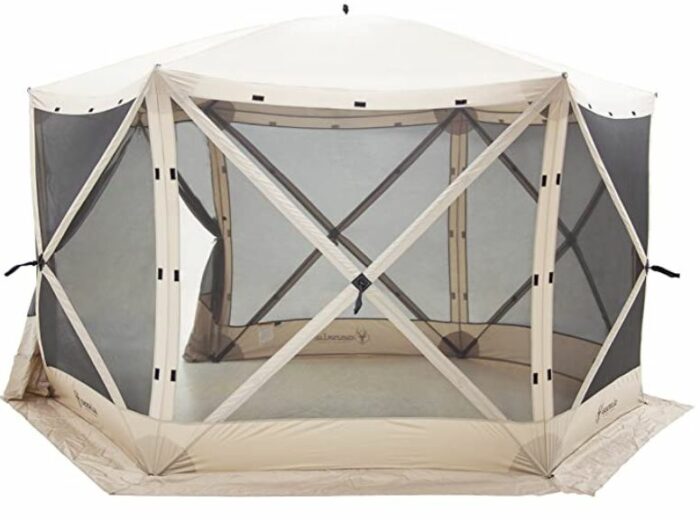 You see the pull loops in the middle of each of its 6 sides, so this is where you grab and pul out to set the screen house up. You start by unfolding it and then go around and pull the loops out, see the picture below. After that get inside and push the roof up. Job done. One person can easily do this alone.

The screen house is moderately tall for such a type, but the peak height is good enough, you have 86 inches (218 cm). The base is hexagonal as you realize from the name, and you have one door only.

---
Materials
Hardware
The frame is fiberglass and the poles are numerous, but this is all preattached so there is nothing you have to do yourself. The hub element shown below reveals how the poles converge in the middle. The zipper is a top-quality YKK, see the picture below. There are also 12 steel stakes in the package.
The fabric is mainly a no-see-um mesh, but the roof is a durable 210D Oxford Weave and the same material is also used for the shell and sleeves. It has a 2000 mm waterproof rating and they claim it also provided UV50+ protection. The seams are sealed.
The picture below shows reinforced corners, they added an extra layer of fabric and high-strength pole pockets. This helps increase the life of the gazebo. So this is all properly done and it is hard to find any objection here.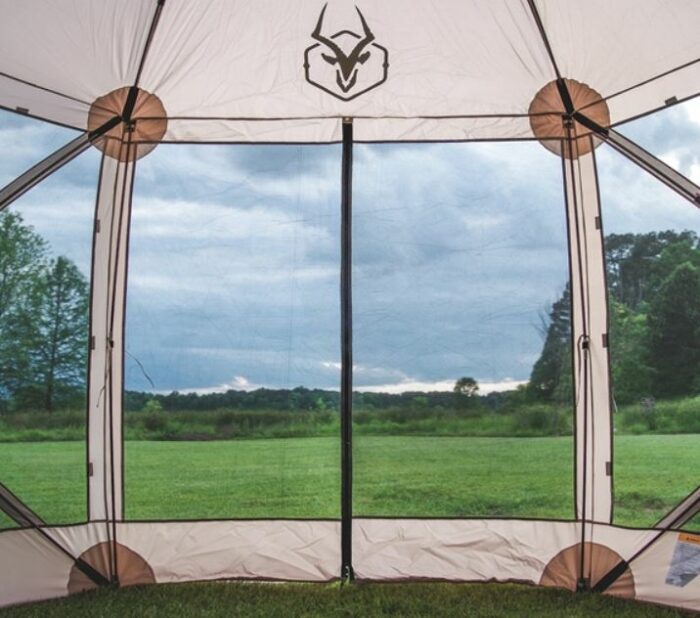 ---
Who is it for
Regarding the size & purpose, the total area is 92 ft² (8.5 m²) and it is hexagonal so you put any type of camping table inside. You can even pitch it above any fixed outdoor table like the one shown in the picture below, and enjoy nature while being protected from mosquitoes. This is enough space for up to 8 people with chairs inside.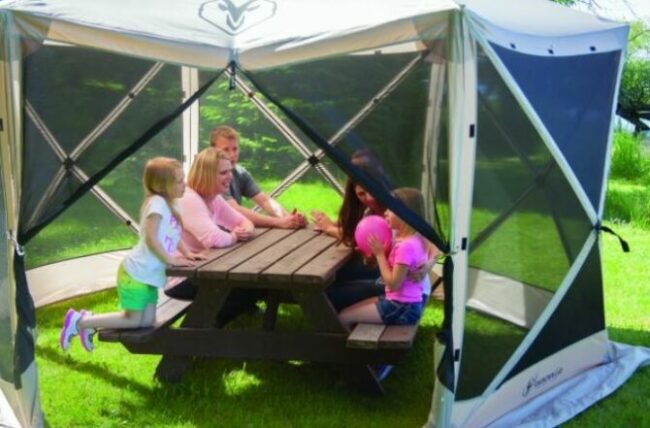 You can use it with the same insect-protection purpose and shade in your backyard as the picture below shows: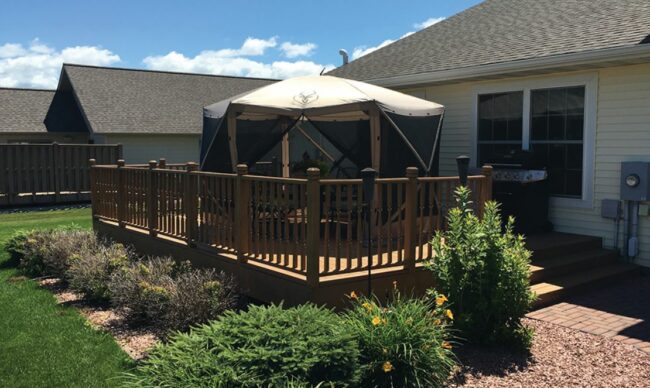 In the camp, this is a great space for sitting during the day and for using as a dining and cooking area. This is a useful space regardless of if you use a motorhome or a small tent: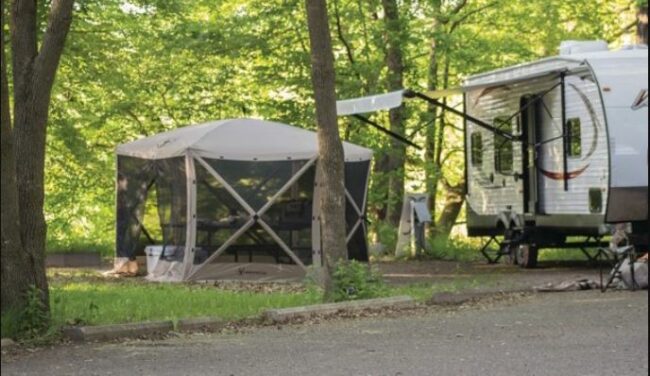 Regarding climate & seasons
As mentioned above, this is a mesh shelter, but it provides shade with rain protection and UV radiation protection. So this screen house can be used anywhere and in any season. It is boxy and tall, but it allows for airflow through its mesh walls, and you will stake it in any case, so it will behave well even if it is a bit windy.
If you need more protection, note that they have accessory wall panels that can be added separately piece by piece. In this case, it loos like a floorless tent: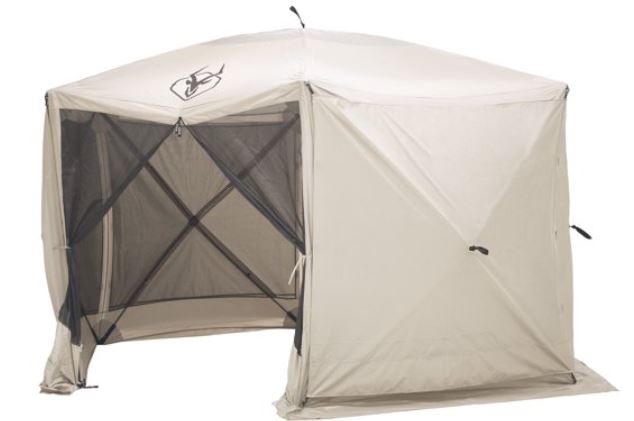 Regarding the weight and packed size, this is an item that requires a car for transportation. It weighs 34 lb (15.4 kg) and its packed size is not its best features, it is enormously long, see the picture: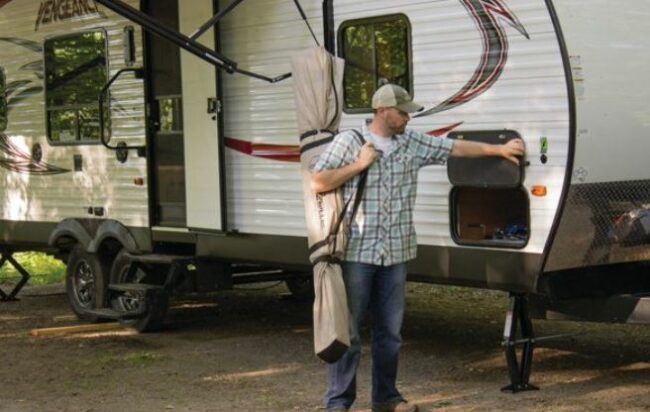 ---
Specifications
Weight: 34 lb (15.4 kg).
Dimensions: 124 x 124 in (315 x 315 cm).
Height: 86 in (218 cm).
Area: 92 ft² (8.5 m²).
Packed size: 73 x 8 x 8 in (185 x 20 x 20 cm).
---
Final thoughts, rating, pros & cons
To summarize this Gazelle Tents 21500 G6 Pop-Up Portable 6-Sided Hub Gazebo/Screen Tent 8 Person review, what you have here is a unique design developed by this brand. It is incredibly easy to use, but it is heavy and very long when packed.
In any case, this is a great product that has been on the market for years, tried and tested by many, and there are hundreds of reports by users on Amazon alone. Fully recommended. It is included in my list of best screen houses for camping.
Please see how I rate this screen house. The same rating criteria are used for all of them here in the site so you can easily compare:
If you need more options check under the category Screen Houses. You will find them many and in a variety of sizes and shapes. If you would rather have a rectangular shape structure, check this Tailgaterz Magnetic Screen House. Check also this Alvantor Screen House Room which is an instant pop-up design.
Please bookmark this site and visit again, we add texts here regularly and this will keep you informed about the situation in this part of the outdoor industry. Thank you for reading and have a nice day.