---
The Coleman Skylodge 12 Person Tent with Screen Room is a 2-room cabin-style huge tall and pleasant structure with windows on all sides.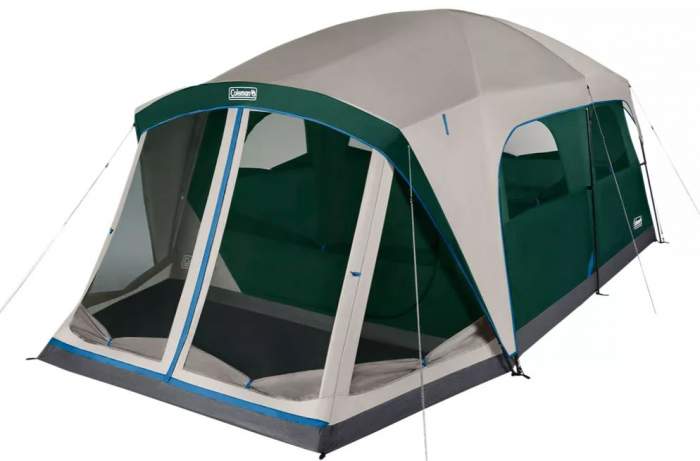 ---
Key features & benefits
Fully protected screen room.
Ground vent.
Huge area.
Very tall tent.
---
What this is about
So here you have the largest tent from Coleman's new Skylodge series of tents with a screen room. This series should not be mixed with their other Skylodge tents that are built without the screen room. In fact, these Skylodge tents with screen rooms are quite similar to Coleman's Skydome tents with screen rooms.  
The mentioned screen room is a true room because it is fully protected. This means it is fully floored and with inner panels for protection and privacy. So I have included the tent in my list of best family tents with screen room, but this is a 2-room tent where the front room offers more features than an ordinary room. This is a very pleasant space where you have mesh on all its sides and on the ceiling and you can enjoy views while being completely protected from insects.
The picture below shows the tent without the fly so you can better understand its structure. Observe the closed zippered panels on the front screen room, this is how you will use it when it is raining.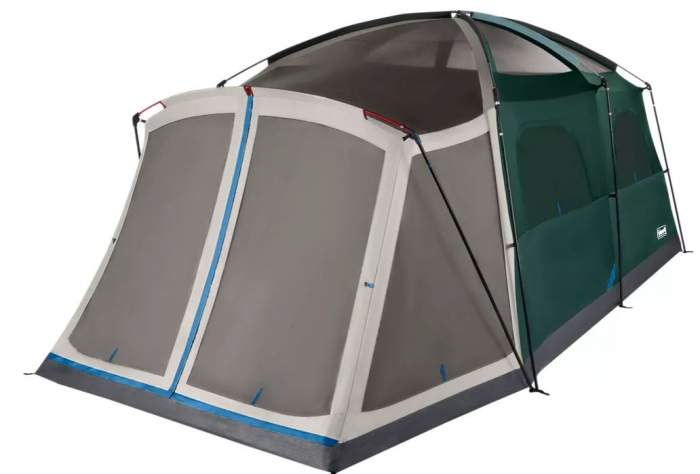 The tent is very tall, you have a peak height of 7.4 ft (225 cm), so I have included it in my list of very tall family camping tents. This is a non-freestanding cabin-style tent with steep and straight walls. Numerous windows on all its sides (one shown below) together with such a height make it very pleasant and livable.
You have a huge inverted-T-shaped zippered front door and there is also a large inner door between the two rooms. The tent must be staked to be fully functional, and this applies primarily to its front screen room. But you would have to stake it in any case, this is the same with any camping tent.
Ventilation
You have seen in one of the pictures above that the ceiling is all mesh, so this is an incredibly large ventilation roof area. You have mesh openings on all sides of the tent. But when it is raining you have to close this as the picture below shows.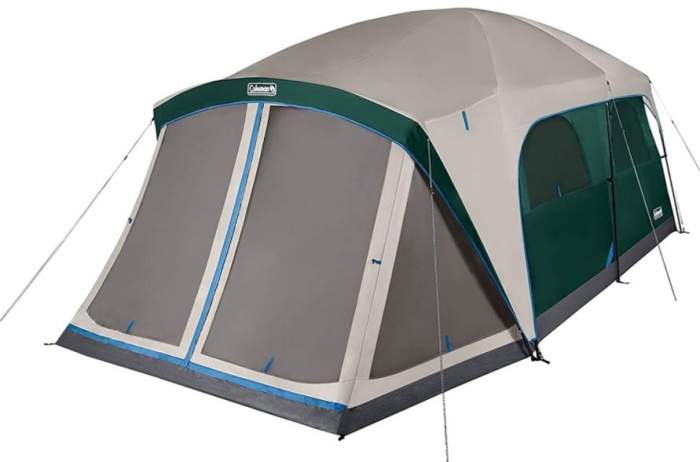 So for such circumstances, they have added a floor vent on the rear side of the tent. This should be good enough in the hours with rain.
Materials
The poles: You have a combination of 8 steel leg poles and 4 roof fiberglass poles. You can see all these elements in the picture below.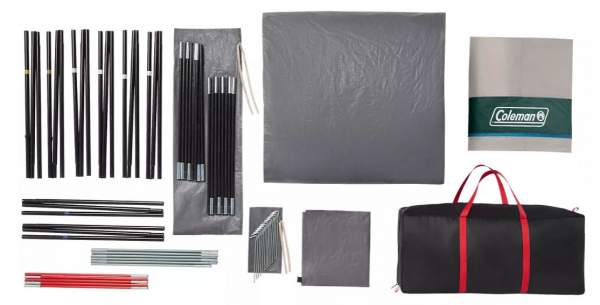 The poles connect with the help of plastic elbow connections on the sides, see one of them:
The leg poles attach to the tent's base through what they call the Fast-Fit feet connectors, you will see them in the video below. Everything is color-coded for an easy and intuitive setup. You have plenty of stakes in the package. 
The fabric: The fly and wall fabric is a durable 68D polyester with a 600 mm coating. The floor is a very durable polyethylene with a 130 g/m² coating, it is a bathtub style and with welded corners.
They apply their WeatherTec System here and claim that the tent can withstand up to 35 mph winds. The seams are their inverted seam construction used in many tents, and they are taped. So the low waterproof rating should be perfectly enough.
Other features
The tent has integrated long pouches under the canopy, see below how they look like.

There is also an e-cable port. It is on the side of the tent.
A carry bag is included.
The tent comes with a 1-year limited warranty.
Please see a bit more in this video:
---
Who is it for
Regarding the capacity, the tent is officially for 12 people. The front room is 10 x 5 ft (305 x 152 cm) in dimensions and the rear room is around 14 x 10 ft (427 x 305 cm) in size. The total area is 190 ft² (17.6 m²) so the tent is huge in the absolute sense.
But in the case of 12 people, this would give only 15.8 ft² (1.47 m²) per person. So as usual with sleeping capacity determined by an inappropriate backpacking principle, it is best to downgrade the number of users by half or so.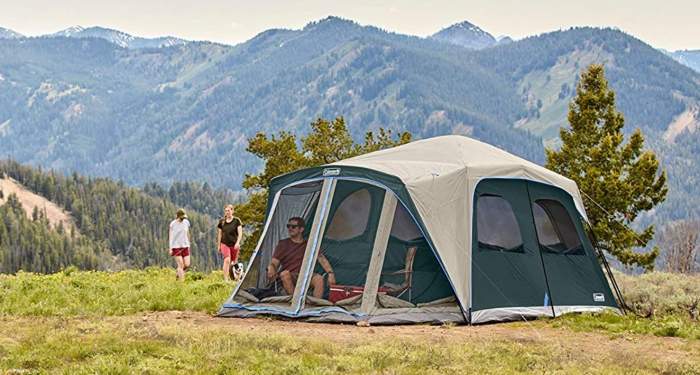 Regarding seasons & climate, this is a tent best suited for a warmer climate. With so much mesh on the ceiling, you would not feel great in a cold environment. You have seen the statement about its wind protection, but I would not put such a boxy and tall structure to such harsh tests.
Regarding the weight, the tent is heavy with its 45.31 lb (20.6 kg). But note that its packed size is really good, it measures only 26.5 x 12.5 x 12.5 inches (67 x 32 x 32 cm). This is a car camping tent in any case.

Specifications
Official capacity: 12 people.
Weight: 45.31 lb (20.6 kg).
Dimensions: 19 x 10 ft (579 x 305 cm).
Total floored area: 190 ft² (17.6 m²).
Area per person: 15.8 ft² (1.47 m²).
Screen room dimensions: 10 x 5 ft (305 x 152 cm).
Peak height: 7.4 ft (225 cm).
Packed size: 26.5 x 12.5 x 12.5 in (67 x 32 x 32 cm).
Poles: steel & fiberglass.
---
Final thoughts, rating, pros & cons
So this Coleman Skylodge 12 Person Tent with Screen Room looks really great, it is large, tall, and pleasant with such a nicely designed yet fully protected screen room. But it is best to disregard the official capacity. 
Please see how I rate this tent against my standard set of criteria:
For more tents of this shape, please check under the category Cabin Tents. For this capacity range, check under the group Tents for 11 people plus. Note that they have also an instant tent with a similar name, the Coleman Camping Tent Skylodge Instant 12 Person and also Coleman Camping Tent Skylodge 12 Person which is without screen room. You might want to consider also this Coleman Sunlodge 12-Person Camping Tent.
Thank you for reading. Let me know if you have questions, there is a comment box below.