---
This Coleman Hampton 9 Person Tent Review is about a freestanding cabin style tent with partial coverage fly and hinged door for summer family camping.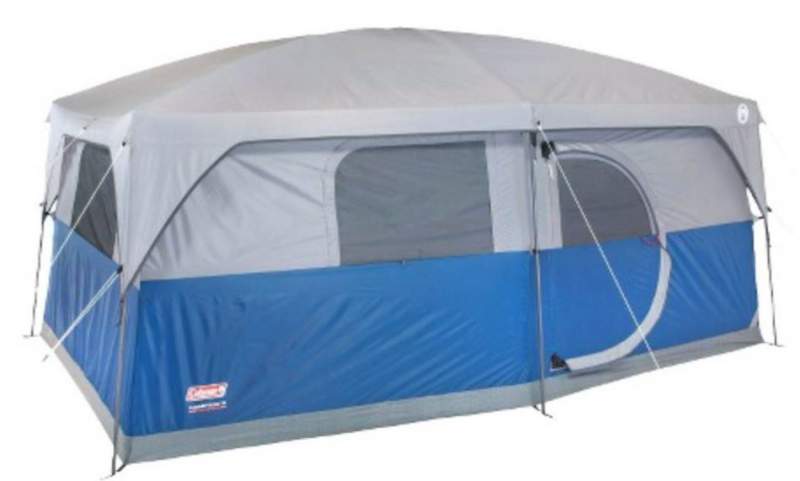 ---
Key features
Cabin style tent.
Freestanding.
Hinged door.
5 Windows.
E-cable port.
---
Where to buy
This tent is available on Amazon on several of their global stores so follow the link and benefit from their efficient shipping service.
You will find it also at Walmart.
---
What type of tent is this
It is hard to imagine a tent that would be more cabin style than this Hampton 9, so you have almost completely vertical and straight walls, huge windows on all sides, and a feeling of being in the house. But surprisingly, on Amazon they describe it as a dome tent which makes no much sense of course.
This tent has been on the market for a decade or so, and it has been reshaped, and its present design is a bit different than it was before. So do not get confused if you see some different versions in the videos on the Internet.
This is also a freestanding structure with a minimal coverage fly that buckles to the tent's base. You have one door only but this is a hinged door design with poles that run along its perimeter, see the picture below. This makes it easy to open and close and you do not have to deal with its zipper all the time, there are Velcro tabs that keep the door in place, and you also have handles on both sides. This is why I have included it in my list of tents with hinged doors.
This is also a very tall tent with a peak height of 82 inches (208 cm). It comes with a removable divider so this is formally a 2-room tent.
---
Who is it for
Capacity: So the declared capacity is 9 people and the area is 140 ft² (13 m²). In the case of 9 users this would give 15.5 ft² (1.4 m²) per person. Now, the dimensions are 14 x 10 ft (4.3 x 3.05 m) so it looks almost impossible to put so many sleeping pads on the floor.
But if you use bunk-cots, you can easily accommodate such a number of people. With such steep walls, this tent is perfect for bunk beds and in the case of parents with 4-5 kids you would still have plenty of space, you can see this in this video:
Seasons-wise & climate-wise, this is a summer camping tent for areas without too much rain, if any, and without strong winds. Such a boxy structure would not last long in windy conditions. The mesh is on the ceiling and on all the openings, so this will work fine as long as the sky is clear. With so much mesh you would not want to use this tent in a cold climate, so I would not take seriously their statement that this is a 3-season tent, it is surely not.
Weight-wise, the tent looks heavy with its 31.24 lb (14.2 kg). But you will see it compared in the table below, and you will realize that it is lighter than its competitors. Such a weight is normal for the type you have here.
The packed size 37 x 12 x 10 inches (94 x 30 x 25 cm) is not its best feature, but this is a camping tent and I would not stress about it.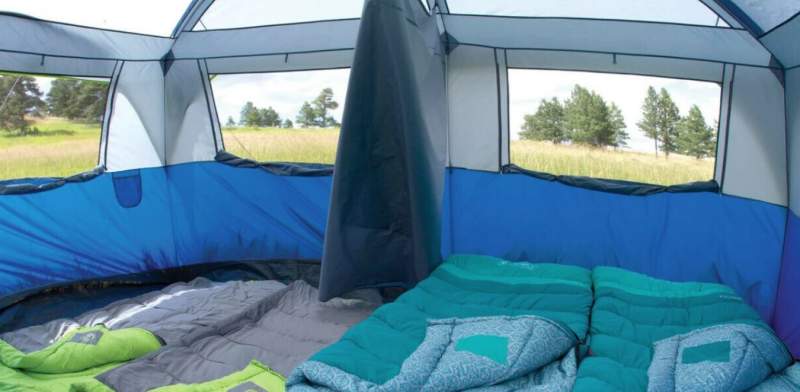 ---
Materials
The poles
The poles are a combination of steel used for the leg poles and fiberglass used for the roof. You have plastic joints elements that connect the poles to the structure. Everything is color-coded for easy setup (gray and red for the roof poles, and yellow and green for the legs poles). This means color-coded sleeves for poles, color-coded poles, and color-coded plastic joints.
One person can set this tent up in 15-20 minutes. Start from the roof and build it further by adding legs and raising the tent.
The fabric
The fly and the walls is a polyester with a waterproof rating 600 mm, and the bathtub floor is a thick and waterproof polyethylene. All the windows are with zippered flaps for protection and privacy. The inverted seams are taped.
Other features
There are a couple of very small pockets on the walls, far from enough, pity they did not add them many on such flat walls.
The tent is with an E-cable port which may be useful if you use the tent in a camp with electricity available.
---
Specifications
Declared capacity: 9 people.
Weight: 31.24 lb (14.2 kg).
Dimensions: 14 x 10 ft (4.3 x 3.05 m).
Area: 140 ft² (13 m²).
Area per person: 15.5 ft² (1.4 m²).
Peak height: 82 in (208 cm).
Packed size: 37 x 12 x 10 in (94 x 30 x 25 cm).
---
Coleman Hampton 9 Person Tent vs Competitors
Features of such a tent can be better understood when you compare it with some other similar tents on the market, this can help in making an informed decision. So I show here two other tents built in the same cabin style.
As you realize the area is the same but the Core 10 tent has the declared capacity of 10 people. So, as usual, it is best to disregard the declared capacity and focus on the features. Please follow the links in the table to read more about the other two tents.
---
Final thoughts, rating, pros & cons
So you have seen all the features of this Coleman Hampton 9 Person Cabin Tent, it is indeed very pleasant and easy to use. But disregard the declared capacity and the seasons mentioned in the specifications, this is a summer camping tent.
Note also that this is an Amazon Choice item and this means highly rated, well-priced, and available to ship immediately. See below how I rate it.
If you need more options of this type, check in the categories Cabin Tents and Tents for 9/10 people. You might want to compare this tent with the Wenzel Kodiak 9 Person Tent which is also built as a cabin tent but it has cabinets. Check also this GigaTent Mt Craylock 8-10 Sleeper Family Tent which has three rooms.
Note that this is not a sponsored text and I am not paid by the brand. Please use the comment box below in the case of questions or comments. Have a nice day. 

---