---
Wenzel Kodiak 9 Person Tent is a beautifully designed summer camping tent with 2 rooms and 2 cabinets, a steel frame and a very affordable price. Please keep reading.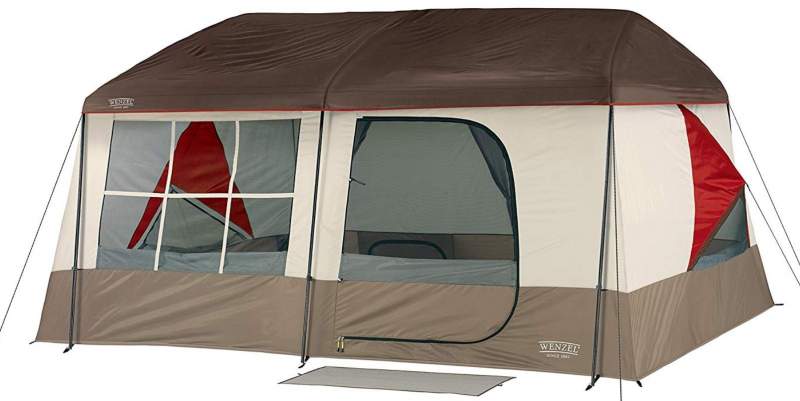 ---
Key features
Cabin tent.
Non-Freestanding.
Two cabinets.
Two rooms.
Steel frame.
Very affordable.
---
What type of tent is this
This Wenzel Kodiak 9 Person Tent is a two-room structure with a sewn-in divider and zipper in the middle. It looks like a typical cabin style tent but the poles are such that it is not freestanding because there is no central ridge pole which would give it a structural support. I do not think this is important in any case because the tent of such a size and height must be staked down in any case. So the three sets of poles create a sort of angled arches, somewhat similar to tunnel tents. The picture below shows what I am saying: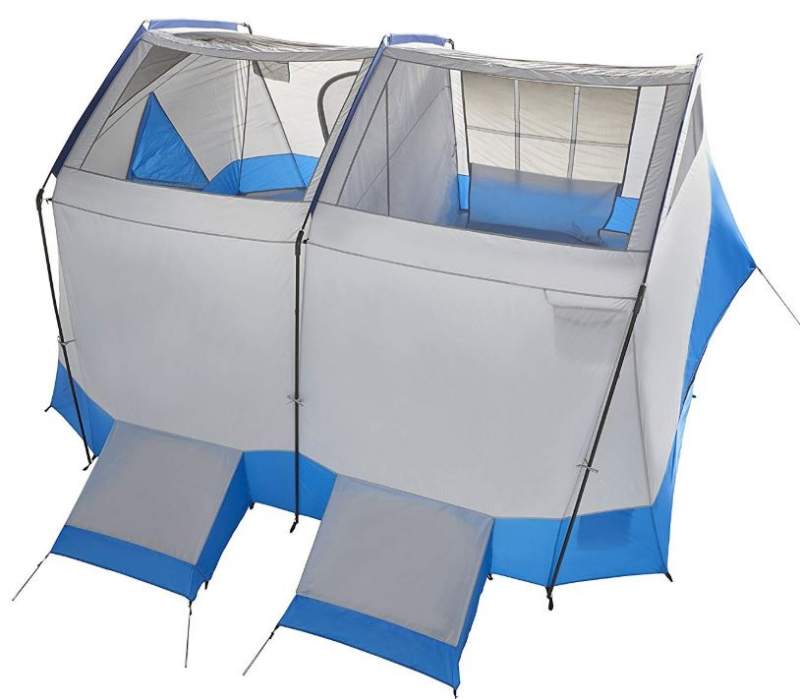 The cabinets
The picture above shows the back view and you see its two cabinets on the back. They are around 2 feet (60 cm) deep but rather low and you have mesh plus zippered panels on their back walls. So these are places to store your boots and similar items and they can serve also as floor vents. This is why I have added this tent to my list of camping tents with closets.
The picture below shows them from inside. As you see you have a zippered door on the cabinet and on the back is a mesh plus a zippered panel. Pity they did not make them higher. To realize what I mean you can compare them with the cabinets in the Northwest Territory Grand Canyon Tent.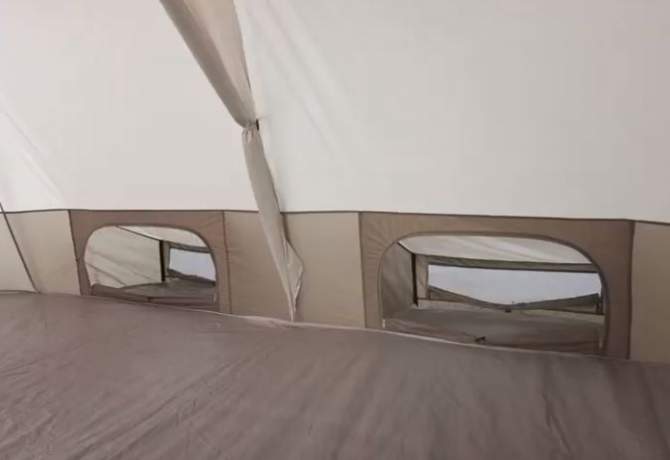 This is also a very tall structure with 86 inches (219 cm) height along the main axis. So this is the reason for including this tent in my list of extra tall family camping tents.
There is only one door here but it is large. The picture below shows the front view of the tent without the fly so you can see all the structure and the huge window. Note that all the openings are with mesh and with zippered panels. This is indeed great to see in such a budget tent.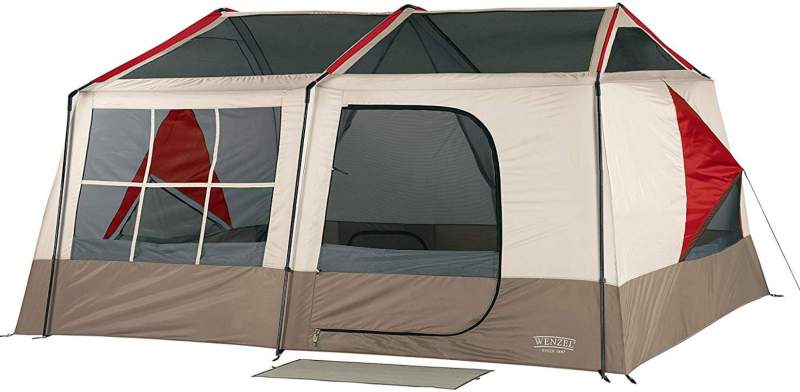 Ventilation
This tent is with mesh on the ceiling and the picture above shows its side vents that look more like side windows, see one shown below. They are with zippered panels and also with mesh. They are protected from above so you can keep them open almost all the time to have ventilation.
I already mentioned the cabinets that can serve as vents as well. So you have plenty of options for air crossflow, there is nothing one could object to this design regarding the ventilation.
Setup
For such a large tent, setup is easy. The poles structure is very simple and they attach to the tent's base through the usual ring and pin system which you see below. On the roof you have sleeves and in between a few clips. There are hubs in place for connecting the roof and legs poles.
Other features
Stakes are included.
2 Gear lofts.
2 Hanging pockets.
Mud mat included.
Storage duffel.
Lantern hooks in both rooms.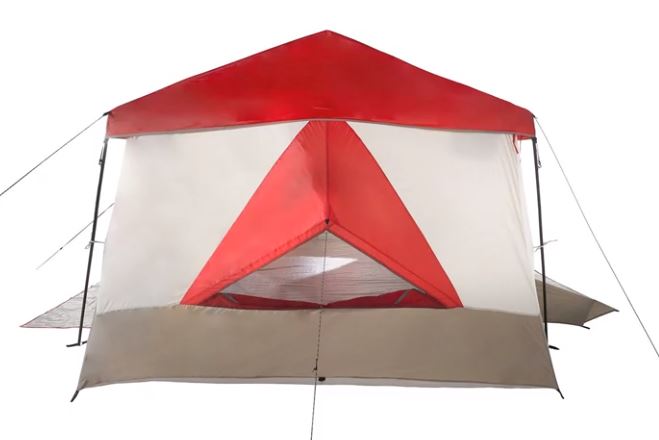 ---
Who is it for
Capacity: The declared capacity is 9 people and below is the picture which shows what the manufacturer suggests for using the floor of this tent. Clearly, this makes no sense at all.
Such a number of users sleeping on the floor is only possible if they are oriented along the main axes. So 4-5 people can sleep in one row and the same number in the other, note that the length is 427 cm and the width is 367 cm and such a configuration would be possible.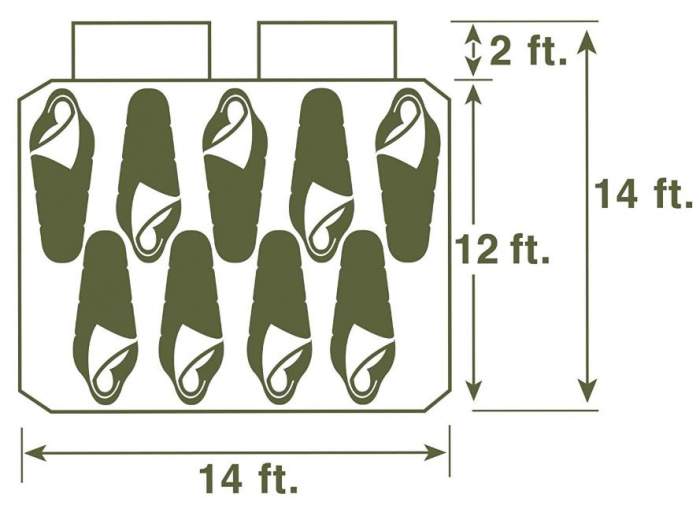 But for a real camping, this also makes no sense, so it is best to downgrade this tent to 4-5 people maximum, say parents with two-three kids. The inner floor area is officially 164 ft² (15.2 m²) so a family of five would have enough space for beds and all the camping gear.
Seasons & Climate: With so much mesh and with such a boxy structure, this tall tent is perfect for summer camping in quiet weather conditions without much rain and wind. I would not use it in a cooler environment, the mesh on the ceiling is for ventilation and not to preserve the warmth. The same is if you camp in a dusty area, better choose a model with a closed design.
Weight-wise, with 36.4 lb (16.5 kg) this tent is on the heavy side, but for such a size this is quite normal. You will see how it compares with some other tents built in the same style, there is a comparison table below.
The tent is a bit bulky when packed, so in view of its packed size of 30.2 x 12 x 12 inches (77 x 30 x 30 cm) and the mentioned weight, this is a tent for car camping.

---
Materials
There is not much information provided about the materials. The poles are shock-corded steel and the floor is polyethylene with welded seams. Such seams are normally totally reliable and very durable. So you should be safe from groundwater.
The fly and walls material is polyester, and the seams on the fly are taped. It is a bit disappointing that they do not provide information about waterproof rating. The same is with their other tents here in the site, see for example the Wenzel Great Basin 10 tent and also their Wenzel Blue Ridge 7 person tent.
---
Specifications
Type: cabin style tent.
Weight: 36.4 lb (16.5 kg).
Declared capacity: 9 people.
Dimensions: 14 x 14 ft (427 x 427 cm).
Inner floor dimensions: 14 x 12 ft (427 x 367 cm).
Inner area: 164 ft² (15.2 m²).
Inner area per person: 18.7 ft² (1.7 m²).
Peak height: 86 in (219 cm).
Eave height: 65 in (165 cm).
Packed size: 30.2 x 12 x 12 in (77 x 30 x 30 cm).
Poles: steel.
---
Wenzel Kodiak 9 Person Tent vs Competitors
I have decided to show you this Kodiak 9 side by side with two other tents with the same declared capacity. As you realize it is much bigger than the other two and due to this also a bit heavier. But there are some differences in features, the Core 9 tent is instant setup type, while Coleman Hampton 9 has a hinged door. But Kodiak 9 has cabinets which are missing in the other two tents.
---
Final thoughts, rating, pros & cons
So you have seen all the features of this Wenzel Kodiak 9 Person Tent, and you realize this is a nice tent for summer camping. Ventilation is excellent, it offers views on three sides, and some of its features are quite unique. This is an affordable tent for occasional family camping in mild weather conditions.
As of the moment of writing this text, the price on the US market depends on the color of the tent, there are three options to choose from, with the fly in blue, red, and brown color. It is considerably more expensive on the EU market. Please see how I rate this Kodiak 9 tent for a standard set of criteria used for all the tents here in the site:
You might want to know that they have yet another Eldorado 8 person tent which is with a fully functional screen room. If you need more options, you might want to check also this nicely built summer camping Bushnell Shield Series 9 Person Instant Cabin Tent.
Note that this is not a sponsored text. Please use the comment box below in the case of questions or comments. Have a nice day and I wish you a pleasant camping.