CORE 10 Person Straight Wall Cabin Tent 14 x 10 is a nicely built summer camping tent for families and groups. This is a very tall and comfortable construction with a great ventilation, very suitable for a warmer climate.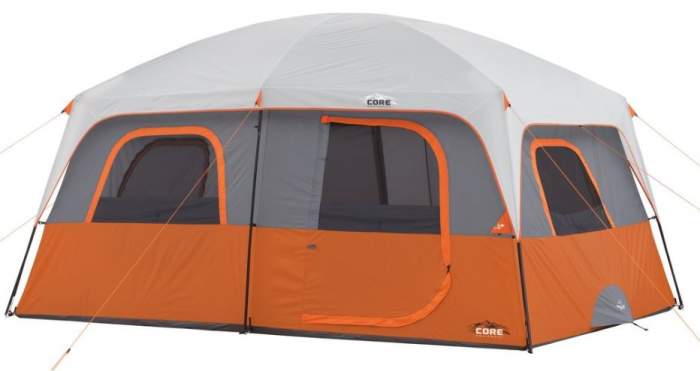 ---
Key features & benefits
Very tall and livable structure.
2 rooms.
2 entry doors.
4 + 2 large windows.
Freestanding tent.
E-cable port.
Gear loft included.
Very good price.
---
What is in the name
Lots of information is already in the name. This is a very typical cabin-style tent with very tall and straight walls, and with an incredible peak height of 86 inches (218 cm). Such tents are normally very livable, with large windows and a feeling of being at home, this is what you have here too.
This is also a freestanding tent but it is heavy and tall and as such it is sensitive to strong winds. Therefore I would not miss to stake it properly to the ground. Stakes are included in the package.
You have a partial coverage fly which protects practically only the mesh ceiling, so the structure is a hybrid single-double layer type. All windows and the doors are also double-layer structures with mesh and panels. But if you need something with a more substantial and full coverage fly, check this list with many tents of this type.
The tent is with 2 rooms separated by a divider. Each of the rooms is with its own entry door and two large windows, see the picture below. There is enough space in each of the two rooms to put a queen size bed, but this would take lots of the area. Though this is still better than having large air beds on the floor; with such off-ground beds you still have the space underneath the beds to store your gear. Perhaps a better choice is to use bunk beds; this saves the area and you still have the storage space underneath the beds.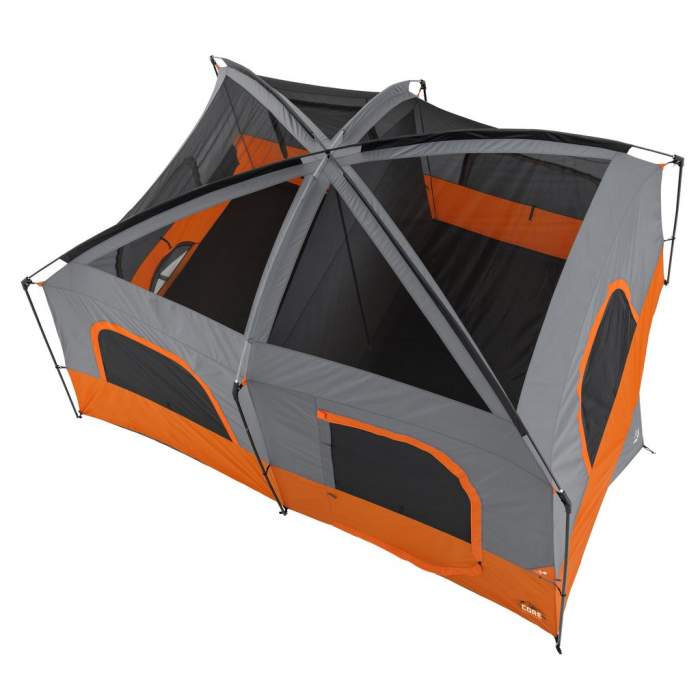 ---
Who is it for
Capacity
The declared capacity is 10 people, but they have used the backpacking principle here and this means the number of sleeping pads that you can put side by side on the floor. This can work if users only spend the night in the tent, like at some open-air festivals or similar activities.
But for real camping, this cannot work. The tent is with 140 ft² (13 m²) of the floor area and this means 14 ft² (1.3 m²) per person. The usual comment by people is that the tent is huge, so this is true, but they forget it is declared for 10 people and this is not so great. So this is a tent for 4 or a maximum of 5 people. There are no storage areas outside, all your stuff must be kept inside in the case of rain. A far more spacious option is this Core 10 person instant tent because of its screen room and the larger area in general.
But this lack of space with respect to the declared capacity is something quite common for most of the large tents of this type, and you can see this in my list of 10-person tents where you will find this tent as well. These are great tents, but usually not large enough for the declared capacity.
How many seasons
This is a summer camping tent and not much more than that, but it can be good enough also for late spring and early autumn in calm weather. So much open area with mesh is not for a cool environment. The tent is enormously tall, the fly is minimal, the waterproof rating is unclear, and there are many large openings. So I would not put it too harsh tests; it would not last long in strong side winds. But this holds for just any cabin style tent on the market. If you need something for such conditions, go for dome-style tents and with a full coverage fly.
For what climate is this tent
This is a tent for a warmer climate. Ther large mesh sections cannot preserve warmth and you would not feel great when the temperature drops. But it is nicely ventilated and suitable for warmer areas.
Also, in the case of a dusty environment, better use something more enclosed and without mesh on the ceiling. Check these Eurohike Buckingham Elite 8 and Vango Stanford 800 XL tents, both are with 5 rooms and no mesh of any kind.
---
Materials & construction
Poles
You have 6 vertical steel poles with 16 mm diameter, plus 3 fiberglass roof poles with 12.5 mm diameter. This is typical for such tents, just to know that fiberglass is not particularly durable.
Fabric
You have a very tough plastic (polyethylene) on the floor, such materials are normally fully waterproof but they do not provide any rating. This is typical for Core. Note that the design is a catenary cut and not a bathtub style, have seen some people asking about it and getting incorrect information.
The walls and the fly are built from a reasonably durable 68D polyester. They use what they call H20 Block Technology so this should mean waterproofness but up to which level remains unclear. The divider is a breathable polyester curtain with a central zipper.
Ventilation
There should be no issues with ventilation in this tent with so many windows and doors plus the mesh on the ceiling. Even if it is raining and you have to keep all panels closed, you still have two floor vents on the opposite sides and you can keep the open all the time; they are visible in the pictures.
Other features
The carry bag is expandable and built from a strong 210D polyester. It is with a bottom zipper shown in the picture above and this you use to expand it when necessary.
There are 2 sets of rather small pockets, pity in view of so much space on those straight and tall walls.
The electric cable port is on the wall.
What is included
You have the following items in the package:
Tent.
Rain fly.
6 steel poles.
3 fiberglass poles.
Plastic joints for poles.
Divider.
Gear loft.
Guylines.
18 steel stakes, 5 mm, 7 inches long.
Setup
This is a tall structure and setting it up requires two people, that way it is really easy and intuitive. Plan some 15 minutes for the job.

---
Specifications
Type: cabin-style car camping tent.
Capacity: 10 people.
Weight: 35.5 lb (16.1 kg).
Dimensions: 14 x 10 ft (427 x 305 cm).
Area: 140 ft² (13 m²).
Area per person: 14 ft² (1.3 m²).
Peak height: 86 in (218 cm).
Packed size: 28.5 x 10 x 10 in (72.4 x 25.4 x 25.4 cm).
---
CORE 10 Person tent vs Competitors
It is always good to compare items of this type to get some idea about the true meaning of their features. So I give this tent side by side with two other tents built in a similar style. Notice that they are with the same floor area and the difference in weight is very small. But there are significant differences in features and in prices, and you will realize this if you follow the links in the table.
---
Final thoughts, rating, pros & cons
So you have seen it all, this CORE 10 Person Straight Wall Cabin Tent is a really pleasant and comfortable structure assuming that you use it for a very mild weather camping and for far fewer people than what its declared capacity tells you. The price is more than reasonable and if you do not want to spend much and need a tent for occasional outdoor adventures with your family or friends, this is the tent to consider. I have included it in my list of the very tall tents for camping.
The tent has received hundreds of reviews at several sites and they are very positive. See how I rate it:
You might want to know that they have launched a new tent on the market which is somewhat similar to the tent presented here but bigger, the CORE 12 Person Extra Large Straight Wall Cabin Tent 16 x 11.
But if you need something different, just look around, there are many great tents described in this site which is all about such large family camping tents. For more 10-person tents check this list. You might want also to compare it with this ALPHA CAMP 10-12 Person Tent with Screen Room.
Thank you for reading. Please use the comment box below in the case of questions or comments. Have a nice day.