---
Coleman Jenny Lake 8 Tent is a tall 2-room cabin for 2-season camping with a hinged door, a closet, and with a hubbed roof poles design for a fast pitch.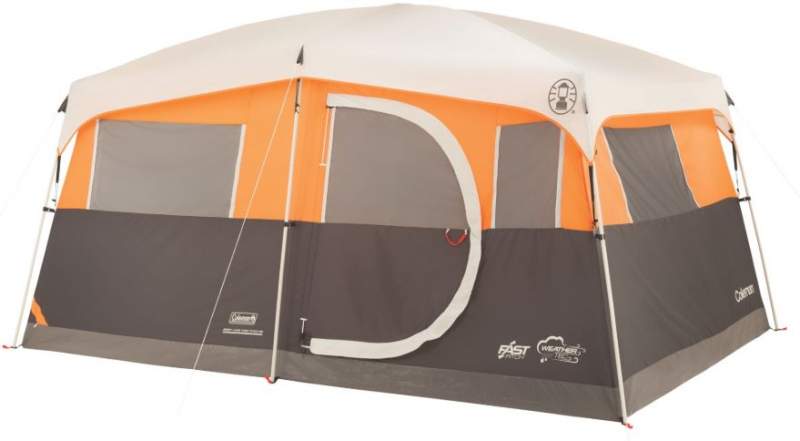 ---
Key features & benefits
2 Doors, one is a hinged door.
7 Windows.
2 Rooms.
Integrated closet.
Fast Pitch design.
Auto-roll windows.
E-cable port.
---
Where to buy
This tent is available on Amazon. They operate globally so please follow the link to check shipping conditions for your location.
---
What type of tent is this
The shortest way to answer this rhetorical question is by saying this is a pleasant type. So the tent has many interesting and useful features. As you realize from the pictures, this is a tall cabin tent with a peak height of 80 inches (203 cm). The walls are steep and straight so you have lots of volume and headroom in such a tent.
The tent comes with a removable divider which is with a central zipper and it is not more than a curtain for minimal privacy. So formally this is a 2-room structure. The picture below shows how it looks: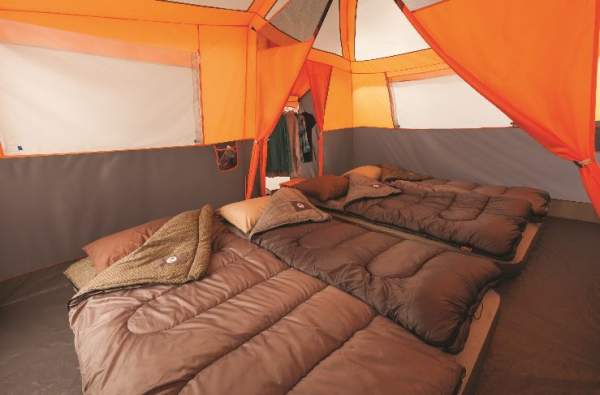 The fly is minimal, designed to cover the ceiling only. This is why you have views everywhere around. The picture below shows it without the fly so you get some idea about its frame.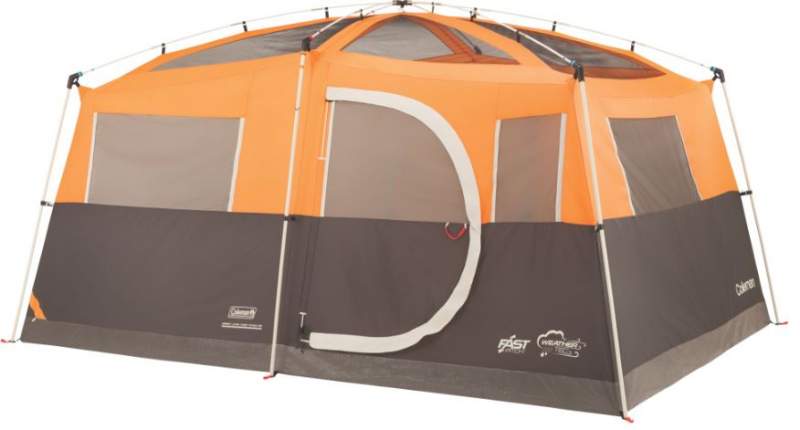 The doors & windows
There are 2 doors here, and the main door on the front (shown above) is a hinged door. This means you have a sort of frame created with two poles that run along its perimeter. There is even a handle, one on each side.
So you do not have to deal with zippers all the time, but the door has the usual zipper so you can close it in the evening. This is why I have included it in my list of tents with hinged door. The door on the narrow side of the tent is with a standard zipper, you can see it in the picture below.
There are 5 separate windows, plus 2 windows on the doors. All the windows are double-layer structures with mesh and zippered privacy pannels.
Note that the windows are with an auto-roll feature. So this is a piece of steel "strap", cannot find a better word to describe it properly, which is inside a sleeve on the panel. You will see it in the video below. When you unzip the panel, the steel will roll up automatically and it then drags the panel which creates a tube underneath the mesh window. This is a great design, but you can remove these steel elements if you want.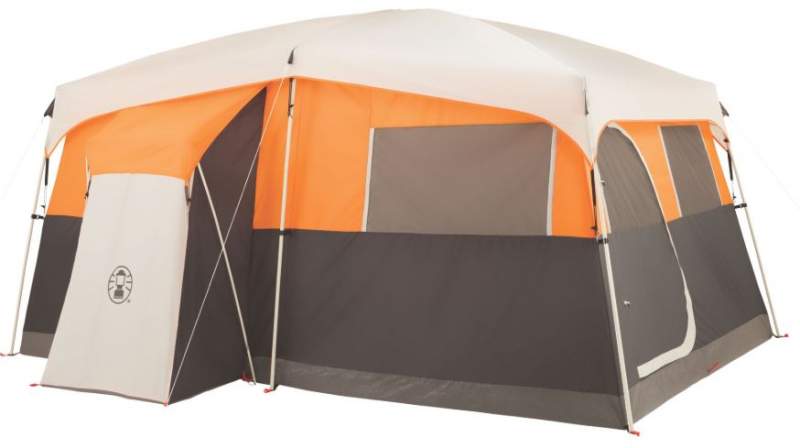 The closet
The closet is a bonus with this tent. You can see it from outside in the picture above. As you realize, it is with its own fly and its own supporting pole. The floor is the part of the tent's floor, so this is a fully sealed space and the part of the tent's inner area. The picture below shows it from inside.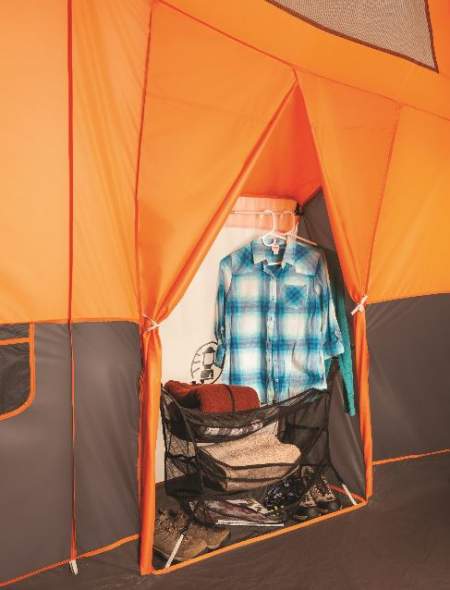 It comes with a bar to hang your clothes, and also with a set of mesh shelves, 3 in total. The size is 2 x 2 ft (61 x 61 cm). I have seen some people claiming that they use it as a toilet room. In any case, it is included in my list of tents with closets/cabinets.
Fast Pitch
This is a design used in many tents by Coleman, you can see it also in their Coleman Carlsbad 6 Person Tent, in Coleman Namakan Fast-Pitch Dome Tent 5, and in several other tents.
The most important part of it is the 6-way hub element on the roof. So the meaning of this is that this hub is preattached to the shock-corded roof poles. You cannot lose it, and it makes the setup faster and easier. The picture below shows how it looks.
There is also an interesting poles' attachment to the tent's base shown below, plus what they call snag-free Insta-Clip suspension. This basically means that there are no sleeves used here. They claim this reduces pitching time by half.
Coleman Jenny Lake 8 vs Coleman Tenaya Lake 8 tent – what is the difference?
These two tents look similar and I have seen people asking about the difference. So Tenaya Lake 8 tent is with one door while Jenny Lake 8 has 2 doors. Note also that Jenny lake 8 has those mentioned auto-roll windows and this is not so with the Tenaya Lake tent. The colors are different.
---
Who is it for
Regarding the capacity, the declared capacity is 8 people and you will see its dimensions in the specifications below. There is no doubt that you can put 8 sleeping pads on the floor, but this is not suitable for a family camping.
The inner area is 121 ft² (11.2 m²), and per person this means 15.1 ft² (1.4 m²). So as usual, it is best to downgrade the declared capacity by half.
Seasons-wise & climate-wise, I see it best suited for summer camping, or maximum for 2 seasons. This is because of its ceiling which is all mesh, so this would not be great in a cooler environment.
Note also how tall this tent is, and with a minimal and high positioned fly. So it is best to avoid areas with strong winds. Many people have reported leaks so test the tent at home and do some sealing where necessary.
Weight-wise, with its 41.1 lb (18.6 kg) this is a heavy tent. But this is due to its strong structure and so many features. This is why you have a wheeled carry bag for easy storage and transport.
The packed size is 33.8 x 13.2 x 12 in (86 x 34 x 30 cm), so this is not its best feature, as you see it is long when packed. So all in all, in view of its weight and the packed size, this is a tent for camping places with a car access.

---
Materials
The poles
You have a combination of 8 steel poles used for the legs of the tent and the closet support, plus steel poles in the closet itself, and fiberglass poles used on the roof and in the hinged door frame. This all is behind the weight mentioned above.
The fabric
They use what they call the Polyguard 68D polyester for the fly and walls and this implies an 800 mm waterproof rating. They also use what they call Coleman's WeatherTec system and this means patented welded floor and inverted seams. The floor is 1000D polyethylene with a bathtub-style design.
Other features
Illumiline reflective guy lines.
E-Port makes it easy to bring electrical power inside.
About 10 minutes setup time.
1-Year limited warranty.
Wheeled carry bag.
A few small storage pockets on the walls.
A lantern loop on the ceiling.
Please see more in this useful video showing the tent used by a family:
---
Specifications
Declared capacity: 8 people.
Weight: 41.1 lb (18.6 kg).
Dimensions: 13 x 11 ft (156 x 132 in; 396 x 335 cm).
Main inner dimensions: 13 x 9 ft (396 x 274 cm).
Closet size: 2 x 2 ft (24 x 24 in; 61 x 61 cm).
Total area: 121 ft² (11.2 m²).
Total area per person: 15.1 ft² (1.4 m²).
Peak height: 80 in (203 cm).
Packed size: 33.8 x 13.2 x 12 in (86 x 34 x 30 cm).
---
Coleman Jenny Lake 8 Tent vs Copper Canyon 8 & Browning Camping Big Horn 8
I thought you might want to see how this tent compares with some other tents with the same declared capacity and built in the same style. So as you see it is smaller and lower than the Browning Camping Big Horn 8 and Eureka Copper Canyon 8. But it has more interesting features. Please follow the links to read more.
33.8 x 13.2 x 12
(86 x 34 x 30)
Browning Camping
Big Horn 8
30 x 12 x 12
(76 x 30 x 30)

28 x 10 x 10
(71 x 25 x 10)

---
Final thoughts
In summary, this Coleman Jenny Lake 8 Tent is with several really nice features. Both the hinged door and the cabinet set it apart from its closest competitors. As of the moment of writing this text, this is the only tent known to me with such automatic roll windows.
But this is not a tent for harsh conditions, bear this in mind and you will enjoy your family camping in this tent.
Please see how I rate this tent against my standard set of criteria used for all the tents here in the site. This makes it easy to compare with other tents.
If you want something very different by structure but with the same declared capacity, check this Ozark Trail 8-Person Dome Tunnel Tent.
Note that this is not a sponsored text, and I am not paid by the brand or related to them in any way. Let me know if you have questions or comments, there is a comment box below.

---