---
Browning Camping Big Horn Tent For 8 People is a huge and very tall freestanding 3-season family tent with 2 doors and 6 windows, and with an incredibly affordable price.
---
Key features & benefits
Huge area.
Great packed size.
Easy setup.
6 windows in total.
2 doors.
2 rooms.
Incredibly affordable price.
---
What type is this
This Big Horn tent is a great example of freestanding tents. This means you can pitch it on any terrain. The structure is fully self-supporting and it does not have to be staked to the ground. But this is also an incredibly tall structure, with 87 inches (221 cm) peak height; yes, you are reading correctly, like a room at home. This means it may be unstable in the case of a strong wind, so do stake it down if the terrain allows it and put your mind at ease. Note, the steel stakes and guylines are included in the package.
The tent is also a perfect representative of so-called cabin-type tents. Please follow the link to see more; here just to stress that this implies that all its walls are straight and nearly vertical.
This is also a standard family camping tent, which means not a tool to be carried around. It is quite heavy.
The tent belongs to the group of 3-season tents. You have many large openings, the ceiling is all mesh, and the fly is minimal by design. The roof poles are fiberglass and they span large distances between the walls. So, all this together with the mentioned extraordinary height, implies that:

Such a structure cannot withstand a lot of vertical pressure (i.e., the snow on the roof), and horizontal pressure (winds).
Those openings with mesh do not preserve the warmth. So use this tent in mild weather situations.

The tent is single layer-type (for the most of its structure), and this is typical for tents of this type. The ceiling and the openings are double-layer structures.

Here is the Big Horn tent shown with the rain fly.
---
Who is it for
Sizewise, with the total floor area of 150 sq ft (13.9 m²), the Browning Big Horn tent offers 1.74 m² per person. So it definitely provides enough space for the declared capacity of 8 people, see the floor plan below. But there are tents for 8 people that provide more per person, see this Coleman Red Canyon 8 Tent, which is built in a different style.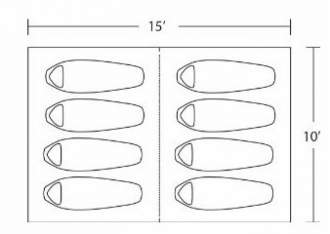 In the case of families with kids, I would say it is perfect for parents with up to 4 small kids. Bear in mind that you do not have any external storage area for gear. You can add their Browning Camping Basecamp Screen House next to your tent and keep some stuff there and use it as a dining area.
This tent shines regarding the packed size as well. It looks incredible that it packs to only 30 x 12 inches (76 x 30 cm). So it can be transported both in the car and on a motorbike. Bear this in mind if you are on a cross-country tour with your group of motor-bikers.
The tent is incredibly tall, and with such vertical walls, it can easily accommodate any sort of bunk beds. This is worth considering if you are with many small kids, there are nice bunk cots available on the market, both for kids and for adults, you will see some below. I have included it in my list of the very tall tents for camping.

---
The structure and construction
This is a structure with two rooms, see the picture, each with its own separate door with a small awning. You have 6 windows in total (two windows are on the doors). All of them are with mesh from outside and a waterproof panel from inside.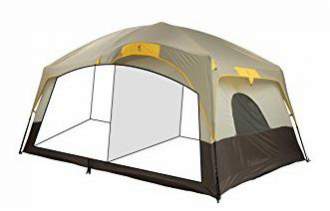 The fly is minimal by design, but it still creates the roof which partly protects the windows, so some of them can be kept at least partly open, with mesh only, even when it is raining. This holds in particular for the windows on the doors.
There are 3 pockets in each of the two rooms. This looks a lot, but the walls are huge, I would love to see more. You never have too much storage space.
The poles
All poles are shock-corded, and there are many of them:
You have 2 long diagonal fiberglass poles from corner to corner.
There is 1 shorter fiberglass cross pole that goes over the center.
There are 6 steel poles which support the roof and the tent.
2 fiberglass poles are there to create small awnings above the 2 doors.
The fabric
The floor is a bathtub type, a very durable 150D PU coated polyester oxford floor with a 2000 mm waterproofness rating. So these are impressive numbers. Polyester, in general, is a great material because it does not absorb water.
The fly is 75D 185T polyester again, waterproof, but they do not provide information about the rating. It is designed to resist UV damage and to stay taut.
The walls are also waterproof (they must be because this is not a full-coverage fly), but they do not provide information about the rating. All seams are factory-sealed.
A general overview of this tent you can have in this video:
---
Setup
There is an instruction sheet attached to the carry bag from inside, so you will be able to follow it easily. You start by spreading the tent and by passing the 3 roof poles through the sleeves. After that, you add the side poles and erect the tent; at this stage, it is already self-supporting and freestanding.
In this video, you can see a couple who are using this tent for themselves, and they stay in the camp for several months continuously, and they are happy with the tent. You will get a clear idea of what this tent can offer. The video is long, so set it to a higher speed if you wish, you will see the process of taking it down and setting it up, very useful:
---
How they test this tent
Here is a video showing how they test this tent, please have a look:
---
Specifications
Total weight: 34 lb 11 oz (34.69 lb; 15.73 kg).
Dimensions: 15 x 10 ft (180 x 120 in; 4.57 x 3.04 m).
Peak height: 7 ft 3 in (87 in; 221 cm).
Tent area: 150 ft² (13.9 m²).
Area per person: 18.8 ft² (1.74 m²).
Packed size: 30 x 12 in (76 x 30 cm).
Steel stakes and guy ropes included.
Floor saver data (not included it can be ordered here):
Dimensions: 176 x 114 in (4.47 x 2.9 m).
Weight: 3 lb 3 oz (1.45 kg).
---
Browning Camping Big Horn Tent vs competitors
See how this tent compares with two tents from other brands, all are cabin-type. I think it is obvious that the other two tents are not a match for the Big Horn Tent. It is the lightest, the largest, the tallest, and yet with the best packed size. To see more, please follow the links:
Browning Camping
Big Horn 8
Coleman Instant
Cabin Tent 8
Core Instant
Cabin Tent 9
48 x 11 x 10.5
(122 x 28 x 27)
---
Possible accessories
I already mentioned some possible options for beds in such a tent. This huge tent can accommodate anything, so see some options here: Note that with such cots you still have a lot of space for storage of stuff underneath the cots. You might need it, you do not have vestibules here.
---
Final thoughts, rating, pros & cons
In the conclusion of this Browning Camping Big Horn Tent review, I would stress the enormous dimensions of this tent, both horizontal and vertical. So this is a tent which offers lots of comfort, but bear in mind that it is without vestibules. The packed size is yet another great feature you have here, and this all at such an affordable price makes it a true bargain.
Note also that I have included this tent in my list of top tents for 8 people. If you need something smaller from this brand and in the same style, check this Browning Camping Big Horn 5 tent.
There are many reviews on the Internet, no surprise, this is a very popular tent. On Amazon alone, this tent has collected hundreds of reviews, and the average rating is incredibly high. See below how I rate it:
This site is only about big camping tents, for families and groups, so if you still need something different just look around, you will find something for you. This Wenzel Klondike 8 tent, is in the same size range and also this Coleman Montana 8 tent which is a dome-style structure. If you need a bigger tent, do not miss this Core 12 Instant Cabin Tent and the Coleman Prairie Breeze tent.
Thank you for reading. If you have any question or comment, please use the comment box below. I wish you a nice day.
---