Here you have the list with best camping tents with closets and cabinets, all very different designs that offer a useful storage area or extra sleeping area. Please keep reading.
The tents in the list are ordered alphabetically so the numbers are only for navigation and this is not a ranking.
Regarding the construction, these are all very tall cabin style tents, but some are with extra features like a hinged door or instant setup.
Regarding the best use, these are all more or less summer camping tents with plenty of mesh on the ceiling for an optimal ventilation. They are with a minimal fly which protects the roof only, but this is why you have unobstructed views through large windows available in all the tents here.
As for the inner structure, these are large family camping tents and they allow for multiple room configurations.
Most of the tents are freestanding.
So here they are with some basic features, for more please follow the links to my full reviews:
---
1. Coleman Bayside 8-person tent
This tent has an interesting design, a dome structure but with an irregular floor plan. This includes the cabinet on the back, see the picture below, and this why the tent is here in the list. The closet is an area of 38 x 20 inches (97 x 51 cm) with 3 shelves, and the floor of the closet is a part of the tent's floor, and it is supported by the tent's poles.
One particularly great feature is the large awning which has the side panels so it looks like a porch. This is also a tent with hinged door and I have included it in my list of best hinged door tents. The declared capacity is 8 people and the area is 113 ft² (10.5 m²). It weighs 26 lb (11.8 kg).
Regarding the materials, the floor is polyethylene and the rest is polyester. The shock-corded poles are fiberglass, and all seams are taped. The waterproof rating is quite modest 800 mm, but for summer camping you do not need more.

---
2. Coleman Jenny Lake 8 Tent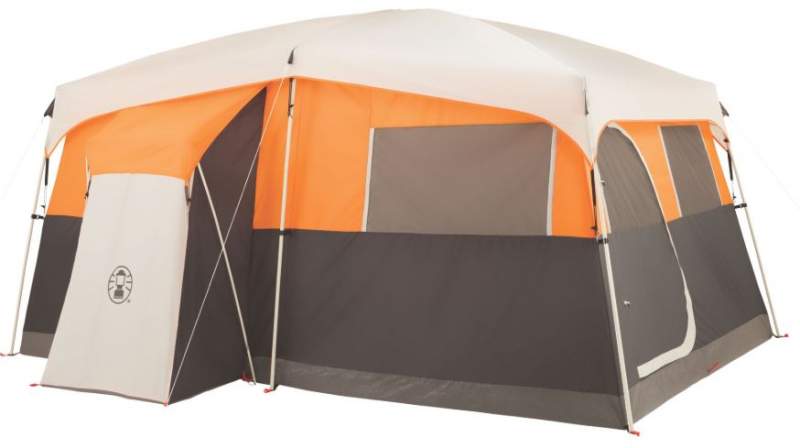 This Coleman Jenny Lake 8 Tent comes with a cabinet shown in the picture above and this is why it is here in the list. But this is a tent with plenty of features, a tall 2-room cabin with 2 doors. One of the doors is hinged-type and this is why I have included it also in my list of tents with hinged door.
One particular feature here is its auto-roll windows system, but you also have a fast-pitch design, an e-cable port, 7 windows. The tent weighs 41.1 lb (18.6 kg) and the floor area is 121 ft² (11.2 m²). The poles are a combination of steel and fiberglass.

---
3. Coleman Tenaya Lake 6 Person Fast Pitch Cabin Tent With Cabinets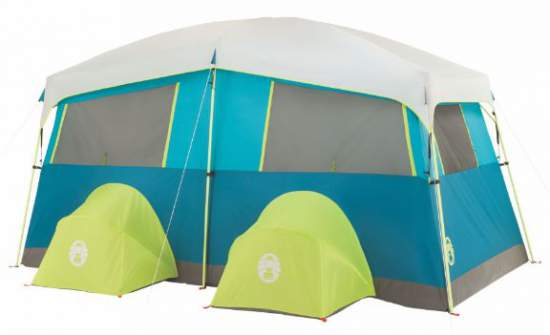 This Tenaya Lake 6 tent is a typical cabin style tent with two rooms created by a removable divider. But it comes with those two cabinets on the rear side, which you see in the picture above. They are with zippered doors from inside, and they come equipped with shelves. Each of the mentioned two rooms has one cabinet.
This tent is what they call 'fast pitch' and this describes the roof poles that are all with bungee cords attached to the hub element on the top, so this makes the setup fast and easy. Yet another great feature here is its hinged door. The tent is with 6 steel legs poles and 6 fiberglass roof poles.
If you need to see some numbers, the weight is 33.2 lb (15.06 kg), the total floor area is 99 ft² (9.2 m²), and the peak height is 80 in (203 cm).

---
4. Coleman Tenaya Lake Fast Pitch 8 Person Tent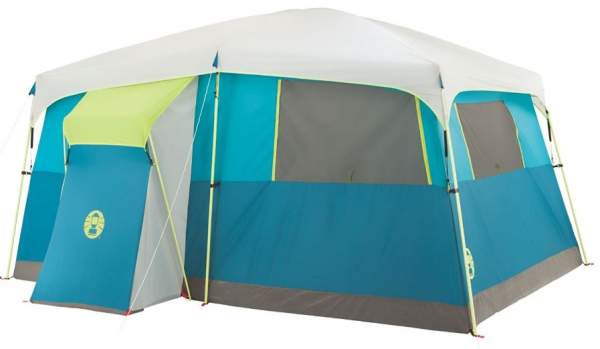 This Tenaya Lake 8 tent is very similar to the Tenaya Lake 6 in all details except in its closet which you see in the picture above. So as you realize, there is only one but this is a tall structure, completely different from the Tenaya Lake 6 cabinets. This closet has an area of 4 ft² (0.37 m²) and it comes with its own poles that support its roof. From inside, you have a curtain with a vertical zipper.
This tent is also with a hinged door, and you have the same fast-pitch hubbed poles system. There are 2 rooms here and 5 windows, and one E-port is available.
Here are a few numbers:
Weight: 35.4 lb (16 kg).
Dimensions: 13 x 9 ft (396 x 274 cm).
Area: 117 + 4 ft² (10.85 + 0.37 m²).
Peak height: 80 in (203 cm).
Packed size: 34.5 x 13 x 11.5 in (88 x 33 x 29 cm).

---
5. Ozark Trail 11 Person 3 Room Instant Cabin Tent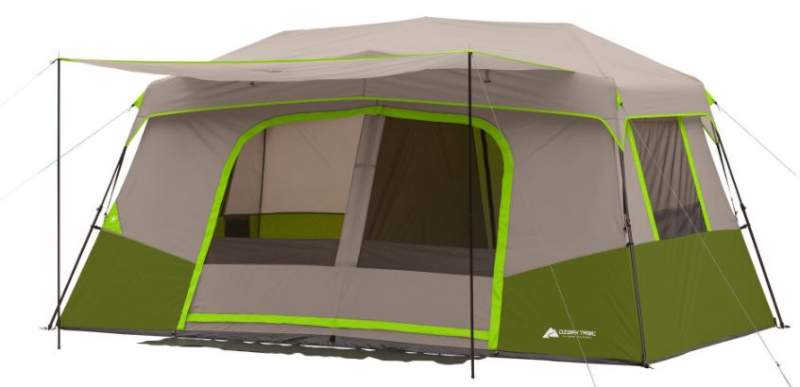 This Ozark Trail 11 is a three-room structure of a specific type. So its main part which you see in the picture above has a removable divider and this allows you to have two rooms. But there is an extension behind which is a sort of large cabin, and you can see it in the picture below. It is big enough to call it a room. You can use this cabinet as a storage area as well, this versatility is the good side of this tent.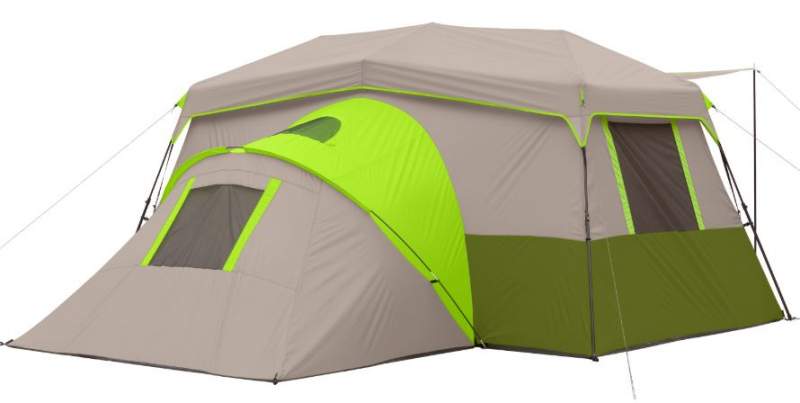 But as you realize from the name, this is also an instant tent, so the setup is extremely easy and fast. You also have awning configuration here, the front flap serves for this purpose; the two awning poles are included.
The area which this tent offers is 160 ft² (14.9 m²), its weight is 33 lb (15 kg), and the peak height is 76 inches (193 cm). You have two doors and 4 large windows, and the tent is very affordable.

---
6. Ozark Trail 14 Person Spring Lodge Cabin Camping Tent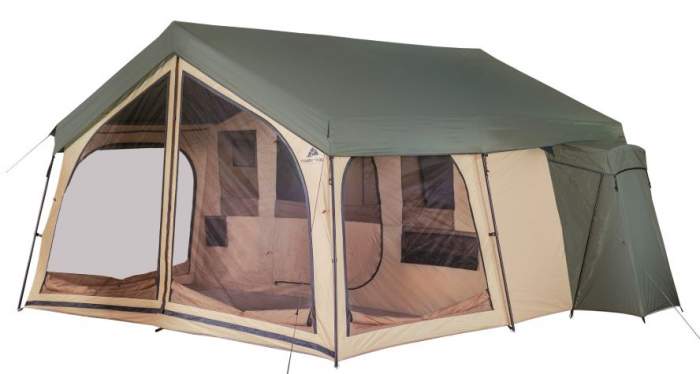 This tent is a huge summer camping cabin with the inner floor area of 189 ft² (17.5 m²). The structure is with a steel frame and with 2 rooms. The front room is with panels but it is convertible to a screen room, so I have included it in my list of best tents with screen room.
But it also has 2 cabinets and this is why it is in the list here. One of them is visible in the picture above and the other is identical on the opposite side. They come with mesh shelves and they are fully floored, with the entrance from inside the tent.
The structure is with 6 mesh windows on all the sides and it is also freestanding. You might want to know that this is a very affordable family camping tent.

---
7. Ozark Trail Flat Creek 12 Person Family House Tent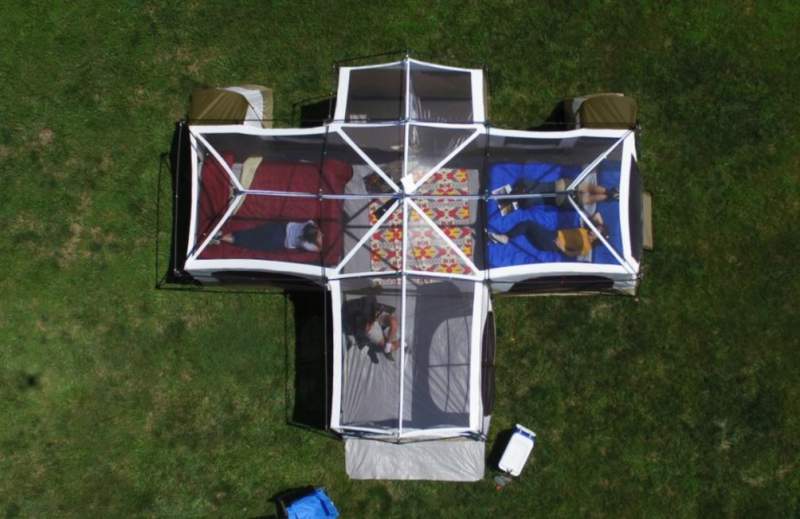 This tent has two extensions/cabinets and you can see them in the aerial photo above, on the upper side. In the middle is a unique feature, a shower room.
This Ozark Trail Flat Creek 12 Person Family House Tent is an impressive freestanding and tall structure with a peak height of 86 inches (218 cm). This is a cabin style tent, it has floor vents, an e-cable port, 10 windows, and 4 rooms. It is included in my list of tents with 4 rooms.
The weight is quite substantial 81.04 lb (36.8 kg) but this is because of its strong steel frame and the large area which is around 194 ft² (18 m²).

---
8. Ozark Trail Hazel Creek 12 Person Cabin Tent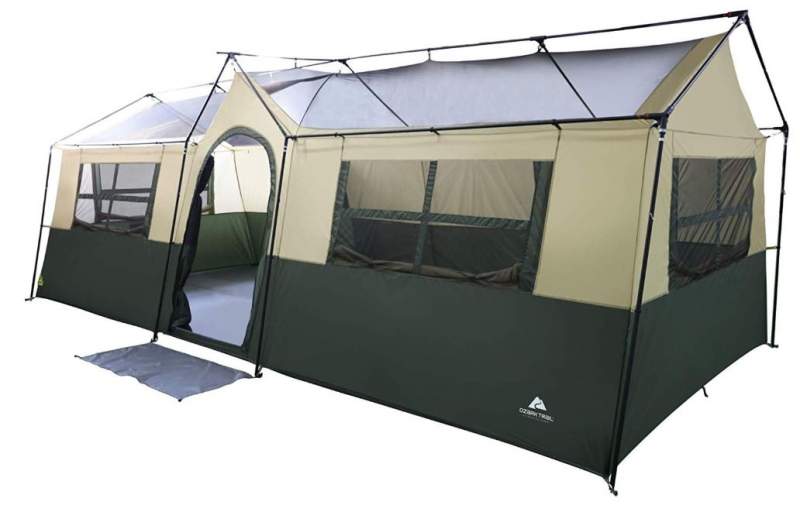 This Hazel Creek 12 is a huge tent with 3 rooms and one door shown in the picture above. It also has 5 mesh windows. The picture above is without the fly so you can see its cabin-style framed construction. It comes with steel poles, an E-cable port, and also LED lights included, so I have added it to my list of lighted tents.
But this tent is here because of its two cabinets that come as an extra bonus. They have their own support poles, they are floored and sealed, and with access from inside. There also come equipped with mesh shelves. The picture below shows how they look from outside.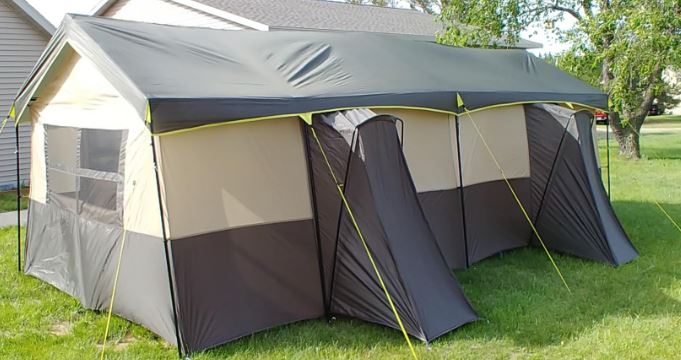 The area is 180 ft² (16.7 m²) and the weight is 65.2 lb (30 kg). Please follow the link for more.

---
9. Wenzel Kodiak 9 Person Tent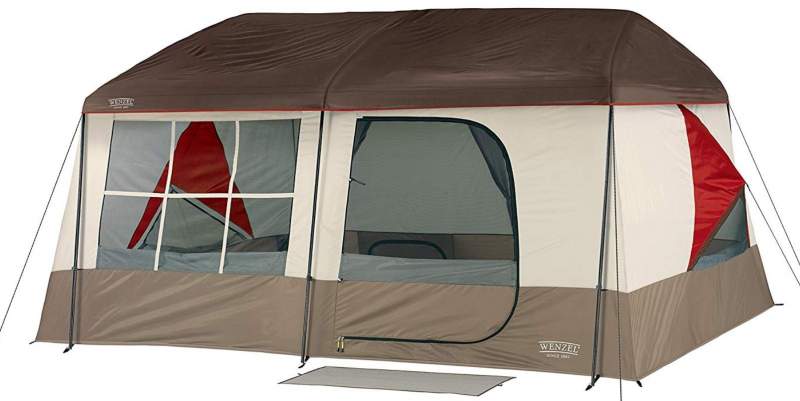 This Wenzel Kodiak 9 is a two-room tent with a sewn-in divider and a central zipper, this is visible in the picture below. This is a cabin-style tent yet the frame is rather specific with three arches similar to what you have in tunnel tents. This is why it is not freestanding.
Obviously, it is here because of its two cabinets (closets) which you see below. They are low, the area is just around 4 square feet each, but they have a zippered door from inside and also a zippered panel plus mesh on the back. So you can use them as floor vents as well as closets for boots.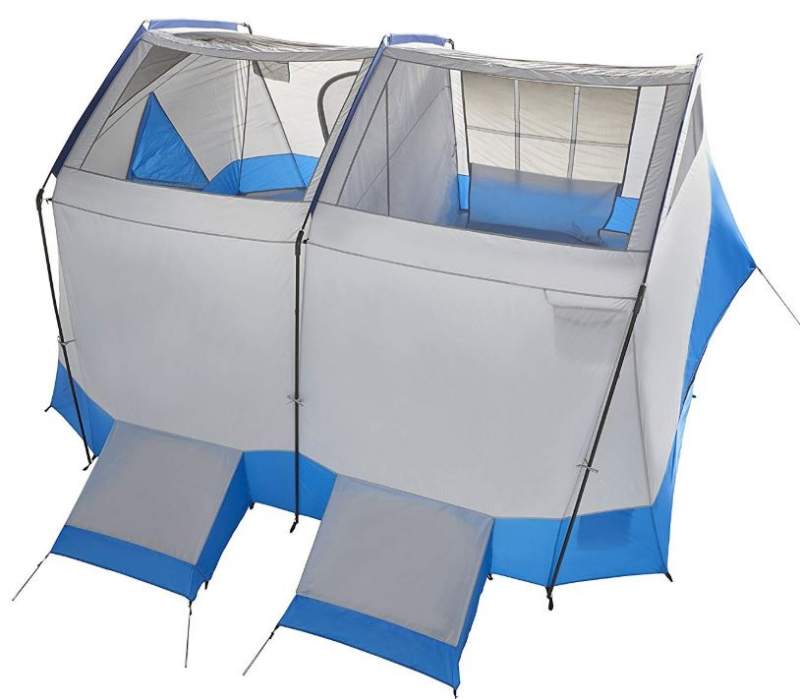 The tent's area is 164 ft² (15.2 m²) and the peak height is 86 inches (219 cm), so it is included in my list of very tall family camping tents. The weight is 36.4 lb (16.5 kg). The frame is steel and the partial coverage fly and the walls are polyester.

---
Final thoughts
So this was my list of camping tents with closets and cabinets, it will be updated whenever I find some new and interesting tent with cabinets on the market. This is why you might want to bookmark this text and check occasionally.
Please let me know if I have missed adding some good tent, there is a comment box below.