Big Agnes Bunk House Camping Tent 6 Person is a very tall tent with aluminum poles, two large vestibules and two doors, a backpack-style carry bag, and it allows for a smart shelter configuration.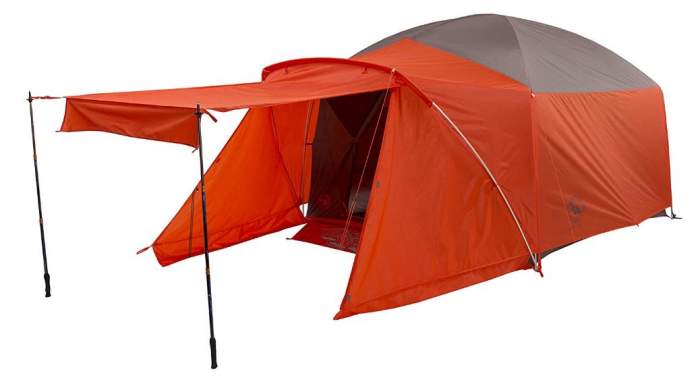 ---
Key features & benefits
Two doors.
Two asymmetric vestibules.
Awning configuration.
Aluminum poles.
Great carry bag design.
Shelter mode configuration.
Very tall.
---
What this is about
Here you have a tent from a new series of two tents which this brand launched recently. The series includes this 6 person, a smaller 4 person tent, and also Big Agnes Bunk House 8 Tent. They are all very different.
I would describe it as a dome tent although the poles are almost vertical and straight, similar to a cabin tent. You can see this in the picture below which shows the tent without the fly.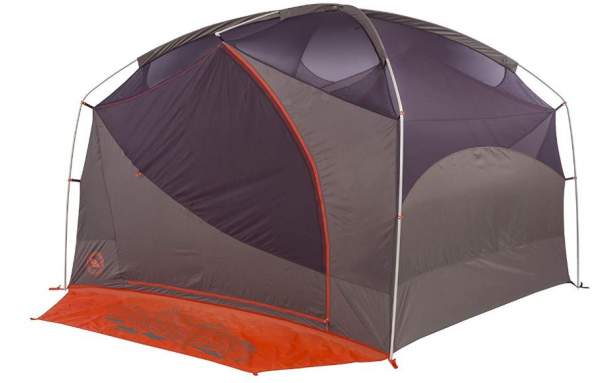 Note that it has an extra pole that supports one of its vestibules, and this is why it is not freestanding, it must be staked to be functional. This is a single-room structure with two doors, one is visible in the picture above, and the other is on the opposite side.

The tent is incredibly tall for its size and type, the peak height here is 81 inches (203 cm). With such steep walls this gives plenty of volume inside.
The two vestibules are asymmetric, you see one in the picture below, it is with a central zipper. But the other has two parallel zippers that allow for an awning configuration with the help of two trekking poles, it is shown in the top picture above.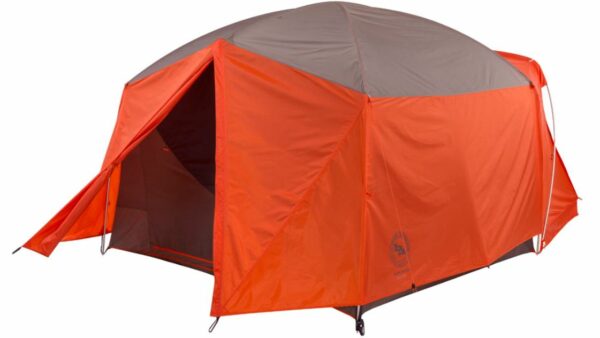 This larger vestibule allows also for some other configurations shown in the pictures below where the vestibule flap is rolled up and the side flaps can be used as it suits you. In any case, this is a very functional design.
Shelter mode configuration
You have a full-coverage fly here, so protection from the elements is guaranteed. This is why I have included it in my list of best tents with a full fly.
But there is more to this. The picture below shows the shelter mode with the fly and poles only. This is possible because of the webbing system (they call it a webbing harness) that is included. When you close the vestibules, you have full protection from the rain and from flying insects.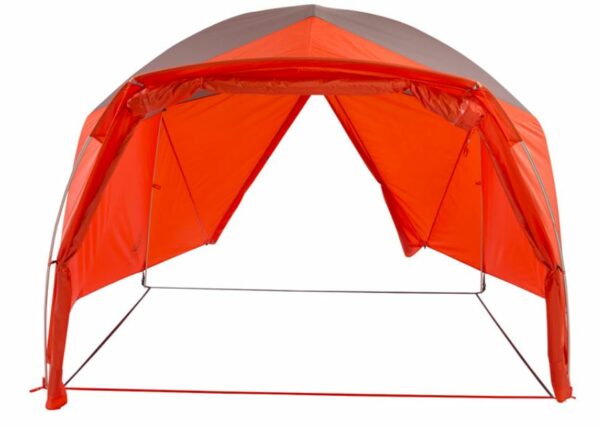 Even in this shelter mode you can use the vestibules in the ways already mentioned above. Note that they also have a footprint that can be ordered here separately so you can add it as a floor in this configuration without the inner tent. The picture below shows such a setup.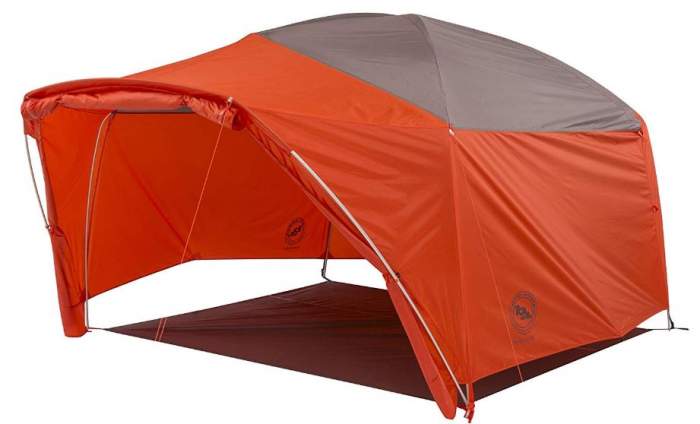 Carry bag designed as a pack
So this is again something clever, you can see how it looks in the pictures below. When you pack everything, there is a zipper around so you close it and can carry it as a pack, the fully adjustable shoulder straps are shown in the picture on the right.
Ventilation
As you have seen in the picture without the fly, the upper part of the inner tent is mostly a mesh. The doors are with mesh that goes rather low in one side of the doors, so this will allow for airflow through the lower section of the tent. Note also that these sections are double-layer structures so you can zip them up if you feel cold.
But there are no vents on the fly, it looks like a sarcophagus when fully zippered and closed, see the picture below. Six people inside can exhale a few liters of water (in the shape of vapor) during the night.
With such a massive cover the vapor has no way to escape out. It will condense on the underside of the fly and consequently drip back onto your sleeping bags or just slide along the fly to the floor. It is hard to understand what they were thinking with such a design.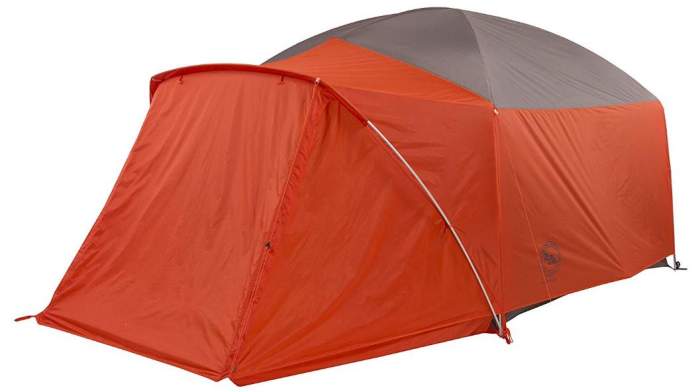 You can see more in this video, it shows the 4-person version but the features are the same:
---
Who is it for
Space-wise, the tent is with the declared 6-person capacity and it indeed offers lots of protected space. The picture below shows its dimensions and the floor plan.
Note that the inner area is not particularly large, you have only 83 ft² (7.7 m²) and this means 13.83 ft² (1.28 m²) per person. But the two vestibules add lots of storage space (see in the specifications below) so the total protected area is 139 ft² (12.9 m²).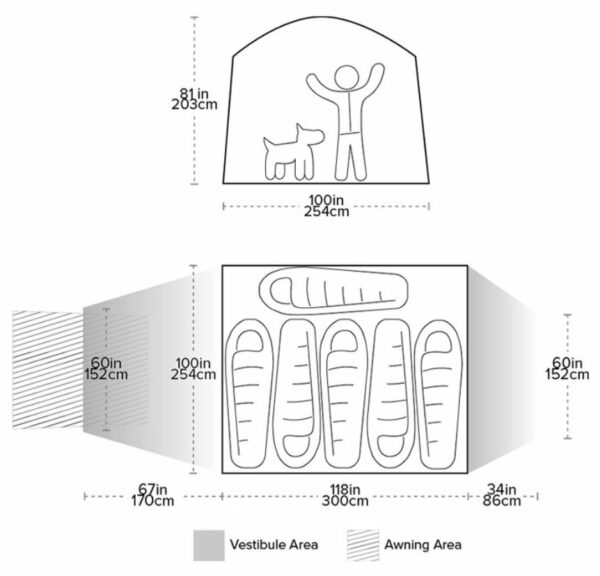 Seasons-wise & climate-wise, this is a true 3-season tent and it will protect you no matter where you plan to use it. But as pointed out above, there are no vents on the fly, so in a warm environment and with closed vestibules it may be hard inside.
Weight-wise, with its 19 lb 12 oz (8.96 kg) of weight, the tent is not very light. You have seen its nicely designed carry bag, it looks great but for such a tent the packed size 27.5 x 17 x 10 inches (70 x 43 x 25 cm) is everything but impressive.
So it can be carried on some shorter tours, but it is best to avoid this and use it at places with a motorized access.
---
Materials
The poles & stakes
You have the best stuff here, three long DAC DA17 lightweight aluminum poles and one shorter ridge pole. This type of poles was invented by this brand several decades ago for large family camping tents. You also have 16 lightweight aluminum hook stakes.
The fabric
Both the fly and the floor are polyester with a 1500 mm waterproof polyurethane coating. This number looks great for the fly but perhaps less great for the floor. The inner tent includes a breathable polyester, coated polyester, and a nylon mesh. All seams are taped with a waterproof polyurethane tape.
Other features
Quick Stash door keeper on the tent body.
2 Removable corner bin pockets, plus 4 interior mesh pockets.
Extra-large welcome mat on the front door.
Color-coded webbing and buckles.
Pole-securement points located on the interior of the rainfly.
Pre-cut guylines and tensioners attached to fly.
Reflective guylines and reflective webbing.
Plastic clips and sleeves attach tent body to pole frame.
Multiple interior loops for attaching gear lofts, accessories and mtnGLO Tent & Camp Lights.
---
Specifications
Declared capacity: 6 people.
Trail weight: 18 lb 6 oz (8.33 kg).
Packed weight: 19 lb 12 oz (8.96 kg).
Fast fly weight: 13 lb 15 oz (6.32 kg).
Floor area: 83 ft² (7.7 m²).
Floor area per person: 13.83 ft² (1.28 m²).
Vestibules area: 37 + 19 ft² (3.44 + 1.77 m²).
Total protected area: 139 ft² (12.9 m²).
Total protected area per person: 23 ft² (2.15 m²).
Peak height: 81 in (203 cm).
Packed size: 27.5 x 17 x 10 in (70 x 43 x 25 cm).
Footprint weight: 1 lb 5 oz (595 g) (solds separately)
---
Final thoughts, rating, pros & cons
In summary, this Big Agnes Bunk House Camping Tent 6 Person is a quality tent for full protection in a 3-season use, and with many great features.
But I do have some objections mentioned in the text above and also listed below. So see if they are critical for you and decide yourself, you know best what you need. Please see below how I rate this tent:
Big Agnes Bunk House Camping Tent 6 Person
If you need more options from the same brand, note that I have a separate list with Big Agnes camping tents. You might want to compare this tent with this MSR Habitude 6 tent and also with this Nemo Aurora Highrise Tent 6 Person that offers the same floor area.
Note that we add new texts regularly so please bookmark this site and visit occasionally. There is a comment box below, please use it in the case of questions or comments. Have a nice day.