If you need a 3-season 4-room tent with lots of space and a huge waterproof rating, this Coleman Tent Cook 6 Person Review is the text for you. Read about this tent with PVC windows, 3 doors, and much more.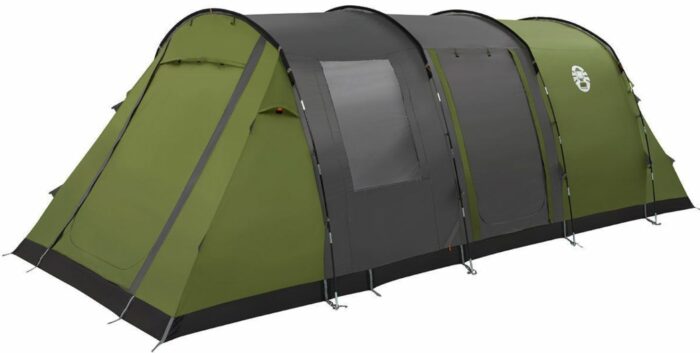 ---
Key features & benefits
Tunnel type tent.
4 Rooms modular design.
3 Doors.
Fiberglass poles.
PVC Solid windows.
Sewn-in floor.
E-cable port.
---
What this Coleman Cook 6 Tent is about
This is yet another tent from Coleman that has been built for the EU market, and it has been there for many years already, but it is new on the US market. So it has all the great features of their EU tents, large area, multiple rooms, huge waterproof rating, etc.
This is a typical tunnel-type tent with four loops, so it is non-freestanding as very typical for such tents. The picture below shows it with all three of its large doors open so you get some idea of how great it looks.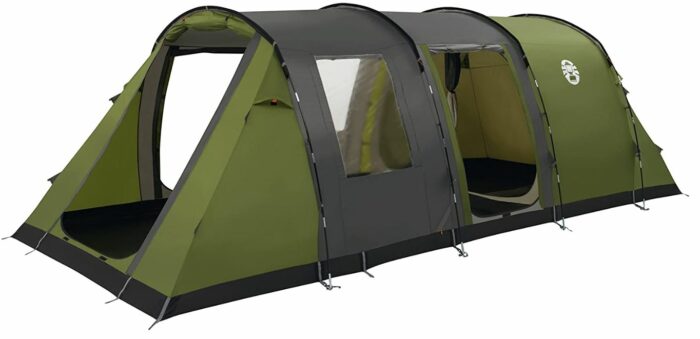 The tent has two large PVC windows, and they are also with shutters to reduce glare and for privacy. So this is an enclosed structure that preserves warmth, and I have included it in my list of best cold weather tents.
This is a very comfortable and tall structure with a stand-up height of 78.74 inches (200 cm). You might want to know that they also have a 4-person version but it is currently not available on the US market.
Modular design
This tent has two inner tents and you can use them as you wish. With everything inside, you have 4 rooms in total, and this means one large living area plus three sleeping cabins. One inner tent is with a zippered divider so you can remove it and have 3 rooms. You can see this part in the picture below. As you see, the divider is not just a curtain so you have as much privacy as you can expect from a tent.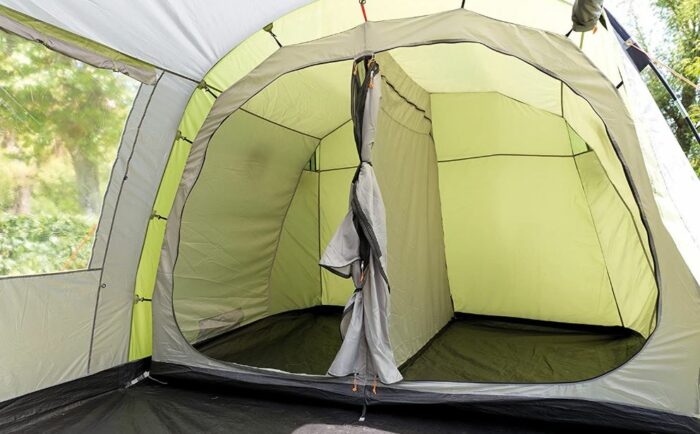 But there is yet another inner tent with one room, see the picture below. So if you do not use this addition, you will again have a 3-room structure. You can remove both inner tents and have one single large room under the single-layer shell, and you can also have a 2-room configuration in two different ways. All in all, you can have 1, 2, 3, and 4 rooms. But I have included it in my list of best 4-room tents.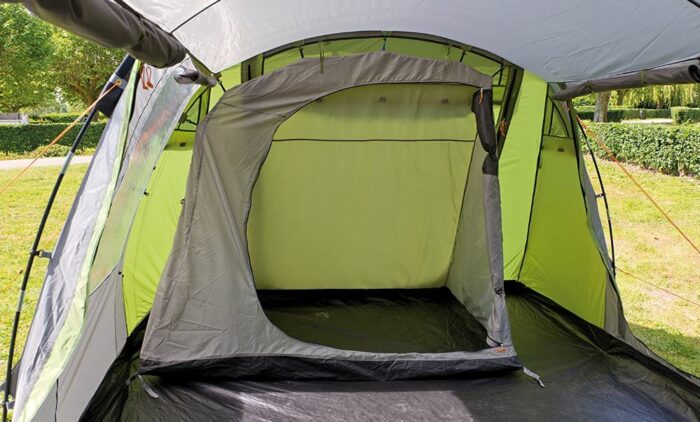 Note that the inner tents are with their own floors, and you also have a fully sewn-in and sealed shell floor. So the sleeping areas are with two floors and more protection you cannot have in a tent. A part of the living room is visible in the picture above, so this is a large area where you can put tables and chairs.

Ventilation
This tent is without any mesh areas on the shell. So it relies on vents for ventilation, and you have them on both narrow sides. But those are all roof vents, and there are no floor vents here, pity.
Please see more about the tent in this short video:
---
Materials
The poles
The poles are not the best feature, this is fiberglass. This material needs a bit careful handling but it is commonly used on the EU market and elsewhere. There is the usual pin and ring system that connects the poles with the base of the tent. The roof is with sleeves, you have seen this in the video.
The fabric
The shell is a polyester with 3000 mm PU coating and all seams are taped. So this is an impressive number. The inner tents' canopy is also a polyester but breathable. The groundsheet of the shell and of the inner tents is the same durable and fully waterproof polyethylene.
They claim this is all flame retardant and UV resistant material. So there is nothing one could object to the fabric used here.
Other features
You also have all the guy ropes and pegs included in the package.
There is a zippered e-cable port.
Carry bag is included.
---
Who is this Cook 6 person tent for
Space-wise, this is officially a 6-person tent, and for this you have the area that measures around 184 ft² (17.1 m²). So this gives around 30.7 (2.8 m²) per person, and in my view, this is a really luxurious camping space.
It is not just the space, it is also the inner organization because of so many rooms and the possibility to have them in different numbers. The picture below shows its floor plan and the most important dimensions. You will agree that this is an impressive structure. I have included it in my list of best 6-person tents, and with all the good reasons.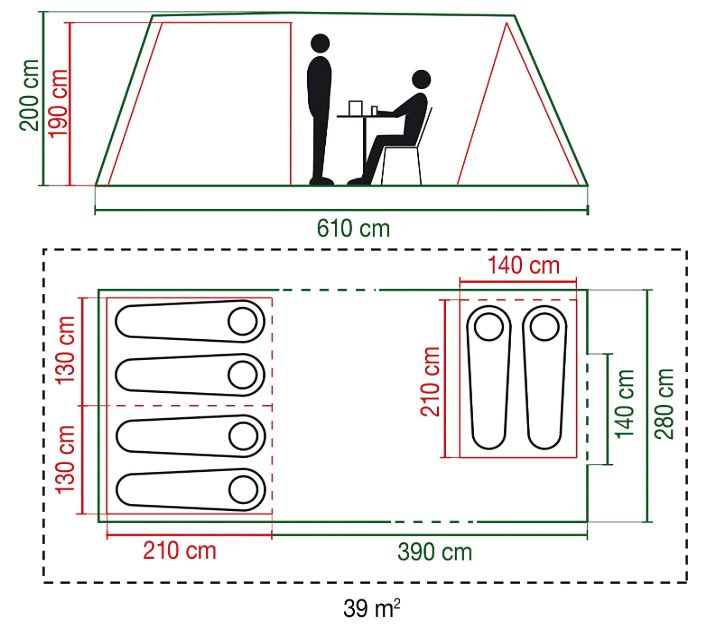 Climate-wise & seasons-wise, this is a 3-season tent, but I see it far better suited for a cooler environment than for warm summer camping. There are huge doors so you can use them to improve airflow when the sky is clear, but it is different when you have long intervals with rain, you will have to close all the doors.
You have solid windows and all the openings can be closed to preserve the warmth. This is why I have included it in my list of tents for cold weather camping.
But you have a huge waterproof rating and the tent is fully sealed, so it will surely protect you from the rain. It is very tall and the poles are inferior to those you have in their Da Gama tent which is a better option for areas with strong winds.
Weight-wise, the tent is heavy with its 39.24 lb (17.8 kg), but see the huge area and all those inner tents, so the weight is justified.
The packed size is very good, it packs down to 23 x 13 x 13 inches (59 x 33 x 33 cm) so you might transport it even on a bicycle, but see the weight again.
---
Specifications
Declared capacity: 6 people.
Weight: 39.24 lb (17.8 kg).
Dimensions (L x W): 20 x 9.19 ft (610 x 280 cm).
Inner area: 184 ft² (17.1 m²).
Inner area per person: 30.7 (2.8 m²).
Peak height: 78.74 in (200 cm).
Packed size: 23 x 13 x 13 in (59 x 33 x 33 cm).
---
Final thoughts, rating, pros & cons
In the summary of this Coleman Tent Cook 6 Person review, I wish to stress again that this is a tent that has been around for many years, tried and tested by many users in the EU area. The organization is excellent, it is tall and pleasant with its solid windows, the waterproof rating is among the highest you will find, the price is a bit high but the tent is worth the investment.
Please see how I rate this tent against my standard set of criteria, as you realize the average rating is very high:
Please check under the category Tunnel Tents if you need more options of this type, in particular check my list of Coleman 4 rooms tents.
Bookmark this site and visit again, we have plenty of reviews here to read. Thank you for reading and have a nice day.