Here you have some useful tips and suggestions about family tents for hot weather camping and on how to choose one for you, with some specific examples.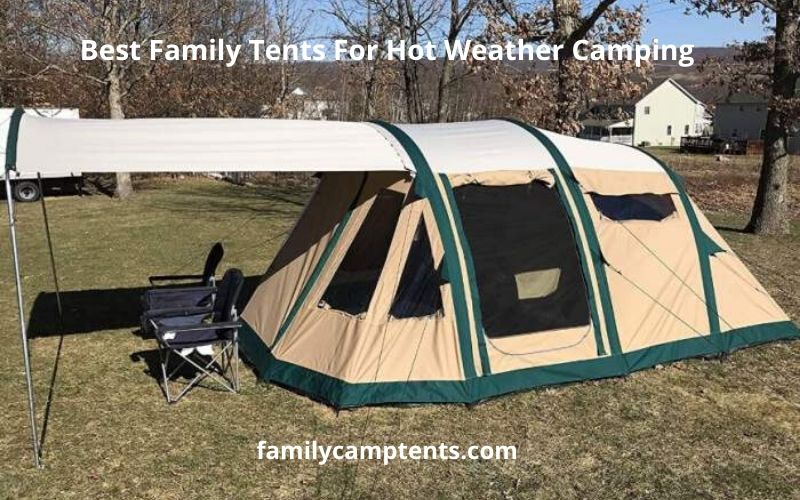 This site is about family camping tents, so this issue of camping tents for hot weather will be discussed only from such a perspective. This means larger tents, and usually taller, with all the consequences of such a construction.
What are the essential features of a hot weather camping tent?
So here is the list features which I find essential, and I give them more or less by preference, from the most important to a bit less important:
The tent should be waterproof.
A hot weather tent should have vents.
If possible the tent's fabric should be breathable.
Having a screen room adds a lot to the livability and comfort.
The tent should have large windows.
The tent should allow for an awning configuration.
In a sunny place, it is great to have a dark rest tent design.
So now a bit more about each of these features.
Waterproof tent
This feature on the first place may be surprising for some people, and indeed if you are going to camp in an area where rain is not expected at all, then skip this part. But if there is any chance to have rain, then this is the most important feature.
A tent is supposed to be a shelter that protects you and your equipment from the elements, as simple as that, and rain is the most important one. Note that the official waterproof rating does not necessarily have to be high. The lowest value you will see in some tents here in the site is only 600 mm. For comparison, an ordinary umbrella is in the range of 300-400 mm. So this is perfectly enough if seams ate taped.
The example shown below, the CORE 12 Person Extra Large Straight Wall Cabin Tent, is one of the great tents from the Core brand. They come with relatively low waterproof ratings, but these are reliable and incredibly popular tents, perfect for warm-weather camping.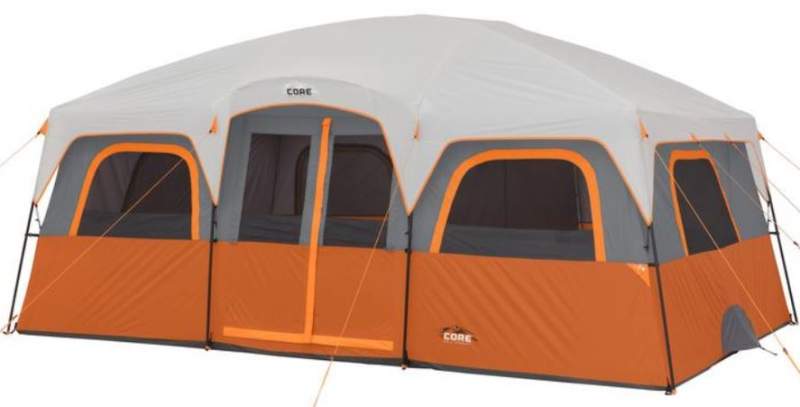 Note also that hot weather camping may imply areas like the Brazilian rain forest, and in this case, you would want some of these full-coverage fly tents. This is probably why the NTK tents (many of them are presented here in the site) usually have a full fly and also quite high waterproof rating. The one shown below has a waterproof rating of 2500 mm, this is their NTK Super Arizona GT Tent. Just to know, this is a Brazilian brand.
But although such a full-fly design is great for rain protection, it may not be so great in a warm environment without some extra features, see the next section.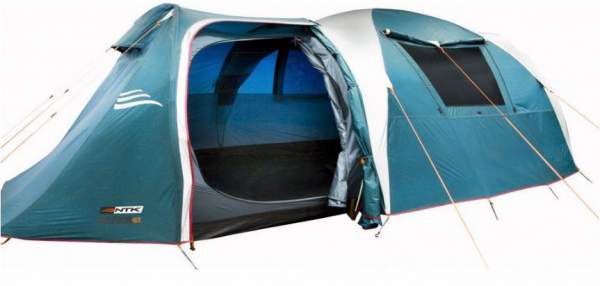 Vents, venting & breathability
Floor vents: When this is about tents for hot weather camping, in my view the most important feature to look for is its venting. So if this is about synthetic tents, then you would want to choose one that has floor vents as a minimum. You can see a floor vent on the right in the Core tent shown above.
Such floor vents are needed for several reasons. In the case of rain, all eventual windows and doors on the tent must be closed. If you have ever been in such a situation, then you know that in a warm climate the situation in a tent becomes unbearable.
With floor vents, you will have air coming from the ground and it is usually cooler than the air higher above the ground. Floor vents will help the air circulation in the vertical direction and this will also help against condensation. Here are two great examples with such floor vents: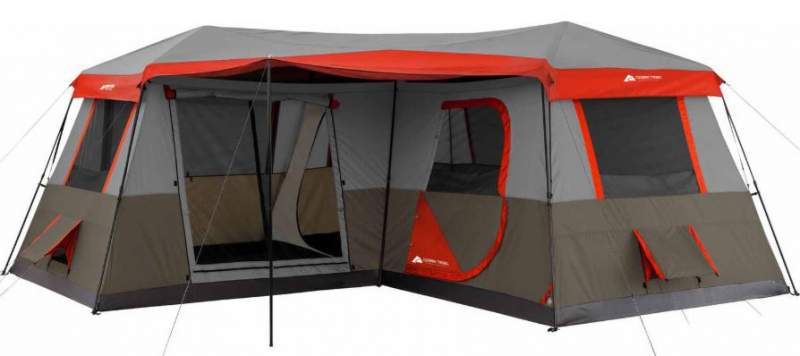 It is even better if such floor vents are combined with fly vents. But this will depend on the type of the fly. Sometimes you gave a shallow fly that covers only the ceiling, so that vapor can easily escape even without a vent. The picture above shows such an example. But if this is about some of these full-coverage fly tents, you will definitely want to have at least one fly vent. You can see such a feature in these tents: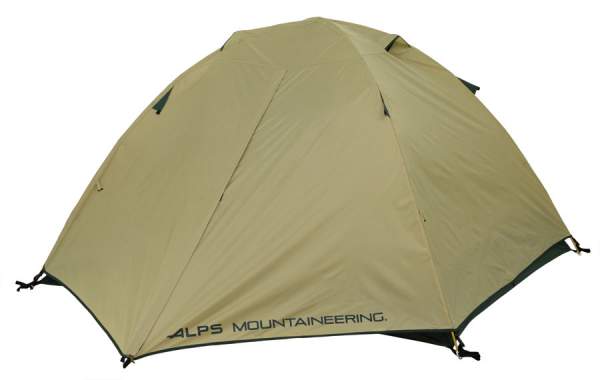 Breathability: Synthetic tents are almost never breathable, and this holds in particular for budget-friendly family camping tents. But there are tents are almost always breathable, and these are canvas (cotton) camping tents, or poly-cotton tents. Though there are some of them that are coated to improve waterproofness, and this implies that they are not breathable.
You will notice that some really good canvas tents also come with floor vents and with fly vents. So if there is anything close to perfection, this is it. Such a type is the best possible option for hot weather camping. But there are several downsides here, these tents are usually very expensive, bulky when packed, and also heavy.
Now, if you are curious about such examples here are a few, these are among the best tents in this industry: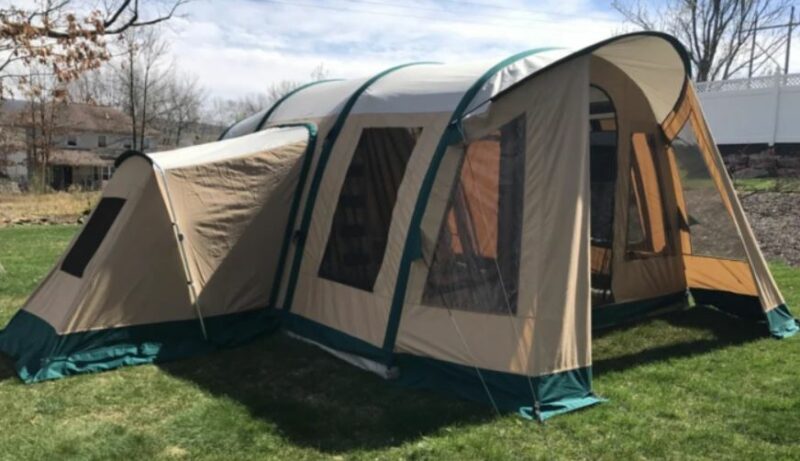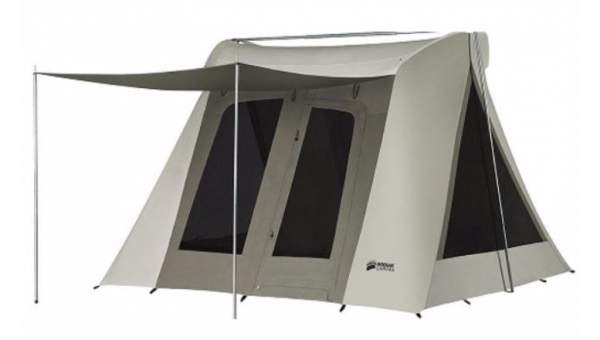 See also my separate list with best canvas camping tents. This type is expensive but there is nothing even close to it when it comes to warm-weather camping. Note also that such tents are great for all seasons and all climates.
Screen room
There are many tents with a screen room, and such a space may have very different configurations. Some have removable panels and some not. So the level of protection from the rain in this particular room of the tent may be very different. But such screen rooms always have a mesh for protection from flying insects and at least some roof that creates a shade and rain protection.
Having such a room adds a lot to the livability and comfort of a tent in a warm area with lots of insects. You can enjoy sitting in the shade with air circulating freely around you undisturbed from mosquitoes. Here is one great example of such a tent with a screen room, the Core Lighted 10 Person Instant Cabin Tent with Screen Room: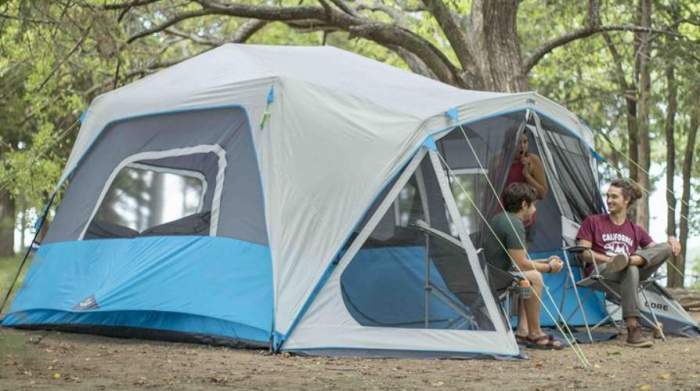 Windows
The rule is simple, the more windows the better. Such windows have mesh for protection from insects while allowing for air circulation, but you also have panels for privacy and for rain protection. You can see them in some of the tents shown above.
There are some dome tents with windows, although they are rare. Tunnel tents have them more, but it is the cabin-style tents that the best if you want windows. See this Ozark Trail Base Camp 14-Person Cabin Tent as a great example: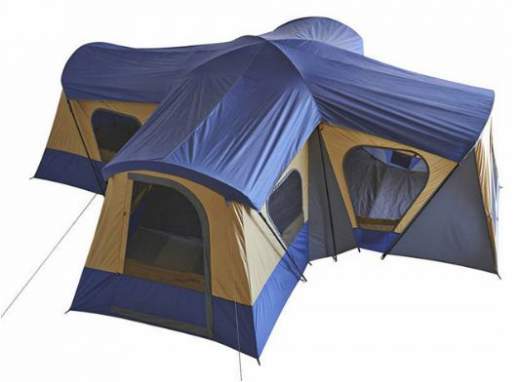 But here again to stress, this depends on the climate. You would not go with a cabin tent in a warm area with lots of rain. You will have to compromise a bit. Rain protection is the first criterion.
Awning
Having an awning is particularly great if this is about a smaller tent. This extends the useful area a lot. In some great examples of such tents, you can have almost doubled the total covered area. Such a space can be used for cooking and sitting in the shade, but you have no protection from insects of course.
Here is one great example where the awning is created with the help of trekking poles, the Big Agnes Tensleep Station 6 Tent: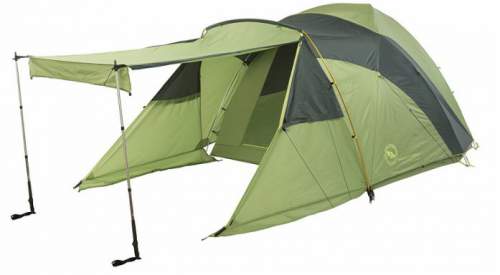 Note that there are many tents that come with an extra pair of poles for such an awning. One great example is this Kodiak Canvas 12×9 Canvas Cabin Tent: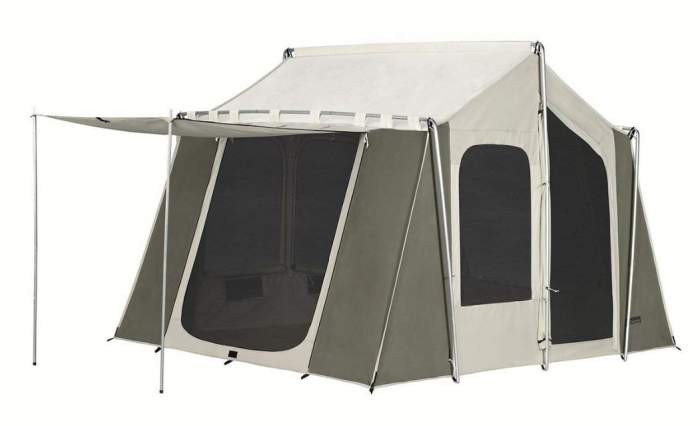 Dark rest design
Having a tent that reduces glare is a bonus, it is very good to have although not really essential. When we speak about warm-weather camping we normally think about clear skies and sunny weather. In such an environment, dark-rest tents are a great choice.
This allows you to sleep longer in the morning and you can even take a nap during the day. The best tents of this type on the market are known to reduce daylight by 98%. Amazing. Many of them are under the category Dark Rest Tents here in the site. See one great example, the Coleman Carlsbad 6 Person Tent: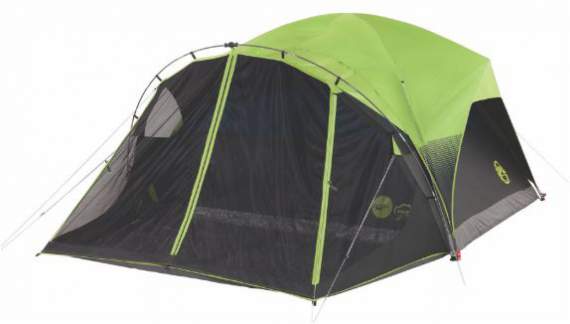 Anything close to perfection?
I already mentioned canvas tents as a great option, so here is one of them, a great tent but see its price and weight.
Editor's Choice:
You might want to read also our separate text on how to choose a family camping tent. Thank you for reading. Please let me know if you think I have missed mentioning some important features, no doubt I have, nobody is perfect. I shall be happy to add them to the text. Bookmark this site and stay informed, we add texts here regularly. Have a nice day.