The Coleman Weathermaster 8XL Air BlackOut Tent is a huge structure with 5 rooms and a fully protected porch, with dark rest bedrooms and an impressive waterproof rating.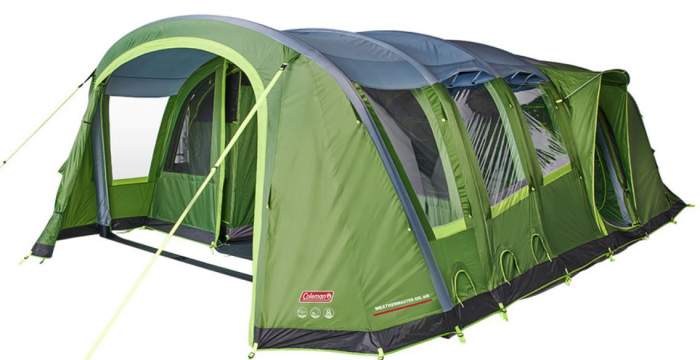 ---
Key features & benefits
Inflatable beams.
Dark rest bedrooms.
Huge area.
5 Rooms + porch.
2 Doors.
Many storage pouches.
Excellent ventilation.
Solid and mesh windows.
E-cable port.
Temperature management.
---
What this is about
First about the word Weathermaster in the name. This is an EU series and it should not be mixed with the tents which this brand builds for the US market with the same word in the name.
To see what I mean, you can follow the links to see their US models, the Coleman WeatherMaster Tent 10 Person and Coleman Elite WeatherMaster Screened 6 Person Tent.
Note that there is yet another EU model from this series here in the site, the Coleman Unisex Adult Weathermaster 4 Air Tent.
So now back to this tent, here you have a huge tunnel-shaped construction supported by air beams instead of solid poles. This is what they call the FastPitch Air technology with six inflatable beams for structure ensuring stability even in high winds.
The beams are with separate valves, they are behind the zippered openings which you see in the top picture above on the side and close to the ground.
The picture below shows view inside, the thick air beams are visible, there are 6 of them in total. I have included this tent in my list of best inflatable tents.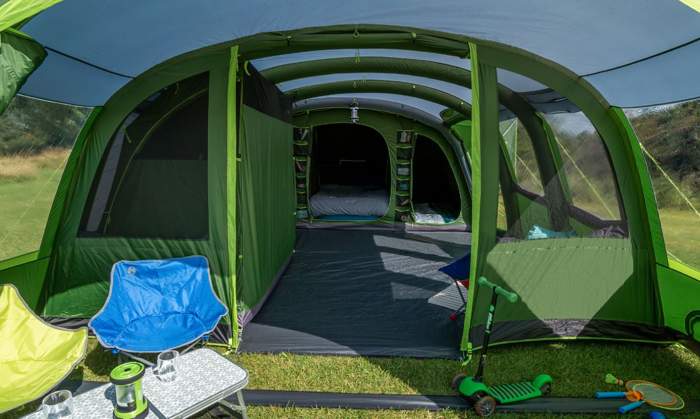 How many rooms?
The picture above shows view inside, and the floor plan and the dimensions shown below reveal what you really have. There are two inner tents under the shell.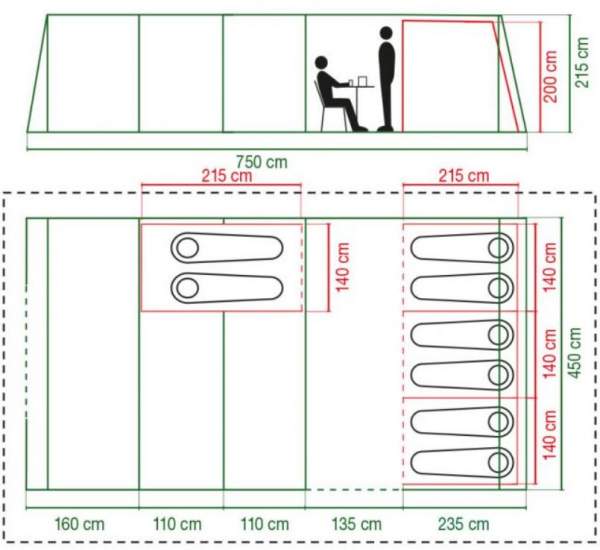 There is an inner tent with 3 bedrooms on the right, you can see below how they really look. They call them XXL Bedrooms because of the width shown in the picture above. They are designed to be spacious so that they comfortably accommodate their large double air beds. Note also that the dividers are zippered so you can reshape the bedrooms and change their number.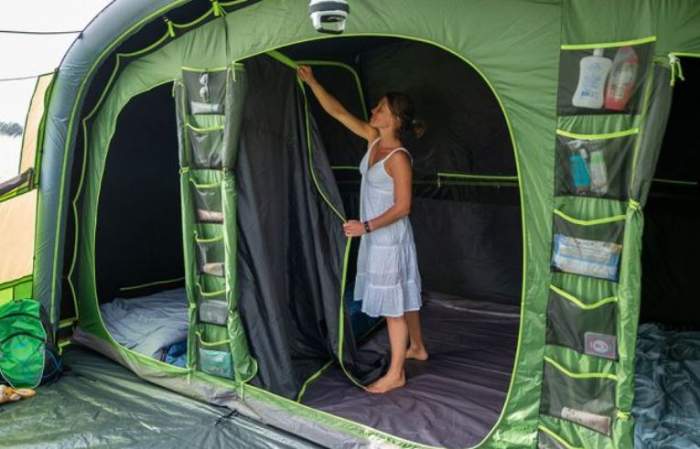 There is one more bedroom which you see on the left. Note that this is a modular design in the sense that you can attach it at two positions, left from the main door as in the picture, or on the right side.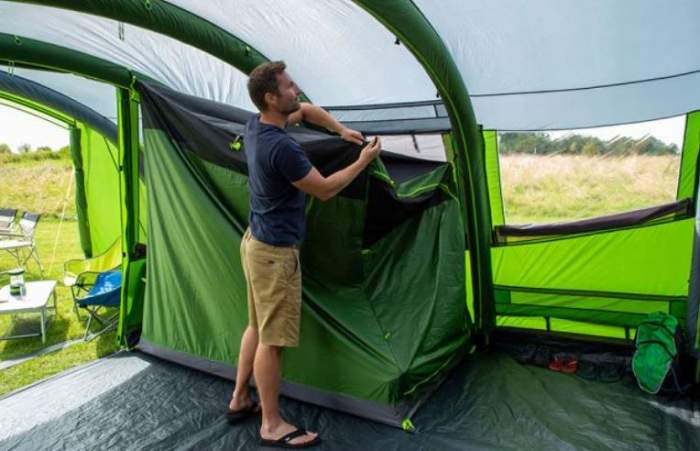 Obviously, you do not have to use this smaller inner tent. In this case you have a larger living room which is visible in the picture. The living room is huge but you can make it one of the largest of the market when you remove the smaller inner tent.
But there is also a fully protected floorless porch. It has a gigantic door that can be completely closed as in the picture below, and also completely removed as in the top picture above. This door you can also keep half-open.
So the porch is practically one more room. Note that they sell a separate bathtub type linked-in floor which you add in the porch and have even more protection and comfort. I have included this tent in my list of best 5 room tents for camping but you can describe it also as a 6-room tent.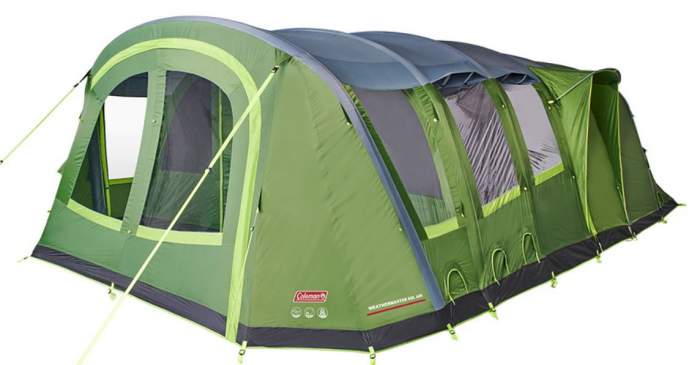 There is also a side door visible in the picture above. It is under a small awning supported by a short aluminum brow pole, so this is a dry entry point. Note also that the door under the porch is far from the external door, so it is fully protected.
There are many separate solid windows on the sides and mesh windows inside the porch, and they are equipped with zippered panels from inside, for privacy and to reduce glare.
Dark rest bedrooms
Coleman has many tents with their BlackOut Bedroom design. They claim it blocks up to 99% of daylight from entering the sleeping area. This is based on their own testing reports. There is no brand currently that can match this design.
So this helps you get a longer and more restful sleep and it is useful also for families with kids that need to sleep during the day. Because of all this, I have included it in my list of best dark rest tents.
Materials
The shell fabric is their WeatherTec Polyester PU coated, with 4500 mm waterproof rating and with taped seams, with UV Guard (SPF50), and fire retardant.
The groundsheet is a polyethylene, welded, fully integrated, and bathtub style. The tent is huge but one person can set it up in 20-30 minutes with ease. There is a manual pump included.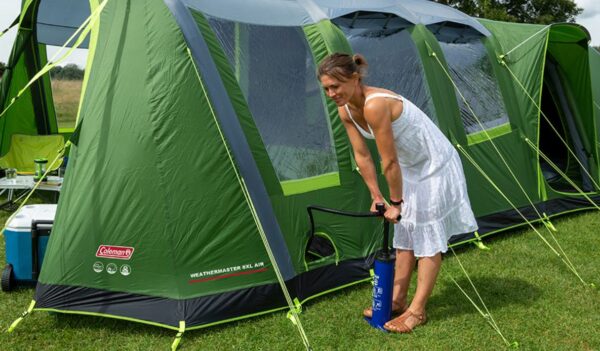 Other features
There are many storage pockets in the living area, 12 in total, they are on the wall of the inner tent, visible in one of the pictures above. But there are many wall pockets in the bedrooms as well.
Easy Accessibility – this means a zippered flap on the door base so that you can make it flat and pegged down for an easy accessibility in and out of the tent, allowing wheelchair and pram access and avoiding trip hazards.
2 Cable entry points – convenient accessibility to a power source outside the tent. Note that the adjacent air beam is with Velcro loops so you can pass a cable to the lantern point and fix it in place.
Each of the bedrooms has its cable entry point for lantern.
Every valve opening can also be used as a cable entry point.
Zip Stopper to ensure zip is always within easy reach.
Lantern hanging loops are on every beam in the living room.
Lantern hanging points are also in the bedrooms.
Ventilation
The tents is perfectly ventilated. The doors are with mesh for ventilation. There are also two large mesh windows on the sides of the inner porch door. So all the wall between the porch and the inner tent is in principle a mesh.
The bedrooms doors are with mesh and panel sections on the upper part so you can regulate the amount of air and light, see one of them: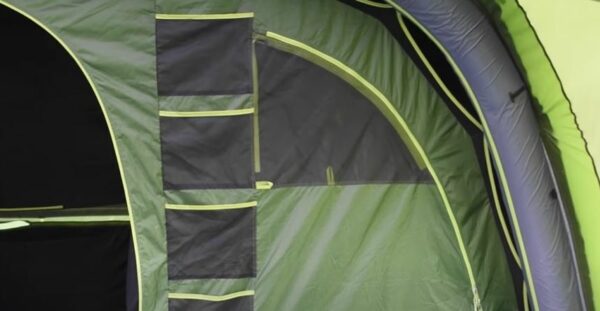 But they have added numerous vents and you have them on all sides, this includes floor vents under the windows and high vents above the windows. There are 5 vents in the living room alone.
There are zippered flaps in the inner bedrooms (the picture below) so you can open them and close to regulate the air flow. They match yet another large rear vent, also shown below. You can open and close this external vent from inside the bedrooms, no need to get out of the tent.
Please see more in this video:
Here you can see how to set the tent up:
---
Who is it for
Regarding the area, this tent is simply impressive, it offers 285 ft² (26.5 m²) of the floored area and this means 35.6 ft² (3.3 m²) per person. But there is also the porch with its 77.5 ft² (7.2 m²).
The living room is fully sealed and protected so if necessary you can sleep there as well. This tent can easily accommodate 14 people.
Regarding seasons & climate, you have a huge waterproof rating and the tent is closable. It is perfectly ventilated for any season and climate.
The air beams will never break under wind pressure, they have even added storm straps for extra stability. There are at least 20 places where you stake the tent and secure it to the ground. So this is a reliable tent that can withstand a lot of use and abuse.
Room temperature management: They claim that this tent keeps bedrooms up to 5°C cooler during the day and up to 1°C warmer during the night.
The reasons are as follows. There is a different material on the roof so some heat is reflected. On the other hand, it seems that some day heat remains trapped between the shell and the inner tents so this keeps the temperature slightly higher in the beginning of the night. During the night, there is heat released from users' bodies, and it remains trapped in the same area.
Regarding the weight, the tent is heavy, you will see the numbers below. The packed size is a bit better, but in any case this is a car camping tent and you are not supposed to carry it anywhere.
---
Specifications
Weight: 98 lb (44.4 kg).
Official capacity: 8 people.
Dimensions: 24.6 x 14.76 ft (750 x 450 cm).
Inner area: 285 ft² (26.5 m²).
Inner area per person: 35.6 ft² (3.3 m²).
Porch area: 77.5 ft² (7.2 m²).
Total protected area: 362.5 ft² (33.7 m²).
Peak height: 84.6 in (215 cm).
Packed size: 30.7 x 24.8 x 22.8 in (78 x 63 x 58 cm).
---
Final thoughts, rating, pros & cons
In summary, this Coleman Weathermaster 8XL Air BlackOut Tent is a high-quality product, incredibly comfortable and functional with its modular design and 5-6 rooms. It comes with plenty of premium and family-friendly features. The price is steep but this tent is worth it. Fully recommended.
Below you can see how this tent stands against my standard rating criteria that I apply consistently to all the tents here in the site so that you can easily compare:
BEST PLACEs TO BUY:
For more tents of this shape please check in the category Tunnel Tents. Let me know if you have questions, there is a comment box below. Bookmark this site and come again, this will keep you informed, as you realize I add texts here on a regular basis. Thank you for reading.