---
Coleman WeatherMaster Tent 10 Person is a tall 2-room hybrid tunnel-cabin construction with a hinged door, suitable for 2-season warm weather camping.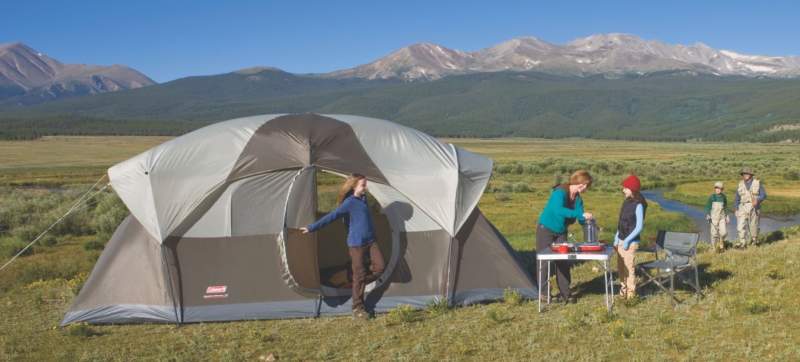 ---
Key features & benefits
2 Doors, one is the hinged door.
2 Room design.
6 Windows.
Steel poles.
Tunnel-cabin hybrid.
Amazon's Choice products.
---
Where to buy
This tent is available on Amazon. They operate globally, so please follow the link and check shipping conditions for your location.
You can find it also at Walmart.
Note that this is an Amazon's Choice product. This implies that it is recommended by Amazon as a highly rated, well-priced, and ready to ship instantly product.
---
What type of tent is this
This Coleman WeatherMaster 10 person tent has been on the market for almost a decade or so. One could describe it as a cabin and a tunnel tent. So this is a hybrid with straight poles as you would expect from a cabin tent, but it has three loops that give it a tunnel shape. You can see this in the picture below.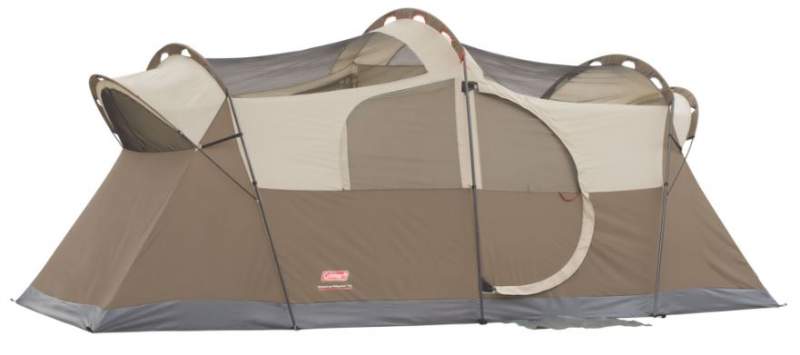 Windows
There are 2 separate windows on the two wide sides, plus two windows on the doors. In addition, there are two windows on the narrow sides of the tent, they are under those shoulder structures which you see in the picture above. All of them are double-layer structures with mesh and zippered panels for protection and for privacy.
Those windows on the narrow sides can be kept with mesh all the time so you can have enough air circulation even when it is raining, see the picture below.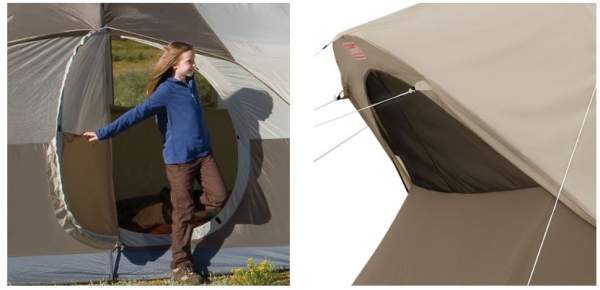 Hinged door
The tent has two doors on the opposite sides. One of them is a hinged door so it is rigid and easy to use. You do not have to hassle with zippers all the time. I have included it in my list with best hinged door tents.
The door on the other side is slightly different shape but without the frame, see the picture: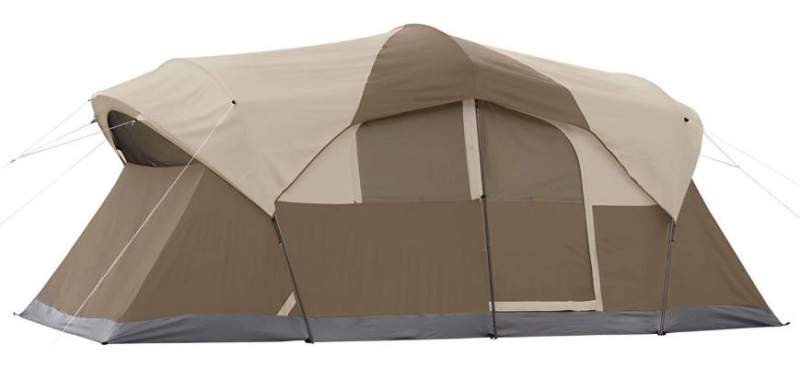 Other features
The tent is with mesh on the ceiling and there you have a partial coverage fly for protection. This allows for views on all the sides. The pictures above and below show the tent from the two sides with the fly on.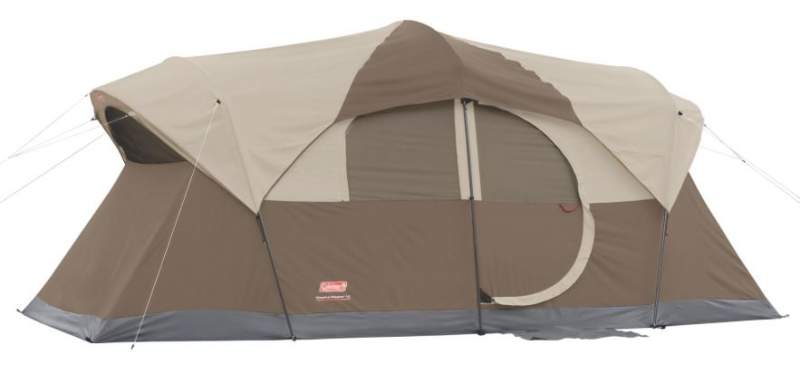 This is a tall structure with a peak height of 80 inches (203 cm). It comes with a removable divider so it is formally a 2-room structure.
---
Who is it for
Space-wise, the tent is with the declared 10-person capacity. The dimensions are 17 x 9 ft (518 x 274 cm) but it is not completely square, so the area is around 140 ft² (13 m²). Obviously, this is too small for 10 users, but this is typical for most of the 10-person tents which you will find here in the site.
But indeed it is possible to put 10 narrow sleeping pads on the floor. They clearly use the backpacking principle to declare the capacity. I mentioned straight poles, so you can save space by using bunk camping cots. In any case, this is a tent for 5-6 people if you use it for family camping. There is enough space for 3 queen airbeds.
Climate-wise & seasons-wise, I see this tent as best suited for 2 seasons. By this I mean summer, late spring, and early autumn. The ceiling is all mesh as you have seen above. This is great for a warm climate but far for pleasant for a cooler environment.
The structure is very strong and stable, but this is a tall and boxy tent with a high fly. So I would avoid windy places with such a design.
Weight-wise, with its 31 lb (14.1 kg) this is a heavy tent. You will realize this also from the comparison table below. But this is not necessarily a bad feature, you have a very strong frame here.
The packed size is 30.3 x 10.2 x 10.2 in (77 x 26 x 26 cm). So in view of the mentioned weight, this is a tent for places with a car access.
---
Materials
The poles
I mentioned strong poles, so you have 3 loops and this is a very durable steel. The same material is on the roof and on the sides. The two brow poles above the windows and the frame of the hinged door are fiberglass. You have a patented pin-and-ring system connecting the legs poles with the tent.
The fabric
The walls and the fly are a polyester taffeta 75D with 450 mm PU coating. So this is a minimum value you will find in such tents, yet this should be enough if all is fine with the seams. They use inverted seams to increase weather resistance, this means hiding needle holes inside the tent, see the picture below.
This is a part of what they call the WeatherTec system, and this implies a bathtub floor with patented corner welds, protected seams, and covered zippers to help keep water out.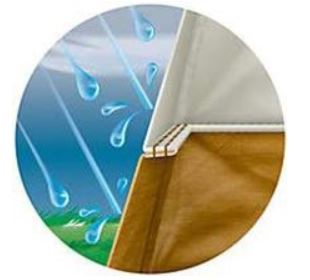 The floor is a very durable construction with a 1000D polyethylene. This is a sort of plastic so you are definitely safe from the groundwater. Note also that they claim that the tent is tested to withstand 35+ MPH winds.
Other features
Vented cool air port.
Interior gear pockets.
Electrical access port.
Snag-free, continuous pole sleeves.
Insta-Clip suspension lets you secure your tent to the poles.
Expandable carry bag lets you tear away the rip strip for easy packing.
Easy setup in about 20 minutes.
---
Good and less good features
Here is my short summary:

Great price.
Steel poles.
Hinged door.
Functional design.
Tall tent.

Heavy.
Too small for the declared capacity.
The price & rating
This is a very affordable tent and the daily updated price is shown below. So this is more than fair for such a great tent. But on the EU market, at the moment of writing this text its price is almost three times higher. As you see below, this is an Amazon Prime product. This means that you can have it shipped for free and in a day or two.
I mentioned that it has been around for many years. This has resulted in many reports by customers. So on Amazon alone as of the moment of writing this text, there are 1600 reports, and the tent has scored a respectable 4.0/5 rating.
Please see how I rate this tent against my standard set of criteria used for all the tents here in the site. This allows for an easy comparison with other similar tents.
My rating of the Coleman WeatherMaster 10 Person tent:
Area per person -

7.6/10

Area/Weight ratio -

7.9/10

Packed size -

7.8/10

Reliability & protection -

7/10

Ease of use -

8/10

Comfort & features -

8.8/10

Price -

9.3/10
---
Specifications
Declared capacity: 10 people.
Weight: 31 lb (14.1 kg).
Dimensions: 17 x 9 ft (518 x 274 cm).
Area: 140 ft² (13 m²).
Peak height: 80 in (203 cm).
Packed size: 30.3 x 10.2 x 10.2 in (77 x 26 x 26 cm).
1-year limited warranty.
---
Coleman WeatherMaster 10 Person hinged door tent vs Competitors
I have decided to show you this tent side by side with two other tents with the same declared capacity but built in a bot different style. This may help in making an informed choice. Although the structure may look similar, those two are extended dome tents.
The Tahoe Gear Olympia 10 is lighter but it also offers less space. The Wenzel Great Basin 10 is also lighter yet it offers more space. All of them are very affordable tents. So please follow the links to read more.
---
Final thoughts
This Coleman WeatherMaster Tent 10 Person is nicely built and there are reasons why it has been so popular and remained on the market for so many years. All is known about this tent and you will be able to read what others have reported about it. So follow the links below and see yourself.
Please check in various categories here in the site if you want to see some more options. This site is all about family camping tents and you will find something for you. Check also this tent from the same series, the Coleman Elite WeatherMaster Screened 6 Person Tent With Built In LED Light.
Note that this is not a sponsored text and I am not paid by the manufacturer. Please let me know what you think, there is a comment box below. Use it also if you have any question.

---