Coleman Elite WeatherMaster Screened 6 Person Tent With Built In LED Light is a summer camping tent that comes with many nice features and those include the screened room, hinged door, LED light, and a few more.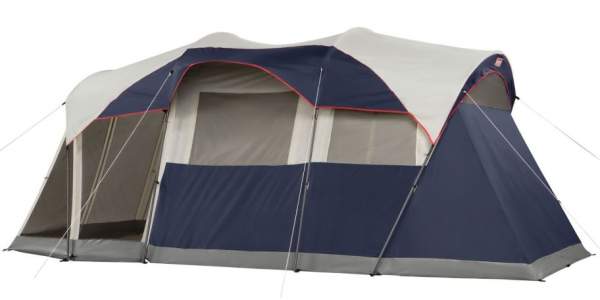 ---
Key features & benefits
Cabin-tunnel type tent.
Large screen room.
Swinging hinged door.
Built-in light.
2 rooms plus the screen room.
2 doors.
4 windows plus one on the door, plus screen room window.
E-cable port.
---
Where to buy
---
What is in the name
You have seen a lot already in the name of this tent. The word 'Elite" is probably mainly because of the built-in LED and this is the main difference (apart from the color and the weight) between this tent and the other Coleman WeatherMaster 6 Person Screened Tent.
The tent is with the screen room, so this is a pleasant floor-less area with mesh against insects. You can use it for sitting and cooking and you will be safe from mosquitoes. This section is not fully protected from the rain but you have the fly above, so this is not a room in the strict sense, but this space is very useful. The inner area is with a divider, so one could describe it as a 2+1 room tent.
The structure is with the shape that includes features of both cabin and tunnel tents, see the picture below. So the walls are straightened and very tall but you have 4 arches that create its tunnel shape.
Note that this is a rather heavy and non-freestanding structure, you have to stake it down and the stakes are included. There are metal and plastic stakes in the package, you will probably get 8 plus 8 of them.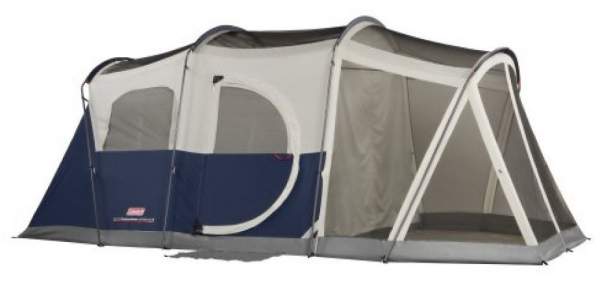 Built-in LED
As mentioned above, you have the built-in LED lighting that provides bright overhead illumination. You have a wall switch where you can choose high, low and nightlight modes. They are with 100 lumens (high), 42 (low), and 5 (nightlight). The corresponding runtimes are 26 hours (high), 65 hours (low), and 81 hours (nightlight).
This is CPX 6 compatible and it is powered by an included battery cartridge that operates on 4 D-batteries (not included) or on a rechargeable cartridge (not included). You can see the same bonus light system in their Prairie Breeze 9 tent. I have included it in my list of Best Lighted Tents.
Hinged door
Coleman is known for its tents with hinged (swinging) doors. You can see my list of hinged-door tents that all have this feature, most of them are Coleman tents. This is a nice system based on two fiberglass poles which you pass through the zippered sleeves along the perimeter of the door. One of them remains straight and the other is looped so you have a D-shaped rigid structure.
The same construction is available in their another tent, the Tenaya Lake 6 and also in the Montana 8 tent. The door is with a storm flap and a zipper, plus Velcro tabs that keep it closed. You even have a webbing handle, see the picture below.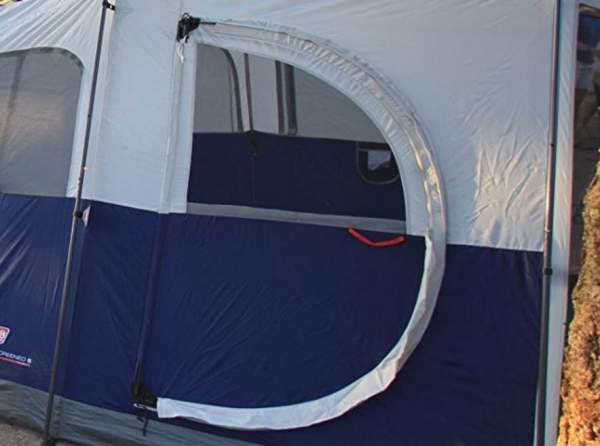 Please see more about this tent in this short video:
---
Who is it for
Space-wise, the tent offers a total area of 153 ft² (14.2 m²). This gives 25.5 ft² (2.36 m²) per person. But note that the screen room is not a fully protected space, there are no side panels, but the roof is there. So some of the stuff can certainly be stored there, like boots and cooking items, chairs, etc.
If used by 6 people as its declared capacity tells you, the inner area offers 16.5 ft² (1.53 m²) per person. This is enough to put sleeping pads on the ground. In view of the extra space in the screen room, it would be doable but not comfortable.
I have seen people asking if two queen size beds can be used inside. So yes they could but you would not have much space left around. This is a tent for parents and one or two small kids.
Such a cabin style tent is a perfect shape for bunk cots; note that they exist also for kids. In this case you would save lots of the floor area.
Seasons-wise, this is a tent for summer camping and at places without rain. There are too many reports by users who were complaining about leaking and I think this cannot be ignored.
Climate-wise, I have seen people asking if the tent can withstand snow on the roof and similar questions. Do not even think about such a use. This is a tent for warm weather, there is lots of the mesh on the ceiling (see the picture) and you will not feel great in such a tent if you use it in a cold environment.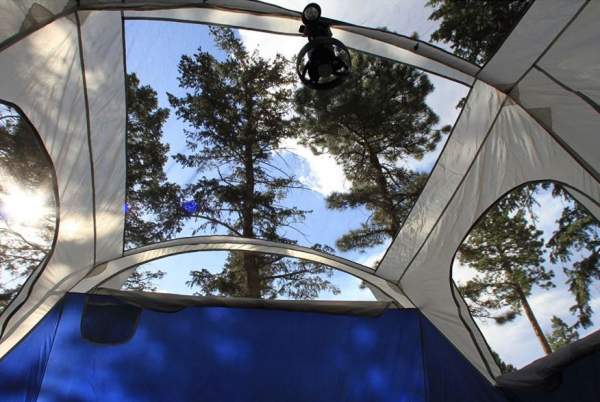 Weight-wise, the tent is heavy, the package is 41 lb (18.6 kg) and the packed size is around 48 x 11 x 10 inches (122 x 28 x 25 cm). So you realize, you need a car for such a tent.
---
Materials & construction
The sleeping area is with a removable divider so you have two rooms for a bit of privacy. Note however that the entry doors are both on the front sleeping zone, so the second room has no separate entrance.
The poles
The poles are a combination of steel and fiberglass. So for the purpose of this tent, this is a good and strong combination. Bear in mind this is not an instant tent and poles need an assembly.
The fabric
They use what they call the WeatherTec system that has several elements in it, like the patented welded floors and inverted seams. They have summarized all those features in this short video (the tent shown in the video is not the WeatherMater of course), please have a look:
They do not provide any information about the waterproof rating. The floor is a thick material, most likely polyethylene, it is bathtub shape and fully waterproof, so this part is surely reliable and you should have no problems from that side.
The fly is minimal by the design and it only protects the roof in the sleeping zone and in the screen room. The walls and the panels on the windows and doors are the same material as the fly. This is a quite durable polyester 75D.
From what I have seen so far, most people were complaining about leaking on the seams. So regardless of what they say about their patented system, do not put this tent to any harsh tests.
The doors & windows
There are two entry doors. One is the mentioned hinged door, and the other is a mesh door on the screen room which is with an inverted T-shaped zipper. There is also an inner door between the screen room and the inner tent; so this is a mesh with the same zippered structure, plus a panel that only has a central vertical zipper. So in the inner tent you have a full protection from insects and rain from this side.
But note that this inner panel door has no zipper on the bottom, so you will have the draft there all the time. In fact, this may be good because the tent is without floor vents.
The windows are all double-layer structures, with mesh plus zippered panels for protection and privacy. There is nothing one could object here. The windows are on all sides, large and nicely designed.
Ventilation
The tent has no floor vents, but I do not think this is a big issue. You can always have an airflow from the screen room area because of the mentioned inner door design. On the other hand, the huge ceiling area is all mesh so you have a great vertical circulation guaranteed.
Setup
You will need around 20 – 25 minutes to set this tent up. One person can do it alone but it is far easier for two people. Being similar to a tunnel tent, you might want to stake the back side first, then add all the poles and just drag the tent forward and expand it, and then stake the rest to the ground.
Other features
An electric cable port is available.
There are a couple of very small storage pockets. Pity they did not add more, the walls are huge and there is plenty of space for this.
The carry bag is expandable for an easy packing.
---
Specifications
Type: cabin style tent.
Capacity: 6 people.
Weight: 41 lb (18.6 kg).
Dimensions: 17 x 9 ft (518 x 274 cm).
Inner tent dimensions: 11 x 9 ft (335 x 274 cm).
Screen room: 6 x 9 ft (183 x 274 cm).
Screen room area: 54 ft² (5 m²).
Total area: 153 ft² (14.2 m²).
Total area per person: 25.5 ft² (2.37 m²).
Sleeping area: 99 ft² (9.2 m²).
Sleeping area per person: 16.5 ft² (1.53 m²).
Peak height: 80 in (203 cm).
Packed size: 48 x 11 x 10 in (122 x 28 x 25 cm).
1-year limited warranty.
---
Coleman Elite WeatherMaster 6 Tent vs Competitors
In the table below I give the Elite tent side by side with two other tents that also have screen rooms, but their designs are very different. This might help in making an informed decision. Please follow the links in the table to read more, the tents are presented in my separate reviews.
48 x 11 x 10
(122 x 28 x 25)
---
Final thoughts, rating, pros & cons
So this was the Coleman Elite WeatherMaster Screened 6 Person Tent With Built-In LED Light. As you realize, the tent is packed with many great features. But this is for warm-weather summer camping only and in the areas without rain, this is the only recommendation I would give for using it.
See how I rate this tent:
Coleman Elite WeatherMaster Screened 6 Person Tent With Built In LED Light
Note that they also have a 10-person tent with a similar name, the Coleman WeatherMaster Tent 10 Person. If you are particularly interested in such screen room tents, please check this list with the tents of that type.
If you need an instant tent from the same brand, check this Coleman Instant Cabin 6 Tent with fly. For areas with lots of rain, check some of the tents with a high waterproof rating.
In the case of questions or comments, please use the comment box below. I wish you a nice day.