This Core 6 Person Straight Wall Cabin Tent with a Screen Room is a nicely-ventilated summer camping tent with great features and a great price.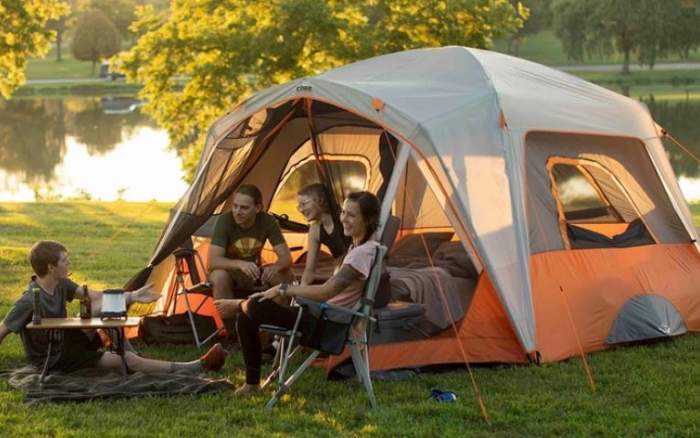 ---
Key features & benefits
A screen porch is included.
Easy to use tent.
Reliable tent and brand.
Steel & fiberglass poles.
Double door.
5 Windows.
Very reasonable price.
---
What this is about
Here you have a completely new tent on the market and it should not be mixed with their another larger 10-person instant screen room tent, lighted 10-person instant screen room tent, and 11-person screen tent. If you compare them you will realize that it has features that are a mix of the mentioned larger tents.
This is a pleasant cabin-style tent with a single room plus a screen area. The tent is tall, with 76 inches (193 cm) peak height so you can stand and move around easily. The picture below shows it without the fly.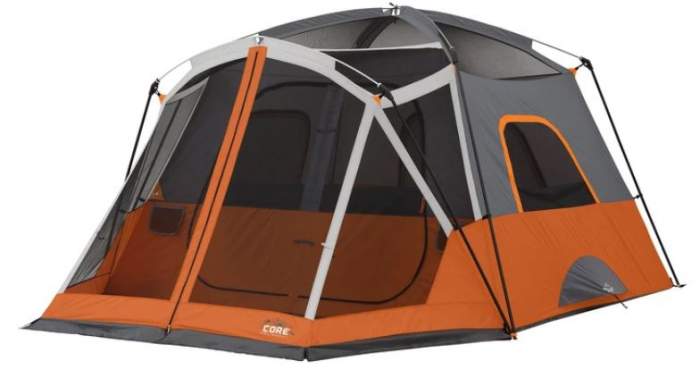 The tent is with 3 separate windows plus 2 windows on the inner doors which are inside the screen area. All these windows are with mesh and zippered panels. So you have protection and privacy. The picture below shows the inner view and you can see one of the zippered panels on the closed window.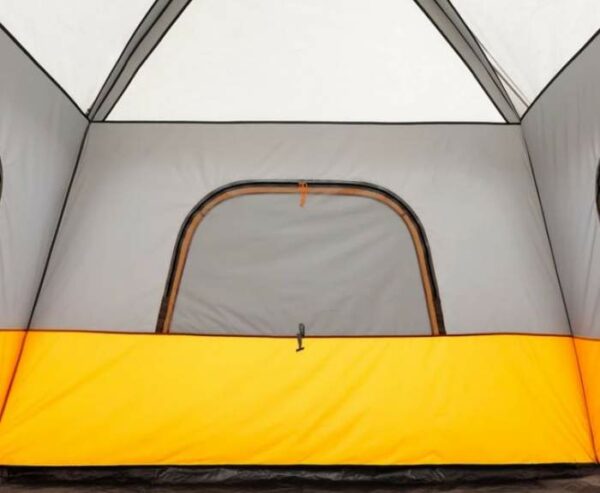 The screen porch
The tent is a non-freestanding construction with the front screen area that has its own supporting pole system visible in the picture without the fly above, and it must be staked to be functional. It is partially protected by the fly only, the sides are mesh without panels. There is no floor here, so this is an area for sitting in the shade and you will be protected from flying insects. I have included it in my list of best family camping tents with a screen porch.
They describe it as a younger sibling of the mentioned 11-Person Straight Wall Cabin Tent but the screen room here offers less protection than in the bigger tent.

The screen room area is 50 ft² (4.6 m²), and its dimensions are 10 x 5 ft (305 x 152 cm). You can keep your cooking equipment here and some dining table and chairs, and you do not have to worry about the floor. The picture below shows the roof poles.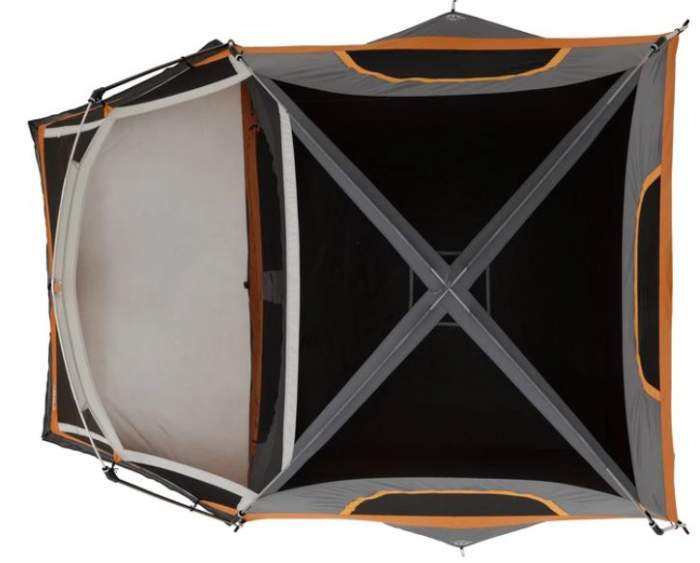 Ventilation
The picture above shows the ceiling which is all mesh. You also have windows with mesh on all the sides, plus 2 floor vents visible in the picture above. So this is an excellent design which will always create enough air circulation.
Other features
Gear pockets in the screen room.
Gear loft and lantern hook shown in the picture below.
E-cable port, see the picture.
---
Materials
The fabric
As with all the tents from CORE, you have what they call H20 Block Technology that includes a water repellent fabric with active bead technology, sealed seams on rainfly, doors, and windows. The fabric is a durable 68D polyester with a 600 mm waterproof rating. The rainfly is removable in warmer weather so you can enjoy panoramic views for stargazing on clear summer nights. The floor is a fully waterproof polyethylene 115 g/m² and this is a bathtub design.
The poles & stakes
There are 6 leg poles for the main part and the screen room and this is all steel. The roof/loop poles are fiberglass. All is color-coded for easy setup, and the legs poles are with the usual pin-and-ring attachment system. There are 18 steel stakes 7 inches long included in the package and a full set of guylines.
The carry bag
The carry bag is included and it is shown in the picture below. The size is 30 x 12.5 x 10 inches (76 x 32 x 25 cm).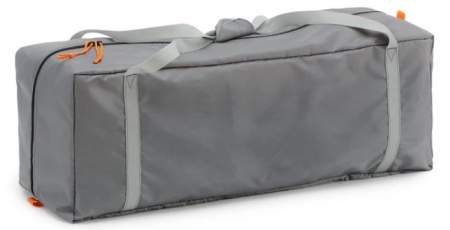 All the stuff in the package is shown in this picture: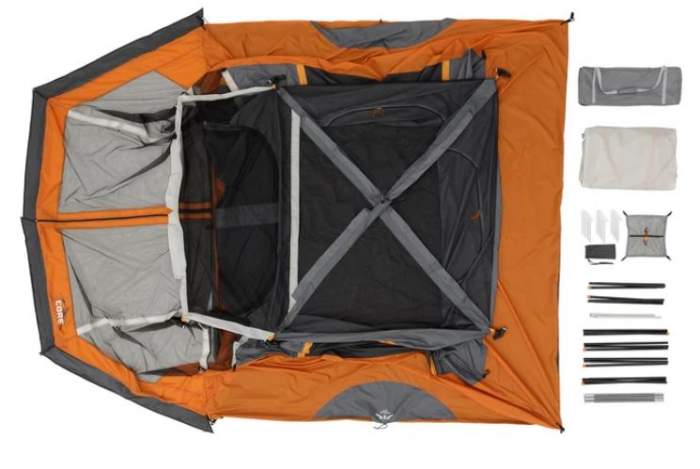 Please see how to set this tent up in this short video:
---
Who is it for
Space-wise, the declared capacity is 6 people. The dimensions are such that you could put 6 sleeping pads on the floor. The inner area is 90 ft² (8.3 m²) and this implies 15 ft² (1.4 m²) per person. This is not so bad, and you still have the screen room with its 50 ft² (4.6 m²).
But the screen room does not provide full protection, so it is best to downgrade the capacity to up to 4 people or so. The tent fits two queen size air mattresses or two standard-size cots.
Climate-wise & seasons-wise, I see this Core 6 Person Straight Wall Cabin Tent with a Screen Room as a summer camping tent, best suited for areas without much rain and wind. I already mentioned its great ventilation features, so it is very suitable for warm-weather camping.
Weight-wise, with its 24 lb (10.9 kg) this is a reasonably light tent for such a type. You will see in the comparison table below how it stands when compared with some of its competitors. You have already seen its packed size, so this is a tent for places with car access.
---
Specifications
Declared capacity: 6 people.
Pack weight: 24 lb (10.9 kg).
Total dimensions: 10 x 14 ft (305 x 427 cm).
Inner tent dimensions: 10 x 9 ft (305 x 274 cm).
Screen room dimensions: 10 x 5 ft (305 x 152 cm).
Inner floor area: 90 ft² (8.3 m²).
Inner area per person: 15 ft² (1.4 m²).
Screen room area: 50 ft² (4.6 m²).
Peak height: 76 in (193 cm).
Packed size: 30 x 12.5 x 10 in (76 x 32 x 25 cm).
Frame: steel & fiberglass.
1 YEAR LIMITED WARRANTY.
---
Core 6 Person Straight Wall Cabin Tent with a Screen Room vs Competitors
I think it is a good idea to see this tent side by side with some other models with a screen room. This may help in making an informed choice. So the Coleman WeatherMaster is also a cabin tent, but the Coleman Evanston is a dome. As you see the Core tent is in between them regarding the weight, the peak height, and the packed size. It is a bit more expensive though, but all of them are very affordable 6-person tents.
30 x 12.5 x 10
(76 x 32 x 25)
41 x 10 x 10
(104 x 25 x 25)

28 x 10.25 x 9
(71 x 26 x 23)

---
Final thoughts, rating, pros & cons
So the Core brand now has a whole series of tents with a screen room, and this latest Core 6 Person Straight Wall Cabin Tent with a Screen Room is the smallest of them. It is nicely built, a bit compact for the declared capacity, but very easy to use and with great features. The price is more than appropriate, fully recommended.
Please see how I rate this tent against my standard set of criteria used for all the tents here in the site:
Check under the group of Screened Tents if you need more options. This Pacific Pass 6 Person Family Dome Tent with Screen Room is also with such a screen room but it is a dome tent.
Note that this is not a sponsored text, and I am not paid by the brand. I love to hear from you, so please use the comment box below in case of questions or comments. Have a nice day.