The CORE 9 Person Instant Cabin Tent with Full Rainfly is tall, pleasant and freestanding, very easy to use, with a strong steel frame, two doors, two rooms, and a vestibule.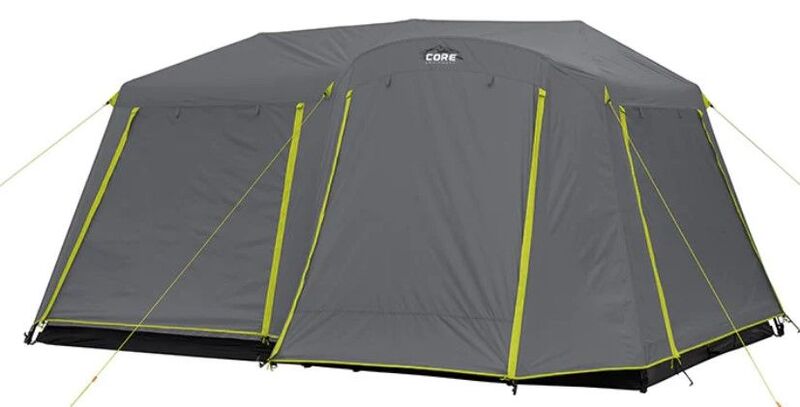 ---
Key features & benefits
Instant setup tent.
Cabin style.
Freestanding.
Full coverage fly.
2 Doors.
2 Rooms.
Steel frame.
Vestibule.
---
What this is about
Here you have a larger out of two instant cabin tents with a full fly that this brand launched recently. They also have a 6-person version with such a fly. As an instant tent, it has a frame pre-attached to the tent, see below how this looks when the tent is without the fly.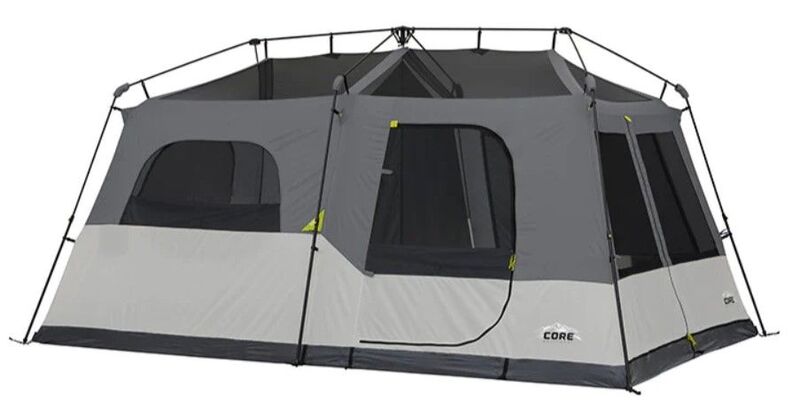 The whole structure is supported with 6 telescopic poles that connect to the roof poles of the same diameter. So this is a very stable and strong freestanding construction.
The picture below shows a few steps when you want to set this tent up. You simply unfold it and then extend its leg poles. The official setup time is two minutes only, but add a ew more for the fly and to stake the tent properly.

The fly covers the tent completely, but it is with flaps equipped with dual zippers, so you can roll them up as in the picture below, and have nice views around.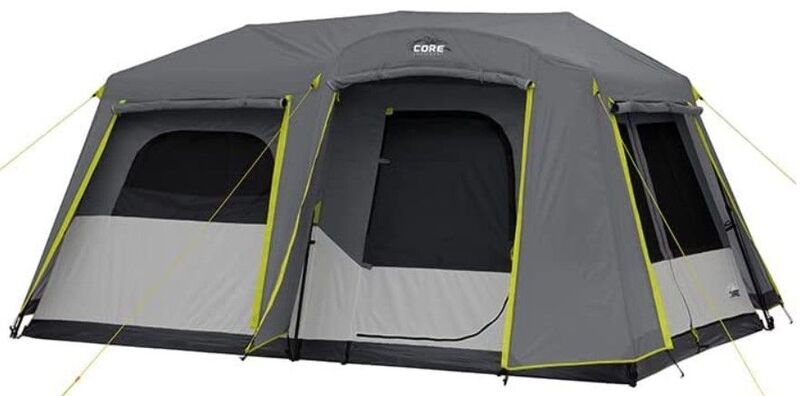 There are two doors here, one is on the longer side if the tent (shown above), and the other is on one of the narrow sides, see the picture below. Observe that the shape of the two doors is very different.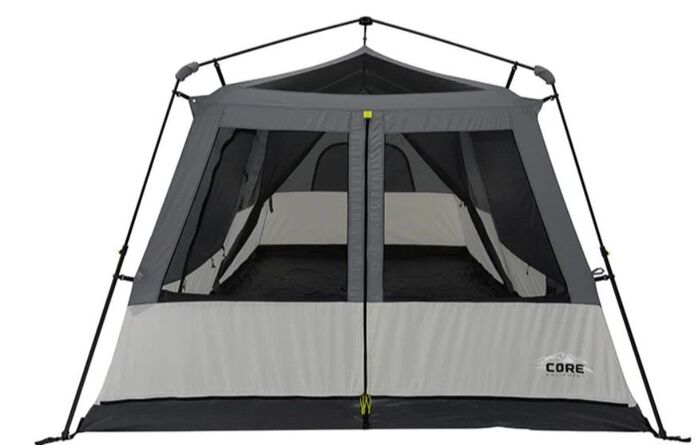 Only one door has a vestibule, you have seen it in the top picture above. The tent is a cabin type, so it is with steep walls, and it is tall, the peak height is 78 in (198 cm).
There is a divider inside, so the tent is formally a 2-room configuration. The picture below shows how it looks inside: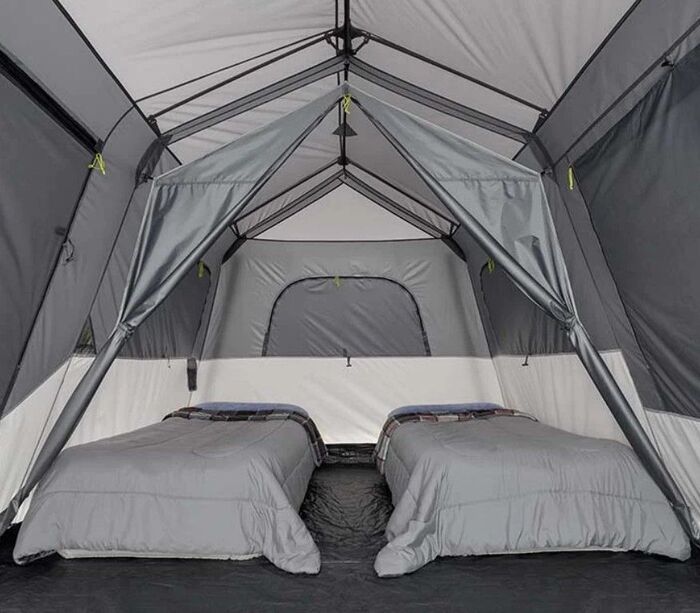 Materials
Poles: You have already seen about its frame, so this is steel, and you also get 20 steel stakes that are 7 inches long. Note also that there is a short fiberglass pole that is added above the vestibule. All the elements in the package are shown in the picture: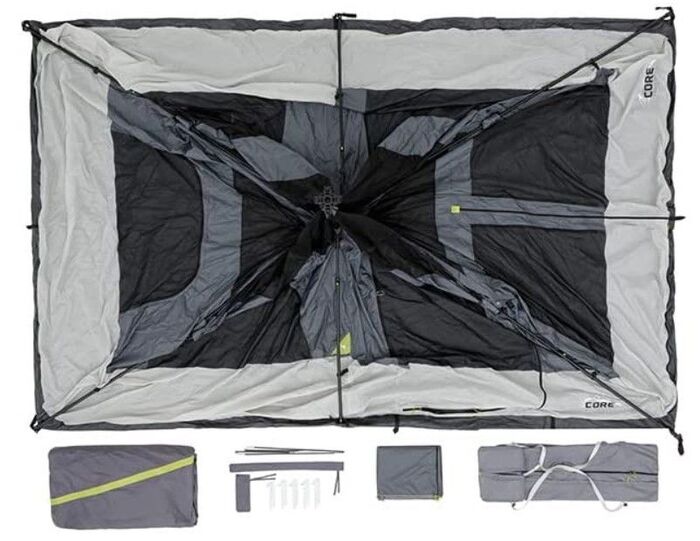 The fabric: They use a moderately durable 68D polyester and it seems it is the same everywhere, including the floor. The waterproof rating is 1200 mm. This looks fine for the tent, but for the floor I would expect more.
You also have an E-cable-port available, and some wall storage pockets, see the pictures:
Ventilation
The tent has many windows with mesh, and the ceiling is all mesh as well. This looks fine as long as the sky is clear, but there are no fly vents here. This is surprising in view of its massive fly.
There are no floor vents, but this may be less problematic because you have mesh on the door, and this is fully protected with the vestibule. So you can always have air coming from the ground under the fly.
Please see more about the tent in this video:
---
Who is it for
Regarding the area, this tent is with the same base size as their CORE Lighted 9 Person Instant Cabin Tent. So you have 126 ft² (11.7 m²) and I would not call it a camping castle. The official capacity is 9 people, so this gives 14 ft² (1.3 m²) per person.
There is a small vestibule as well, it adds around 12 ft² (1.1 m²). So it is not particularly large for such a big tent, but here you have some protected space for shoes and gear.
Regarding seasons & climate, there is no doubt the tent is suitable for a 3-season camping. It is tall and boxy but the fly goes all the way to the ground, and the frame is also strong, so it will perform well even in moderately windy places.
The picture below shows it in the camp with open flaps, but you can close this all if it is raining or if you feel cold. Note however that the ceiling is all mesh and this is not closable, but the fly is above of course.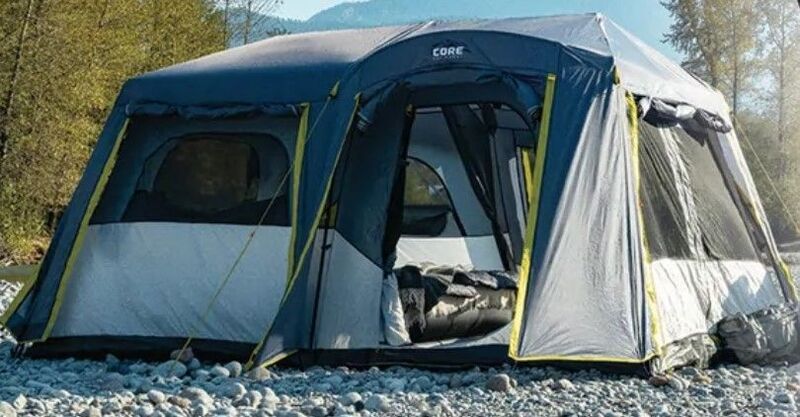 Regarding the weight, this is a heavy tent with its 36 lb (16.3 kg). This is expected from instant tents of this type because of overlapping segments in the telescopic poles, and you have already seen this is all steel. On the other hand, you also have such a massive fly that adds weight.
The packed size is 48 x 12 x 12 inches (122 x 30 x 30 cm), so you realize it is long when packed. Its instant design is behind this. The carry bag is included and it is shown below.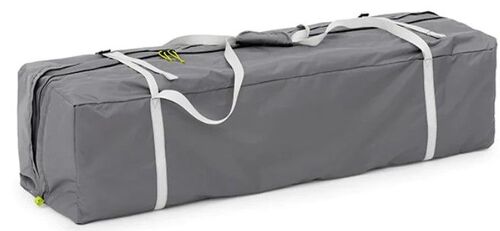 Regarding the price, I would say it is very reasonable for such a great quality and reliable tent, and you also have a reputable brand behind this product.

---
Specifications
Weight: 36 lb (16.3 kg).
Official capacity: 9 people.
Dimensions: 14 x 9 ft (427 x 274 cm).
Inner area: 126 ft² (11.7 m²).
Inner area per person: 14 ft² (1.3 m²).
Vestibule area: 12 ft² (1.1 m²).
Peak height: 78 in (198 cm).
Packed size: 48 x 12 x 12 in (122 x 30 x 30 cm).
1-Year Limited Warranty.
---
Final thoughts, rating, pros & cons
In summary, this CORE 9 Person Instant Cabin Tent with Full Rainfly looks rock solid with its steel frame, and it offers full protection with its huge fly.
This is a large tent, but it is still very easy to use because of its instant design, so two people can have it ready in just a few minutes. When needed, you can create two rooms, and both of them have their own doors for privacy. Fully recommended.
I have included it in my list of best Core instant tents and also in the list of tents with a full fly.
Below you can see how this tent stands against my standard rating criteria that I apply consistently to all of them here in the site so that you can easily compare:
BEST PLACEs TO BUY:
For more tents of this shape please check in the category Instant Tents. But see also their 10 person version which is not an instant tent yet it looks almost the same.
Let me know if you have questions, there is a comment box below. Bookmark this site and come again, this will keep you informed, as you realize I add texts here on a regular basis. Thank you for reading.