The CORE 6 Person Instant Cabin Tent with Full Rainfly is freestanding, very easy to use, it offers full protection, and you have views around when you roll up its windows flaps.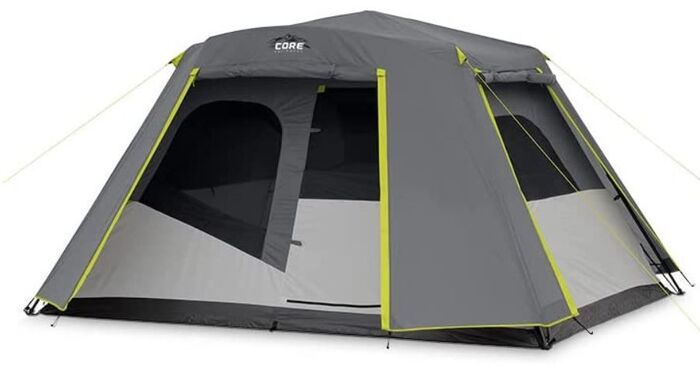 ---
Key features & benefits
Cabin type.
Instant setup tent.
Full coverage fly.
Freestanding.
Steel frame.
3+1 Windows.
---
What this is about
Here you have the smallest tent from a new series that Core launched recently. All of them are instant, cabin-type, and with a full-coverage fly. The picture below shows the tent without the fly so you can better understand its structure.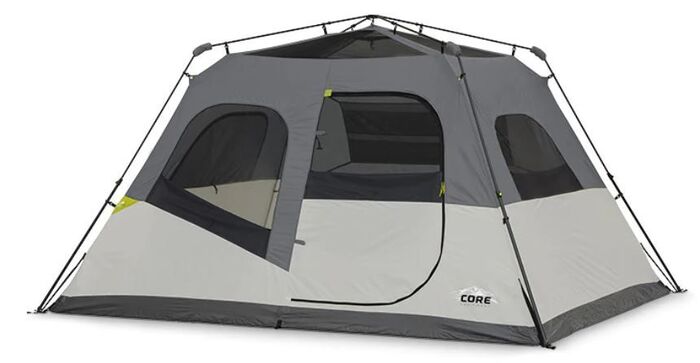 If you follow this brand, then you know that they have several tents with the same general shape and the same base dimensions. You can compare this tent with their Core Lighted 6 Person Instant Cabin Tent and you will realize this.
What you see is one single piece, the frame is pre-attached to the tent and this is behind the word Instant in its official name. The only separate pieces are the fly and the stakes with their bag.
Note that there is one short pole that you add separately above the door. All these elements are shown in the picture above.
When you need the tent, you simply unfold it and extend its telescopic poles as in the pictures below. The official setup time is 60 seconds only. You will need a couple of minutes more to attach the fly if you need it.

The word Cabin in the name describes the fact that the legs poles are straight and they create straight walls. But the walls are quite angled as you realize from the pictures. There are dome tents that may provide more head room, you can check the Eureka Space Camp 6 Person Tent to see what I mean.
The tent is fully freestanding, and it has one room, one door with its window, and 3 separate windows. When the fly is on, you do not have views, but you have seen from the top picture above that you can roll up the flaps and enjoy the views around.
Materials
The poles: All metal parts are steel here. You also have 20 stakes that are 7 inches long.
The fabric: You have a quite standard 68D water-repellent polyester with a 1200 mm waterproof rating. They describe this as water-resistant and they call it the H20 Block Technology. The seams are sealed so you are safe in this tent. The mesh areas are a no-see-um type.
Other details
A gear loft is included to keep your stuff off the ground, see the picture below.
All necessary guylines are attached.
There is a large wall organizer included.
You have a carry bag as well.
Ventilation
There is plenty of mesh on the ceiling, but the inner tent walls are taffeta. Plenty of mesh is also on its 4 windows. When the sky is clear, you can keep the panels open and have plenty of air.
The problem is that there are no vents on the fly, and the inner tent is also without floor vents. This is necessary when you have long intervals with rain. I wonder what they were thinking.
Please see more in this video:
---
Who is it for
Regarding the area, the tent is officially for 6 people, and you have 99 ft² (9.18 m²) of the floored space. This is the same what you have in their Core Lighted 6 Person Instant Cabin Tent. The base size of these tents is the sane.
This would give 16.5 ft² (1.53 m²) per person. It is possible to put 6 sleeping pads on the floor, but for true camping this is not realistic. So downgrade it by half or so.
Regarding seasons & climate, you have seen that everything except the ceiling is fully closable. So this is a true double-layer tent and it is definitely suitable for a 3-season use.
It is moderately tall, the peak height is 72 inches (183 cm), but the fly goes all the way to the ground, see the picture below, so although it looks boxy, it will perform well even in windy places. No doubt this tent provides full protection no matter where you use it.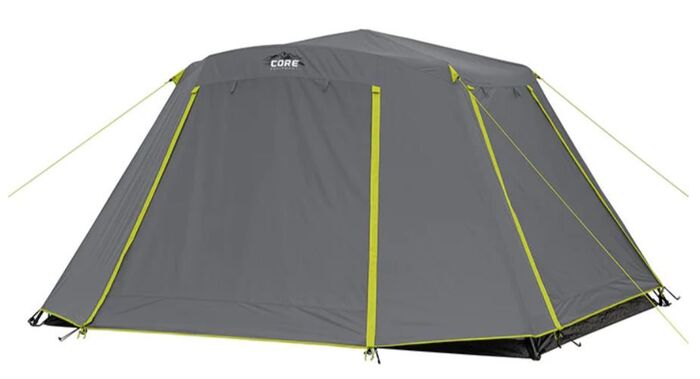 Regarding the weight, the tent is heavy with its 23 lb (10.4 kg). But this is typical for steel instant tents because of overlapping tubes in its leg poles, and you also have such a massive fly. So the weight is justified.
The packed size is 48 x 11 x 11 inches (122 x 28 x 28 cm), see the carry bag below, so it is quite long. But this is again something related to its instant design.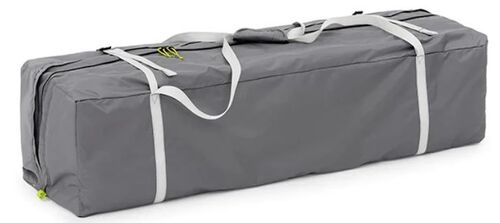 Regarding the price, I would say it is a bit steep but I am sure the tent is worth the money. You have a great brand behind it.

---
Specifications
Weight: 23 lb (10.4 kg).
Official capacity: 6 people.
Dimensions: 11 x 9 ft (335 x 274 cm).
Inner area: 99 ft² (9.18 m²).
Inner area per person: 16.5 ft² (1.53 m²).
Peak height: 72 in (183 cm).
Packed size: 48 x 11 x 11 in (122 x 28 x 28 cm).
1-Year Limited Warranty.
---
Final thoughts, rating, pros & cons
In summary, this CORE 6 Person Instant Cabin Tent with Full Rainfly is a game changer when this is about tents from this brand. This is a true two-layer cabin style tent, and it is the first known to me from their cabin tents with such a full fly.
It provides more protection and more storage space than their other cabin tents. There are no many cabin type tents on the market in general with a full coverage fly and a vestibule. I have included it in my list of best rated 6 person instant tents and also in tents with a full coverage fly.
Below you can see how this tent stands against my standard rating criteria that I apply consistently to all of them here in the site so that you can easily compare:
BEST PLACEs TO BUY:
Check their 9-person version from the same series if you need something larger.
Let me know if you have questions, there is a comment box below. Bookmark this site and come again, this will keep you informed, as you realize I add texts here on a regular basis. Thank you for reading.