This Crua Cottage Premium Quality 4-6 Person Family Tent is a 4-season shelter with climate control, dark rest design, insulated sleeping rooms, sound dampening, and a lot more. Keep reading.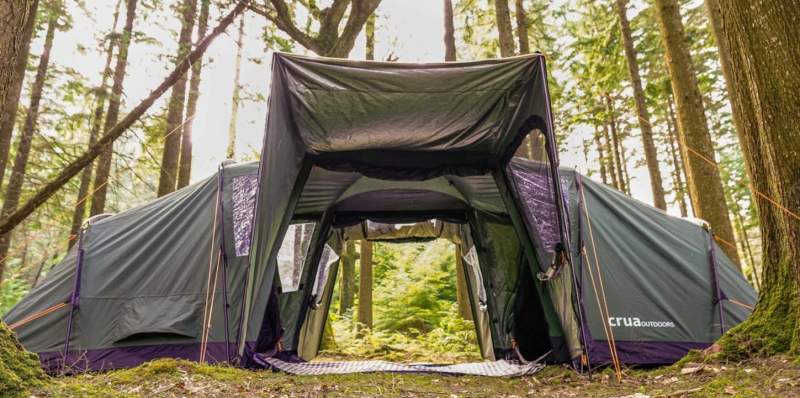 ---
Key features & benefits
Huge area.
Very tall tent.
10 Solid windows.
Steel poles.
Tunnel/cabin hybrid shape.
2 Doors.
Insulated tent.
Dark-rest design.
RV connection.
Sound insulation.
---
What this is about
This Crua Cottage is a T-shaped structure that is difficult to place in any category regarding its shape. It has features of a tunnel, and a cabin tent, and here is why. First, you have a central living room that is under a dome-shaped roof, but the legs pols are straight just like in any cabin tent. You can see this in the picture below.
Second, the side extensions are supported by loop poles that give them the shape of a tunnel tent, but observe that here too, the legs are straight. The picture below shows some of its poles so you can follow what I am saying. This is the rear side and one of the side extensions.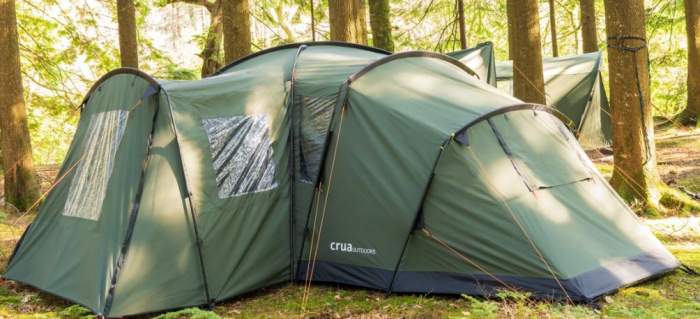 In any case, this is an incredibly impressive construction as you realize from the pictures. With such straight poles, you have plenty of shoulder space inside. But see also how tall the tent is, the peak height is no less than 8.2 ft (250 cm), and this holds in all rooms. So I have plenty of reasons to include it in my list of very tall family camping tents.
How many rooms?
I guess it depends on how we define a tent's room. So you have two side rooms and those are sleeping areas, fully-double layered (more below). Then there is a space they call the Sun Room (with all the good reasons), which is not floored but it is fully protected from the sides and from above.
Finally, you have the central living area under the main dome. This space is floored, the floor here extends under the two side rooms, so there are two layers of floors under the sleeping rooms. Note that there is still a porch on one side.
It would be great to have a sealed floor in the Sun Room, but they did not do this probably on purpose so that you can use furniture in the Sun Room without thinking about the tent's floor. All in all, I would describe this tent as a 4-room structure, and it is included in my list of best tents with 4 rooms.
The doors & windows
The top picture above shows the two large entry points. So the front door is massive on purpose, you have a porch that can be connected to your RV. On the other hand, the rear door on the Sun Room has two side zippers that open its complete back wall into a huge door, and the wall transforms into a huge awning.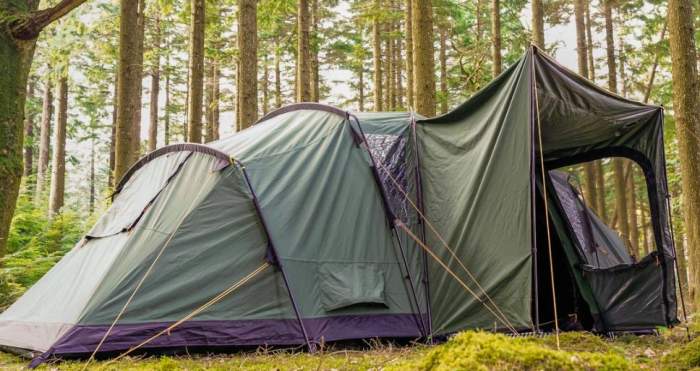 The Sun Room alone has no less than 4 solid windows, and this includes one on the roof. Two solid windows are also on the rear side of the central room, and you have two more on its front wall, plus one side solid window on the porch (see the picture above), and one on the roof of the porch. All these solid windows are with inner shatters for privacy and to reduce glare.
Ventilation
The tent is built from a breathable material so this alone should work great in most situations. The inner sleeping rooms are with thick walls, and this is why you have some openings for extra air ventilation. The Sun Room is separated from the central living room by a full-size mesh door.
But they have added two floor wents and two wall vents, two of them are visible in the picture above. So ventilation here is as good as it can be in a tent.
---
Materials
Impressive details continue here as well. So the tent is supported by numerous strong steel poles, and everything is color-coded, see the picture. Long sleeves are on the roof and on the sides you also have shorter sleeves. This means that the pressure in the case of winds is distributed and this tent can withstand a lot.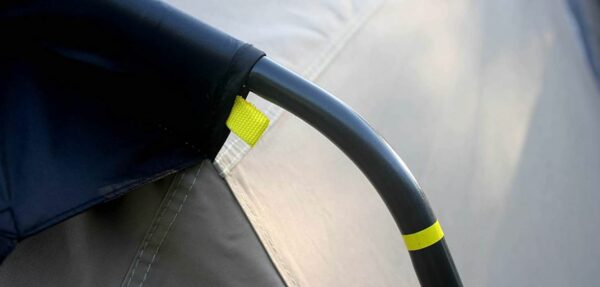 The fabric
So the fabric is a separate story, the inner tent is an 80:20 breathable polycotton mix. The shell is a 70:30 breathable polycotton, and on the floor they use polyethylene. The best part is its insulation in the sleeping areas, see the picture below. This is their patented design, pleasant and comfortable all year round. They call it Goldilocks because you are never too hot or too cold.
Here you have a sound dampening effect, and this is also a dark-rest design at its best. This is why I have included the tent in my list of dark-rest tents.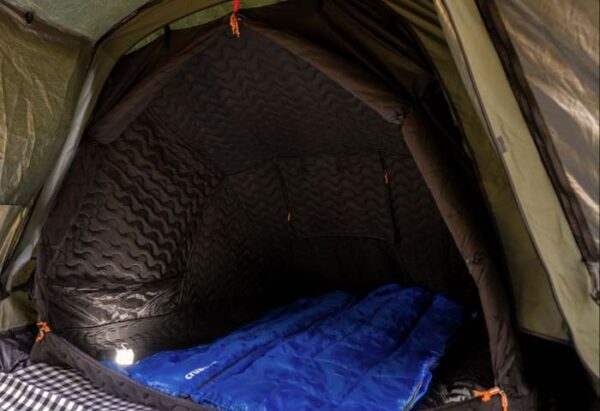 Please see a bit more in this video:
The carry bags
There are three separate bags. One is for the shell tent and it measures around 80 x 50 x 50 cm, and it is with straps and wheels.
The inner cocoon bag is around 80 x 50 x 50 cm, also with carry straps with wheels. The bag with poles is 80 x 25 x 20 cm.

---
Who is it for
Seasons-wise & climate-wise, this is a perfect example of a true 4-season tent. For cold weather, you have insulated cocoons, a better option you will not find on the market, except for a tent with a wood-burning stove. The tent's construction is strong and you have guylines around, you can close the space, and you will be fully protected. I have included it in my list of best insulated tents.
On the other hand, in warm-weather camping, you have a breathable cotton fabric that makes the atmosphere in the tent cooler and more pleasant than any synthetic tent. The tent is ventilated and pleasant.
The dark-rest technology makes it even more pleasant, if you are with kids they will sleep longer in the morning and they also sleep during the day, it is completely dark inside.
Capacity-wise, the official capacity is 4-6 people, and the size given by the manufacturer is 188 ft² (17.5 m²). But the numbers do not add up completely, so let's see what you have.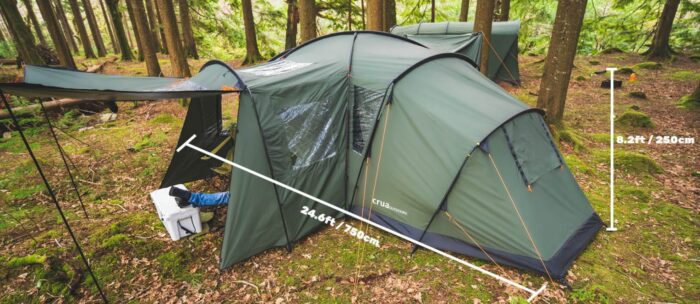 The sleeping room areas are trapezoid-shaped, wider on the front (2.5 m), and narrower on the back (1.8 m). They are 2.5 meters deep. The total space in each of the two parts is around 5.4 m². But the inner tents are in fact separated from the shell so the sleeping area is a bit smaller. In any case, you have enough space for 3 people in each of the two sleeping rooms.
The central room is a 2.5 x 2.5 meters square, so the area is 6.25 m². This all gives around 17 m² (183 ft²). But there is also the Sun Room with the area that is roughly the same as the central room area, plus the porch area. So this is plenty of space for 6 users. But the central room can easily accommodate 5 people more.
Regarding the weight and packed size, the tent is both bulky and very heavy, but it offers a lot. This is a camping tent in any case, so you will need a car.
Regarding the price, this tent is not for people on a budget. It is very expensive but it is also a top-quality shelter, among the best available on the market.

---
Specifications
Official capacity: 4-6 people.
Weight: 172 lb (78 kg).
Official floored area: 188 ft² (17.5 m²), plus the Sun Room area of 67.3 ft² (6.25 m²).
Official floored area per person (in the case of 6 people): 31.3 ft² (2.9 m²).
Peak height: 8.2 ft (250 cm).
Poles: steel.
Warranty: 2 years.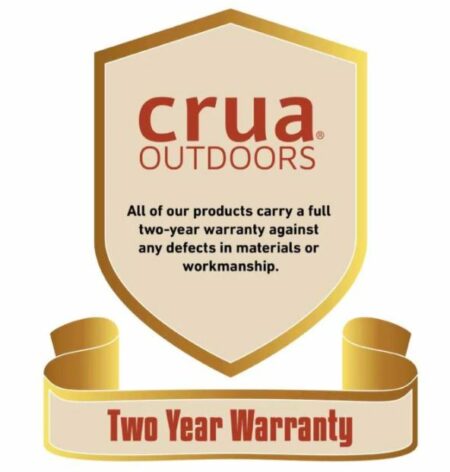 ---
Final thoughts, rating, pros & cons
So I am not exaggerating when I say that this Crua Cottage Premium Quality 4-6 Person Family Tent is one of the most impressive tents on the market. They keep expanding their line of insulated tents after the Crua Loj Tent, and a few more with the same feature.
This tent is suitable for any climate and for any environment. It can accommodate far more people than what its official capacity tells you. Fully recommended. I have included it also on my list of best canvas camping tents.
See how I rate this tent using my standard rating criteria. In spite of what I have said above, the overall rating is quite modest. This is because I consistently apply the rating criteria, but this is not a standard tent. So disregard the weight and the packed size, they are immaterial and focus on its other features.
BEST PLACE TO BUY:
Amazon
Let me know if you have questions or comments, there is a comment box below. Thank you for reading and have a nice day.