---
Crua Loj 6 Person Thermo Insulated Waterproof Family Tent is a totally unique waterproof, breathable, insulated all-steel structure designed for all seasons and any weather conditions. There is nothing on the market that would match this incredible construction.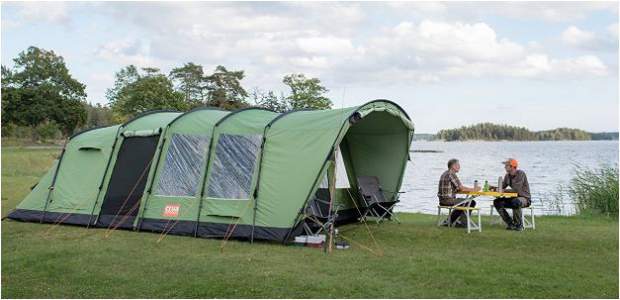 ---
Key features & benefits
Enormous size and comfort for 6 people.
3-room tent + porch with vestibule and awning.
3 external doors.
2 inner doors.
All-Steel construction.
Thermally insulated, R-value 4.
Dark rest tent.
All breathable materials.
Insulating carpet.
6 windows.
7 vents on the fly.
Wheelchair accessible.
Footprint included.
Non-freestanding.
---
What kind of tent is this
This is a tent beyond comparison with anything you can currently find on the market. The picture below summarizes all its incredible features: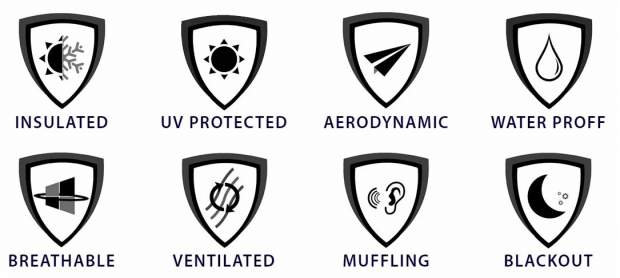 This is a tunnel-shaped structure supported by 6 pairs of steel poles with steel arches on the roof. The poles are straight so the overall tent shape is of a cabin-style, with straightened and tall walls.
The tent is not freestanding, so you have to stake it down properly, and it is designed for all seasons, more about this below. Here, just to stress that this is a highly engineered and insulated structure that will protect you from the elements, regardless if this is the sun, rain, wind, or snow. It is included in my list of insulated tents for camping.
The tent is built from breathable and waterproof materials and it is designed to keep you warm in winter and cool in summer, but this is not all; the inner insulated cocoon is both light and noise insulated. This means you will not have early sunlight getting in, and on windy nights no outdoor sounds like annoying tent flapping or anything else.
This tent is also in the group of dark rest tents, or dark room tents, see more about this terminology here.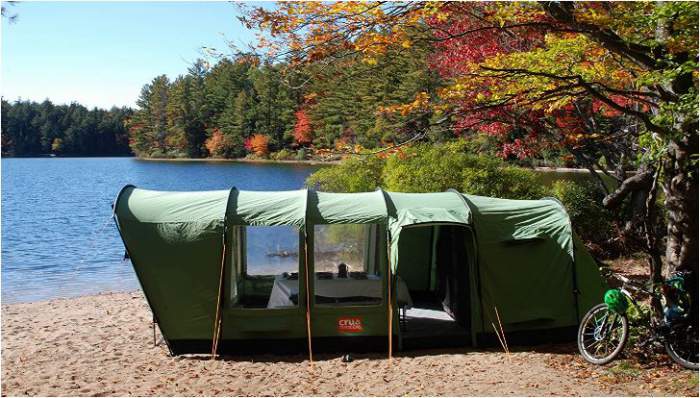 ---
Who is it for
This is a heavy and bulky structure and it can be used only at places with a motorized access. About its true capacity, you will see below, but this is a tent for groups and for families. It can be used:
for family camping,
for two couples,
as a base-camp tent in mountaineering and climbing expeditions,
for hunting and fishing adventures.
Truly 4-season tent
When you read about 4-season tents, it usually means that you have winter tools. Namely, a tent which is designed for a cold and winter environment doesn't work so well in summer. This is why a 4-season tent typically means a tool for winter conditions. I have included this tent in my list of tents for cold weather camping.
But this is not so with the Crua Loj 6 tent. Here you have an inner insulating cocoon which you will use in the wintertime, but you can leave it at home for summer camping. On the other hand, the remaining waterproof shell tent is with a design that makes it suitable for summer camping. This is because of its numerous vents and huge mesh areas on the doors.
Note also that the tent has been field-tested in all types of extreme weather situations like frigid snow, desert heat, and torrential rain, and in winds of over 60 MPH.
This all reminds me of so-called interchange jackets (also known as component jackets or 3-in-1 jackets), where you have the outer shell and the inner insulating layer. You do not have to use both but you will in the wintertime.
So the Crua Loj 6 is a true 4-season tent in the best meaning of this word, it is far more than just a winter tent.

In this video you can see how they tested one of their tents with the same inner cocoon design, please have a look:
Rooms & configurations – how many?
The tent offers several configurations.
The inner sleeping area can be used as a single room or as two separate smaller rooms when you use the divider, they have separate inner doors. You will see more in the video below. Each of the two sleeping rooms can accommodate one queen size bed.
Those two rooms together with the large sitting area make a 3-room tent, which you can use as a 2-room tent too.
The sitting room is with 3 doors, one large main door leading to the porch and two side doors. You do not have to use them all, and you can use the space in front of some of the doors as it suits you best, to add some camping furniture, beds, etc.
But you also have a porch of a particular type, see it below. It is with a vestibule so you can close it completely, or you can raise the front panel and create a pleasant awning for sitting outside in the shade. All this can be used as a storage area and for cooking, as you see from the picture: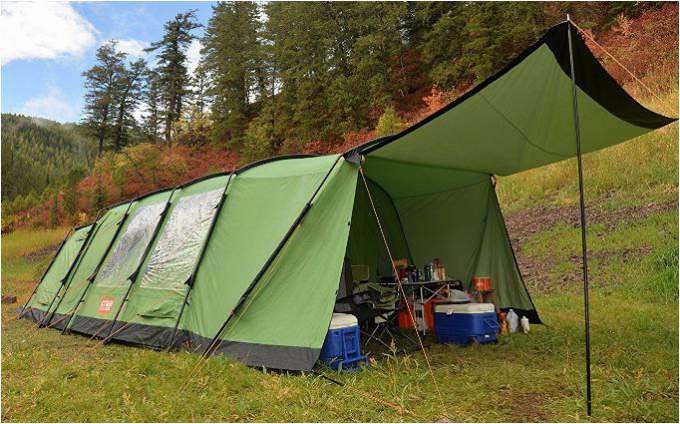 ---
Insulation, fabric & materials
The insulation is combined with what they call the DuraBreathe fabric. You have 1.5 inches (3.8 cm) breathable insulation here, which is equivalent to an R-value of 4, and it will keep the heat generated by the warm bodies inside. It insulates you 13 times better than a conventional tent, and it is in the range of insulation you have from a winter sleeping pad.
This insulation is what makes the inner tent, and it is sandwiched between two layers of breathable fabric, see the picture below. The insulating material is made of hollow fibers, and it offers both heat and sound insulation. The inner tent is a pleasant cocoon attached to the outer waterproof shell through very strong buckles.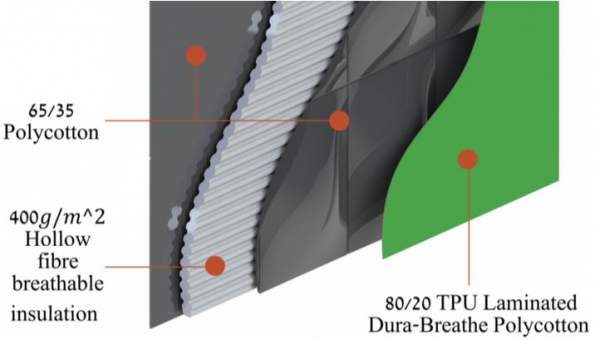 The inner tent fabric is 65/35 ratio poly-cotton, while the outer shell is a laminated poly-cotton 80/20. If you are not familiar, here TPU stands for Thermoplastic PolyUrethane, so this is a laminate which makes the fabric waterproof. It is attached to the fabric via a heat-bonding process, so you have no chemical solvents or formaldehyde used here.
As for the term poly-cotton or polycotton, this is a combination of polyester and cotton, so the resulting material has the best (but also the worst) features of both ingredients. A bit more about tents materials please see in my another text.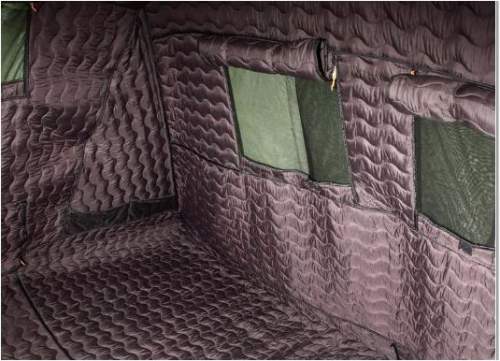 Note that the inner tent (the cocoon) has its own poles and its own windows, you will see a bit more in the video below. The outer shell's laminate itself adds a bit to the insulation. See more in the video:
Windows
In the sitting room, you have 4 huge high-grade PVC panels, tested for temperatures -25 C (-13 F). So this material will not crack at low temperatures. So this is not a mesh like in many other tents; you have plenty of mesh on the three doors. Smaller dual windows with the same material are on the porch, you can see them in the picture below.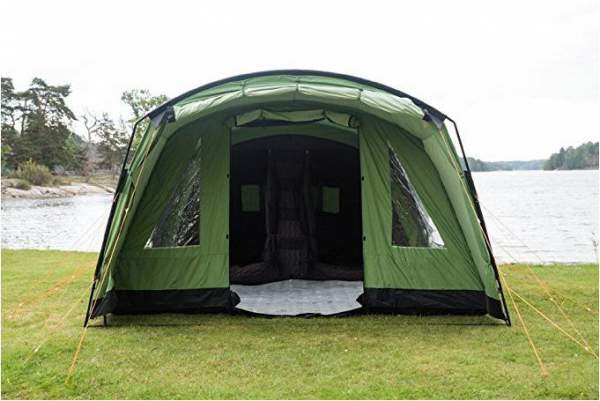 Poles
Poles are 23 mm military-grade reinforced steel. Their vertical parts are straight and they give the cabin shape to this tent. The roof parts are arches so you have 83 inches (210 cm) of the height along the tent. So you can walk straight in any part of the tent.
Ventilation
Note that all materials here are breathable. Apart from this, there are vents on the fly on both sides, and also ventilation openings under the windows. In total 7 vents are around on the fly. But you also have mesh on the 3 huge doors. So the airflow should be guaranteed and condensation should not be an issue under any circumstances.
Multiple inner windows are available on the cocoon walls and they are close to the external vents on the shell tent, this will allow the air to circulate even in the cocoon.
The floor
Here you have a strong polyethylene plus a carpet on the floor in the large sitting room for insulation. They have calculated that 20% of heat loss occurs through the tent floor, and this is the reason for adding this carpet in the living area.
The tent comes with the bonus footprint included, built from the same material and thickness as the tent floor, for extra protection and a bit of insulation too. Note that the footprint also covers a part of the area in the porch, so you have a sort of a mat in front of the main door, this is really convenient to have.
---
Waterproofness
The tent is with an impressive rating, so you have 5000 mm Hydrostatic Head here. Such a number you will not see in many tents on the market.
If you are not familiar with the terminology, an ordinary umbrella is with 400 mm, and most of the tents here in the site are in the range 600 – 1500 mm. Even some true winter tents are with a rating of 1500 mm. So you realize how extraordinary this number is.
---
The floor area
There is no other tent within this site that would compare with this Crua Loj 6 regarding the floor area per person. Here you have 3.7 m² per person of the inner floor area for the declared number of 6 users. So this is quite incredible.
But they have realized that a comfortable tent must have a large sitting area, in particular, if this is a tent for a cold environment, so this is what you have here. From the dimensions picture below (in Specifications) you realize that the sitting area is 13.2 m², while the sleeping area with the two rooms offers in total 8.8 m².
True capacity
Note that the two sleeping rooms together are 4 meters wide, which gives only some 60 cm width per user. So this is rather narrow but it is fine if you are camping in a cold environment.
But if you use the tent in mild weather, several people can sleep in the sitting area, so the capacity of this tent can easily reach 12 people or more. This you realize if you compare this total inner area of 22 m² with some big tents presented here in the site.
Take for example this Eureka Copper Canyon 12 which has the floor area of 168 ft² (15.6 m²), then the Core 11 Person Cabin Tent with the floor area 204 ft² (18.96 m²), or the Core 12 Person Instant Cabin Tent with 180 ft² (16.7 m²) of the floor are.
As you realize, those are huge tents, yet none of them is a match for this 6-person tent. And do not forget, none of those tents has an extra porch and vestibule. So the comfort which the Crua Loj 6 tent offers is beyond comparison, this is a really luxurious system which offers far more than one may realize on the first look.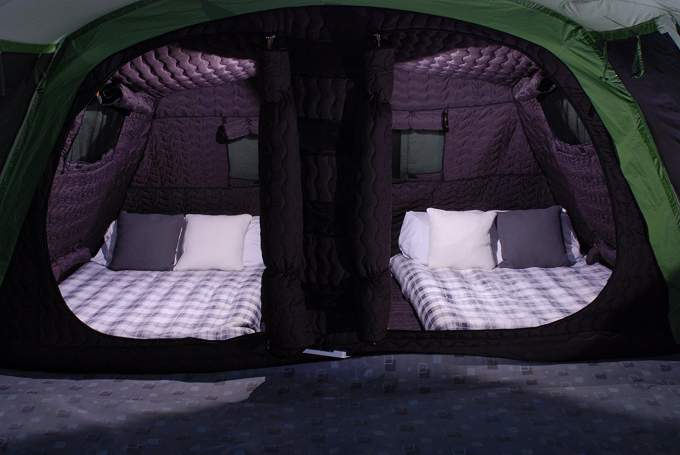 ---
Packed size & weight
This is a very bulky system, and you have no less than three packages here. So it includes the following (these data are directly from the brand Crua Outdoors, obtained after I asked them):
Inner tent: 40 x 26 x 21 in (102 x 66 x 53 cm). Weight: 61 lb (27.7 kg).
Outer tent: 36 x 24 x 18 in (86 x 61 x 46 cm). Weight: 95 lb (43.1 kg).
Steel poles: 33 x 10 x 9 in (84 x 25 x 23 cm). Weight: 62 lb (28.12 kg).
So the total weight here is 218 lb (99 kg), and the packed volume is huge. The huge weight is because of steel in the frame, and because of the cotton used in the fabric.
---
Specifications
Capacity: 6 people.
Weight: 218 lb (99 kg).
Dimensions (L x W): 277 x 158 in (700 x 400 cm).
Total covered space: 300 ft² (28 m²) – this includes the porch as well.
Total area per person: 50 ft² (4.7 m²)
Inner floor area: 235 ft² (22 m²).
Inner peak height: 83 in (211 cm).
Porch area: 65 ft² (6 m²).
TTInsulate design.
Dura-Breathe fabric.
Two-year warranty.
Note, these numbers I received directly from the seller. You can see the dimensions they sent me here: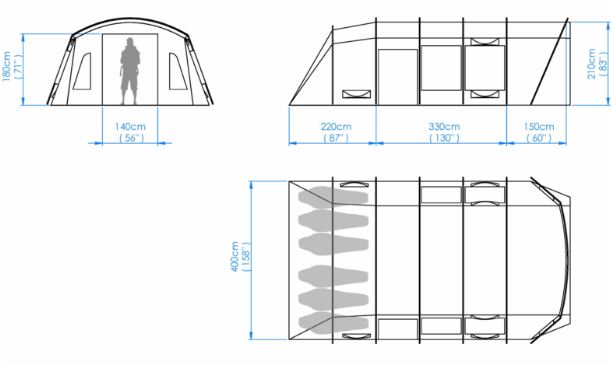 ---
Final thoughts, rating, pros & cons
So this was my view of the Crua Loj 6 Person Thermo Insulated Waterproof Family Tent. As you realize, this is an incredible design and there is nothing on the market that could compare with it and that could match it.
The tent is very heavy, but this is not surprising in view of the comfort and the protection it gives you. I think it is best to simply ignore the weight and look at all its unique features. The price is very high here, so this tent is not for everybody's pocket, but if you can afford it and you need such a tool, it is totally worth the investment.
I wish to stress that using the usual rating criteria for this system makes no much sense. My overall average rating is affected by weight and packed size, but you might simply disregard these parameters.
Crua Loj 6 Person Thermo Insulated Waterproof Family Tent
Pros
Completely unique system.
Incredible comfort.
Very functional.
Complete protection.
Easy setup for such a size.
Variety of options for the space organization.
Cons
Very heavy.
Very bulky.
Expensive.
BEST PLACEs TO BUY:
You might want also to check this totally unique Crua Core Dome 6 person tent from the same brand. If you need a smaller canvas tent, check this Teton Sports Mesa 14 Canvas Tent and the Teton Sports Sierra 16 Canvas Tent.
Thank you for reading. If you have any question or comment, please use the comment box below. I wish you a nice day.