The WolfWise Two-Room Pop up Privacy Tent is a 3-in-1 system of two pop-up portable privacy tents that can be used separately or together.
---
Key features & benefits
2 Connectable tents.
3-in-1 System.
Instant setup.
UPF 50+.
Great price.
---
What this is about
So here you have a 3-in-1 system, and this means two privacy tents that can be used separately, and they can also be zipped together and used as a 2-room privacy shelter.
This is also a pop-up system with spring poles integrated into the structure. You simply throw the tent in the air and it will deploy itself. This is demonstrated in the pictures below. After that you can use them as separate tents or as one single tent: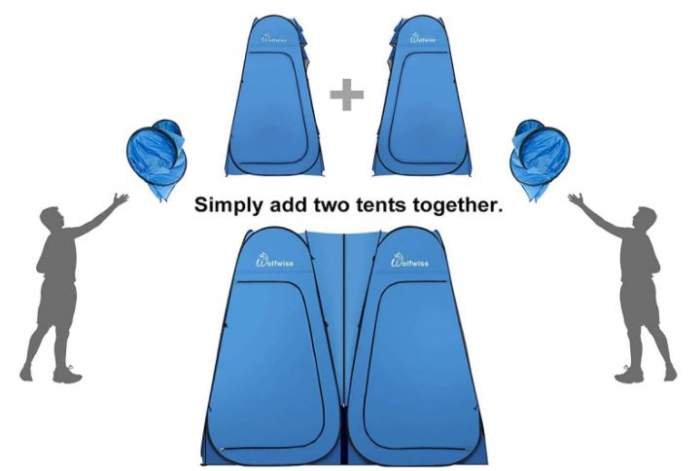 There is an inner door so you can go from one part to another without getting out of the tent. This is convenient if you use one side as a shower.
These privacy tents are freestanding, but you have a full set of guylines and stakes to secure them properly. The attachment points are at the base and higher up on the tent.

There are zippers to open the roof. The floor shown below is with mesh areas in the corners to drain the water. It is removable, and it is attached in place with Velcro tabs. Note that the frame is not strong to support a shower bladder. You can use the roof opening (the picture below) to pass the pipe from outside.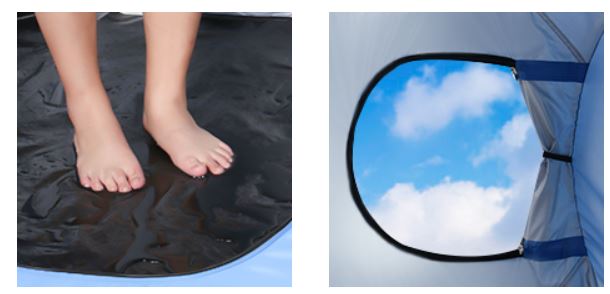 Materials & other features
The fabric is 190T polyester taffeta, and note that you can have it also in black color. The tents are DWR is coated onto the exterior and they are water-resistant. They claim that the coating includes also a UV protection.
Inside you have a few elements shown in the pictures below, useful to have when you use it as a dressing room or as a shower. So you can hang wet clothes or towels, and also store small objects in the hanging storage pouch.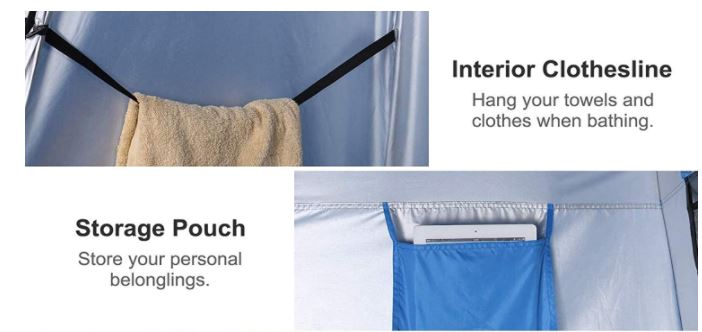 As mentioned this is a pop-up design and this because of its spring steel poles that are sewn into the structure.
---
Who is this privacy tent for
Regarding best use & purpose, this is a versatile product and as mentioned, you can use the two parts separately or together. One of them can be used as a toilet and the other as a shower, as shown in the picture.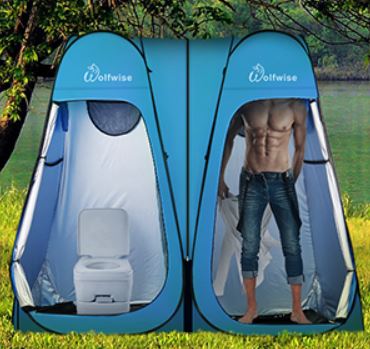 But you can always take it to the beach and use as a change room. The picture below shows how large this set is, so you have plenty of space no matter how you use it.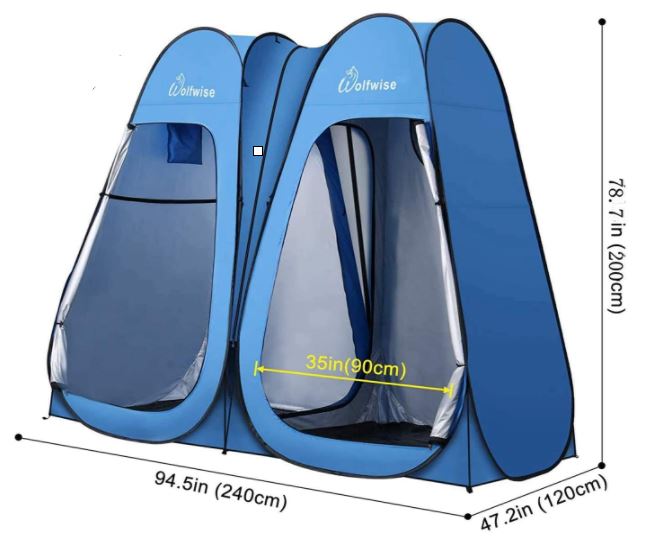 Regarding the weight, I would describe it as moderately light in view of its 11.3 lb (5.12 kg). But note that it packs like a disc with a dimeter of 24 inches (61 cm), so it cannot be easily transported on a bicycle.
It may be easy to fold if you know exactly how to do this, but this is a bit tricky if you are new to this system. See the video below, it shows a single tent, but this applies to this products as well:
Regarding the price, I would say it is fair for the value.

---
Specifications
Weight: 11.3 lb (5.12 kg).
Dimensions: 94.5 x 47.2 in (240 x 120 cm).
Area: 31 ft² (2.88 m²).
Height: 78.7 in (200 cm).
Packed size (D): 24 in (61 cm).
---
Final thoughts, rating, pros & cons
In summary, this WolfWise Two-Room Pop up Privacy Tent is, as of the moment of writing this text, a unique product on the market. It is versatile, easy to use, and lightweight. But make sure you practice a bit how to fold it. I have included it in my list of best 2-room outdoor shower tents for camping.
See how this privacy shelter stands against my rating criteria:
If you need something with a stronger frame, please check this EasyGo Product EGP-TENT-016 Shower Shelter or Core Instant Camping Utility Shower Tent with Changing Privacy Room. Check also this Kamp-Rite Privacy Shelter with Shower included, this is a single-room type.
Let me know if you have questions, there is a comment box below. Bookmark this site and stay informed, I add texts here on a regular basis. Thank you for reading and have a nice day.