This Alvantor Screen House Room is an easy-to-use and versatile outdoor camping tent canopy with instant pop up design and very useful accessory elements for extra protection and privacy. Keep reading.
---
Key features & benefits
Pop-up design.
Extremely easy to set up.
Several different sizes.
Freestanding.
2 Doors.
Accessory walls and floor available.
---
What this Alvantor Screen House is about
So here you have one of those structures that pop-up when you remove the binding strap. This is because of the elastic frame that is integrated in the sleeves. In other words, this is a sort of instant setup construction and you can have it ready in under a minute. It is indeed extremely easy to set up and you will not even see its poles.
They build it in several different sizes, but we shall focus on its 12 x 12 feet version. The other sizes have the same basic features.
This is also a fully freestanding structure, this means it is self-supportive and after it pops up, you can rotate it and move around. But it allows you to make it secured and fixed to the ground, you have the following elements included for this purpose:
6 Sandbags, one shown below. Note that you can fill them with anything that is heavy enough to keep the structure in place. In fact, it is better to use rocks than sand, this is cleaner and less messy. There are hooks in the corners to use to attach the bags with their weight.
12 Stakes, one shown in the picture below. You will use them on the ground that can keep the stakes. They are used at the screen house base and also to attach guylines.
6 Guylines to use with the mentioned stakes.

The base is an octagon but this is all elastic and you can shape it as it suits you. The picture below shows its base as provided by the manufacturer, and on the right is its shape and diameter when folded. Note that the short diagonal (the red line) cannot be correct if the long diagonal is 12 feet. So the short diagonal should be around 11.09 feet.
---
Materials
I already mentioned that the frame is not visible, all the poles are in the sleeves. But this is fiberglass, and this is not particularly strong material so it needs a bit of care when handling. The picture below shows how you let it expand and how you fold it and pack:

So when you want to pack the screen house, you fold its sides and the twist into an 8-shape, and after that fold into a circular structure as the pictures show. You have a disc-shaped carry bag included.
The fabric is mostly a fine no-see-um mesh screen as expected in such a structure, the rest is a very durable 210D oxford polyester. They claim it provides UV protection with the SPF 50+ rating.

You can see a bit more in this short video, please have a look.
---
Who is it for
Regarding the weight & packed size, with its 20 lb (9.1 kg) of weight, this is a bit heavy structure. But this is still normal, to realize what this means compare with this Gazelle Tents 21500 G6 Pop-Up Portable 6-Sided Hub Gazebo/Screen Tent 8 Person that is far heavier.
When packed it becomes a disc that measures around (diameter x depth) 41.7 x 3.5 inches (106 x 9 cm). So you realize that this needs a car for transportation.
Regarding purpose & functionality, I would say this is just a matter of imagination. This is a versatile structure and you can use it as an addition to your camping tent, as a dining or sitting room, or as a cooking space.
But you can set it up at home in the garden and on your back deck as a screened room. You can also take it on picnics and position it above/around any permanent park table and you will instantly have protection from flying insects. The picture below shows how they use it above a pool as well: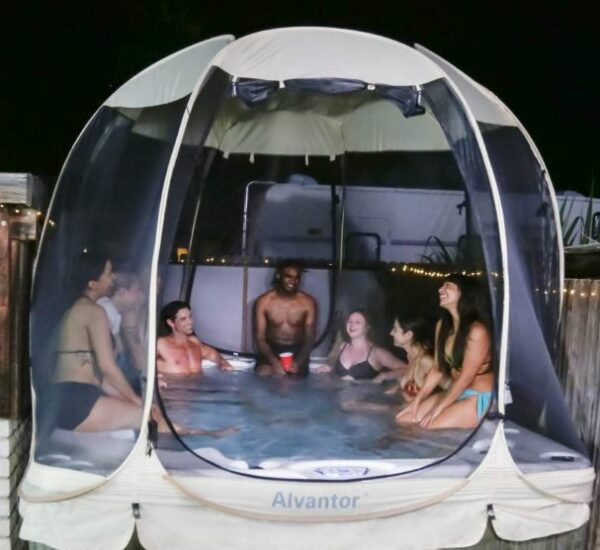 Regarding climate, seasons, and weather, I see it as a summer thing, avoid places with strong winds, and this in particular if you attach the accessory Sun Shade panels (more below). The manufacturer also suggests avoiding wind force above level 6.
Regarding the area, you have 102 ft² (9.47 m²) and the linear dimensions are 12 feet (3.66 m), so you will know how much of your stuff you can put inside. They claim it is for up to 8 people, I think this is too optimistic, but this will depend on the furniture you use.
Alvantor's warranty
Alvantor is a US-based company. They give a 1-year limited warranty and they offer service from Los Angeles, CA.
---
Specifications
Weight: 20 lb (9.1 kg).
Dimensions: 12 x 12 ft (366 x 366 cm)
Area: 102 ft² (9.47 m²).
Peak height: 7 ft (213 cm).
Packed size (diameter x depth): 41.7 x 3.5 in (106 x 9 cm).
---
Accessory elements
They build several accessory pieces, so you have the Alvantor Heavy Duty Tarp shown in the picture below. It adds a lot to comfort but you would not want to use chairs with sharp feet on top of it if the ground is very soft.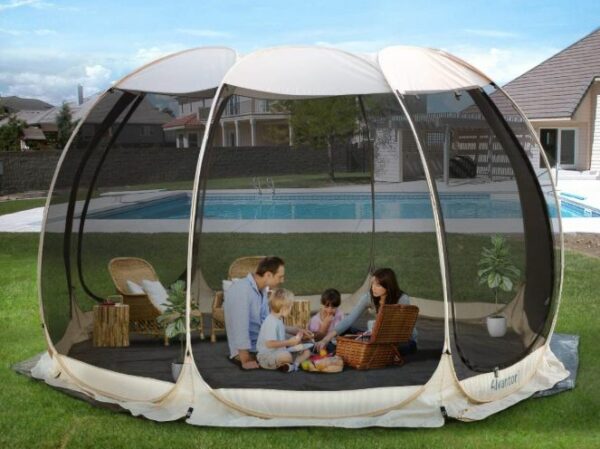 You can use it on its own to sit on the grass when on picnics as the picture below shows. So yes, 8 people can sit on it.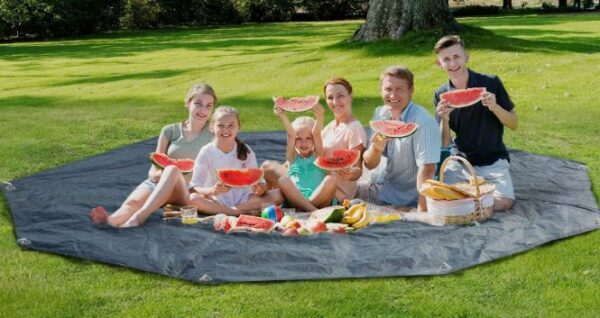 They also have Alvantor Sun Shade Sail Canopy Covers and they sell them in the packs of 3. This is convenient for privacy and also to have some extra shade when the sun is low, see how it looks:
There are hooks and loops so attaching these panels is easy, their dimensions are shown in the picture.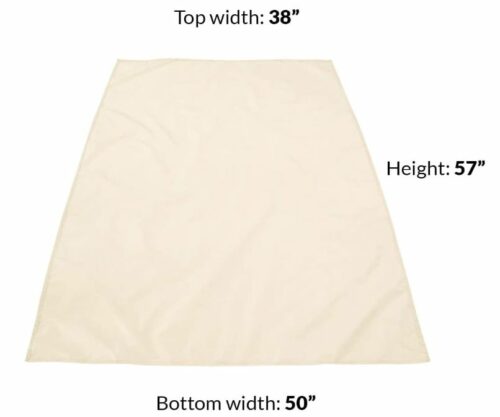 If you really need some extra protection in a screen house, you have it in this Eureka Northern Breeze Aluminum Frame Screen House, it comes with walls, and the floor can be ordered separately.
---
Final thoughts, rating, pros & cons
In the summary of this Alvantor Screen House Room review, I would stress that setting this structure up is extremely easy while packing it down needs a bit of practice and care because of its integrated elastic frame. But one person can do this all easily.
It is a bit bulky when packed and it needs a car, but it is thin and it fits into narrow spaces. Fully recommended. I have included it in my list of best camping screen houses.
Please see how I rate this screen house against my standard set of criteria. Obviously, the packed size affects the overall rating negatively, but it is still very good:
If you need more options, check under the category Screen Houses here in the site. Check this NEMO Victory Screenhouse with its advanced design and aluminum poles. See also this Wenzel Zephyr Screen House with its steel frame and two doors.
Bookmark this site and visit again, this will keep you informed because we add texts here regularly. Thank you for reading and have a nice day.