---
GigaTent 10 Person Family Tent is a very tall cabin style 3-room tent for summer camping, with steel and fiberglass poles and numerous windows. Read more below.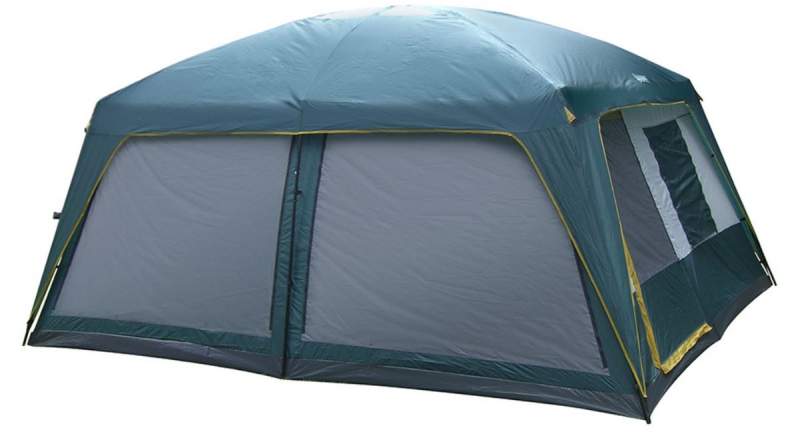 ---
Key features
3 Rooms.
2 Doors.
8 Windows.
Freestanding design.
Very reasonable price.
---
Where to buy
This GigaTent 10 Person Family Tent is available on Amazon so check the link from your side and see about shipping conditions, they operate globally as you surely know.
---
How is this tent built
Here you have a great example of a cabin style tent, although surprisingly on the site of the manufacturer they describe it as a dome tent, and they use the name GigaTent Wildcat Mt. 12′ x 15′ 3 Rooms 8 – 10 Person Dome Tent.
So this is a 3-room construction with a large front room separated from the other two with a sewn-in divider. The back rooms are with a removable divider between them, and each of them has its own huge inner door. You can get some idea about its structure from the picture: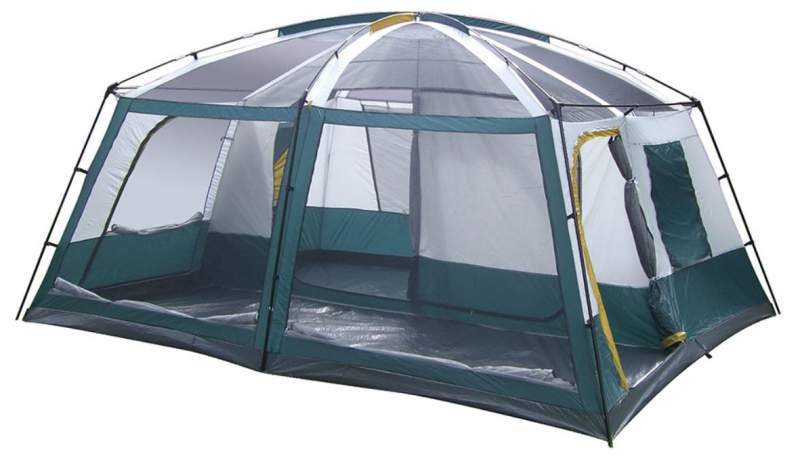 One could easily put this tent in a group of screen-room tents because of the gigantic windows and doors on the front room, which are all double-layer type. So you have mesh and panels for privacy and protection.
But this front room is fully protected in the sense that the floor is sewn-in just like in the rest of the tent, and you can indeed use it for sleeping as well. There are 2 entry points into the front room and you can see them in the picture below.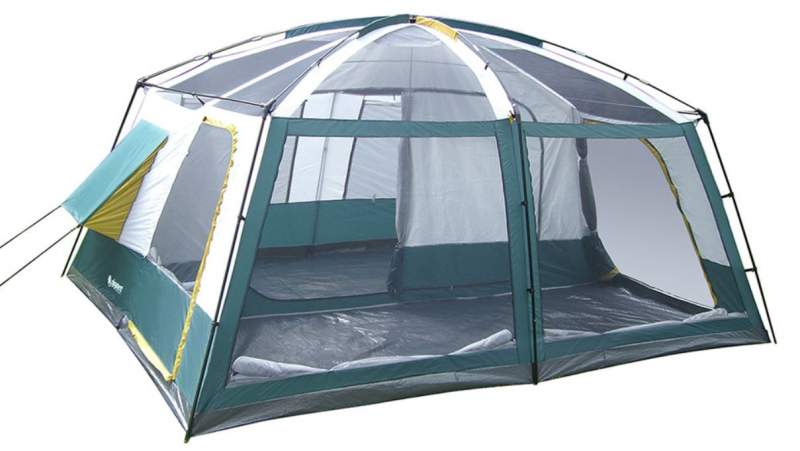 The picture above shows that the back rooms have windows on the back, plus the side windows which serve more like vents. Note that the panels on all the openings are with zippers and this is great to see in such a budget-friendly tent. The tent is freestanding with its 6 legs and 2 eave poles, but do not miss to stake it down properly.
This is a very tall construction with a peak height of 86 inches (218 cm) and I have included it in my list of very tall family camping tents. The picture below shows its height: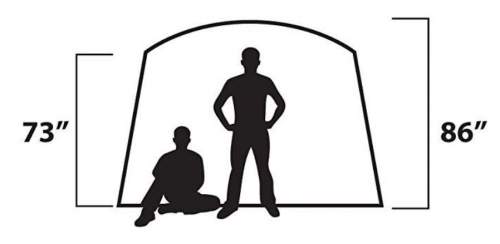 One peculiar feature here is that the rain fly has 4 clear panels on the top. They are a bit visible in the picture below. This allows light into the tent and I am not sure that I like this detail.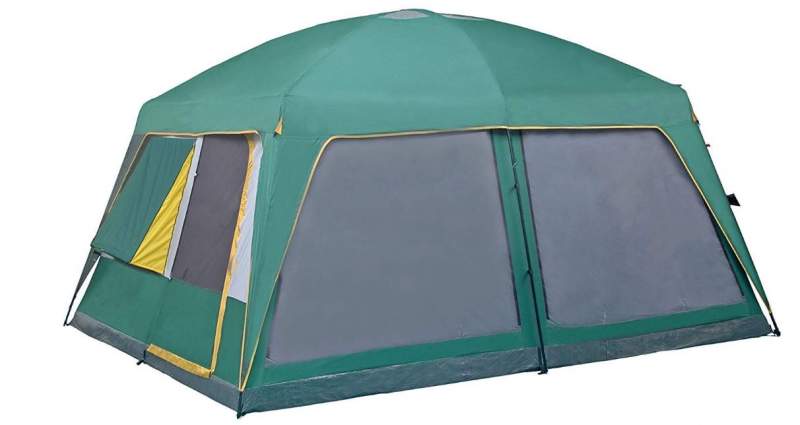 What is included
You have the following elements in the package: a zippered duffle bag style storage bag, pole bag with poles, stake bag with stakes, 10 guy lines, the fly, and the tent.
---
Who is it for
Space: The declared capacity is 10 people and the floor plan below shows what the manufacturer suggests for using it in the case of such a number of people. Clearly, they assume a backpacking principle for the capacity of this tent and this makes no much sense if it is used for family camping.
The tent can indeed accommodate such a number of users and this is fine for an open-air summer festival or any similar activity. In the case of a family camping, it is best to downgrade this number to 6 or so. But this is indeed a huge tent in this declared capacity group and I have included it in my list of best 10-person camping tents.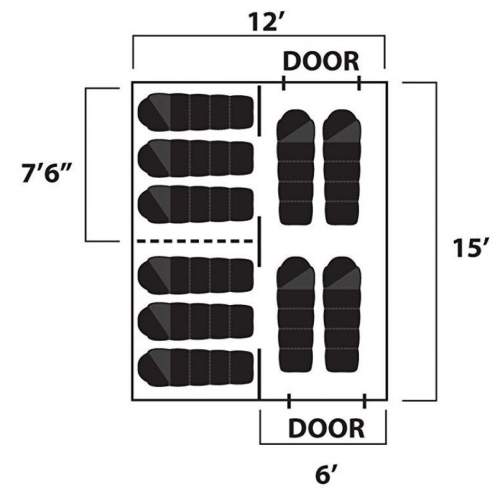 Weight-wise, the tent is heavy with its 39 lb 6 oz (17.9 kg). But you will see in the comparison table below that this is quite a typical weight for such a tent. In fact, it is lighter than some of its competitors while it still gives more space.
Climate-wise & seasons-wise, I see this Gigatent 10 as a summer camping tent. The tent is with a partial coverage fly and with a moderate waterproof rating, with so many exposed windows. It is very tall and boxy and I would not use it in a windy place.
The packed size is 34 x 12 x 12 inches (86 x 30 x 30 cm), so in view of its weight, this is a tent for places with a car access.

---
Materials
The poles & stakes
The poles are a combination of 19 mm diameter steel tubes (used for the legs poles) and fiberglass (used for the roof poles), all of them are shock-corded. So you have:
3 Fiberglass roof poles (two main poles plus one cross poles).
8 Steel poles (2 eave poles, 4 corner poles, 2 center poles).
The poles attach to the tent through 4 corner hubs and 2 center hubs, these hubs are all preattached to the tent. All poles and hubs are color-coded. You also have sleeves on the roof used for the fiberglass poles, and clips on the lover sections of the legs poles.
There are also 6 heavy duty stakes plus 10 standard hook stakes.
The fabric
The fly is 190T polyester with 1200 mm polyurethane coating. The walls are the same materials but with 600 mm coating. This is completely enough for summer camping and moderate rains. The mesh is 50D. The fly attaches to the rings at the bases of the poles with bungee cords, and you also have Velcro tabs higher up.
The floor is polyethylene so this should be fully waterproof, note that this is a bathtub design.
Ventilation
With so much mesh on the ceiling and meshed windows and doors, ventilation should not be an issue in this tent. There are two windows on its narrow sides that are more vents than windows, they are designed so that you can keep them open even when it is raining, with flaps that can be staked out. But they are rather high and I miss seeing true floor vents here.
---
Specifications
Type: cabin-style family camping tent.
Declared capacity: 10 people.
Weight: 39 lb 6 oz (17.9 kg).
Dimensions: 15 x 12 ft (457 x 366 cm).
Area: 180 ft² (16.7 m²).
Area per person: 18 ft² (1.67 m²).
Peak height: 86 in (218 cm).
Packed size: 34 x 12 x 12 in (86 x 30 x 30 cm).
Warranty: 3-year limited manufacturer's warranty.
---
GigaTent 10 Person Family Tent vs Competitors
I have decided to show you this tent side by side with two tents with the same declared capacity from some top brands. So the Coleman Tent has more features (it is an instant tent and dark-rest design). The Core 10 Tent is a 2-room cabin structure.
As you see, both of them are much smaller than the GigaTent 10, and they have 2 rooms only. The prices are very close, please follow the links to read more.
---
Final thoughts, rating, pros & cons
So I hope this GigaTent 10 Person Family Tent review has presented the most important aspects of this tent which is very nicely designed and at a fair price. Bear in mind that this is a summer camping tent and do not put it to very serious tests. If you do not want to spend too much and need a very functional family camping tent for calm weather conditions, this is a great option.
I use a standard set of criteria for rating and apply them to all the tents here in the site, so you can make an easy comparison:
If you need more options in this size range, please check under the category Tents for 9 & 10 People, and also under the category Cabin Tents. You might want to compare it with this Ozark Trail 10 Person 2 Room tent which is also very affordable. There are more tents from this brand here, the GigaTent Mt Craylock 8-10 Sleeper Family Dome Tent and the GigaTent Six Person Family Tent. so have a look.
Note that this is not a sponsored text and I am not paid by anybody. I love to hear from you, so please use the comment box below.

---