---
H HANNAH Space 6 Person Family Tent is a 3-room and 3-season freestanding structure with two large doors and with a fully sewn-in floor. This is an interesting and functional design, so please keep reading.
---
Key features
Extended dome style tent.
3 Rooms.
2 Large doors.
Fiberglass poles.
Fully sewn-in floor.
Awning configuration.
---
Where to buy
This tent is available on Amazon. So check the link and benefit from their efficient global service.
---
What type of tent is this
What you have here is a rather unique structure, this is a dome-style tent but rather extended and with 3 separate rooms. So you have a living area in the middle and two sleeping rooms on the sides. Note that these sleeping rooms are 2 tents within the external shell tent, so each of them is removable. This means that you have a modular design, you can have also a 2-room or 1-room configuration.
The tent is fully freestanding, so this is yet another great feature here. But this is not all, the poles are from outside, so you could call this fly-first design although there is no a separate fly here, and I have not seen manufacturer using this term.
Here is what this means – you can set this tent up even when it is raining, you pass the poles through the external sleeves and raise the tent while the inner area and those two inner tents remain completely protected. If you have ever pitched an ordinary tent with the fly in the rain, you will know what I am talking about.
The tent is a hybrid single layer and double layer, the meaning is that the living room is a single layer structure while the two side rooms are two-layer structures.
---
Who is it for
Space: The declared capacity is up to 6 people as you can see from the picture below. Though the sleeping rooms are rather narrow and it is very difficult to have 3 sleeping pads side by side. But the central living room is fully floored and protected, and with the sewn-in floor, so if necessary 2 people can sleep there. So in any case, 6 people can easily be accommodated in this tent.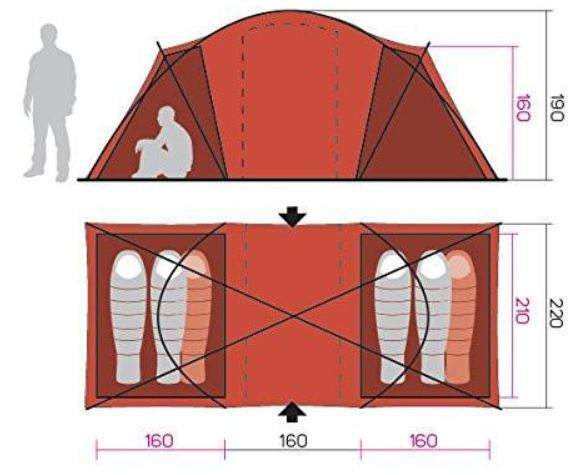 For family camping, this tent is large enough for 4 people, ideally parents with 2 or maximum 3 small kids. Note that the inner tents are removable so the tent can also be used by a couple, in this case you simply remove one of the tents and have a huge living room plus a sleeping room.
Weight: This tent weighs 26 lb (11.8 kg) so this looks heavy. You will see below how I rate its area/weight ratio. But this is a camping tent so the weight is not a big issue, you are not supposed to carry this tent anywhere. But it is lighter than some of its 3-room competitors, you will see this in the comparison table below.
For the official packed size I take the numbers from the site of the brand, 25 x 12 inches (64 x 30 cm), so again you realize that you need a car for such a tent, or at least a motorbike.
Seasons-wise, this is a very good 3-season tent and perhaps even a bit more than that, though quite generally I see it better suited for a cooler climate because of its enclosed design. The waterproof rating is excellent and the floor is fully sealed, so it will protect you in any rain conditions and it will keep the warmth in when you close all the openings. This is an aerodynamic construction and it should perform well in the case of winds.
---
Materials & construction
I already mentioned 3 rooms and the inner tents, and you have seen how they look like in the floor plan above. There are many tunnel tents with such a design, but this is quite unique for a dome style tent.
So the structure is pleasant and functional with two huge doors both with mesh and panels. Note also that the main central room is rather high with its 74.8 inches (190 cm) peak height.
Fabric
The floor is a thick polyethylene 120 g/m², and such a material is normally fully waterproof so you can be sure that you have thousands of mm waterproofness here, though they do not give any specific number.
The floor is fully sewn-in and sealed, just to know because there is some confusion about this. In the previous version, it was not so. Even the picture on Amazon shows the wrong version of the tent, and the description on Amazon is misleading in this sense. Pity for the manufacturers, they are losing potential customers.
Note that the inner tents also have their additional floors, so you have double floor structures in the sleeping area. The material of that floor seems to be the same as in the shell floor. The construction is a bathtub, just to know.
The shell tent material is 185T polyester with a 3000 mm waterproof rating. The same but breathable material is used for the inner tent. Note that the tent has translucent solid windows on the roof, this may be useful in the central room when you use it as a living area. But there are no panels to reduce glare.
The poles
There are 4 poles, two long and two shorter. This is fiberglass with shock-corded segments and with a pin and ring system for its attachment to the tent's base, and with sleeves on the upper areas of the tent. The diameter is 11 and 9.5 mm for the long and short poles, respectively. Such long sleeves make the structure strong in the case of winds because the pressure is distributed over the long area.
Awning configuration
So this is a great addition with one of the doors, you have a pair of poles included for such a purpose.
Ventilation
This is a tent without much mesh sections and you have to rely on vents. So it has 4 vents, all of them high, but there are no floor vents in this design. However, the doors are with mesh as one layer and you can keep them that way and have plenty of ventilation as long as the sky is clear. As mentioned above, you can create an awning above the door and it will be protected a bit even when it is raining, but in most cases you will have to zip the panel on the door when it is raining.
The inner doors are also double layers with full-size mesh doors, and the inner tents are with small rear mesh sections that match the vents on the shell tent. There is plenty of space between the inner and outer tents for air circulation, you can realize this from the floor plan picture above; so all in all this should work well.
Other features
There are dual mesh pockets for small items on the walls of the inner tents.
Mesh pockets to store the inner doors are also available.
---
Specifications
Type: extended dome tent.
Declared capacity: 6 people.
Weight: 26 lb (11.8 kg).
Dimensions: 189 x 86.6 in (480 x 220 cm).
Area: 110 ft² (10.2 m²).
Area per person: 18.3 ft² (1.7 m²).
Peak height: 74.8 in (190 cm).
Packed size: 25 x 12 in (64 x 30 cm).
---
H HANNAH Space 6 Person Family Tent vs Competitors
This tent is very unique for a dome tent, and it is hard to find some dome style tent with such a distribution of rooms for a direct comparison. So I have decided to show you how it compares with some tunnel type tents, all are with the declared 6-person capacity but there are differences in the structure and in the size. This might help in better understanding the comfort and features of this tent.
So the Robens Cabin 600 is a tunnel tent with the same capacity and the same number of rooms, but this is a tent with aluminum poles, much more expensive and with more features as well. The Ferrino Proxes tent is much bigger but with three rooms and it has fiberglass poles as well. Please follow the links for more details.
---
Final thoughts
So for a dome tent, this H HANNAH Space 6 Person Family Tent is a very unique design. As of the moment of writing this text, this is the only extended dome tent here in the site with separate inner tents so that the whole structure is a 3-room construction. But as mentioned above, you can also modify this as you wish by removing any of the inner tents.
Pity they missed using some other material for the poles. Although fiberglass is widely used in many tents on the market (just see any of the Vango tents here in the site), it needs a bit of care, and it is heavier and less durable than aluminum. Regardless of this, the tent is really nicely built and it offers full protection from elements and from insects.

If you need something different in this size range, please check in the category 6-person tents. For more dome tents check my list with best dome tents.
Note that this is not a sponsored text and I am not paid by the brand. Please use the comment box below in the case of comments and questions. I wish you a happy camping.