If you want a tent that combines durability, suitability for all seasons and climates, comfort, and ease of use, this list of inflatable canvas tents should be your starting point. Read more here.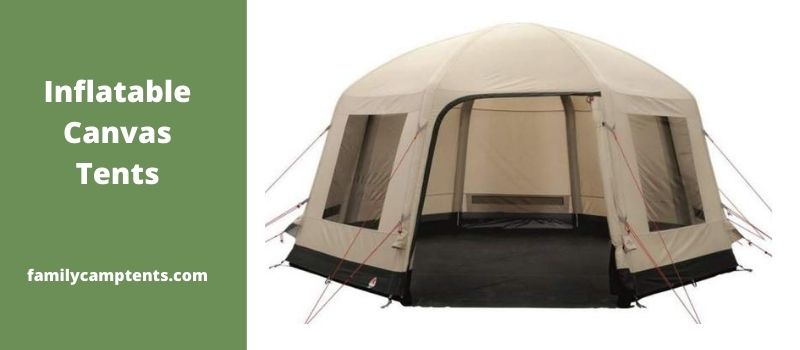 ---
What this is about
Canvas camping tents are becoming more and more popular and for all the good reasons. Although they are very heavy and bulky, and usually very expensive as well, these are true 4-season tents.
Canvas is breathable, and this makes it very different from synthetic tents. So condensation in canvas tents is reduced to a minimum, and if this is not enough, they come with vents as well. Canvas provides a bit of insulation so this is great both for hot and cold weather. Tents with such a material are also more durable with respect to UV radiation.
Canvas tents normally come with heavy and strong steel poles that add considerably to their overall weight. But there are just a few of them currently on the market that have air beams instead of classic poles. This makes them similar to instant tents, one person with a pump can set such a tent in just a few minutes, no matter how big the tent is.
There are many tents with air beams on the market, but as I mentioned above, inflatable canvas tents are quite rare. All of them are presented here.
---
Airbeam canvas camping tents
Here is my list of the tents ordered by the floor area from smaller to larger, but you will realize that all of them are huge:
Regarding the design, you have dome and tunnel tents. The former type is freestanding and the latter is not, but you have to stake them properly in any case. These are top-quality structures, among the best tents on the market in any case. They are described in detail my separate reviews so please follow the links for more.
---
1. Robens Vista 400 Tent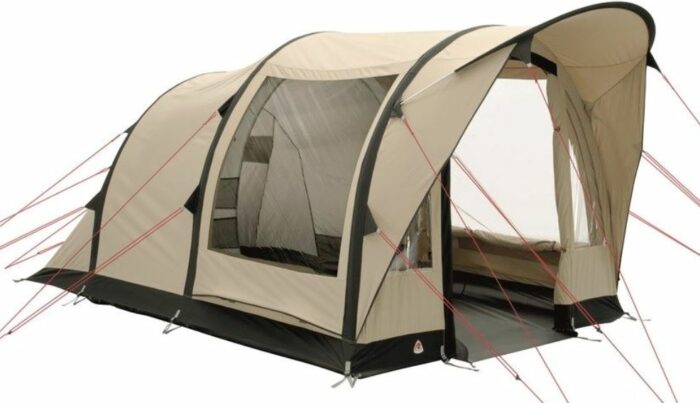 This tent is with the official capacity of 4 people, but you have 97 ft² (9 m²) of the floored area organized into two rooms, plus a minimal porch. The peak height is impressive 76.8 inches (195 cm).
This is a polycotton tent, a blend of 65% polyester and 35% cotton. It is inflatable, you have three air beams, only the porch is supported by an aluminum pole. The waterproof rating for the shell is 3000 mm and for the sewn-in groundsheet 210T Oxford polyester it is 10000 mm. The tent weighs 47.4 lb (21.5 kg).
Please see more in this short video:
---
2. Robens Lookout 500 Tent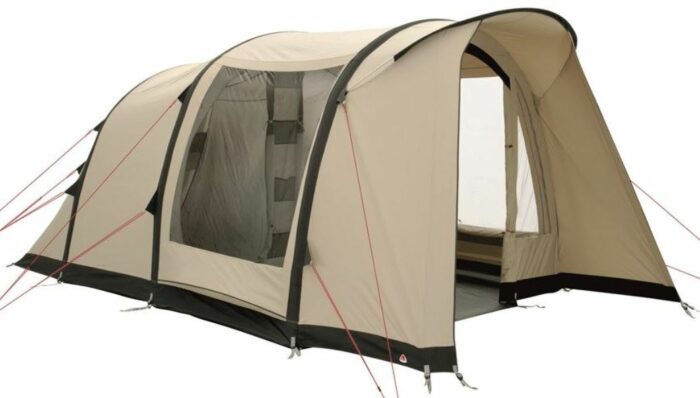 The Lookout 500 is a bit similar to the Vista 400 tent shown above, so it is again a large inflatable polycotton tent, but the inner tent has two sleeping rooms, so the total number is 3. As you realize from the picture, the porch offers far more protection here.
The short pole that supports the porch is again an aluminum piece, and the rest is supported by the three air beams. The waterproof rating is again 3000 mm for the shell and 10000 mm for the floor. The tent weighs 55.5 lb (25.2 kg) and the floored area is around 115 ft² (10.7 m²).
Please see more in this video:
---
3. Robens Birdseye 500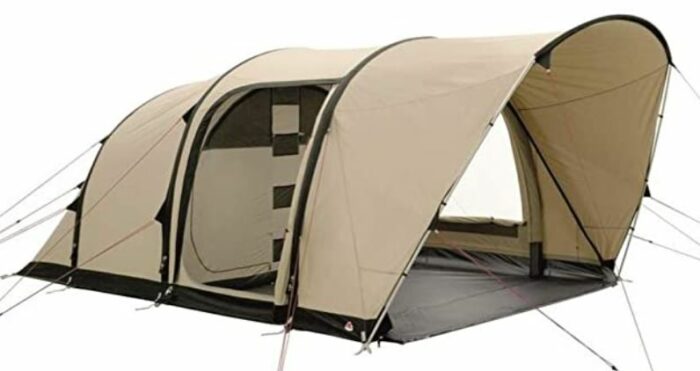 This Birdseye 500 is again a 5-person tent, but the area is different as compared to the previous 5-person tent from this brand. So you have around 134 ft² (12.5 m²).
The area is divided into the inner tents with two sleeping rooms that have a place for 2 and 3 people, and a large living room in front of it. The beautiful porch protects the door.
The same materials are used as in their other tents presented above, so you have full protection from elements from any side. This is again a ripstop 65% polyester & 35% cotton combination. You have three inflatable air beams. The tent weighs 58.4 lb (26.5 kg).
Please see this nice video for more:
---
4. Robens Woodview 600 Tent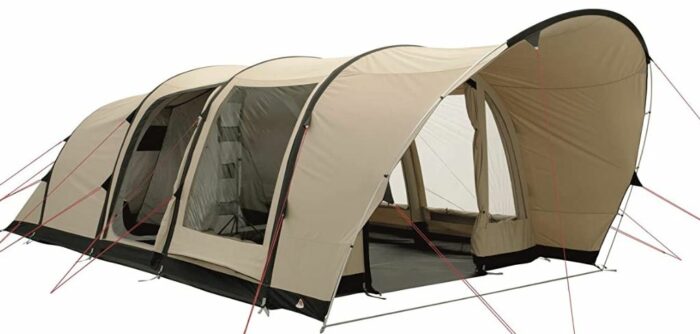 This beautifully designed tent is with the declared capacity of 6 people only, but this is a huge structure with 177 ft² (16.48 m²) plus a huge porch area. The floored area is organized into three rooms, two are a sleeping area and one is a large living room. Note that the inner sleeping rooms are a tent within the tent.
The tent is very tall, with a peak height of 82.7 inches (210 cm). It is here because of its air beams of course, you have them 4 in total. The only classic pole is the one visible in the picture above that supports the porch.
Please see more about this great tent in this video:
---
5. Robens Aero Yurt 8 Man Airventure Air Tent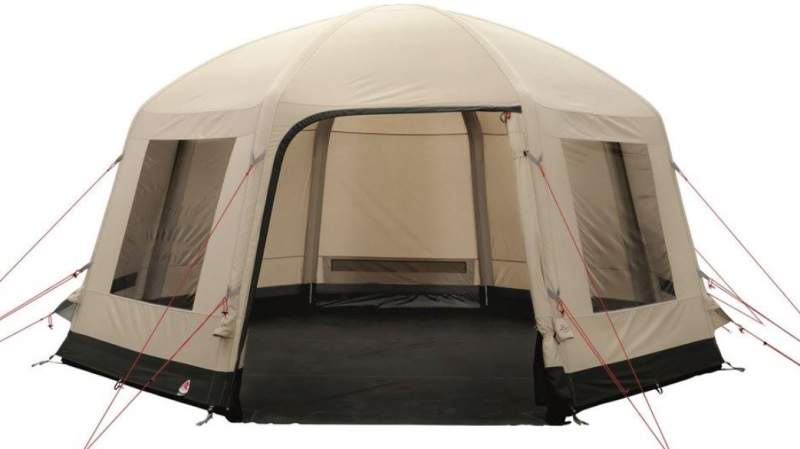 Here you have one of the most impressive tents on the market, and its structure is completely unique. This is a very tall poly-cotton breathable 4-season structure, a blend of polyester and cotton. The fabric is 35% cotton and 65% polyester and this is a ripstop material. It is with 8 air beams and freestanding. All the beams can be inflated through one single valve.
The tent is incredibly tall, the peak height is 106.3 inches (270 cm) so this is why I have included it in my list of very tall tents. The area is 181 ft² (16.8 m²) and this is more than enough for the declared 8-person capacity.
The floor is 210T Oxford polyester with an impressive 10000 mm waterproof rating and this is a bathtub design. Please follow the link to read more.

---
6. Wildcat Outdoor Gear Premium Family Camping Tent Bobcat 500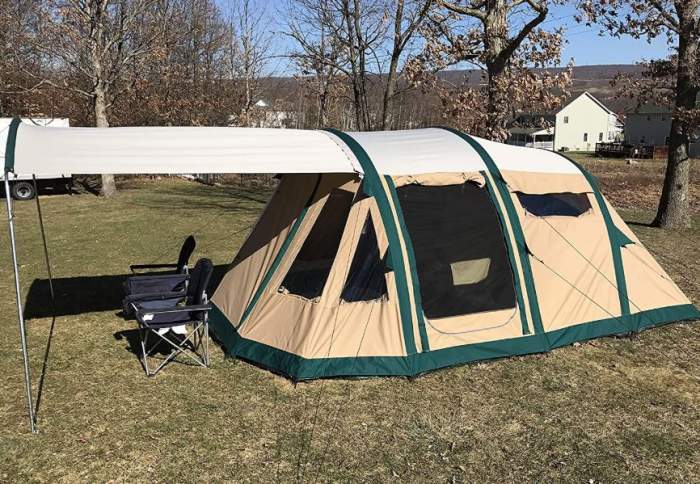 This Wildcat Outdoor Gear Premium Family Camping Tent Bobcat 500 is again one of the best tents on the market. It is here because of its fabric which is a very durable poly-cotton ripstop canvas, and because of its inflatable beams instead of poles. I have included it also to my list of air beam tents. Note also that it has incredible internal organization that includes 4 separate rooms.
The tent has two doors and seven solid tinted windows, plus 2 mesh windows. There are 3 huge vents so the tent is nicely ventilated, and you have a breathable fabric as well. Because of all these features, I have included it also to the list of cold weather camping tents.
One extra feature shown above is its huge and removable awning, so in very windy conditions you can have the tent in its more compact form. The total area is 202 ft² (18.8 m²), so it deserves to be included in my list of extra large family camping tents.

---
7. Wildcat Outdoor Gear Lynx 640 Air Inflatable Camping Tent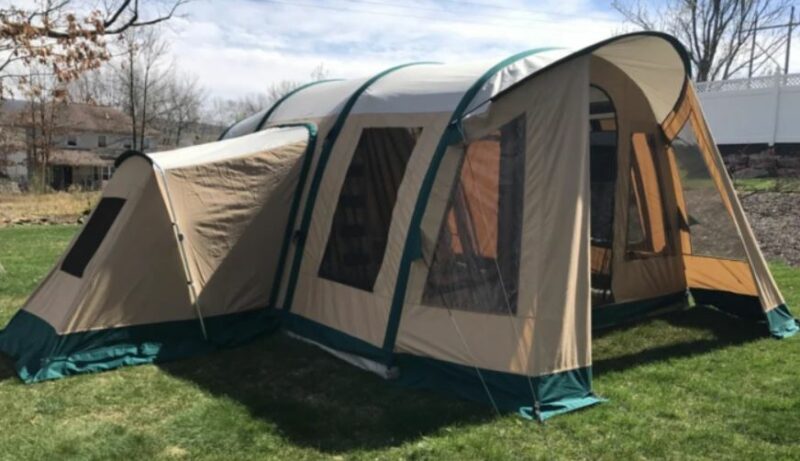 This is a canvas tent built from a top-quality blend of cotton and polyester, a rip-stop material, and this is also a tent with air beams instead of classical poles.
Similar to its cousin shown above, it has 4 rooms, and those include a large living room, plus two sleeping rooms, plus a very specific side room visible in the picture above. It also has a partly protected porch.
This tent can easily accommodate 4 to 10 people. But the distribution and the sizes of the rooms are such that in my view it is best suited as a tent for 7 people.
The area is 207 ft² (19.2 m²) so this tent is included also to my list of extra large tents. Note it is heavy with its 108 lb (49 kg), but this is a huge canvas tent and this is normal.

---
8. Berghaus Air 6XL Polycotton Tent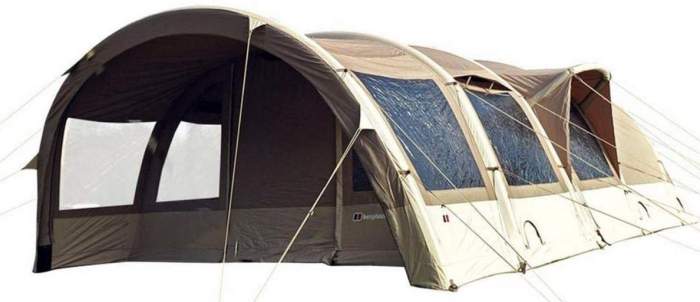 This tent has an incredibly large floored area of 244 ft² (22.7 m²) supported by 5 air beams. The fabric is polycotton, strong and durable, and the tent is suitable for year round family camping. So now you know why it is here and why in this position in the list.
In this example you see the good side of air beams, there are no limits regarding the tent size. The peak height is also great, no less than 86.6 inches (220 cm). The official capacity is 6 people, but it can easily accommodate 12.
The tent offers 4 rooms organized into 3 bedrooms within its inner tent, and one large living room under the shell. There is also a large front porch. The weight is 108.5 lb (49.2 kg).

---
Final thoughts
So this was my list of inflatable canvas tents or air beam canvas tents, you have both terms used on the Internet. As you realize, there are no many tents of this type globally present on the market. But I know that there are some really good local brands that do not sell globally yet.
I shall be adding tents here whenever I find something that can be ordered globally. So bookmark this post and stay informed.
Check also my longer separate text with inflatable tents that includes synthetic tents as well, these are lighter than canvas tents.
Thank you for reading. Please use the comment box below in the case of questions or comments. Subscribe to my weekly newsletter, there is a subscription form below. Have a nice day.