Robens Aero Yurt 8 Man Airventure Air Tent is a very tall poly-cotton breathable 4-season structure with 8 air beams instead of poles, freestanding, and yes, very expensive.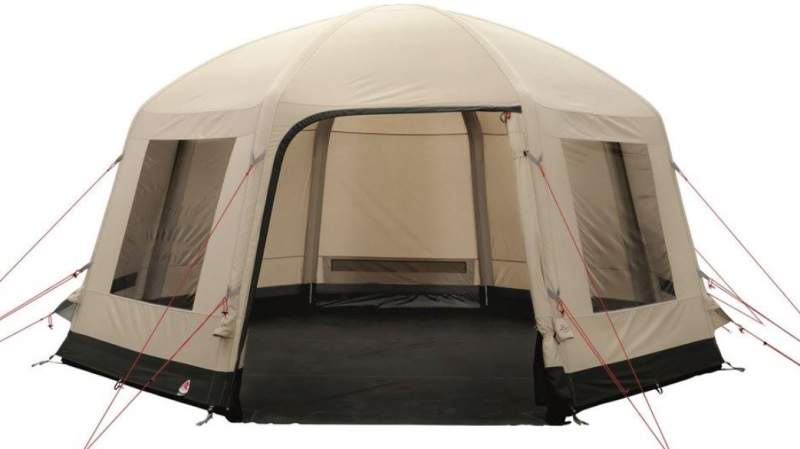 ---
Key features
Air beams, no poles.
Ripstop Poly-Cotton tent.
Single valve design.
Exceptionally tall.
Tent for all seasons.
Breathable fabric yet fully waterproof.
---
So what type of tent is this Robens Aero Yurt 8 Tent
Here you have a quality product, a freestanding tent with air beams instead of classic poles. This is an octagonal structure with 8 thick air beams that all converge to the top point. I have included it in my list of best inflatable tents and from the features presented below you will realize that it deserves to be there.
An interesting detail in this design is that you can inflate it through a single valve for all the beams. This means that one person can easily set this tent up easily. The picture below shows the beams in the top section: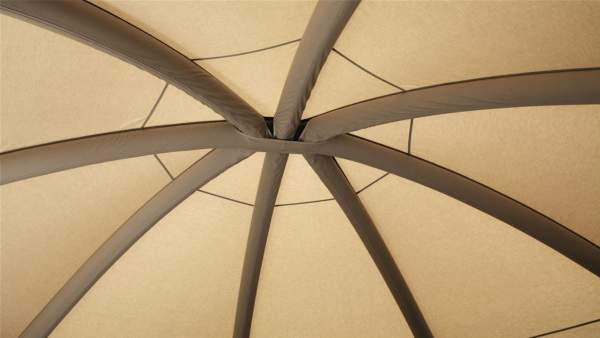 As it appears, the version they sell on the US market is with 4 valves and I am not completely sure today if they sell the tent with a single valve. But the tent with 4 valves can be inflated through one valve only and you will see this in the video below.
The tent is also particularly tall, with 106.3 inches (270 cm) height in the middle and 73 inches (185 cm) close to the side walls, see the picture. So this is a stand-up design in practically all the area. This is why I have added it to my list of very tall tents for family camping.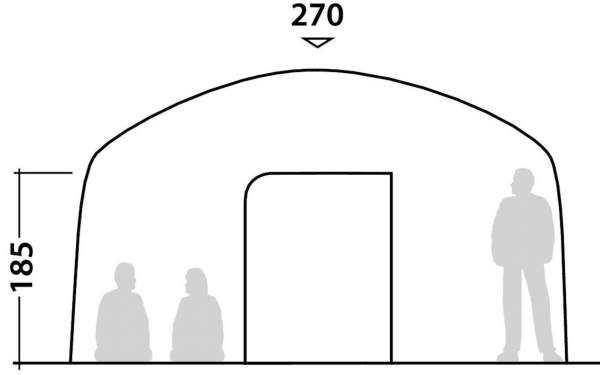 The tent is with one door only, and you can see its size in the picture. So it is almost as big as a door in a house. Regarding the shape of the tent, they call it a yurt as you realize from the title and this is because of its general shape. But this is a modern tent with all the features you need for full protection from elements and from insects. So the floor is there and it is fully sewn-in, and the door is with a mesh and with a panel.
I would put this tent in the category of cabin-style tents, and this is because of its steep and straightened walls. Note that the tent is without dividers, so this is one-room construction, pity they did not add something for privacy. See how it looks with several beds inside: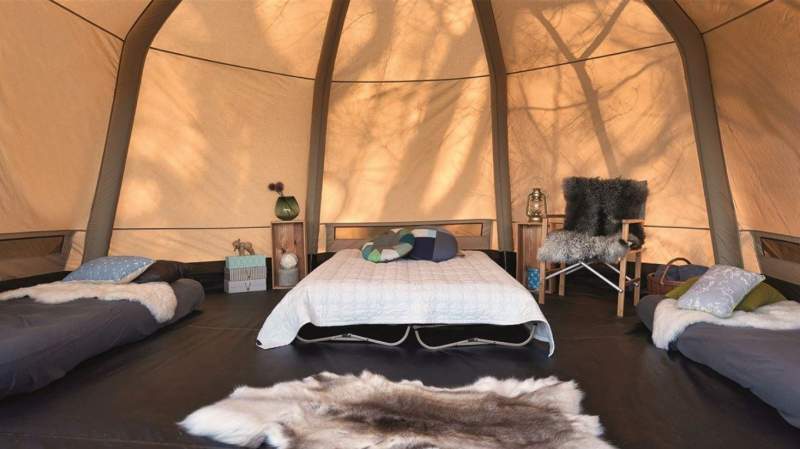 ---
Who is it for
Capacity: The declared capacity is 8 people and the picture below shows how they think you can use the space for sleeping on the ground. Now, the area is 181 ft² (16.8 m²) and this would give 22.6 ft² (2.1 m²) per person.
So this is indeed a generous space for 8 people. This can work well regardless of where you use this tent. But this is also a glamping tent and you can use it for a smaller number of users.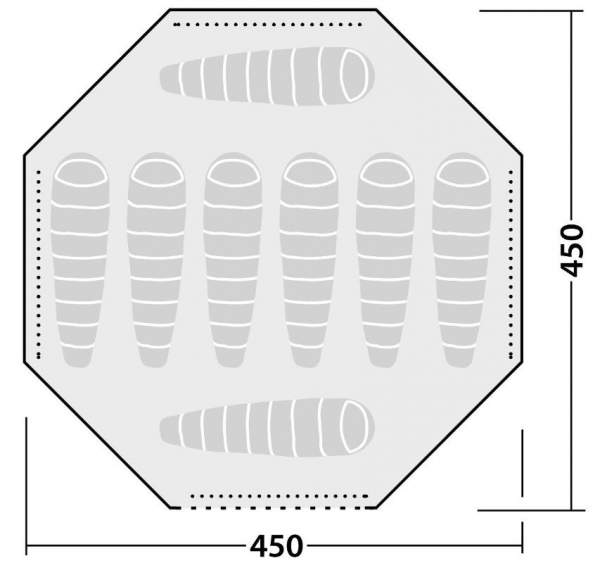 Weight-wise, be ready for this – the tent weighs no less than 69.2 lb (31.4 kg). So this is a lot but bear in mind that this is a poly-cotton tent. You will see in the comparison table below how it compares with some other tents with the same or similar fabric. So it could be described as lightweight for such a type.
Climate-wise & seasons-wise, tents with the material which you have here are the closest to what is normally described as a 4-season tent. I have discussed this issue in my separate text. So this structure creates a cool atmosphere in the case of summer warm weather camping, it is breathable and well-ventilated.
But it is also completely enclosed with solid windows, and with all the openings that can be closed. Polycotton fabric always gives a bit more insulation than a synthetic material, so this is one of the features that make it a 4-season tent.
But bear in mind that air beams are not the best option in the case of snow accumulated on the tent, it can collapse under the pressure. For real winter use, it is better to choose one of the winter tents presented in my separate text. I have included this tent in my list with cold weather tents for camping.
Wind testing: They claim it is tested for winds up to 95 km/h and you are safe in the tent in such circumstances. Note also that with such air beams, there can be no broken or damaged poles. The tent may collapse or deform under the wind pressure, but it will bounce back to its original shape when the wind pressure drops.
The packed size (L x D) 42.5 x 18.1 inches (108 x 46 cm) is such that this is clearly a tent for camping at places with a car access.
---
Materials
The door & windows
There are 2 solid windows here with what appears to be a PVC material plus a zippered panel for privacy. The single door is a full mesh structure plus a zippered panel.
The fabric
So the best part here is its wall and roof, this is a blend of 35% cotton and 65% polyester. Note that this is a ripstop material. This is what they call the HydroTex Polycotton, a breathable yet waterproof material. It creates a stable internal micro-climate and it allows water vapor to escape. The material has some UV-inhibitors added and it is with a DWR finish.
The mix with polyester reduces the weight because cotton alone is much heavier, this is why it is lighter than pure cotton tents, you will see some in the comparison table below. Polyester also ads strength and durability.
On the other hand, cotton threads swell when they get wet, and they expand in the process. This is what makes such tents waterproof even without any coating; the coating itself adds weight as well, and it has a limited time.
The floor is also a quality and durable 210T Oxford polyester with an impressive 10000 mm waterproof rating. You will love to know that this is a bathtub design. This is all very impressive.
So this is a single layer construction as you would expect from such a tent. With breathable materials, condensation should be reduced to a minimum, nothing better you can expect from a tent, but condensation can still occur even in such a tent. I have included this tent also in my list of best canvas camping tents.
Ventilation
This is a breathable material and you have three openings with mesh. But the tent is equipped also with 3 very long floor vents. So there is almost nothing one could object here. I said almost, so indeed they did not add roof vents. My guess is this is because it is so tall and it would be difficult to get to them when the tent is up, to close when/if needed. But you really do not need them with such a breathable material.
Pumping the air beams
To raise the tent, put the nozzle of the pump (included in the package) into the valve and twist it to lock it.
Pump until 9 psi (0.6 bar) pressure is reached.
Take off the hose and close the valve cover.
Note that changes in the temperature may affect the air pressure in the tube, so you might want to check the pressure occasionally. I mentioned that the structure is freestanding but it is suggested that you first stake the tent properly and then pump the beams.
Here is a bit more in this short video:
In this video you will see the tent's beams inflated through one single valve. The pump used here is electric, just to know that the pump included in the package is manual.
---
Good and less good features
Pros
Great size.
Very pleasant & livable tent.
Solid windows.
Great floor rating.
Top-quality materials.
Cons
Heavy.
No storage pouches.
Very expensive.
---
Specifications
Type: inflatable camping tent.
Declared capacity: 8 people.
Weight: 69.2 lb (31.4 kg).
Dimensions: 177.2 x 177.2 in (450 x 450 cm).
Area: 181 ft² (16.8 m²).
Area per person: 22.6 ft² (2.1 m²).
Peak height: 106.3 in (270 cm).
Packed size: 42.5 x 18.1 in (108 x 46 cm).
---
Robens Aero Yurt 8 Man Airventure Tent vs Competitors
Actually, this tent is very unique so it is difficult to find true competitors. But here in the table, I have decided to show this White Duck Outdoors Avalon Canvas Bell Tent and Teton Sports Sierra 16 Canvas Tent, both canvas tents for 8 people. The style is different and those two are tents with a single metal pole.
The Robens tent is lighter but it is also smaller. The other two tents are taller but this is only in the very center due to their central single pole. But the Robens tent is high throughout the area so you have far more volume in this tent, and it is far more expensive. So follow the links to read more.
42.5 x 18.1 x 18.1
(108 x 46 x 46)

45 x 15 x 13
(114 x 38 x 33)

36 x 16 x 9
(91 x 41 x 23)

---
Final thoughts
The two words that best describe this Robens Aero Yurt 8 Man Airventure Air Tent are – simplicity & quality. Regarding simplicity, I do not remember seeing a tent with so many air beams that are inflated through a single valve. This is an ingenious solution.
Regarding quality, you have seen its features above. Not many tents on the market are with ripstop polycotton fabric. See also its huge waterproof rating. So indeed I am totally impressed with this tent. It is included in my list of best inflatable canvas tents.
You might want to know that there is yet another great canvas tent from this brand presented here in the site, the Robens Klondike tent. For more canvas options please consult our text with best canvas tents.
Note that this is not a sponsored text and I am not paid by the brand. I wonder what you think about this tent, please share your thoughts there is a comment box below.