This Jack Wolfskin Great Divide RT Tent is a 3-room and 3-season structure with aluminum poles and a huge waterproof rating for full protection in all weather conditions.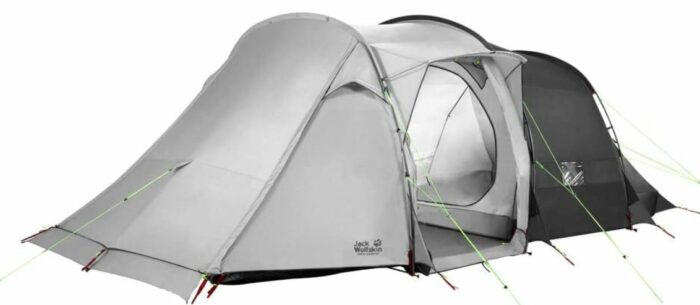 ---
Key features & benefits
Tunnel type tent.
Huge waterproof rating.
5 Vents.
DAC aluminum poles.
3 Doors.
4 Windows.
---
What this is about
This Jack Wolfskin Great Divide RT Tent is an impressive structure. The letters RT in the name mean 'real tunnel', so you realize what you have here, this is a tunnel-shaped structure supported with 3 loops. According to their statements, this RT implies a construction for "improved wind stability, optimal use of internal space, and easy pitching with fewer guylines."
The tent is not freestanding so it must be staked before you add poles. It is best to stake its rear side and then add the poles into the sleeves and expand the tent like an accordion.
Note that the poles are added from outside so this means you have a dry setup, and the meaning is that you can pitch it even when it is raining, yet the inner will remain protected and dry.
If you are curious about the words Great Divide, this means that there is a central living room and two inner tents with sleeping rooms on the sides. This you can realize from the picture below that shows the floor plan and the most important dimensions.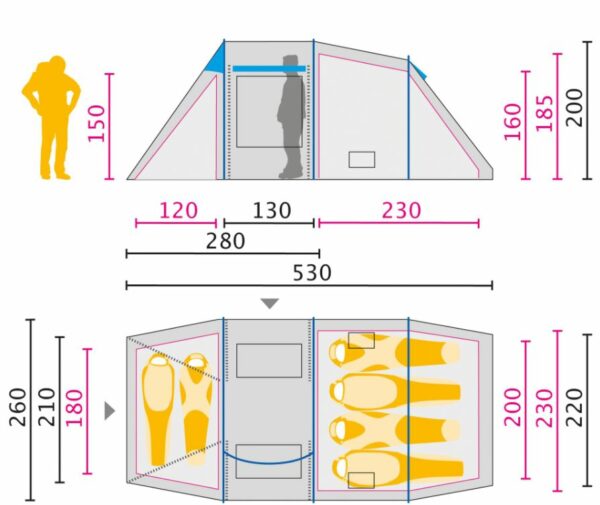 So this is a 3-room structure, but this is just the maximum number that you can have. You can remove one of the inner tents or both, so you can have a single room or 2-room structure as well. Obviously, I have plenty of reasons to include this tent in my list of best 3-room tents.
The doors & windows
There are 3 doors on the shell tent. The two on the sides are with mesh and panels, and one of them is with an extra brow pole that creates an awning for a dry entry point. The door on the front is with dual zippers on the side. This door you will use only if the smaller inner tent is removed. In this case you can either roll up the door flap, or create an awning with a pair of extra poles (not included).
The side doors have windows on them, and there are two small windows also on the back section, and those are matched with zippered panels on the larger inner tent.
Ventilation
The tent is fully enclosed but they have added 5 vents, so ventilation should never be an issue. Note also that the shell floor is not sewn-in, it is a linked-in type, so there is extra airflow under the shell from the ground.
The inner tents are suspended from the shell and there is a wide gap between the shell and the inner tents' fabric, so air can circulate in all directions to fight condensation.
---
Materials
This tent is built in the same style and with the same materials used in its bigger cousin Jack Wolfskin Travel Lodge FR Tent 5-7 Person. These are among the best materials as you will realize.
The poles
The three main poles are 7001 T6 aluminum, with variable diameters 13.2 – 14.5 mm for improved stability as they claim, and this is from the best-known brand, the DAC Real Tunnel Technology. They attach to the tent's base through the usual grommets. The short brim pole is fiberglass.
The fabric
All about the fabric is also impressive, and this is PFC-free material. You have a 75D polyester shell, lightweight, robust, fast-drying, and UV resistant. Its PU coating gives it a 4000 mm waterproof rating. The inner tents are built from a 68D breathable polyester that is soft and fast-drying.
The inner tent's floors are also polyester but 210D, so this is durable and its waterproof rating is 10000 mm. The shell floor is a bath-tub style polyethylene.
Other features
Comfortable standing height.
22 Pegs and 8 guylines in the package.
6 Mesh pockets to stash coiled guylines.
14 Inner pocket.
Loops for washing lines/lamps.
Reflectors on main guying points and zips.
---
Who is it for
Regarding capacity, they describe it as a tent for 4-6 people and this is very realistic. I have mentioned its multiple rooms options and this will determine the capacity.
They do not provide exact numbers for the area, but my estimate is that the tent offers around 118 ft² (11 m²) of the floor area. So in the living area you have around 3.38 m² and in the two tents around 5.1 m² and 2.28 m². In the case of 6 people, this would give 19.66 ft² (1.83 m²) per person.
Note that the smaller inner tent is a bit short on one side. But all in all, this is a lot of space, and I have included it in my list of best 6 person family camping tents.
Regarding seasons & climate, this is a true 3-season tent and perhaps even more than that. All the openings can be closed to save the warmth, and this is why I have included it in my list of best cold weather tents for camping.
On the other hand, the shell floor is not sewn in so crawling insects can get in the living area. The inner tents have their own sealed floors for full protection against insects and against elements.
Regarding the weight & packed size, this is not where the tent shines. It is both heavy and bulky when packed. It weighs 28.2 lb (12.8 kg) and the packed size is 27.5 x 17.7 x 7.9 inches (70 x 45 x 20 cm), so you need a car for such a tent.
Please see more in this video:
---
Specifications
Official capacity: 6 people.
Weight: 28.2 lb (12.8 kg).
Dimensions: 17.4 x 8.5 ft (530 x 260 cm).
Area: around 118 ft² (11 m²).
Area per person: 19.66 ft² (1.83 m²).
Peak height: 78.74 in (200 cm).
Packing size: 27.5 x 17.7 x 7.9 in (70 x 45 x 20 cm).
Poles: DAC aluminum.
---
Final thoughts, rating, pros & cons
In the summary of this Jack Wolfskin Great Divide RT Tent review, I wish to stress again the quality of the materials used in the construction of this tent. This is among the best you will find in this industry.
If you want to stay organized in the camp, this tent will provide many options, you will hardly find a tent with more storage elements and pouches. This all comes at a price, but if you can afford it, fully recommended.
Below you see how I rate this tent against my standard set of criteria so you can easily compare with other tents of this type here in the site. In spite of its packed size and weight, the overall rating is still Excellent.
Note that they have yet another a bit smaller tent under the name Jack Wolfskin Grand Illusion IV with the same top-quality materials and built as a true two-wall tent.
If you need more options just look around, this site is all about family camping tents and you will find them in all shapes, sizes, and materials. Bookmark this site and visit again, this will keep you informed, new texts are added here on a regular basis. Thank you for reading and have a nice day.