---
Jack Wolfskin Travel Lodge FR tent for 5-7 people is a luxury camping option for families and groups, with 4 rooms, 3 doors with mesh, strong aluminum poles, solid PVC windows, and a huge waterproof rating. So keep reading to see all the details.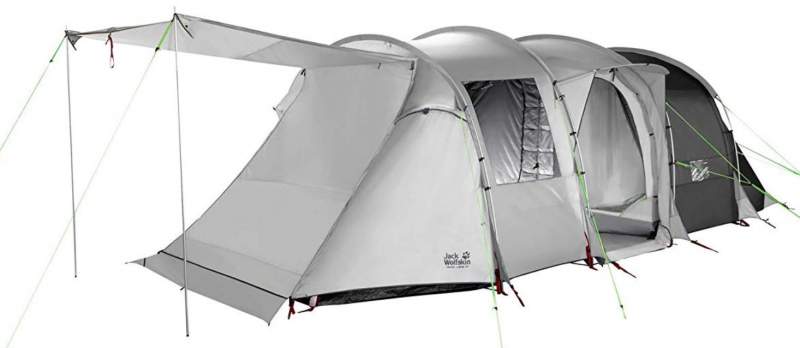 ---
Key features
Tunnel tent.
3 Doors with mesh and 2 PVC windows.
2 Separate large PVC windows.
2 Separate small PVC windows.
DAC aluminum poles.
4 Rooms.
Huge waterproof rating.
Awning configuration.
24 Storage pockets.
Tent for 3-4 seasons.
---
What type of tent is this Travel Lodge Tent
This Travel Lodge is an impressive structure built as a tunnel tent with four loops, so this is not a freestanding tent as typical for such a type (but there are freestanding tunnel tents, see one example).
The tent has been on the EU market for many years but as the RT version (which means 'real tunnel'). It is now on the US market with a different fire-retardant fabric, hence the letters FR in the name, but this is still the same RT tent. This is what I have learned from the manufacturer after asking about the letters FR in the name.
This is a versatile configuration with multiple rooms and this implies the following:
There is an inner tent with a removable divider and this is one of the sleeping areas.
There is yet another smaller inner tent on the other side of the tent, see the floor plan below.
There is a central living room.
These inner tents can be detached either completely or partly, so you have various combinations depending on the number of users and the amount of gear and camping furniture you have. The maximum number of rooms is thus 4 in total and you can see them in the floor plan below, so I have included it in my list if best 4-room tents. But as I said you can have any number in the range 1 – 4 rooms.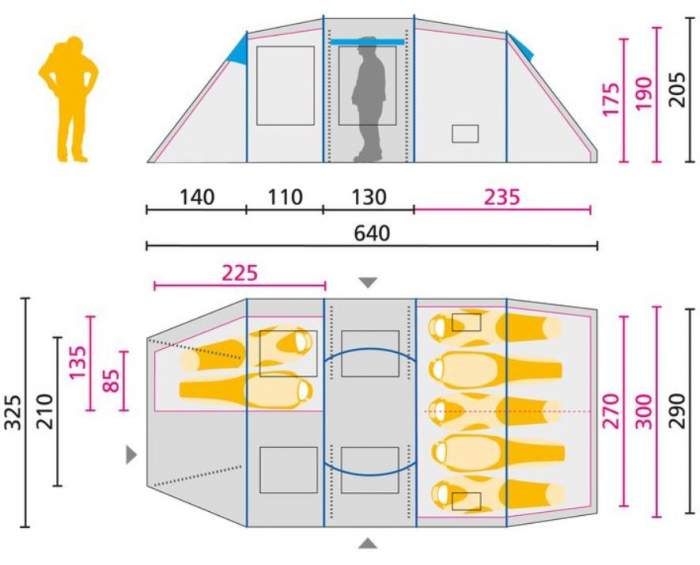 This is also a tall tent with the peak inner height 74.8 in (190 cm) in the central living area. From the description above you realize also that this is a hybrid double-single layer tent. This means that the sleeping areas are double-layer structures while the living room is a single layer area.
---
Who is it for
Space-wise, the declared capacity is 5 – 7 people. The meaning of this is the following.
If you remove the divider in the big sleeping section, you have a place for 5 people, this is indicated in the picture above. If you keep the divider in this inner tent, you have two separate sections as 2-person tents.
But there is yet another inner tent which you see in the picture on the left side. So here you have a place for one adult and one child.
This would give either 5 or 6 or 7 users.
But note that the living area is almost fully protected (the floor in this part is not sewn in), so another 3 people can sleep there if necessary. All in all, this tent can indeed accommodate more people than what they declare.
So let's see the available area. They do not provide the exact number but from it seems that the total area is around 183 ft² (17 m²). No doubt this is more than enough space for the suggested capacity. I have added this tent to my list of best camping tents for 7 people.
Seasons-wise & climate-wise, I would say this tent is good enough for all seasons. There are several large mesh sections on the doors, plus numerous vents so this all will work fine in a warmer climate.
In the case of a cooler environment, the windows are with solid material and the vents and doors can be closed. The poles are quality aluminum and they are very thick (more below), there are plenty of stakes and guy-out lines. So this tent can withstand a lot of pressure from any side. I have included it in my list of best cold weather tents for camping but obviously, it is much more than that. But bear in mind that the shell tent's floor is not sewn-in.
Weight-wise, this is a camping tent or a basecamp tent, so it is heavy with its 44.5 lb (20.2 kg). But see all its features and you will realize this is justified. This is not something to carry anywhere so the weight is not important.
The packed size is 31.5 x 19.7 x 9.8 inches (80 x 50 x 25 cm), so again this is expected from a tent of such a size and with so many features.

---
Materials & construction
You have already seen a lot about its structure, but here are a few more details.
The doors & windows
There are 3 large doors entry here, and all of them are with mesh and with waterproof panels. The side doors come with small brims and you have two extra poles to support this structure. Note that these side doors are with PVC sections so you have views around. The front door is double zippered so you can raise it and create am awning with two included poles.
The windows are with PVC panels, so those are solid constructions for full protection. But they all have zippered panels as well. There are two inner smaller panel windows with zippers on the inner tents and they are matched with the corresponding small PVC windows on the shell tent, so you can always have a view outside and check the weather conditions.
The poles & stakes
The poles are as impressive as everything else here. This is DAC DA 17 aluminum with 16 mm diameter. DAC is the leading manufacturer in the world for tent poles, a Japanese brand. This type they introduced in 1996 and they had a major impact on the market. Those are the first poles engineered for large modern tents and for family camping tents.
There are also 32 pegs and 12 guylines included in the package.
The fabric
Here is what you have in this tent.
The shell is a 75D polyester, lightweight but robust, and UV resistant. The PU coating gives it 4000 mm waterproof rating. I do not think you will ever need more.
The shell tent's floor is detachable or linked-in type. It is with toggles and you attach it to the shell tent from inside. This is a 210D hydro-film polyester, so this is a very durable and waterproof material with 10000 mm rating. Yet another great detail is at the entrance where the floor can be partly unzipped you have a flat entry, see the picture. This is good to avoid tripping and also in the case of users with wheelchairs.

The flat floor feature at the door.

The inner tents are built from a breathable 68D polyester. They attach to the shell tent through the series of toggles, see the picture below. You can keep them permanently attached when you pack the tent.

Observe that the inner tents have their own floors as well, and they are sewn-in of course, this is visible in one of the pictures above. This is 100% polyethylene, a very robust and fully waterproof material. Note that this is a bathtub design so the seams are above the ground, but this is not so essential because you have the mentioned removable floor underneath it. So this is double protection from the ground in the sleeping sections.
Other features
There are 24 pockets inside, a huge organizer area is on the inner tent between the two inner doors. Some of these pockets can be repositioned in different places within the tent.
There are 8 outer pockets to stash Coiled guy lines.
The tent is with loops for a washing line and lamp.
Reflectors on main guying points and zips.
6 Vents.
Here is a video where you can see more, please have a look:
---
Specifications
Type: tunnel tent.
Declared capacity: 5 – 7 people.
Weight: 44.5 lb (20.2 kg).
Dimensions: 252 x 128 in (640 x 325 cm).
Area: around 183 ft² (17 m²).
Inner peak height: 74.8 in (190 cm).
Packed size: 31.5 x 19.7 x 9.8 in (80 x 50 x 25 cm).
Doors: 3.
Window: 6.
Poles: DAC DA 17 aluminum 16 mm diameter.
---
Jack Wolfskin Travel Lodge FR Tent vs Competitors
I have decided to show you this tent side by side with two other tents built in the same style, both with PVC windows tunnel tents with multiple rooms. Both of them are great tents and I show them on purpose, the Travel Lodge FR Tent is in between them regarding the size and weight, and its average capacity could also be understood as 6 people.
The Vango IRIS 600 XL Tent is much larger with its 6-person capacity and it is taller. But it has fiberglass poles and this is why it is not a match for this Jack Wolfskin tent. The Coleman Galileo is officially a 5-person tent, but see its size. It is also far more affordable but the poles are fiberglass.
So the prices are very different and the features are great in all three of them, plenty of reasons to check them carefully. Note that the other two tents have the floor sewn-in and this is not so in the Jack Wolfskin tent. So please follow the link to see more in my full reviews.
Jack Wolfskin
Travel Lodge 5-7
---
Final thoughts, rating, pros & cons
In the summary of this Jack Wolfskin Travel Lodge FR Tent review, I can only stress that I am impressed with features, quality, and craftsmanship if this tent. There are no cheap elements here, all you have is top quality. In view of this, I have included it in my list of best tunnel tents for camping. I can fully recommend it.
But this is a high-end product and this is why I have offered some alternatives if you are on a budget. Note also that the main shell tent's floor is not sewn-in. This can have advantages when you use camping furniture inside the living area, so you do not have to be worried about damaging the floor, you can roll it to a side or remove completely.
Yet, the tent would give far better protection with a fully sealed floor, this mainly against cold drafts and against crawling creatures. This is my only true objection here. But as I said earlier, the inner tents are indeed with sewn-in floors.
If you are on a budget this is a steep price, but this is a well-built tent. Please see how I rate it for a number of parameters used for all the other tents here in the site:
Jack Wolfskin Travel Lodge FR Tent
See also a bit smaller cousin of this tent built in the same style, the Jack Wolfskin Great Divide RT Tent. You might want to compare it with this impressive Snow Peak Land Lock 6 Person Tent. If you would want something totally different for 6 people, please check this Marmot Guest House 6-Person Tent which is an extended dome with a huge are.
Note that this is not a sponsored text and I am not paid by the brand. What do you think about this tent? Any experience with it? If so, please share your thoughts, there is a comment box below.