This KAZOO Family Camping Tent is a nicely built freestanding instant cabin tent with a full-coverage fly, a high waterproof rating, and aluminum poles for full protection in a 3-season use.
---
Key features & benefits
Instant tent – 30 seconds setup.
Aluminum poles.
Cabin-style tent.
Awning configuration.
2 Fly windows.
2 Huge doors.
Tall tent.
Very good price.
---
So what this is about
Here you have the larger of the two cabin-style tents in the Saturn series from this brand, which also includes a smaller 4-person tent version. This is a tent with surprisingly many great features. Its instant setup is one of them, so you can indeed set this tent up in 30 seconds as they claim. One person can easily do this.
The instant design means that the tent and the frame are permanently attached to each other so you just spread it and unfold, and then extend its 4 legs poles. There is a nice hub element on the top where the 4 roof poles converge. So I have very good reasons to include it in my list of best instant camping tents.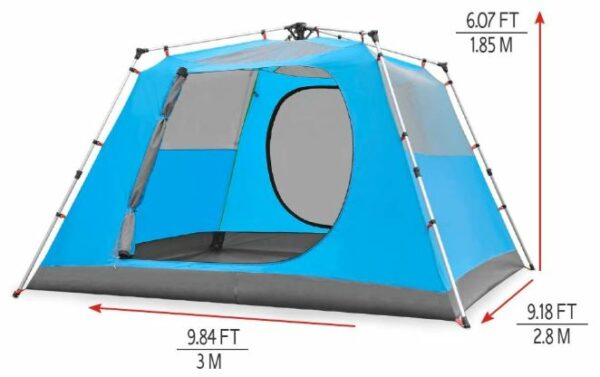 This is also a fully freestanding tent, so you can rotate it and move even after you raise it, and even after you attach the fly. But there are 18 stakes included in the package so never miss fixing it properly to the ground.
The tent is quite tall with its 72.83 inches (185 cm) peak height, so this is almost a stand-up height. With its straight and steep walls (see the picture above) this gives lots of volume inside.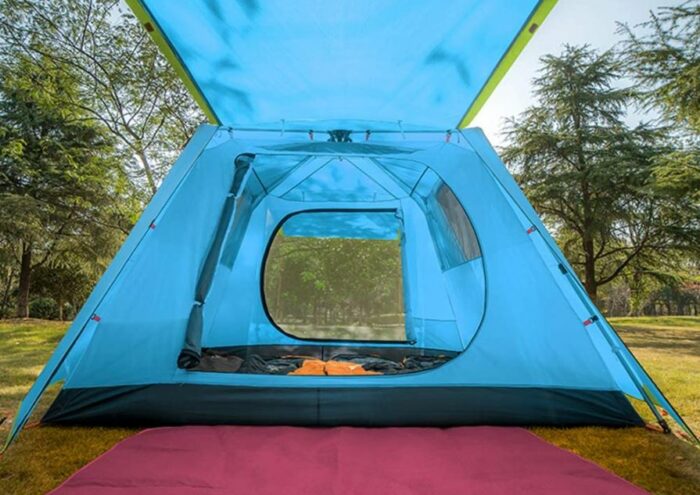 There are two large D-shaped doors on the opposite sides, see the picture above. The fly is full-coverage type, not so frequent to see in cabin type tents, and this is why I have included it also to my list of tents with full coverage fly. If you follow this link you will realize that most of them are dome tents. So this is yet another great and unusual feature here.
Note that the fly attaches to the base of the tent, there are buckles in the four corners. This is why I mentioned above that you can move the tent even with the fly on.
As the top picture above shows, you have two extra poles included in the package so you can create an awning with its fly door that has two parallel zippers. This extends its quite small inner space, and you can sit in the shed and also do some camp cooking under the awning.

---
Materials
The poles
The frame is impressive with its 19 mm diameter 6065 aluminum poles. There are no many tents on the market from this category with such great poles. You would expect some cheaper material in view of its great price. So they have done a great job here with such poles.
The fabric
Here again you have some remarkable stuff. This is all a 210T rip-stop polyester fabric with a waterproof rate of 3000 mm. The same material is used for the floor. All the seams are taped. So as you realize, this is all quality material, there is no cheap plastic here. Note also that the floor is a bathtub type.
Other features
There are several wall pockets above the floor.
Carry bag is included, see the picture below.
10 Guylines are in the package.
18 Stakes are also included, see the picture, and a mullet as well.

Ventilation
This tent has two large mesh doors, and there is also a lot of mesh on the ceiling and on the sides. The fly goes all the way to the ground but there is still enough gap to have air circulation from below. The fly is with two windows of its own, so this all together will work well as long as the sky is clear.
But in the periods with rain, all these openings must be closed, and in this case it would be good to have a fly vent. It is missing here, pity.
---
Who is it for
Space-wise, they describe this Saturn tent as a 6-8 person structure. For this you have the floor area that is very small, only 90.3 ft² (8.4 m²). This is the same space as in this Columbia Mammoth Creek 6 Person Cabin Tent which is a 6-person tent.
So even if it would be possible to put 8 sleeping pads on the floor as they suggest, this would give only 11.29 ft² (1.05 m²) per person. But see the picture, this is what they suggest for using the floor area: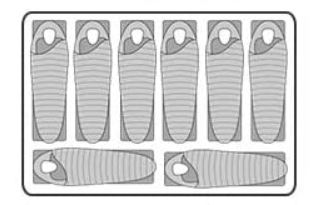 It is not possible to place two pads on its 3-meters length, unless this is about kids. So for 8 people, this could hardly work for any purpose.
Even in the case of 6 users this would give only 15 ft² (1.4 m²) per person. The tent could be used by 6 people if this is about a summer open-air festival or something similar, and I think this is the proper size group of this tent. My rating below is given assuming a 6-person capacity. I have included it in my list of best 6-person tents.
But I see it best suited as a tent for a maximum of 4 people, good enough for parents with 1-2 small kids, and a perfect camping tent for a couple.
Weight-wise, the tent is a bit heavy in view of its aluminum poles. But this is expected because of its instant design that requires more poles, and the poles are also very thick here. The same holds for the fabric which is strong and durable.
The packed size is not so great, it is long when packed but the tube is thin. The dimensions are 48 x 7.8 x 7.8 inches (122 x 20 x 20 cm). Note again, that this is related to its construction. It is very normal for instant tents of this type to remain long when packed. This is because of the telescopic poles that must have some overlapping sections for rigidity.
All in all, as you realize this is a car camping tent, this is why the weight and the packed length are not so important. In fact, in view of its materials, the weight is fully justified.
Climate-wise & seasons-wise, this tent comes with a lot of mesh so this should work well for warm-weather camping, the picture below shows how it looks when you roll up the fly windows.
It is not the best option for a cooler climate, but the fly is a full-coverage type and waterproof rating is very high, so it will protect you well in any weather conditions.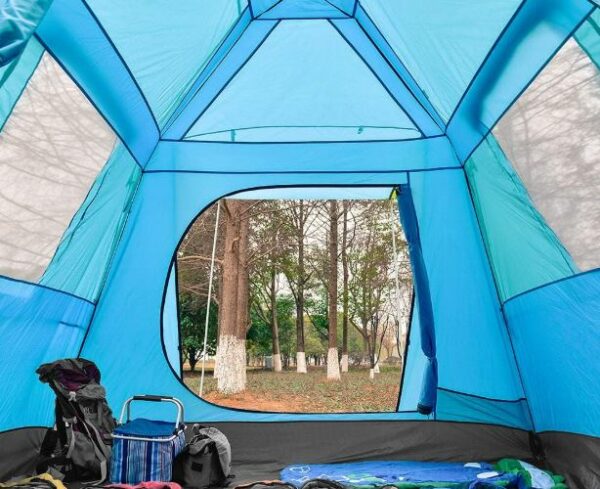 The frame is strong and stable, and although the tent is tall and it looks boxy, it will perform well even in a windy place. You can close all the openings in such situations and prevent drafts. In any case, this is a great 3-season tent.
Here is a short video showing how to set this tent up, have a look:

---
Specifications
Declared capacity: 6-8 people.
Weight: 17.85 lb (8.1 kg).
Dimensions: 9.84 x 9.18 ft (300 x 280 cm).
Area: 90.3 ft² (8.4 m²).
Area per person (in the case of 6 users): 15 ft² (1.4 m²).
Peak height: 72.83 in (185 cm).
Packed size: 48 x 7.8 x 7.8 in (122 x 20 x 20 cm).
Frame: aluminum.
Waterproof rating: 3000 mm.
---
Final thoughts, rating, pros & cons
In the summary of this KAZOO Family Camping Tent review, you have seen all its features, this is a nicely proportioned tent, great materials are used in its construction, and its waterproof rating is impressive.
The inner space is not large but this is compensated with the nice awning. It is best to ignore its declared capacity, just focus on its actual dimensions and features. This is a great price-value combination and a quite unique tent on the market. It is included in my list of 6 person instant tents.
Please see how I rate this tent against my standard set of criteria. I rate it here as a 6-person tent:
If you need more options, check under the category Cabin Tents if you want this style. See also this Pacific Pass Camping Tent 6 Person Instant Cabin that is instant as its name says, but a single-layer tent, you might want to compare them. On the other hand, check in the group Tents for 5-6 people if you want something different but with a similar capacity.
Bookmark this site and visit when you have time, we add texts here on a regular basis. This is all about family camping tents, so stay informed. Have a nice day.