This Kcelarec Camping Titanium Tent Stove is a wood-burning stove with chimney included, ultralight, collapsible, and portable, with two glass windows and a carry bag included.
---
Key features & benefits
Titanium body.
Ultralight.
Ultra-compact.
Carry bag included.
Glass windows.
Side rack.
Wood drying basket.
---
Overview
This Kcelarec Camping Titanium Tent Stove is a collapsible structure that comes with all the elements needed to use it instantly in a camping tent which has necessary features for such a wood-burning stove. The word collapsible means that it packs to a really small size, and also that it needs a simple assembly of its elements shown in the picture below, but this is all easily done and without any extra tool.

So the stove is easy to use and easy to carry around and to transport. It comes with a carry bag and all the elements fit nicely inside: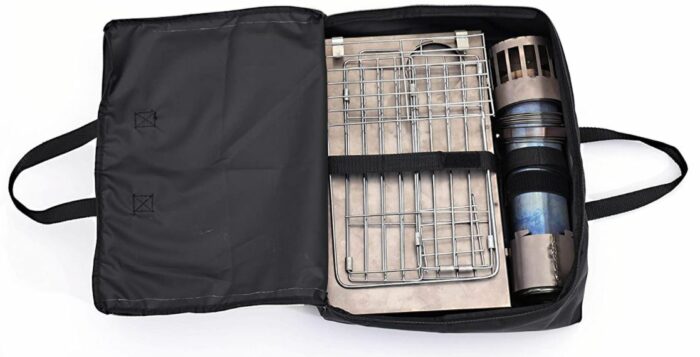 All that you see here is titanium, and this is a metal tougher than stainless steel and more corrosion resistant. This is the reason why they can make it so light, the walls are incredibly thin.
Note that the stove comes with 2 ceramic glass windows on the door and on the side. These are cool features for a great atmosphere in the tent and you can always see the situation in the stove and when it is necessary to add wood inside.
The pipe is 7.85 ft (2.4 m) long and this is one single piece. What you see in the picture above is the pipe rolled in the direction of its length. In other words, you have to unfold it to its full length, and then roll it in the perpendicular direction, and it becomes one single tube. This may not be so easy to do for everybody and needs some care. The rings that you see in the pictures above you shall use to attach on such a formed single tube and this will prevent the tube from unfolding.
When you roll the chimney, you add the spark arrestor that is included. Then use the connector shown in the picture above and attach the pipe to the stove. The detail I dislike is the fact that there is no damper at the base of the chimney. The stove comes with a basket for wood that is visible in the top picture above.
---
Who is it for
Regarding the weight, the stove is indeed ultralight with its 7.8 lb (3.5 kg). This is heavier than the Winnerwell Fastfold Titanium Tent Stove but observe that this Kcelarec stove includes also a side rack plus a wood drying basket. So this justifies the weight and indeed adds to its versatility. You can leave at home the wood basket to reduce the weight.
The picture below shows that the side rack extends your useful working area, you can put hot pots on it, and also keep the already cooked food in the pot close to the fire and at the right temperature.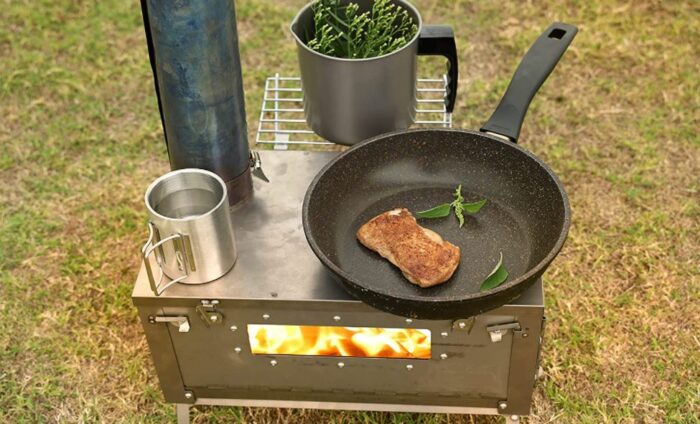 Related to the weight is its packed size which is 19 x 14 x 4.5 inches (48 x 35 x 11 cm) and this is also remarkable. The legs you simply fold so this is all portable and easy to use. You can transport such an item even on a bicycle or attach it to a backpack.
Regarding tent heating and cooking capacity, you see how it looks in the picture above, so the top is limited but you can still use a relatively large pot or pan. There is no info about its BTU rating, so there is no way to know how big volume it can heat. This is for smaller tents in any case.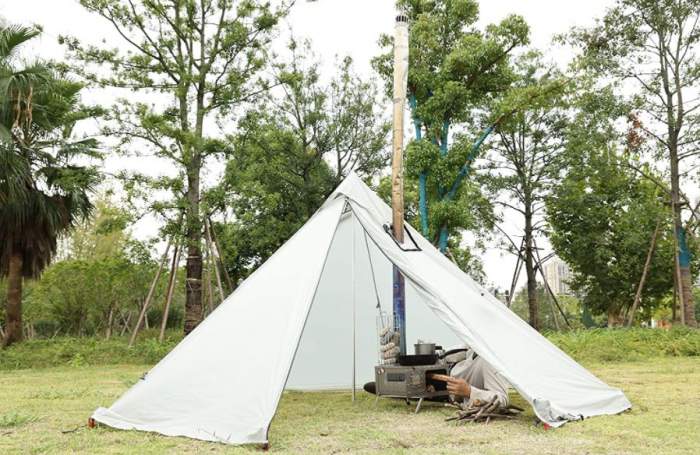 Regarding best use and purpose, this is a great item for hunters and explorers. You can use it anywhere where there is wood around.
Regarding the price, if you look around you will realize that this is quite a normal price for such a type. When you compare it with the Winnerwell Fastfold Titanium Tent Stove it looks like a true bargain.

---
Specifications
Weight: 7.8 lb (3.5 kg).
Dimensions: 15 x 14 x 11 in (38 x 35 x 28 cm).
Folded size: 15 x 9 x 2.5 in (38 x 23 x 6 cm).
Packed size: 19 x 14 x 4.5 in (48 x 35 x 11 cm).
Chimney length: 7.85 ft (2.4 m).
---
Final thoughts, rating, pros & cons
So you have seen it, this Kcelarec Camping Titanium Tent Stove is super light and super packable, and the included elements make it user friendly and versatile. With two glass windows, it creates a really great atmosphere in the tent. The included carry bag keeps it clean from dust and you always have its all elements safe and in one place. Fully recommended. It is included in my list of the best tent stoves for wood burning.
Below you can see that the stove scores great in all rating criteria that are used for all the stoves here in the site for easy comparison.
For more options of this type please check under the category Tent Stoves & Heaters. Check this DANCHEL OUTDOOR Portable Titanium Tent Stove built from the same ultralight material. But if you do not wish a collapsible stove, check this Goture Camping Tent Stove.
Thank you for reading. Let me know if you have questions or comments, there is a comment box below. Subscribe to my weekly newsletter and stay informed.