Goture Camping Tent Stove is a portable stainless steel wood-burning stove with many features that include a glass window, side racks, an integrated damper, and much more. Keep reading,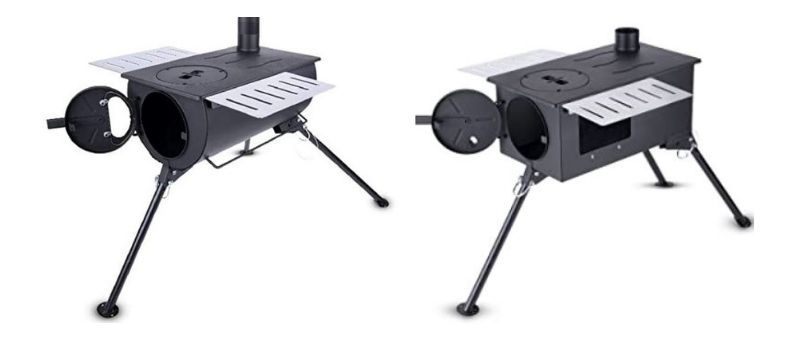 ---
Key features & benefits
Two different stoves.
Stainless steel.
Two racks.
Integrated damper.
Spark arrestor.
Glass window.
Carry bag.
Door vent.
Foldable legs.
Great price.
---
What this is about
Here you have two different wood-burning tent stoves, one cylindric (the model MC-109) and one rectangular (MC-110), both very functional and with very useful features, you have seen them in the top picture above. Below you can see all the elements that are included with the MC-109 stove: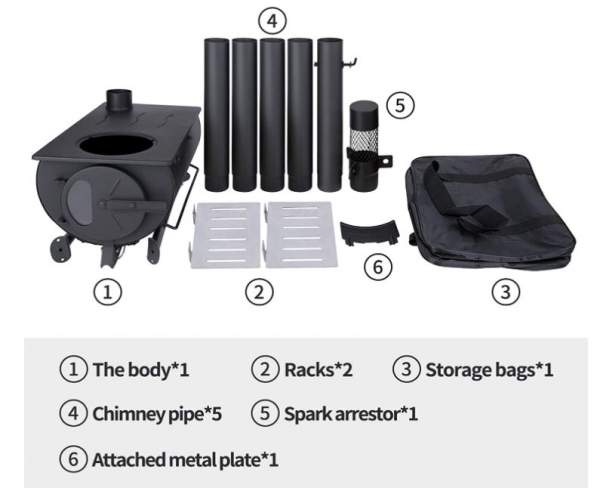 As you realize from the picture, you have everything needed for cooking in the tent. So here is the overview of its features. The pipe has 5 segments and it is equipped with a damper and you also have a spark arrestor shown in the picture below. With the damper, you can regulate the burning speed and this can keep the fire at a low level for many hours during the night when you go sleeping. The spark arrestor may save the tent's roof from sparks that can accidentally be ejected through the pipe.
Note that the pipe length when ready to use is 71 inches (180 cm), and its diameter is 2.36 inches (6 cm). This is slightly narrower than what you have in the Winnerwell Woodlander stove which has more or less the same shape and it is with a similar legs design as well.
The stove itself is around 26 inches (66 cm) tall so the total height is more than 240 cm and you can use it in quite tall tents, see some with integrated pipe jacks in this list. The picture below shows some of the stove's top dimensions.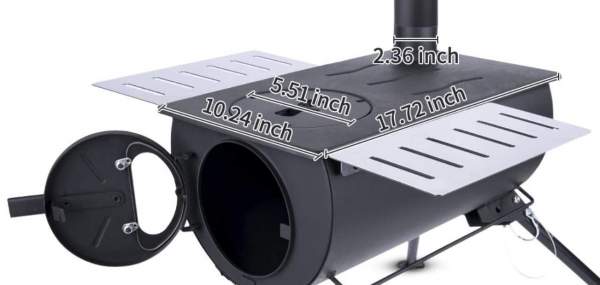 The picture above shows the glass window that is on the door. Observe also its wide side racks that extend the useful working area more than twice. You see below how this looks in practice, this is an excellent and useful feature:
Yet another great detail is this removable tray on the front under the door, this is useful to avoid pieces of burning woods damaging the tent's floor. When you transport the stove you remove it and store it inside the stove.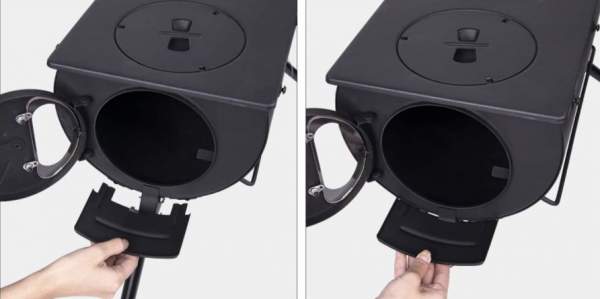 The picture below shows how the pipe and other elements pack inside the stove when you transport it: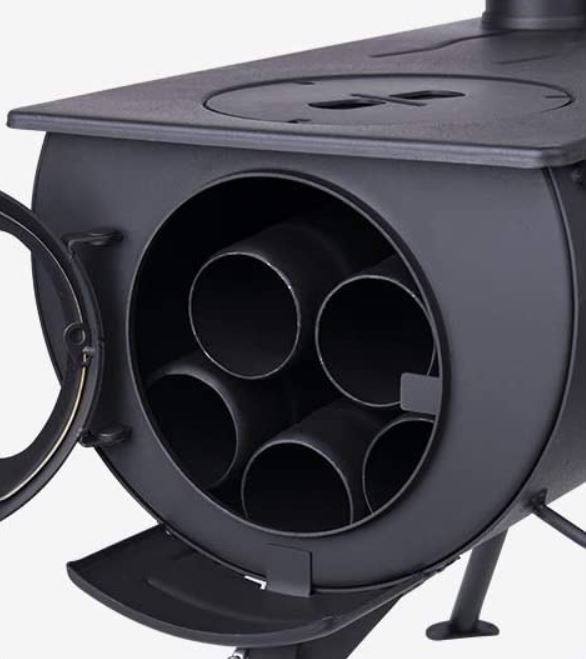 This overview of useful features is not over, see below the side handle to carry the stove short distances. Also shown are some details of its folding legs, as you have seen there are three of them similar to the previously mentioned Winnerwell Woodlander stove. When you prepare the stove for transportation, you simply unplug the pins visible in the picture and then fold the legs, so they remain attached.
There is more, the picture below shows its side wire where you can hang some stuff to dry or just pieces of your camp cutlery.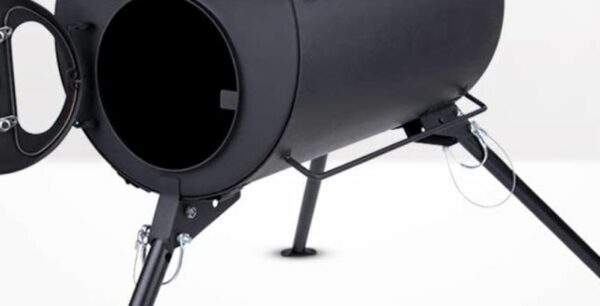 The paint they used in the process is heat-resistant and they claim this holds so up to 1202 ℉ (650 ℃). The previously mentioned door glass can withstand temperatures of up to 2192 ℉ (1200 ℃).
---
Who is it for
Regarding the capacity, they do not provide the BTU value for the stove, I guess this is difficult to determine because of many factors. You can see a bit more in my separate text. But just by comparison, it is similar in many ways to the previously mentioned Winnerwell Woodlander stove so I think it should be good for tents of 72 – 134 ft² (7 – 13 m²).
Regarding the weight, with its 24 lb (10.9 kg), the stove is in the group of moderately light wood burning tent stoves and you can realize this if you compare it with some of its best competitors presented in my separate list. See also this Fltom Camp Tent Stove Wood Burning which is slightly lighter.
Regarding best use, you have already seen its most important features, so this is a very functional and versatile stove for cold weather camping or just for cooking wherever you have wood around. So it is great for hunters, explorers, expeditions, and anywhere outdoor.
Regarding the price, this is a true bargain, a great value for the money.

---
Specifications MC-109 Stove
Weight: 24 lb (10.9 kg).
Pipe diameter: 2.36 in (6 cm).
Pipe length: 71 in (180 cm).
---
Specifications MC-110 Stove
This stove has almost the same features but with two main differences:
The firebox is rectangular.
The door is without the window, but you have a very large window on the side, see the pictures below.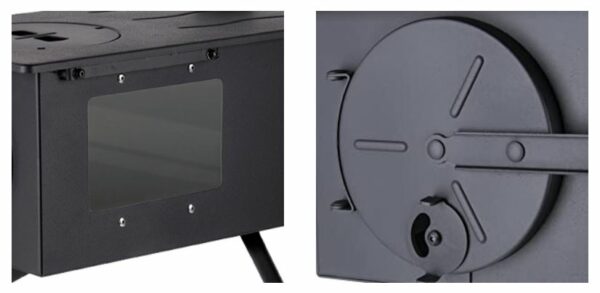 Here are some numbers:
Weight: 24.3 lb (11 kg).
Pipe diameter: 2.36 in (6 cm).
Pipe length: 71 in (180 cm).
---
Final thoughts, rating, pros & cons
In the summary of this Goture Camping Tent Stove review, as you realize you have two stoves here, the MC-109 and MC-110 stove, both versatile and with very useful features. The cooktop is large, but the two side racks extend this working area a lot, so you can keep the already prepared meal there and keep it warm while you are cooking the next dish.
With the glass window, you have a cool atmosphere in the tent and you always see the situation in the stove and know when to add woods. With the damper and the door vent, you can regulate the fire easily. All in all, this is a great product and the price is hard to match. I have included it in my list of best wood burning tent stoves.
Please see how I rate this stove, obviously, it scores excellent in all criteria.
For more options check under the category Tent Stoves & Heaters. Note that this YILI Outdoor Camping Stove is much lighter while this affordable TMS Portable Military Camping Wood Stove Tent Heater is the same weight, so you can compare what they offer. You might want to see this functional OneTigris Tiger Roar Tent Stove.
Let me know if you have questions or comments, a comment box is below. Subscribe to my weekly newsletter, this will keep you informed, you can be sure that I do not send spam, the subscription form is below. Thank you for reading and have a nice day.