---
This DANCHEL OUTDOOR Portable Titanium Tent Tiny Stove Wood Burning with Chimney Pipe is an ultralight and backpack-portable stove for cooking and tent heating.
---
Key features & benefits
Ultralight wood burning stove.
Ultra-packable & collapsible.
Backpack-portable.
Titanium body.
Glass window.
---
What this is about
Here you have a backpack-portable and collapsible wood-burning stove for use in a tent. This implies that it comes with everything needed to put it in a tent and use it for cooking and heating. The words mean nothing until you see the numbers, so this all weighs 3.55 lb (1.6 kg), and this includes the pipe as well see the picture.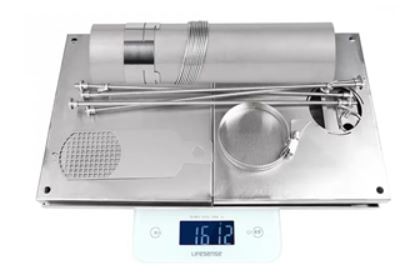 It packs to the size 14.2 x 10.5 x 3 in (36 x 27 x 8 cm). You might want to compare this with yet another stove of that type, the Winnerwell Fastfold Titanium Tent Stove. Note that this is the size of the stove's body when collapsed, but you still have some elements like the pipe that collapses as well, see the picture: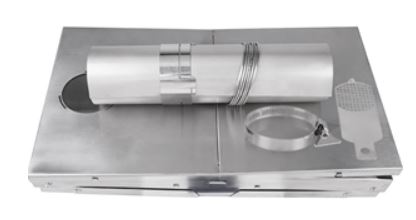 The total height of the chimney is 98.4 inches (2.5 meters). This information you might need if you already have a wood-burning camping tent with an integrated pipe jack. If you do not have it and have no idea where to look for it, check my list here.
Note that the chimney is one single piece, these are not separate tubes, so the design is the same as in the Winnerwell Stove. So remove the rings visible in the picture and unroll the tube, and this will give the length of the chimney pipe, then fold it perpendicular to the length and this will create a long one-piece pipe. You attach the rings to the tube and this will prevent it from unfolding.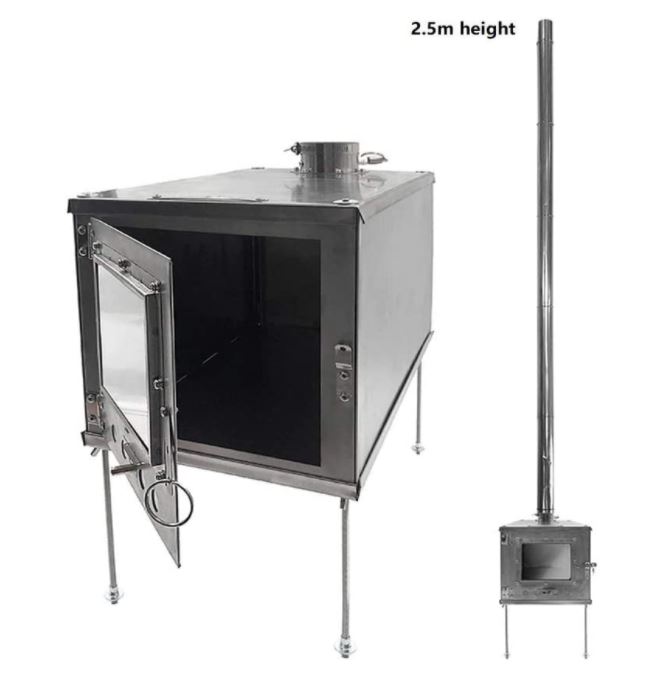 Note that the pipe comes with a spark arrestor cap, the four legs shown in the picture above are detachable, and you also have a carry bag included where all this fits nicely.
This is a titanium stove, and as you know this is a very tough metal and practically completely corrosion-resistant, and this even in seawater. There are two consequences of this, the high price and a very thin body. So the walls are only 0.024 inches (0.6 mm) thick. This is reflected in its incredible (lack of) weight. The picture below shows the firebox, there is no ash grill here, as I understand it is possible to order it separately.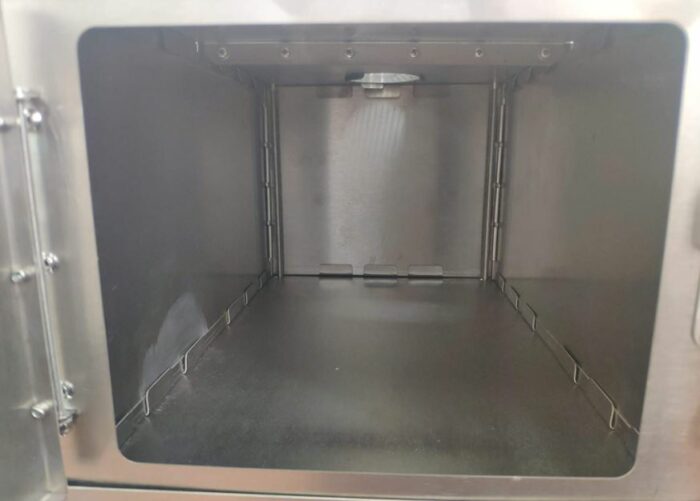 A nice detail is the ceramic glass window on the door (see the picture below). This is great for the atmosphere but such windows may crack so they need some care in handling.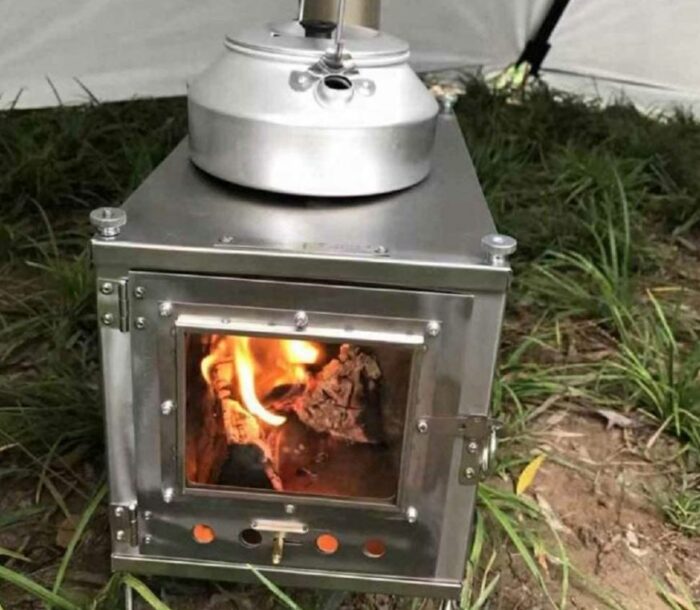 ---
Who is it for
Regarding the weight and packed size, you have already seen the numbers, so the stove can be carried attached to the pack but this does not make it a backpacking stove. With such a stove you would need an appropriate tent with a pipe jack. In fact, they have it and you can see it here.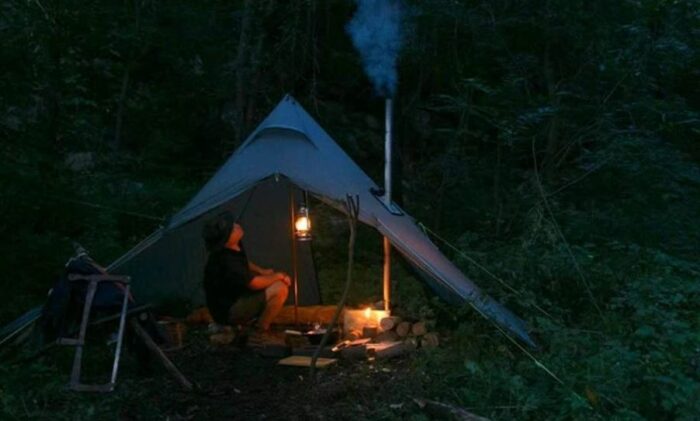 In any case, this stove can be carried shorter distances from the car, or transported in any other way. I see it best suited for hunters and as a basecamp item if your camp is under the tree line where you would have wood to use as fuel.
Regarding capacity, there is no way to know, they do not provide any information about its BTU value. But its firebox is smaller than in the Winerwell Fastfold Titanium stove. So how big a tent can be heated with the stove you can only guess, this will depend on the shape, volume, and structure of the tent.
The picture above shows it used in an open tent, this is the same as heating the Universe, almost useless. But you will still feel the heat and it will be pleasant in such a shelter. Cooking is certainly possible in such an environment. Note also that the pipe diameter is only 2.36 inches (6 cm), so this affects a lot its burning capacity. The mentioned Winnerwell's stove pipe is 3 inches (7.6 cm). 
Regarding best use, obviously, the stove is for cooking and tent heating. There are no racks to hang stuff and dry. But if the tent has inner loops and hooks, you can always pass a cord above and attach your wet clothing and let it dry above the stove.
Regarding the price, it may look steep, but this stove is far more affordable than the Winnerwell stove mentioned above.

---
Specifications
Weight: 3.55 lb (1.6 kg).
Packed size: 14.2 x 10.5 x 3 in (36 x 27 x 8 cm).
Dimensions: 13.65 x 7.8 x 7.4 in (35 x 20 x 19 cm).
Pipe diameter: 2.36 in (6 cm). 
Material: titanium alloy.
---
Final thoughts, rating, pros & cons
In summary, this DANCHEL OUTDOOR Portable Titanium Tent Tiny Stove for wood burning is currently one of just a few collapsible wood-burning stoves on the market. It is incredibly light because of its top-quality titanium alloy material, and its packed size is also remarkable. I have included it in my list of the best tent stoves for wood burning. Fully recommended.
The table below summarizes my rating and pros and cons. As you see it scores incredibly well and for all good reasons.
Please check under the category Tent Stoves & Heaters if you need more options. Check this ultralight Kcelarec Camping Titanium Tent Stove that has a rack and a wood drying basket. If you do not want a collapsible stove, check this Goture Camping Tent Stove.
Let me know if you have questions or comments, there is a comment box below. Thank you for reading and have a nice day.