---
With the weight below 4 lb, the Winnerwell Fastfold Titanium Tent Stove is backpack portable wood burning tent stove with all necessary elements for cooking and heating.
---
Key features
Ultra-lightweight.
Ultra packable.
Backpack-portable.
Titanium body.
Rolled pipe.
Integrated damper.
Carry bag included.
---
Where to buy
Check on Amazon. They usually have the best shipping conditions with their stores on several continents.
---
What kind of a wood-burning stove is this
As you realize from the name, this is an ultralight titanium material that can withstand much higher temperatures than steel. You might want to know that its melting temperature is above 1650 °C (3000 °F) degrees, and steel melts at lower temperatures, dependent on the added materials.
This is also a very tough metal and such a feature allows for using a very thin material, resulting in this stove that is below 4 lb of weight. Titanium also has a high heat transfer efficiency so the stove can heat a larger area than what you might expect from its size.
This is also a very clever and easy to use fast-fold design, hence the word Fastfold in the name. The stove collapses and packs to a very small size. All is based on the integrated clasps and you need no extra tools to make it ready. The legs fold for an easy transportation.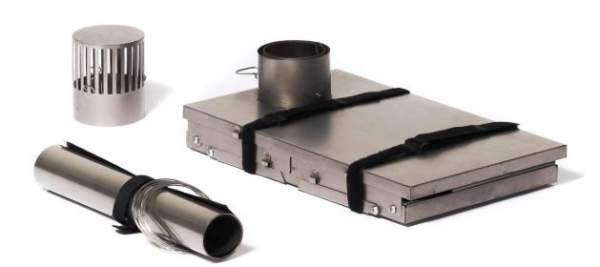 The pipe
The pipe is one single sheet of titanium. For transportation, it rolls width-wise, but for a pipe structure you roll it length-wise. Note that after the first burn it becomes much easier to roll it up into the pipe, there is a memory-effect in the material after the heating.
It can be tricky to roll it for the first time, so it is best to do this together with somebody. There are several rings which you slide along the pipe to keep the structure. It is important to avoid wrinkles in this first rolling as they will then remain permanent due to the heating. The same applies to the stove's body, so assemble it carefully with straight walls.
The spark arrestor
They have built this piece really nicely, just see the picture below. It prevents sparks from flying out, but it is also with the closed top so the rainwater will not get in. It also has three attachment elements to secure it with guylines in strong winds.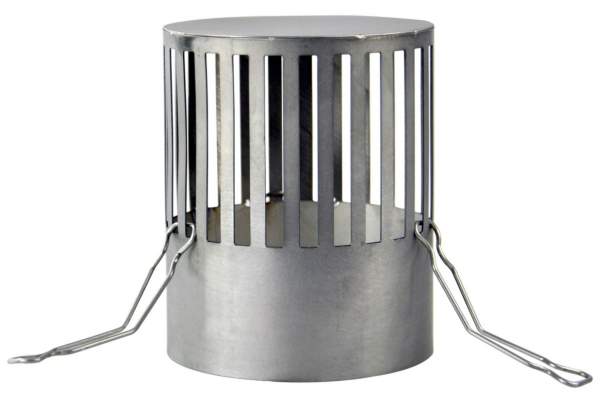 The pipe damper
The pipe damper is integrated in the pipe section which is a part of the stovetop, see the picture below. Here too you have a nice example of their attention to details, you see the dual structure introduced to fix the thin and fragile pipe inside of it.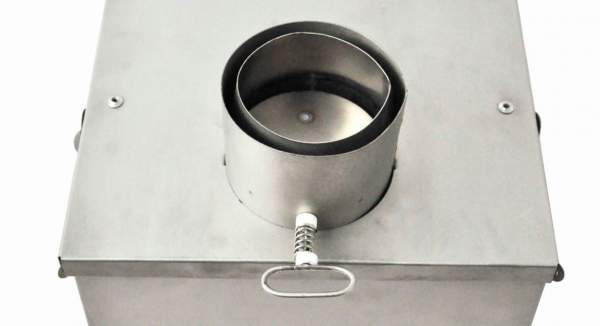 The carry bag
The stove fits the included carry bag shown in the picture: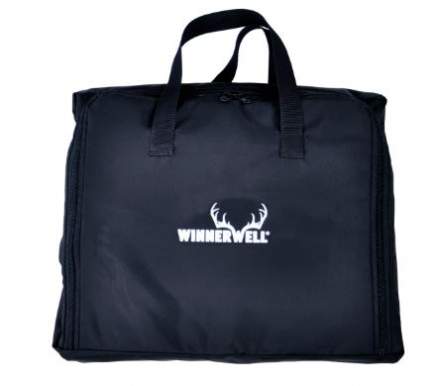 ---
Who is it for
Capacity: This stove looks so tiny, but its firebox volume of 900 cubic inches is bigger than the Nomad Medium and the Woodlander Medium stoves from the same brand. They claim it is suitable for 2 – 4 persons but this will depend on the tent's volume and design, so I cannot understand such a statement. It would be better if they give its BTU value.

Weight: You will not find anything on the market that would be even remotely comparable to this stove. It weighs only 3.97 lb (1.8 kg). Now when you consider also its packed size which is 15 x 9 x 2 in (38 x 23 x 5 cm), you realize that this is indeed a backpack-portable stove.
This all determines the users, so this is an incredibly versatile item. It can be used by hikers, hunters, fishermen, and you name it. Note that the pipe is straight and this is one single piece, and it is not really possible to add a 45 or 90 degrees elbow section. So this is a stove for tents with a pipe jack on the roof. There are several of them here in the site, see for example this White Duck Outdoors Alpha Wall Tent or the Danchel Bell Tent.
The structure is such that you can use it for heating and cooking, there are no racks attached for drying your stuff. Note that you can use it also as a fire pan by simply removing its cooktop. Please see more in this video:
---
Specifications
Type: collapsible stove.
Weight (stove + pipe): 3.97 lb (1.8 kg).
Assembly dimensions stove body (L x W x H): 15.7 x 9.1 x 7 in (40 x 23 x 18 cm).
Total height with the pipe: 122 in (310 cm).
Packed dimensions (L x W x H):
– Stove: 15 x 9 x 2 in (38 x 23 x 5 cm).
– Pipe: 12 x 1 x 1 in (30 x 2.5 x 2.5 cm).
Pipe length: 106.3 in (270 cm).
Pipe diameter: 3 in (7.6 cm).
Firebox: 900 in³ (14.7 liters).
---
Some tips
They suggest having at least 18 inches (46 cm) free space around the stove.
Make sure that the burning stove is never unattended in the tent.
The stove and the pipe are usually extremely hot so avoid contact and use gloves if possible.
Supervise children and pets if you have them in the tent when the stove is in use.
Be careful when you roll the pipe, its edge is extremely sharp.
---
Winnerwell Fastfold Titanium Stove vs other Winnerwell stoves
You might want to see some basic facts about the three stoves from this brand side by side. The other two are also described in detail here in the site so please follow the links for details and for the price updates. Observe the incredible weight of this Titanium piece.
Winnerwell
Woodlander Stove

---
Final thoughts, rating, pros & cons
In the summary of this Winnerwell Fastfold Titanium Tent Stove review, I would stress again that there is nothing on the market even remotely similar to this stove. The material and the weight is unique, but this is a fully functional stove with all the elements you need for cooking in the camp.
It lacks some functionality which you have in some other stoves from this brand, but those are definitely not backpack-portable as this Fastfold Titanium Stove. I have included this stove in my list of the best tent stoves for wood burning.
Please see how I rate it by using the same criteria as for all other stoves here in the site:
If you need more options, please check this DANCHEL OUTDOOR Portable Titanium Tent Tiny Stove that is even lighter and also this Uncompahgre Collapsible Pack Stove which is much heavier but it also packs to a very small size.
Note that this is not a sponsored text and I am not paid by the manufacturer. I am only expressing my own unbiased views about this product. Please let us know if you have some experience with this stove, there is a comment box below. I wish you a nice day.