The Naturehike Airpole Bower Hexagonal Inflatable Screen Room is a screen house and tent hybrid with closable windows and a removable floor, very tall, waterproof, and freestanding.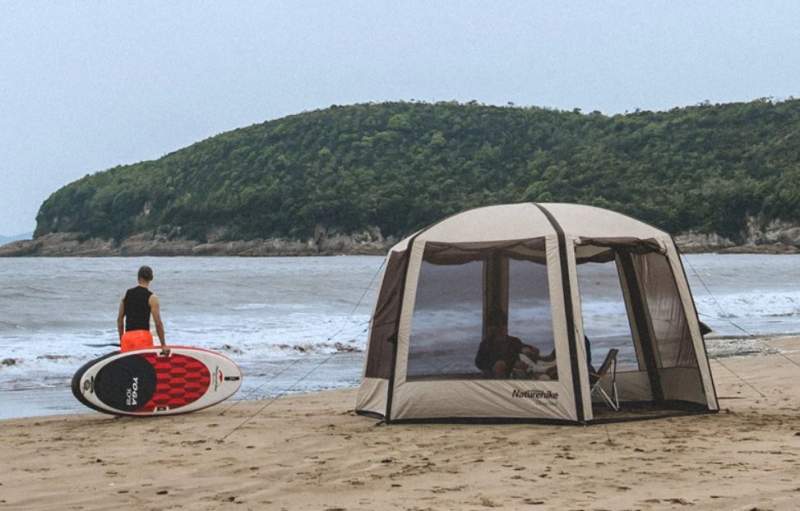 ---
Key features & benefits
Inflatable beams instead of poles.
Single point inflation.
Extremely easy to use.
Freestanding.
Privacy panels.
Removable floor.
High waterproof rating.
---
What this Naturehike Airpole Bower Hexagonal Inflatable Screen Room is about
In fact, it is difficult to properly classify this shelter. I would say it is more a tent than a screen room. But you can understand it as a shelter with features of both, a tent and a screen room.
There are many inflatable tents on the market, though not many of such a shape, but see this Robens Aero Yurt 8 Man Airventure Air Tent. On the other hand, if you accept it as a screen house, then as of the moment of writing this text, it would be unique on the market with its inflatable beams instead of solid poles.
I expect there will be many more screen houses with such air beams on the market. This is, first, because screen houses are very popular in general, and second, this inflatable beam technology is also becoming increasingly more present on the market.
This is a freestanding hexagonal structure and you can understand its general shape from the aerial photo below. So it is a dome-shaped configuration but the side beams are almost straight and almost vertical. This gives plenty of head space inside.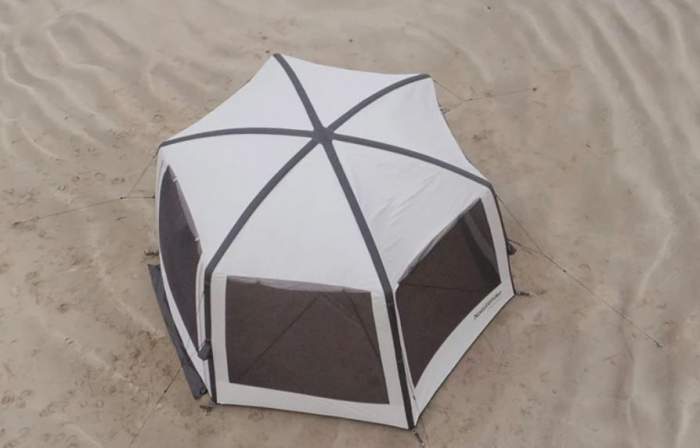 The picture below shows it from inside, so you realize how pleasant it is. Observe the straps on the ground that connect the opposite beams, this is a part of its self-supporting design. But note that you have 12 hooks and 6 ropes included, to secure this shelter properly against sudden winds.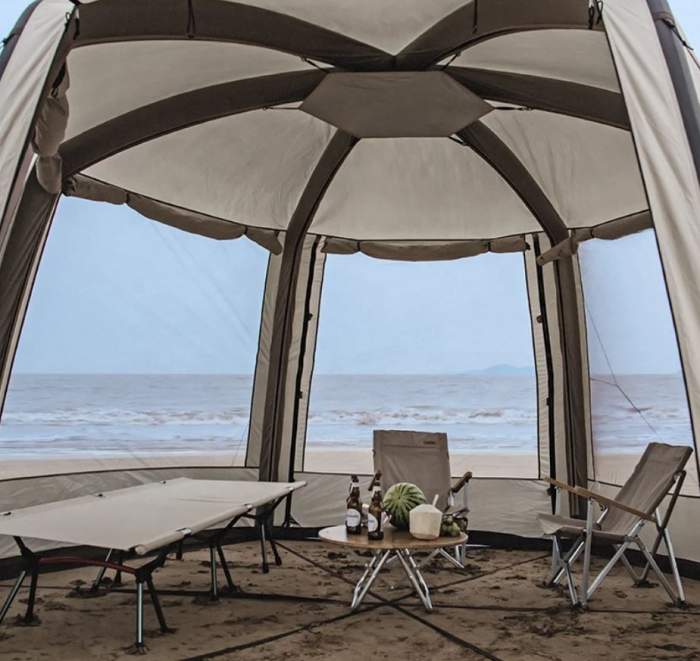 This screen house is very tall, the peak height is 86.6 inches (220 cm). What you also see in the picture above are inner shutters, each window has one. So this is fully closable screen house for protection against rain and for privacy. This is what makes it practically a tent.
There are two doors on the opposite sides, and they have full-size panels so that you can create two awnings. This considerably extends the covered area, and you have lots of space to sit under the shade in front of the screen house. Note that these door panels/awnings are around 1.8 meters wide.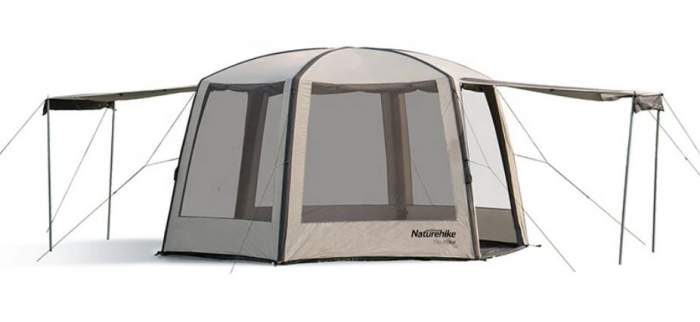 Materials
The fabric: You have a 150D polyester, silver coated, and with 2000 mm waterproof rating. Their description is a bit confusing, but it seems that the same material is used for the removable floor as well, which you can see in the picture below.
So this is a very durable material. You also have a full set of 12 stakes to secure the screen house, plus 6 guylines.
The valves
This is a great design with 3 separate valves that you can use to deflate the beams easily. However, you can inflate the whole structure with one valve only. This is because the three X-crossed beams are interconnected.
See here how the valves look: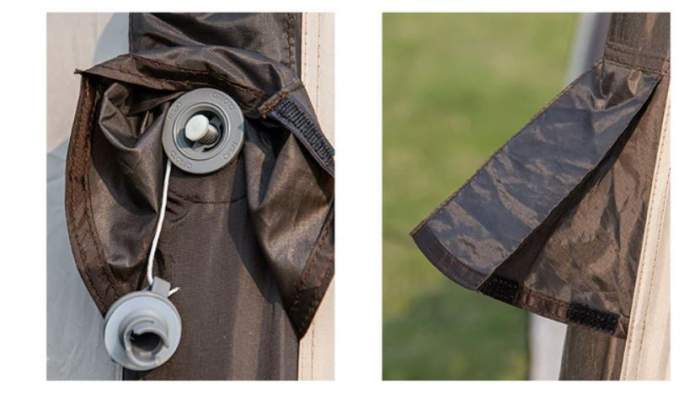 Please see more in this video:
---
Who is it for
Regarding the area, this shelter offers an area of 101 ft² (9.4 m²). The base is a hexagon with each of its 6 sides that measure 1.9 meters. So this is plenty of space for 4 – 6 chairs and a table.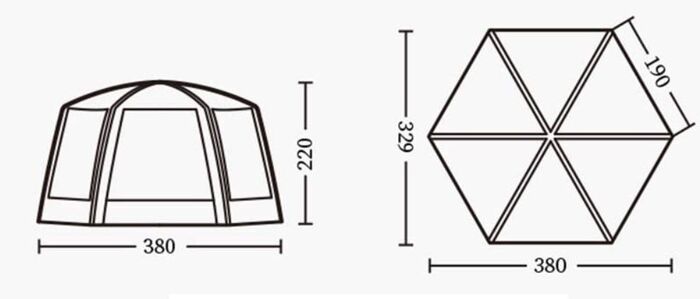 Regarding best use, I already mentioned that it looks like a tent and it offers lots of protection. So in principle you can use it as a summer camping tent, but note that there is no true protection from crawling insects.
You can have it as an annex to your camping tent or your RV and use as a sitting and dining area. In this case, you can store lots of your camping gear inside and it will be fully protected. You can also use it at a beach as a privacy room.
Regarding the weight, it weighs 32 lb (14.5 kg), so it is quite heavy. The packed size is 27.56 x 15.7 x 13.78 inches (70 x 40 x 35 cm). So all in all, this is not an item to carry anywhere, and it is for places with a car access.

---
Specifications
Weight: 32 lb (14.5 kg).
Dimensions: 12.47 x 10.8 ft (380 x 329 cm).
Inner area: 101 ft² (9.4 m²).
Peak height: 86.6 in (220 cm).
Packed size: 27.56 x 15.7 x 13.78 in (70 x 40 x 35 cm).
---
Final thoughts, rating, pros & cons
In summary, this Naturehike Airpole Bower Hexagonal Inflatable Screen Room is something in between a screen house and a tent, and this makes it very versatile and functional.
It is very tall and extremely easy to use because of the single-valve inflation design. It offers full protection from the rain and from flying insects. I have included it in my list of best screen houses for camping.
Below you can see how this shelter stands against my usual rating criteria that I apply consistently to all items of this type so that you can easily compare:
BEST PLACE TO BUY:
For more options please check under the category Camping Screen Houses. Check also among Inflatable Tents. Bookmark this site and come again, this will keep you informed because I add texts here on a regular basis. Thank you for reading.